Eminem's ex-wife Kim Scott definitely didn't have the kindest things to say about what the rapper is like in his personal life.
In the music business, there are a lot of artists who take the industry by storm only to quickly fade away and prove to be nothing more than a flash in the pan. On the other end of the spectrum, you have artists like Eminem, a rapper who has to be called a legend at this point. Arguably among the best rappers of all time, Eminem seemed to have the Midas touch throughout most of his career as almost every single he has released has turned to gold.
On top of recording lots of songs that people love, Eminem has also gotten into loads of arguments with other artists over the years and almost always prevailed. In fact, there is a list of celebrities that Eminem has called out consistently in his music. And the more he does so, the more popular Eminem seems to become.
Unfortunately for her, Eminem has also brought up his ex-wife Kimberly Scott in many of his songs. As a result, many of Eminem's fans have heard him talk about his ex-wife, but very few of his followers have any idea about what Kim has said about her famous ex-husband.
Updated October 2023: Eminem and Kim Scott have so much history between them that they will forever be bonded. Really, no one knows the other better than Eminem and Kim. This bond is also what has been the source of drama throughout the years between Eminem and Kim. It has not been an easy road for the exes.
However, it appears that the two have been able to work through the issues that they have dealt with over the years, or at least let bygones be bygones, as the two were both in attendance at their niece, Alaina's wedding this summer. By all accounts, Eminem and Kim both had a good time. There was no drama and the two were able to be in the same venue peacefully.
Eminem and Kim will not be reconciling but at least it is nice to see that the venom that used to be used to speak about one another is, by all accounts, in the past.
What Kim Scott Has Said About Being With Eminem
Eminem brought his now ex-wife Kim up in a hit song for the first time decades ago at this point. As such, she has been in the public eye, whether she wanted to be or not, for a long time. But despite this fact, Kim has done her best to shy away from the media and only comment about Eminem when he did some truly heinous things to her.
Even though Kim easily could cash in on writing a tell-all book about her relationship with her ex-husband Eminem, she has never shown any interest in that at all. However, that doesn't mean that Kim has never been interviewed about her relationship with Eminem.
Shortly after the couple got divorced the second time, Kim talked about what it was like to be in a relationship with Marshall Mathers, the man the world knows as Eminem.
"If he got kicked out, then I would walk the streets with him until he found a place to live, or if I got kicked out, he was always there for me," Kim explained. "It was just a close connection."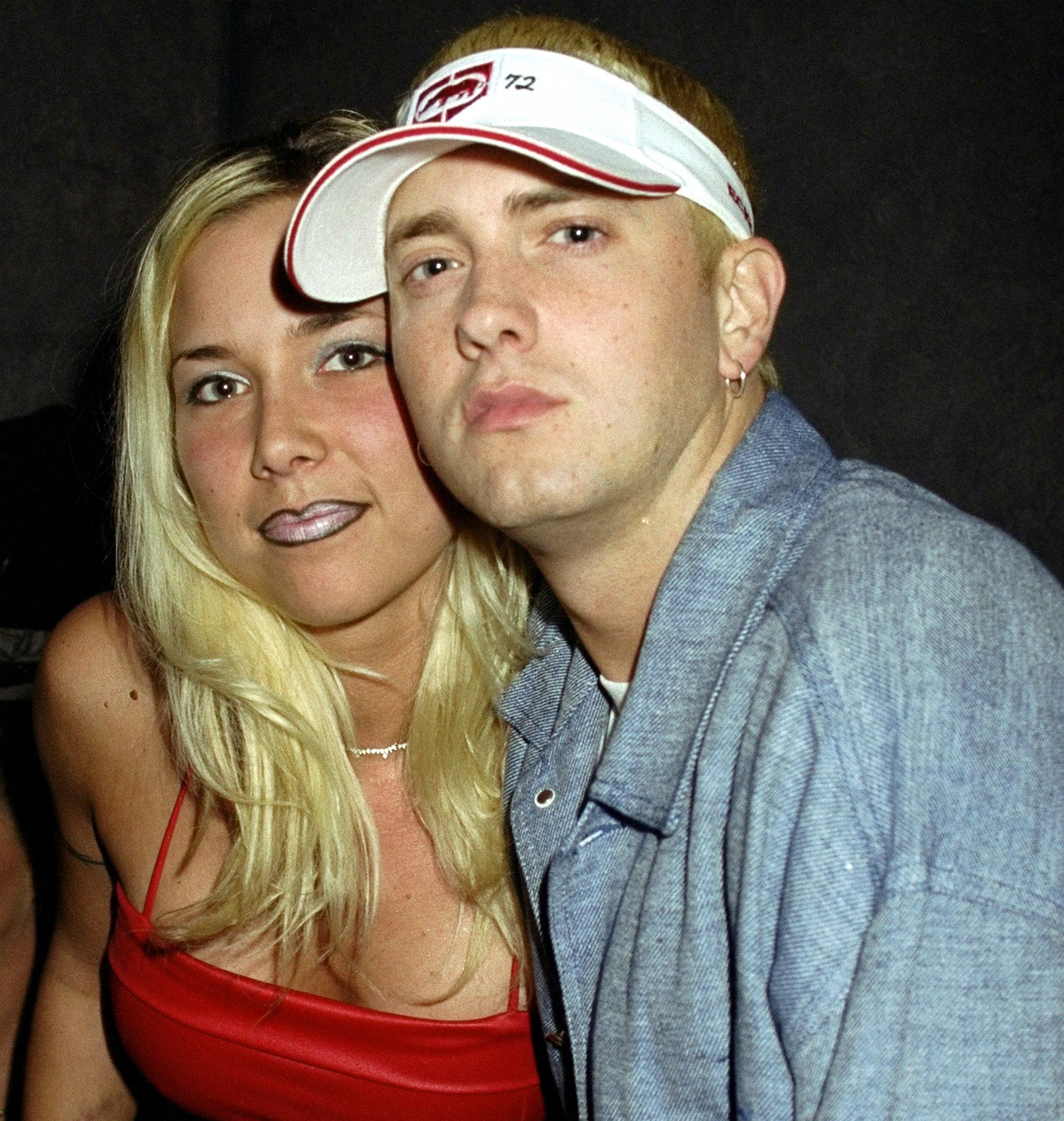 Unfortunately, Kim stated that once Eminem became a superstar, he began to treat her like she was beneath him.
"He would constantly try to belittle me and make me think, like, I should be grateful, basically, that he was with me."
Kim Scott Said Eminem Changed After He Became Famous
Once the power balance between Eminem and Kim became completely unbalanced, their connection was replaced by a relationship defined by jealousy, anger, addiction, and betrayal.
For example, according to reports, Eminem got in legal trouble for attacking a man he saw kissing Kim. For her part, Kim admits stepping out on her marriage to Eminem in an attempt to no longer feel lonely. "I had low self-esteem. I just really wanted attention and love from somebody."
After that incident, Eminem and Kim got divorced for the first time. Five years later, the couple remarried only to divorce a second time shortly thereafter. During another one of Kim's rare interviews, she blamed the second divorce on the strange way Eminem handled a dispute between her and his brother.
"There was a disagreement between me and his brother," Kim stated. "Inappropriate behavior that his brother had. That's what it was. The next morning, there was a note in the bathroom that said, 'I'm going to the other house. I need to clear my head.'"
Kim went on to say, "I'm so confused about the whole thing. He didn't even come around for a month after that. He didn't come to see the kids, he wasn't calling me. He didn't return phone calls, I didn't know what the heck was going on. Then his attorney's assistant comes to the door and serves me papers."
How Eminem's Ex-Wife Kim Scott Felt About His Songs About Her
On top of being in a relationship with one of the most successful musical artists of their generation, Kim also had to deal with the pressures of having Eminem rap about her. Since Kim remarried Eminem years after he first rapped about her, some people may assume his lyrics about her didn't bother Kim very much. According to what she said during the aforementioned 20/20 interview, however, Kim was deeply bothered by Eminem rapping about her.
"I was embarrassed. I was humiliated. I cried," Kim explained. "This is supposed to be a man that loves me, and is supposed to protect me … from being hurt, and here he is disrespecting me in the worst way possible in front of millions of people, and in front of our kids, my family, my friends."
On top of Eminem recording songs about her, Kim also had to cope with him performing those songs in public. In fact, according to Kim, Eminem promised not to perform the song Kim when she attended one of his concerts in their hometown, but he did anyway. Worse yet, Eminem also acted out some of the violent lyrics on a blow-up doll that clearly was supposed to represent Kim with her in attendance. As Kim revealed, after that night she rushed home and wound up in the hospital recovering after hurting herself.