Flowers then stuck around for a duet of Sheeran's own hit 'Castle On The Hill'
Ed Sheeran brought out The Killers' Brandon Flowers to perform the band's hit 'Mr Brightside' in Las Vegas last night (October 28).
Ed Sheeran and Brandon Flowers of The Killers. Credit: Jerritt Clark/Joseph Okapako
Sheeran finished the US leg of the '+–=÷×' tour in Flowers' home state, providing a timely occasion for the artist to make a surprise guest appearance. Amusingly, as the show coincided with Halloween weekend, Sheeran was wearing a Chucky costume.
After performing 'Mr Brightside', Flowers stuck around for a duet of Sheeran's own 2017 hit 'Castle On The Hill'.
Check out fan filmed footage of their collaborations below: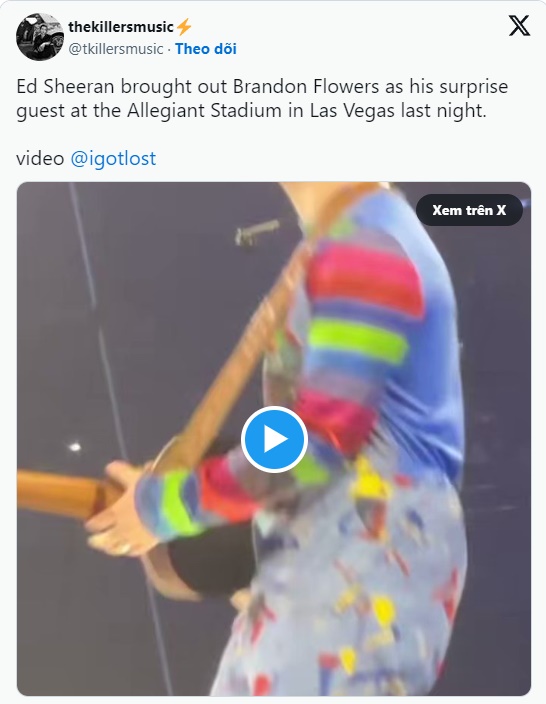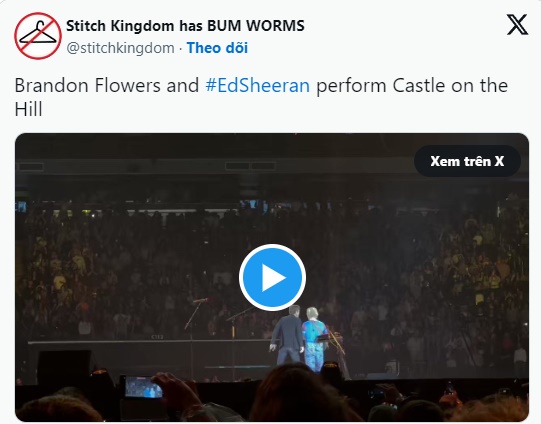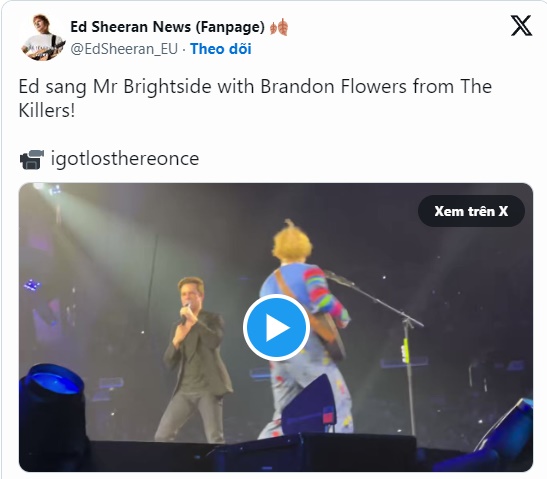 Earlier this month, Sheeran confirmed the cities, dates and venues for the highly anticipated Asia leg of his '+ – = ÷ x' tour.
Ed Sheeran will hold a total of nine concerts across Asia, from January to March 2024. It'll kick-off in late-January with two show in Japan, before heading to Taiwan and Southeast Asia in February. The singer will also play shows in Indonesia and The Philippines in early-March, before wrapping things up with a sole show in India.
Tour promoter AEG Asia has also announced that fellow English singer-songwriter Calum Scott will join Sheeran on the Asia tour dates, with more details including ticket prices set to be announced soon.
Meanwhile, it was revealed earlier this year that 'Mr Brightside' was the UK's most streamed song in Spotify history.
To celebrate the app's 15th anniversary, Music Week reported that Spotify have made a list of the biggest artists and tracks since its launch in October 2008. 'Mr Brightside' (released September 29, 2003) has over 1.8 billion streams globally as of October 9, 2023. Spotify did not release the number of UK-only streams.
'Mr Brightside' previously broke UK chart records in 2021 by spending 260 non-consecutive weeks in the Top 100 of the UK's singles chart. As of October 10, that figure has risen to a whopping 382 weeks – nearly seven years.