Business school will offer a course studying the pop icon, following the success of her Eras tour and Taylor's Version project
California's UC Berkeley college will next year offer its students an unusual option for their studies in the form of a course about the pop icon Taylor Swift, whose current Eras tour has made her a billionaire.
Given the Eras project's huge success, the course is being offered by Berkeley's Haas School of Business. It will be called Artistry and Entrepreneurship: Taylor's Version and start next spring, according to NBC News.
The course syllabus states: "Swift's ability to connect with listeners is unparalleled. Through lyricism, branding, and craft, we'll explore how art and authenticity create enduring value and a viable enterprise."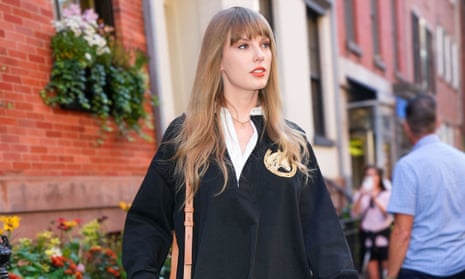 The course will be called Artistry and Entrepreneurship: Taylor's Version. Photograph: Mega/GC Images
Crystal Haryanto, an economics graduate, came up with the class and will co-teach with a current student.
"It will be a cross section of literature, economics, business and sociology and I think that we're studying her impact as an artist, as a whole," Haryanto told NBC. "I want to study her literary devices. But also how those literary devices create meaning."
The course includes interactive lectures, readings and listening assignments and will last 13 weeks.
Swift is on a fairly lengthy list of cultural icons who have made it to the exalted status of having their music and careers taught as academic courses, including the Beatles, Madonna, Bad Bunny and Harry Styles.