'You are free to say what you want but are not free from the consequences of doing so. Women are not objects,' one critic responds to Kelce's remarks on X
Travis Kelce's previous comments about having children have sparked controversy amid his ongoing romance with Taylor Swift.
The Kansas City Chiefs player, 34, first made the remarks about starting his own family during a February 2023 episode of his and his brother Jason Kelce's podcast, New Heights. The episode resurfaced after a source claimed to Yahoo Entertainment that Swift and Travis Kelce "have talked about kids" within the next year.
In the episode of his podcast, the Philadelphia Eagles star asked his mother, Donna, which of her two sons she was "rooting for," as the Eagles and Chiefs were preparing to play against each other in the Super Bowl at the time.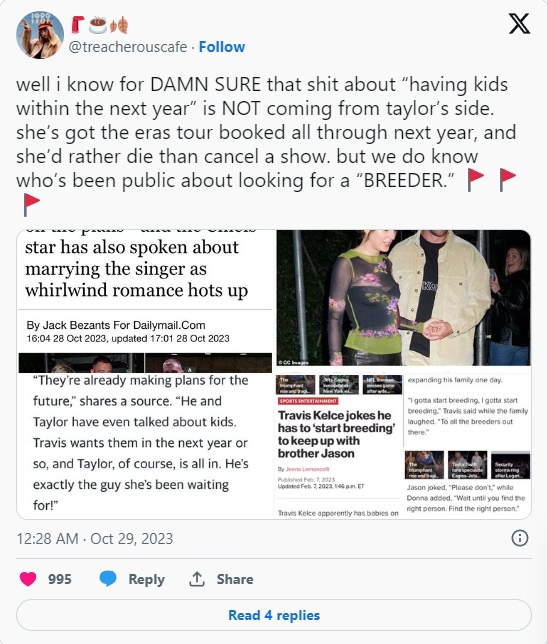 "You've said in the past to both of us that you root for me because I've given you grandkids," Jason, who shares three children – Wyatt, four, Elliotte, two, and Bennett, seven months – with wife Kylie Kelce, said. "I've always known that you root for Travis. So who do you actually root for?"
After Jason asked his mother again who she was rooting for, "if in a battle to the death," Donna responded by asking who he'd pick to save if she and her husband, Ed Kelce, were stranded in the middle of the ocean. While Donna said she couldn't pick which of her sons to root against, Jason then joked: "Remember if you choose me, Wyatt and Elliotte grow up without a father."
Travis then chimed in to joke about wanting to start his own family. "I gotta start breeding," he said. "I've gotta start breeding, to all the breeders out there."
Jason then responded to his brother's remark with: "Please don't," before Donna advised: "Wait until you find the right person. Find the right person."
However, Travis still doubled down on his plan, as he quipped: "I'm gonna find a breeder, and I'm gonna get kids so that mom can love me again."
On X, formerly known as Twitter, fans have called Travis out for his seemingly sexist remarks and claimed that he shouldn't have been referring to women as "breeders".
"Forever grateful that Joe Alwyn kept to himself and is private," one wrote, referring to Swift's ex-boyfriend of six years."It's what makes Travis Kelce's statements from earlier this year about 'finding a breeder' cringe. You are free to say what you want but are not free from the consequences of doing so. Women are not objects."
"'Start breeding,' oh this is just f***ing disgusting and it's setting us back so much," another added. "Women aren't baby-making machines, women are more than the man they're dating, we are more than marriage."
"Ain't a Swiftie but don't have to be one to be weirded out about Travis Kelce calling women 'breeders,'" someone else wrote. "That ain't it dude."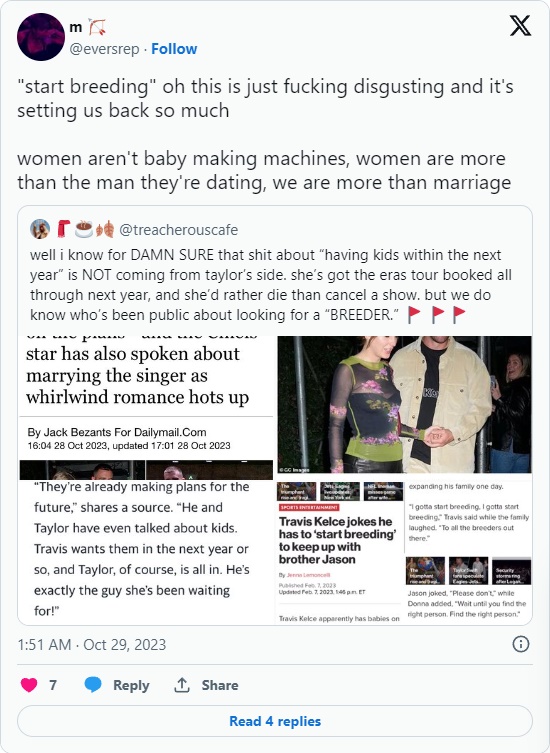 Many other people went on to criticise claims about Swift and Travis having children soon, since the singer is about to return to her Eras Tour until November 2024.
"Well I know for DAMN SURE that s*** about 'having kids within the next year' is NOT coming from Taylor's side," one claimed. "She's got the Eras Tour booked all through next year, and she'd rather die than cancel a show. But we do know who's been public about looking for a 'BREEDER.'"
The comments about Travis and Swift's romance came days after they seemingly confirmed their relationship. On 22 October, Swift made her return to Arrowhead Stadium to watch as the Kansas City Chiefs won their game against the Los Angeles Chargers. The occasion marked Swift's fourth time attending one of Kelce's games, amid ongoing reports that they are dating.
Following the event, Chariah Gordon, the partner of Kelce's teammate Mecole Hardman Jr, took to Instagram to share a snap of the singer and NFL player's sweet PDA moment. In the picture, Swift could be seen standing next to Kelce, reaching to kiss his cheek.
In addition to the kiss, the football star also had the perfect reaction to a fan calling him Swift's boyfriend. After a fan shouted: "Let's go Taylor's boyfriend" while Kelce was waiting for an elevator, he responded with a small smile on his face and by pumping his fist into the air.
Aside from their appearances at sports events, Swift and Kelce have also been photographed together on other occasions, including a date earlier this month in New York City after their surprise appearances on the season 49 premiere of Saturday Night Live. At the time, sources alleged to Entertainment Tonight that, during the date, Kelce got a little too close to Swift's security personnel and allegedly told her bodyguard to step aside.
However, during an episode of his podcast, Kelce explained what he said to the security, and clarified that he didn't push the bodyguard. "I placed my hand on the gentleman's back to let him know I was behind him. If I would have pushed him, he probably would have turned around and tased me," he said.
The Independent has contacted representatives for Taylor Swift and Travis Kelce for contact.