Everyone is talking about the opening night of Taylor Swift's monumental The Eras Tour on Friday night (17 March).
Thanks to the monstrous setlist (44 songs across three hours!), Swifties have an awful lot to an unpack after her performance in 'Swift City' – and an awful lot to discuss.
One moment that has left the entire fandom speechless, though, is Taylor appearing to dive off of the stage.
Following a piano performance of her debut single "Tim McGraw", the only song she performed from her first, self-titled album, Taylor stood up and walked over to the edge of the stage.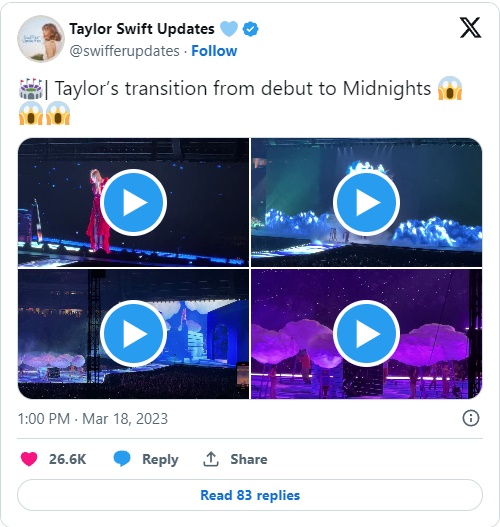 Wearing a flowing crimson gown, she appeared to jump off the main section of the stage and into the catwalk section, as though she was diving into a pool.
Special visual and sound effects made it seem like the stage had turned into a swimming pool, with Taylor swimming her way down to the very end.
On the big screen, Taylor appeared to climb out of the 'pool' via a ladder and into the clouds, before her dancers emerged from behind the scenes carrying huge cloud props.
Taylor then emerged from the end of the stage wearing a furry purple coat and launched into performing her latest single "Lavender Haze" from her recent, record-breaking album Midnights.
In video recordings of the stage dive, fans sound visibly shocked as they scream "Oh my god!"
Online, the reaction was very much the same, with fans left shaking, bewildered and gagged at Taylor's stage antics.
"Her mind is something else. What on earth did I just witness? Wow," said one gobsmacked fan.
Another exclaimed: "This is the sickest thing I have ever seen."
"This was actually insane like the collective gasp … she can hold her breath for a really long time," said a third.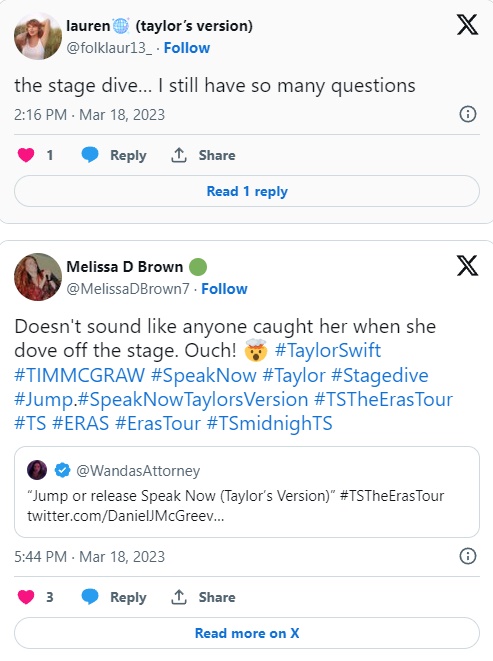 First time seeing an artist dive on stage. My jaw just dropped. Other artists all do acrobatics on air and Taylor wanted to do different.
— Joy Juichi (Taylor's Version) (@04joy05) March 18, 2023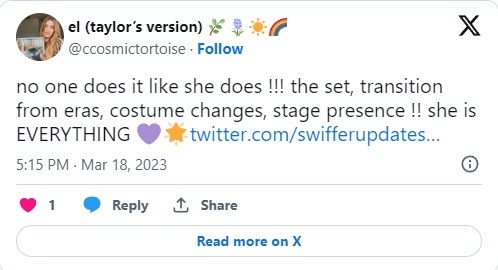 There has been an unfathomable amount of speculation surrounding Taylor Swift's The Eras Tour, with fans guessing which songs would make the final setlist, who might appear as special guests, and trying to work out whether we would finally get to hear the 10-minute version of "All Too Well" live (we did).
Some have expressed disappointment that more songs from Speak Now and Taylor Swift weren't included on the setlist, but others are just thrilled at how many incredible moments the singer has given us already, in just the first performance.