The most definitive account yet of the pop star's wealth shows she's one of the few recording artists to build a 10-figure fortune almost entirely from her music
Taylor Swift's Eras tour has generated as much money as the economies of small countries. The movie version is ruling the box office. Her new recording of a nine-year-old album, 1989, is expected to be one of the hottest-selling records of the year.
EAST RUTHERFORD, NJ
Swift, as even the most casual pop-culture watchers can attest, is everywhere. And in one of the biggest years of her nearly two-decade career, she's entered into even more rarefied status: billionaire.
The success of the Eras tour—a Super Bowl-sized event spanning numerous cities that has shattered records, sparked ticket frenzies and even caused the equivalent of a small earthquake—has propelled the pop star's net worth past $1 billion, according to a Bloomberg News analysis. She's one of the few entertainers to reach that status based on music and performing alone, the result of work and talent, but also canny marketing and timing.
Her prolific songwriting, negotiations around streaming and shrewd decision to re-record her first six albums have enabled her to create massive financial success at a time musicians have lost clout in the industry. The close relationship she's cultivated with her millions of ardent fans has led to a more unified demographic than just about any political party, evidenced by the swapping of beaded Swift-inspired friendship bracelets that's become a universal rite among concertgoers.
TAYLOR SWIFT IS A BILLIONAIRE
Her total net worth is $1.1 billion, according to a Bloomberg News analysis

Taken together, Swift Inc. is essentially a multinational conglomerate with the world's most devoted customer base, its most charismatic CEO and significant economic power. The singer's 53 US concerts this year added $4.3 billion to the country's gross domestic product, according to estimates from Bloomberg Economics.
"In addition to being a generational talent, Taylor Swift is a great economist," said Carolyn Sloane, a labor economist at the University of Chicago. "Taylor has great ideas, is able to scale her ideas and seems to be pretty risk-seeking."
While estimates of Swift's Eras profits abound, Bloomberg's analysis is conservative and based only on assets and earnings that could be confirmed or traced from publicly disclosed figures. The calculation took into account the following: the estimated value of her music catalog and five homes, and earnings from streaming deals, music sales, concert tickets and merchandise.
The estimates account for the impact of income tax, tour production and travel costs, and commissions paid to managers and agents. Swift and her representatives didn't respond to requests for comment.
HOW SWIFT'S MILLIONS STACK UP
Earnings from touring, music sales and streaming plus real estate and her song catalog make up the bulk of her fortune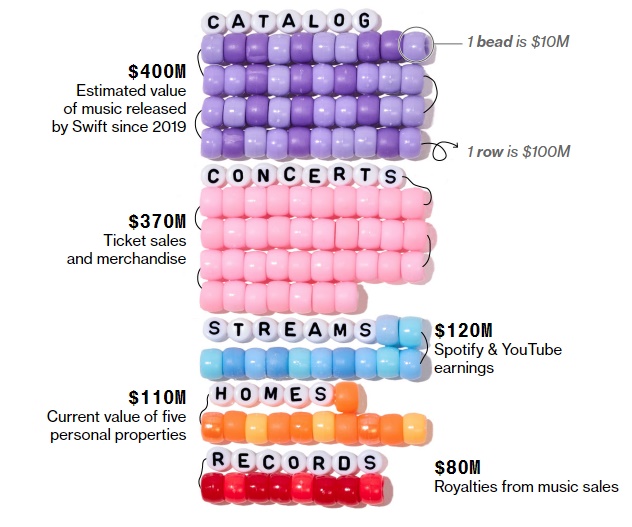 Note: Earnings from music sales, streaming and concerts are net of estimated taxes and management commissions. Concert earnings are net of touring and production costs.
The Eras tour, set to resume with a nine-show South American leg next month, is an example of the symbiosis that's characterized Swift's career. After releasing a torrent of songs during the pandemic, the star returned to the concert circuit just as the live music-starved world was primed to spend, helping Eras rack up more than $700 million in ticket sales for shows performed to date, according to Bloomberg estimates. The average ticket cost $254, although many people paid far more on the resale market.
Swift herself got a mention in the Federal Reserve Bank of Philadelphia's June Beige Book for spurring growth in the city's economy, while Fed Chair Jerome Powell indicated that spending on cultural phenomena like the Eras concerts, Beyonce's Renaissance World Tour and the Barbie movie is on the radar of policymakers as they debate further interest-rate hikes and determine how the American consumer is faring.
"The fact that people had the capacity to pay such high ticket prices is important," said Brett House, professor of professional practice in economics at Columbia Business School. "It was a confluence of people having the savings, people having the desire to spend and the fact that she produced a number of albums that for many people were the soundtrack of the pandemic."
CITIES GOT A FRIENDLY BOOST FROM THE ERAS TOUR
Swift played 57 shows in 21 cities across North America so far this year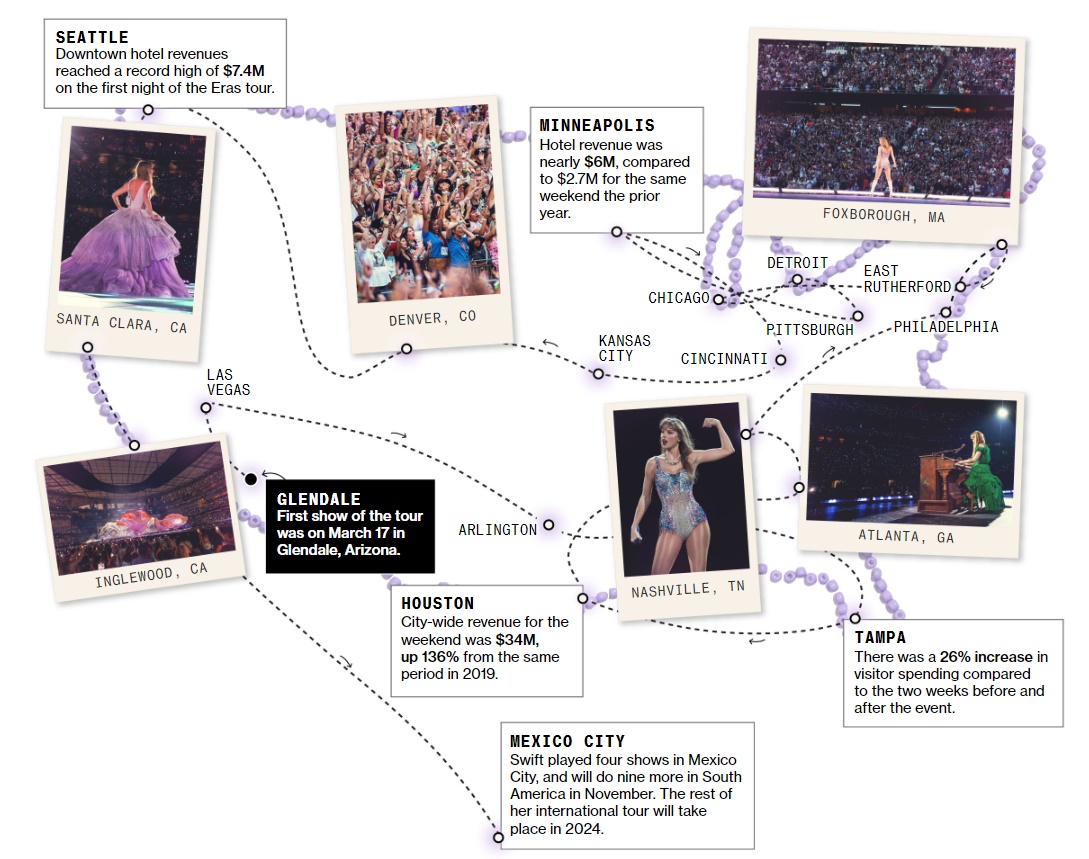 Sources: Local tourism organizations, Swift's account on the social media platform X
Those economic forces also benefited Beyonce, another untouchable cultural phenomenon who commands similar commercial influence over her devout fan-following, the Beyhive. Her recently wrapped Renaissance tour grossed $579 million, according to Live Nation.
But Swift still has 89 more shows to go. She also has a candid and chatty repartee with her millions of predominantly-young fans who've grown up with the 33-year-old singer in an age where trust and intimacy is established online quite naturally. The internet has allowed Swift to effectively market to her fan base far more easily than culturally dominant stars of yore, like Madonna or Michael Jackson.
Part of that involves constantly releasing merchandise that fans are eager to purchase, said Alice Enders, who follows the music industry as head of research at Enders Analysis and is a former senior economist at the World Trade Organization. "There's this whole ecosystem she has, and it's very lucrative for her."
Their ardor has driven sales of concert tickets, but also vinyl records, bracelets and beads, sequins, plane tickets and billions of streams of songs both new and recently re-recorded. Swift's apparent romance with NFL star Travis Kelce has sent game viewership ratings soaring and at one point spiked sales of his jersey by 400%.
Sustaining such fan fervor will be challenging in the post-Eras era. Few US stars have avoided some degree of backlash as their fame soared, and even Swift has experienced brief turnabouts in public perception following unpopular romances and an old feud with the rapper Ye, formerly known as Kanye West.
ERAS TAKES MONEY-MAKING TO A WHOLE NEW LEVEL
Swift's estimated pre-tax profit from ticket sales and merchandise, by tour

Profit is net of production costs, venue fees and commissions to agents and managers, before tax. Profit for Fearless tour merchandise excluded to be conservative.
Sources: Billboard Boxscore, Pollstar, Bloomberg reporting
Yet her fans have stood by her—and multiplied—as Swift has evolved from a teen pop-country phenom to a world-famous celebrity, while maintaining an earnest, girl-with-a-guitar image that belies the machine behind her. A small team includes her father Scott, a longtime Merrill employee whose registered investment adviser The Swift Group is based in the family's hometown of Wyomissing, Pennsylvania. A disclosure with the Securities and Exchange Commission lists him as linked to 10 companies affiliated with his daughter, including merchandising and rights-management businesses and entities that own her tour bus, two private jets and real estate.
Swift's fandom also has helped the star upend industry trends by making her one of the rare artists to sell significant volumes of physical music, including vinyl albums and even CDs, whose sales are more lucrative per-item to an artist than a streamed song. Her earnings from both stand to multiply in future years thanks to her move to gain more control over her music rights.
Swift five years ago split with the Nashville record label that launched her career, and expressed rage when the master rights to her first six albums—which were owned by the label—were subsequently sold twice over, most recently to an investment firm started with Disney family money.
In an act of telegraphed vengeance and liberty, she began re-recording those albums, securing control over the rights and simultaneously diluting the value of her original masters. That's thrust decade-plus-old songs back into the top of the Billboard charts and swayed streaming algorithms to prioritize music denoted "Taylor's version"—while producing more content for her zealous fans to buy. The Oct. 27 release of her re-recording of 1989, her top-selling album, is expected to include five previously unreleased songs.
SWIFT'S CACHE OF HITS COULD RIVAL THE BOSS'S
Recent sale prices for artists' rights to their catalogs compared to the estimated value of Swift's work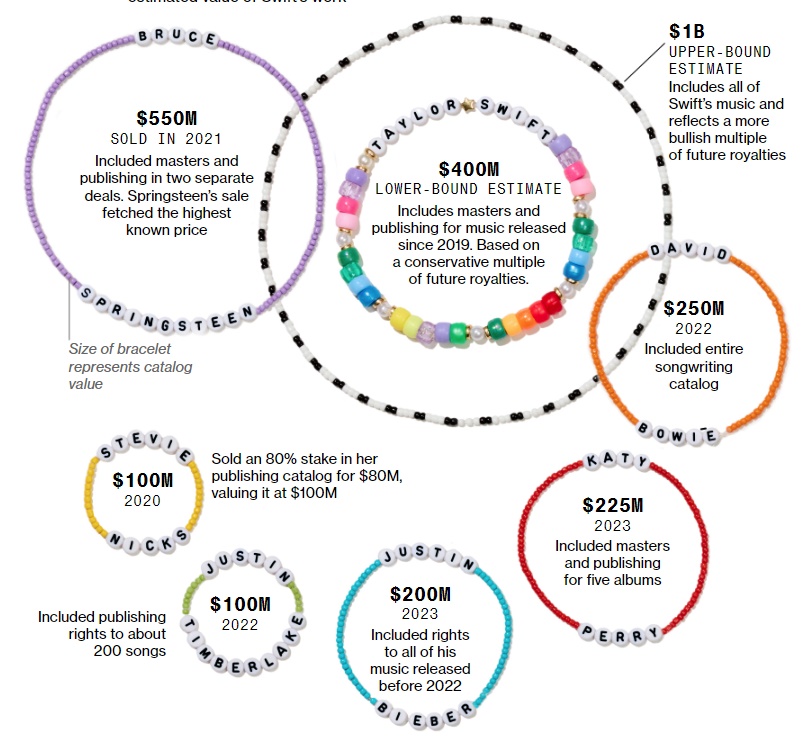 Sources: Reported transactions, Bloomberg reporting
Keeping rights is gaining importance for artists as music catalogs become more popular for investors as an alternative asset. Musicians from Bruce Springsteen ($550 million) to Justin Bieber ($200 million) have sold all or some of their music rights to private equity firms or specialty investment funds, like Hipgnosis, which intend to profit from the royalty streams.
For less-established musicians, Swift's retaking of her recordings has served as a cri de coeur of sorts, said Ralph Jaccodine, a professor of music business and management at Boston's Berklee College of Music.
"It opened up a conversation among a new generation of artists and managers and labels, how do you make it more fair for the artist?" he said. "All of a sudden my students know about copyright and masters."
​​Sign up for the Soundbite newsletter to get exclusive reporting on podcasting, the music industry and audio trends from Ashley Carman.
Spotify's payouts to musicians can be nanoscopic on a per-stream basis—industry estimates peg it at around .0038 cents on average. Revenue per stream has fallen by 20% since 2017, though consumption of music streams has jumped by 2.5 times, according to Goldman Sachs Group Inc. research, leaving artists in a better financial spot, at least compared to the pirating heyday of the early 2000s. Megastars like Swift, who famously quit Spotify over what she deemed unfair royalties to artists (she later rejoined), can negotiate better terms.
Then there's the value of her catalog itself. Given Swift's extraordinarily large and devoted fanbase, reams of hits and potential to be popular well into the future, experts in music valuation said her total catalog could feasibly be worth $1 billion. Not all of that would go to Swift if she were to sell. There are other parties to consider, including co-writers, her publishing and recording partner, Universal Music Group, not to mention agents, advisers and attorneys.
Swift has generations of missteps to learn from. The Beatles' main songwriters, John Lennon and Paul McCartney, lost the publishing rights to their music early in their career. When the rights came up for auction years later, McCartney was outbid by Michael Jackson. Prince changed his name to a symbol over a contract dispute with Warner Music.
It's touring, though, that's emerged as one of the most lucrative endeavors for musicians. Their cut of gross ticket sales is much higher than from streams or sales, and merchandise revenue is a bonus. Proven legends on the tour circuit can negotiate with venues for an even more favorable rate. Jimmy Buffett was able to take home 105% of his shows' ticket sales, since venue owners knew they'd still profit from booze-buying, tailgating Parrot Heads.
Swift has taken that even further, bypassing movie studios to personally fund the Eras film, which generated $92.8 million at the box office in its opening weekend. The tour is heading to Asia, Australia and Europe next year, offering new money-making opportunities and bringing the Swiftie stimulus to other countries.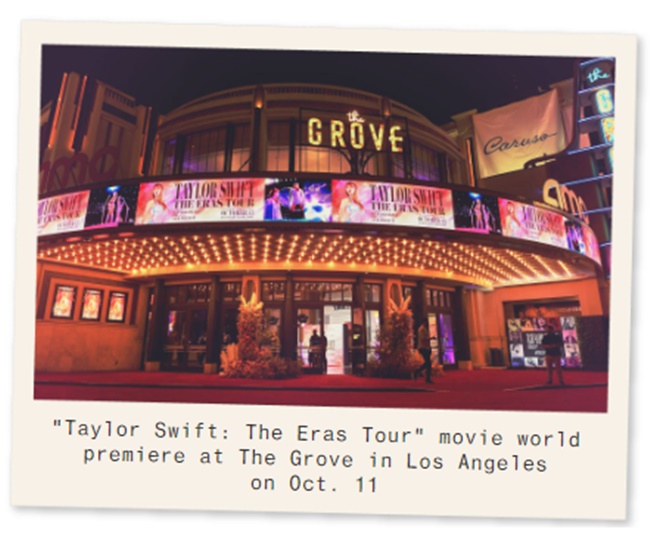 With the world struggling with rising interest rates, inflation and regional wars, it remains to be seen whether the countries set to host her over the next year will enjoy a similar bump to their economies. Much depends on whether concert attendees can spend with the zeal of the Americans and if the post-pandemic hunger for live gatherings continues unabated.
But even when the tour hype fades and Swift's not at the apex of global pop culture, she'll have millions in earnings to show for her reign in this moment of entertainment history. At just 33, she has vast future earnings potential.
"Every endorsement, partnership and business move she makes is part of a broader, meticulously-constructed plan," said Stacy Jones, founder of marketing agency Hollywood Branded. "It's not just impressive, it's masterful."