The first leg of The Eras Tour will conclude in Los Angeles on Wednesday
Taylor Swift's Era's Tour Surprise for Kobe Bryant's Daughter Bianka
While performing her song '22' at SoFi Stadium, Taylor Swift presented her black hat to a young fan – who happened to be the late Kobe Bryant's daughter Bianka.
Skipping down The Eras Tour stage while singing her famous song "22," Taylor Swift always presents a young fan with her black top hat at the end of the platform before concluding the number.
On Thursday, during her first of six performances at SoFi Stadium in Los Angeles, Kobe Bryant's young daughter Bianka, 6, got to experience something out of her own wildest dreams.
Bianka, who attended the concert with her mother Vanessa and sisters Natalia, 20 and Capri, 4 was grinning from ear to ear as Swift took off her signature black hat and knelt down to give the little girl a hug.
Video of the sweet moment went viral: She and Bianka exchanged a few words before Swift bestowed the hat upon her head.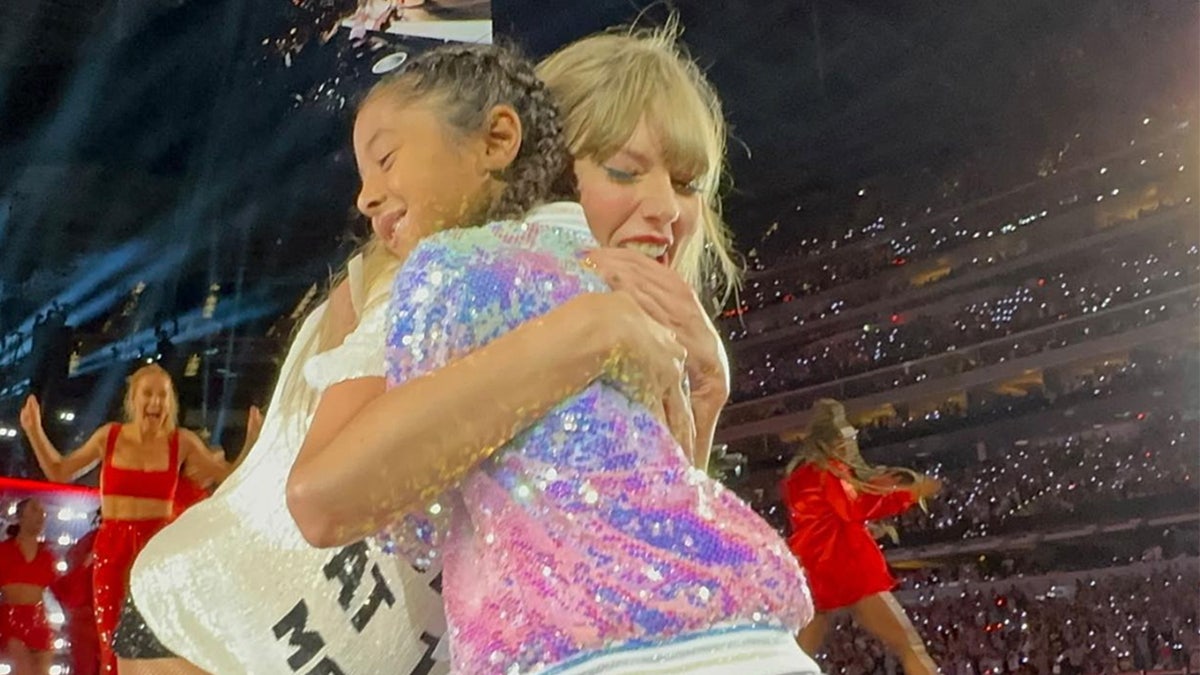 Taylor Swift hugs Bianka Bryant at the end of the stage during her Eras Tour concert at SoFi Stadium on Thursday. (Vanessa Bryant Instagram)
Prior to the concert, Vanessa had teased fans that she was going to see Swift, showcasing her personalized jean jacket with a touching tribute to her late husband, Kobe, who died in a helicopter crash with their daughter Gianna and seven other people in 2020.
On the back of Vanessa's bejeweled jean jacket was a photo of Kobe and Swift during Swift's 1989 World Tour in 2015. Kobe had presented Swift with her own banner for having the most sold out shows at what was then the Staples Center, where he famously played for the LA Lakers.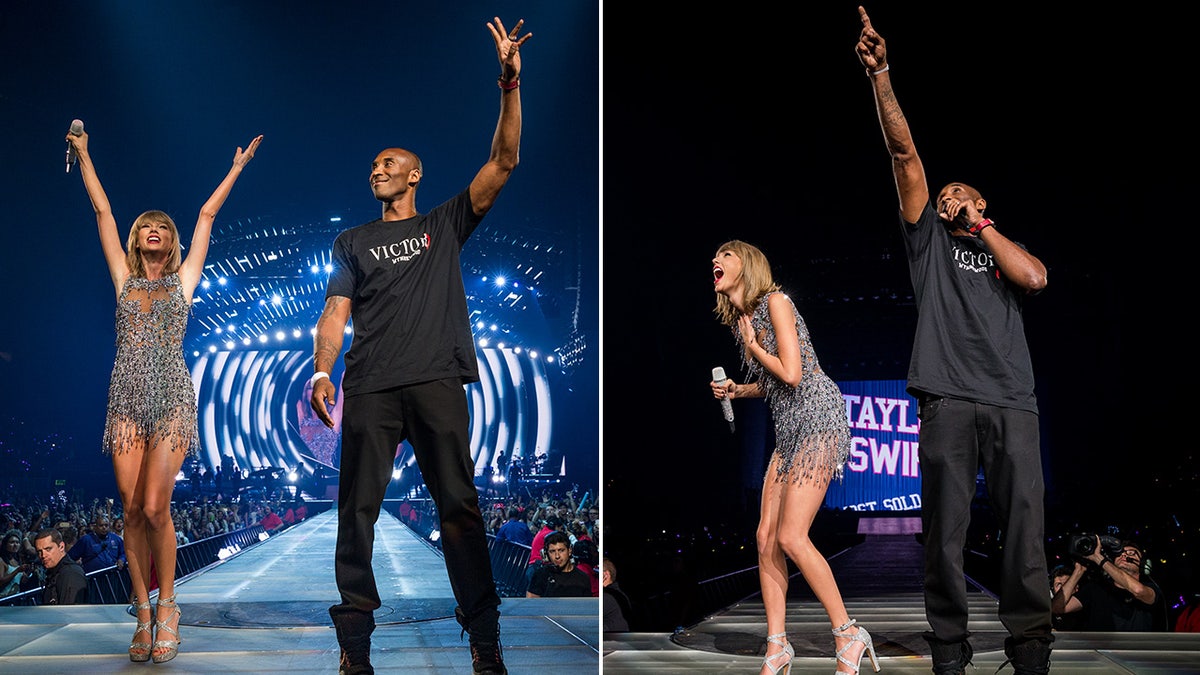 Kobe Bryant joined Taylor Swift on stage in 2015 during her 1989 tour to present her with a banner for most sold out shows at the Staples Center. (Christopher Polk/Getty Images)
Vanessa also shared photos of her crew from both during and after the concert – with her girls even getting the chance to meet Swift backstage after she had finished her set.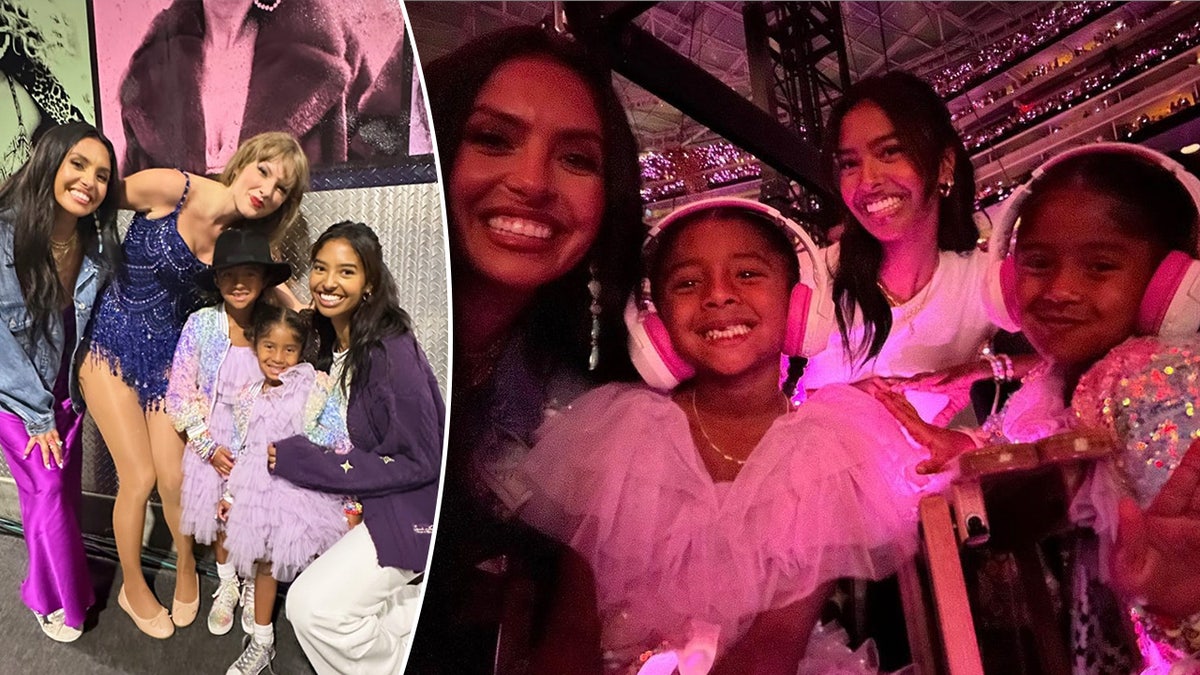 Vanessa Bryant shared a behind-the-scenes picture of her family meeting Taylor Swift, as well as a photo of her and her three daughters enjoying the concert. (Vanessa Bryant Instagram)
"Always love," she captioned one of the photos.
Swift, a 12-time Grammy Award winner, will conclude the first stretch of her tour on Wednesday in LA before taking things international. She will return to North America next year for more performances.
Caroline Thayer is an entertainment writer for Fox News Digital. Follow Caroline Thayer on Twitter at @carolinejthayer. Story tips can be sent to [email protected].