The singer missed his Sunday game, which the Kansas City Chiefs lost, but is making time for him before resuming her tour.
Taylor Swift is back in Kansas City, Missouri, where new love Travis Kelce is based, this Monday afternoon, Daily Mail reports. The outlet published photos of Swift boarding her private jet in New Jersey this morning, along with pics of her team carrying her Louis Vuitton luggage to the plane.
The outlet wrote that Swift landed in Kansas City just after 12 P.M. and that Kelce and Swift plan to celebrate Halloween together tomorrow, ahead of the Kansas City Chiefs' next game against the Miami Dolphins in Frankfurt, Germany, on Sunday.
Swift, of course, will start her Eras tour back up in Buenos Aires, Argentina, on November 9, which means it's unlikely she'll fly to Germany for the November 5 game. She skipped Kelce's away game yesterday against the Denver Broncos, too. A source explained to TMZ that Swift couldn't attend the Colorado match because she was busy preparing for her tour. (The Chiefs lost for the first time since Swift started attending their games.)
Prior to this morning, Swift was last photographed in New York City on Friday night: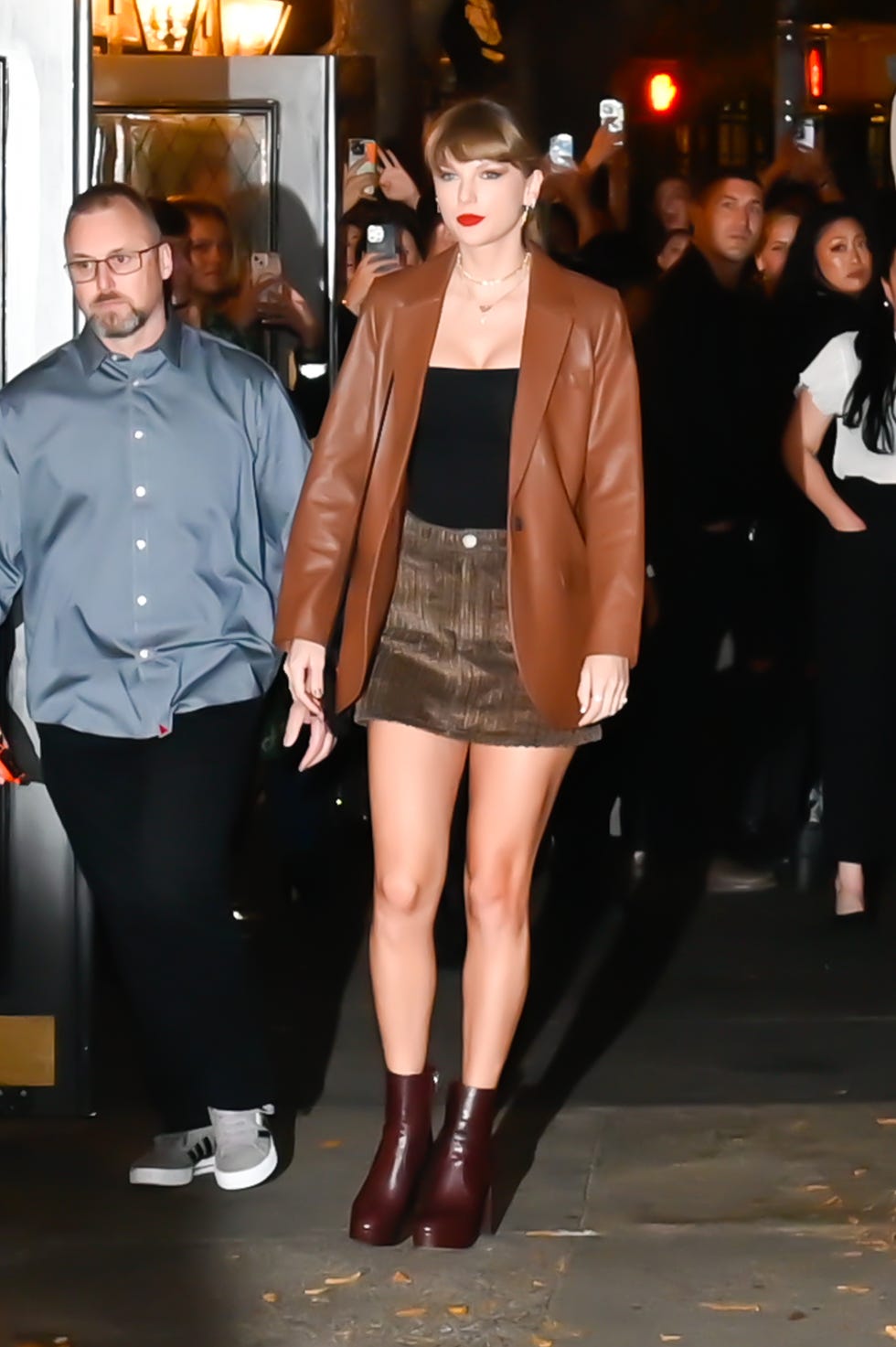 STEALTH PIX//GETTY IMAGES
Despite Swift and Kelce being separated geographically due to their careers, the couple is dedicated to their relationship.
A source told People on Friday that their relationship is "quickly turning more serious. They share a strong work ethic and have a huge appreciation for life and their careers, strong family bond and values. [He's] sweet, goofy and just a blast to be around."
Kelce is dedicated to going the distance, much like Swift, too. A source told Entertainment Tonight on October 19 that Kelce plans to go to see Swift perform in Buenos Aires, as those shows are during the Chiefs' bye week, their week off during the season.
"Travis and Taylor are all in," the source said. "The two are very into each other and are enjoying their time together but are also planning for the future. Taylor starts her international tour in November, and Travis is planning to be there to spend time with her. Travis and Taylor are very serious about their careers, and the two bond over that and want to show support for each other whenever they can."