Taylor Swift played a special Eminem song during her concert in Michigan.
Taylor Swift is one of the biggest, most popular singers at the moment. With a career spanning over a decade, her career is doing better than ever. With the Eras Tour, Swift is making more than $13 million a night in ticket sales alone, no wonder she's expected to deliver the highest-grossing tour in music history!
The Eras Tour is bound to be one of the most memorable tours of all time. Fans are in awe of the outfits the singer wears during the shows, which cost a small fortune. They are also loving the detailed and mesmerizing stage design her staff is recreating in every city she visits. Plus, Swift is singing two different "surprise songs" at every venue!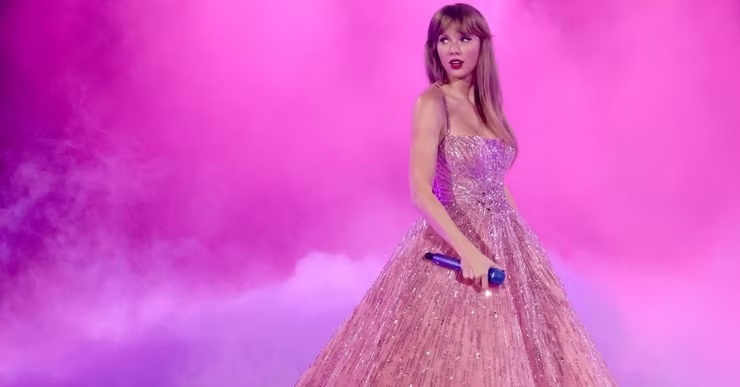 But this is not the first time the 'Cruel Summer' singer has surprised fans mid-concert. Back in 2011, Swift shocked everyone by performing a cover of Eminem's 'Lose Yourself' during a concert. The reason behind this impromptu performance is actually really heartwarming.
Taylor Swift Is Surprising Fans At The Eras Tour With Her Surprise Songs
Fans all over the world are obsessed with Taylor Swift's recent tour. The Eras Tour has been a huge success, selling millions of concert tickets all over the world. But that's not all. Fans are in awe of every single detail in the show, from Swift's elaborate outfits to the incredible stage design her crew created.
The Eras Tour promises to take fans on a journey through Swift's entire discography, from her self-titled debut album to her most recent studio album, Midnights. In addition to the pre-established 44-song setlist, the singer performs two "surprise songs" every night. She hasn't repeated the surprise songs so far. Fans would know, because they have made a spreadsheet with all the songs she's performed so far.
That's not the only surprise at her concerts. Throughout the North America section of her tour, Swift has had surprise appearances from stars such as Ice Spice, Phoebe Bridgers, Taylor Lautner, and more. Plus, artists such as Paramore, Gracie Abrams, Haim, Gayle, Muna, and Owenn were among the openers on the first U.S. run. With that in mind, it's no surprise that Taylor Swift's Eras Tour is on pace to break $2 billion in North America alone!
Taylor Swift Once Surprised Fans By Performing Eminem's 'Lose Yourself' Mid-Concert
As it turns out, Taylor Swift has been shocking fans with "surprise songs" way before the Eras Tour. A resurfaced video shows the 'You Belong with Me' singer performing a rather unconventional cover of Eminem's 'Lose Yourself.' The tweet, with over 30,000 likes, read: "[I] am completely shook by this footage of Taylor Swift singing Eminem's Lose Yourself in 2007."
In another video, Taylor Swift is seen with her guitar performing a country or pop version of Eminem's song once again. This second video was filmed in Van Andel Arena in West Michigan during Taylor's Speak Now World Tour in July 2011. This was a tribute to the 8 Mile star, who is originally from this state.
The reason why the 'I Knew You Were Trouble' decided to cover one of Eminem's most iconic songs is actually really heartwarming. "I love hip-hop so much. There's something so honest about it," Swift told InStyle magazine in 2013. The star admitted she grew up listening to hip-hop and that she's always felt a strong connection to this genre because it's so raw and vulnerable, just like she tries to be with her music.
Swift also revealed she's always wanted to collaborate with Eminem. "Nobody wants to hear me rap, but I'd sing a chorus for someone for sure. I would sign up for that in a heartbeat." In return, the rapper admitted that he liked her music and thought Taylor was "really cool," in a 2016 interview with Zane Lowe.
Taylor Swift Is a Huge Eminem Fan, But All These Stars Are Big Swifties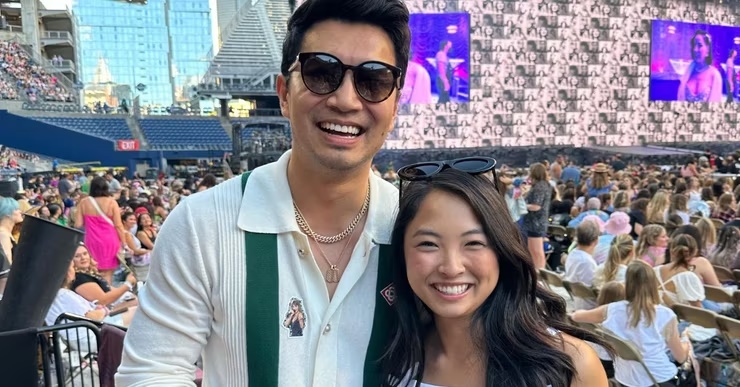 Several of Taylor Swift's celeb friends have shown up to the singer's much-anticipated The Eras Tour. They're not the only ones.
In the past month, many celebrities have been spotted shaking it off at Swift's concerts, including Emma Stone, Jeff Goldblum and his wife Emilie Livingston, Miranda Cosgrove, Simu Liu, Sydney Sweeney, Cameron Diaz, Sofia Vergara, Charlize Theron, Tiffany Haddish, Zoe Saldana, and Channing Tatum, who even exchanged friendship bracelettes with other fans.
Emily Ratajkowski, who was not a fan of Taylor Swift before, also attended one of her L.A. shows. But the model revealed that this changed after watching the 'Bad Blood' singer live. "I was not a Swiftie and now I'm like, 'You know what that means? That means I was a misogynist that I didn't f– with Taylor Swift," Ratajkowski told Troye Sivan for the July 25 episode of her podcast, High Low With EmRata.
"I went to her concert and I was like, 'This person is an incredible songwriter, an incredible performer, and anybody who says anything else? Like, they have issues. And actually maybe not a very sophisticated palette.' … If you don't like Taylor Swift, then, like, you don't understand things."