NFL fans and Swifties' wildest dreams came true after Taylor Swift kissed Travis Kelce on Instagram
Travis Kelce and Taylor Swift are coming out of the woods with their relationship, and his Kansas City Chiefs crew is embracing her like "family."
The "Shake It Off" singer is forming friendships with a handful of Kelce's closest confidantes, including his parents Donna and Ed, and his best friend's wife, Brittany Mahomes.
"She's letting her guard down, and she's just in the moment having fun," behavioral analyst Susan Constantine told Fox News Digital. Constantine thinks Taylor and Travis have something special.
"This relationship is certainly different from what I've seen in her past relationships," she said. "This one seems more long term, like going potentially a long time."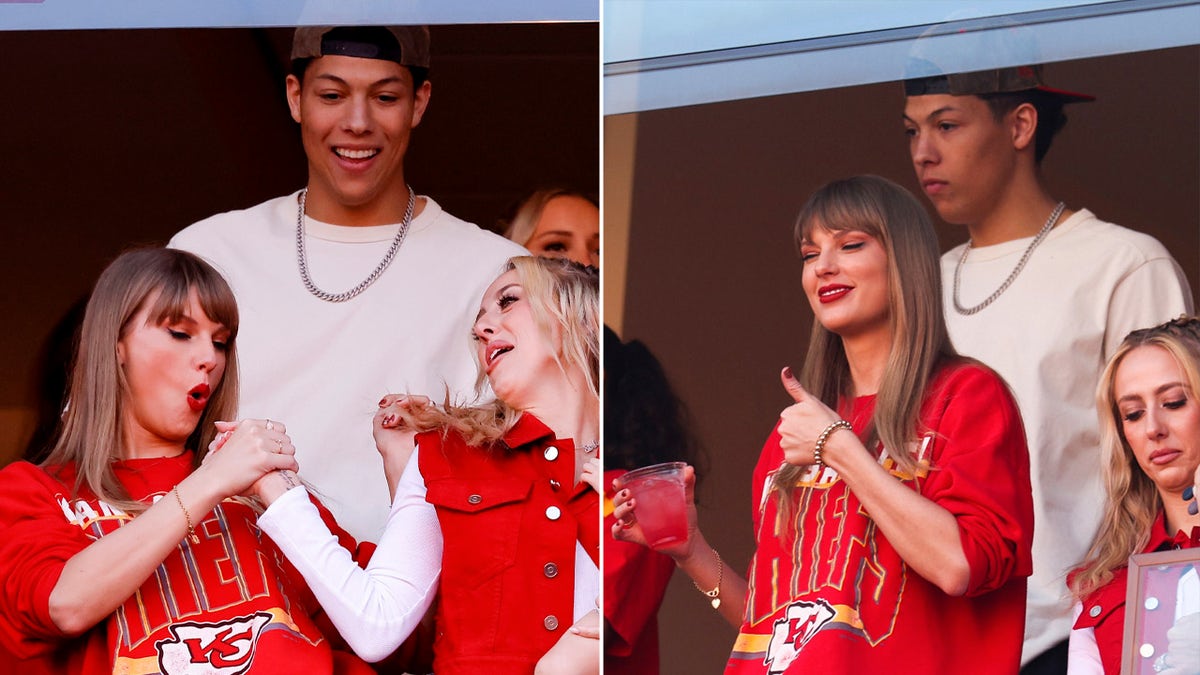 Taylor Swift was spotted with Jackson Mahomes on Sunday at the Kansas City Chiefs game. Mahomes, the younger brother of the Chiefs quarterback Patrick Mahomes, is accused of multiple sex crimes.  (David Eulitt)
When Taylor and Brittany were caught performing their secret handshake, Constantine said Swift was letting loose like she always wanted to.
"She's not in performance. She's not having to perform. This is a game. 'I can be crazy. I can be fun. I can be like normal people for the first time,'" Constantine said of Taylor's lively disposition. "She's cheering and having fun at the game."
Brittany, the wife of star quarterback Patrick Mahomes, has welcomed Taylor with open arms into the WAGS (Wives and Girlfriends) club.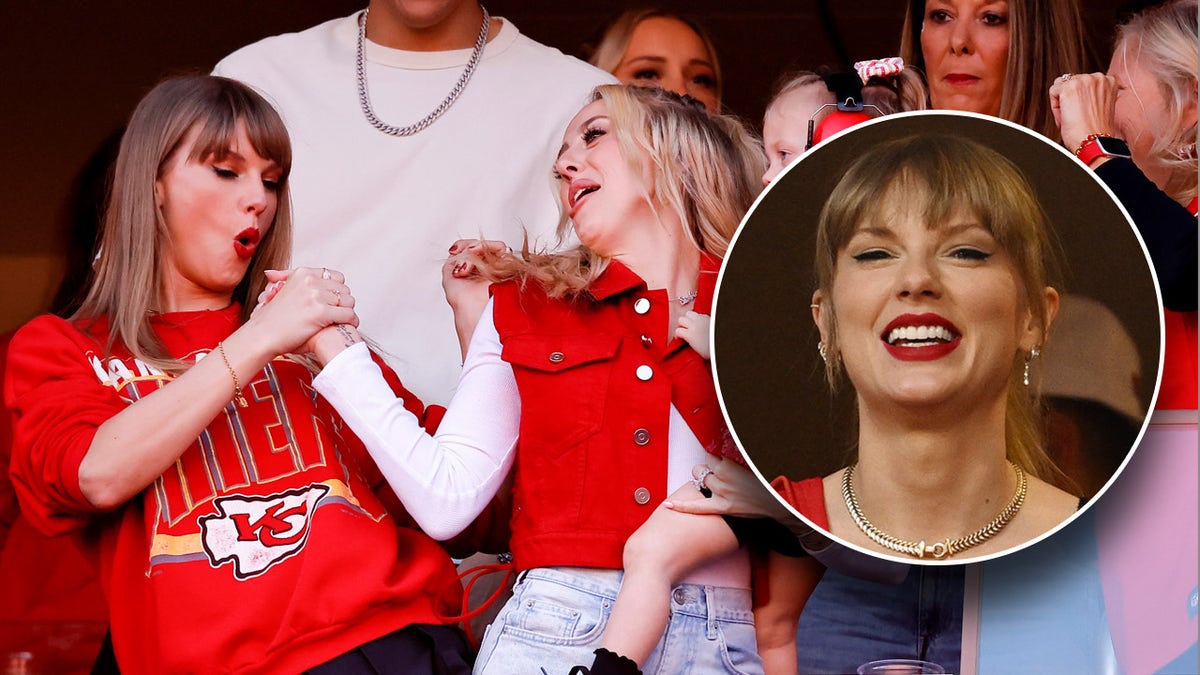 Taylor Swift and Brittany Mahomes celebrated Sunday at the Kansas City Chiefs game. (Getty Images)
Constantine said Taylor's relationship with Brittany "looks like a really close friendship." They've been spotted cheering on their main men at multiple games and now share the throne as the queens of the Kansas City Chiefs.
"She feels like she's really super connected, but much more on a family level," Constantine said. "Brittany feels very safe with her.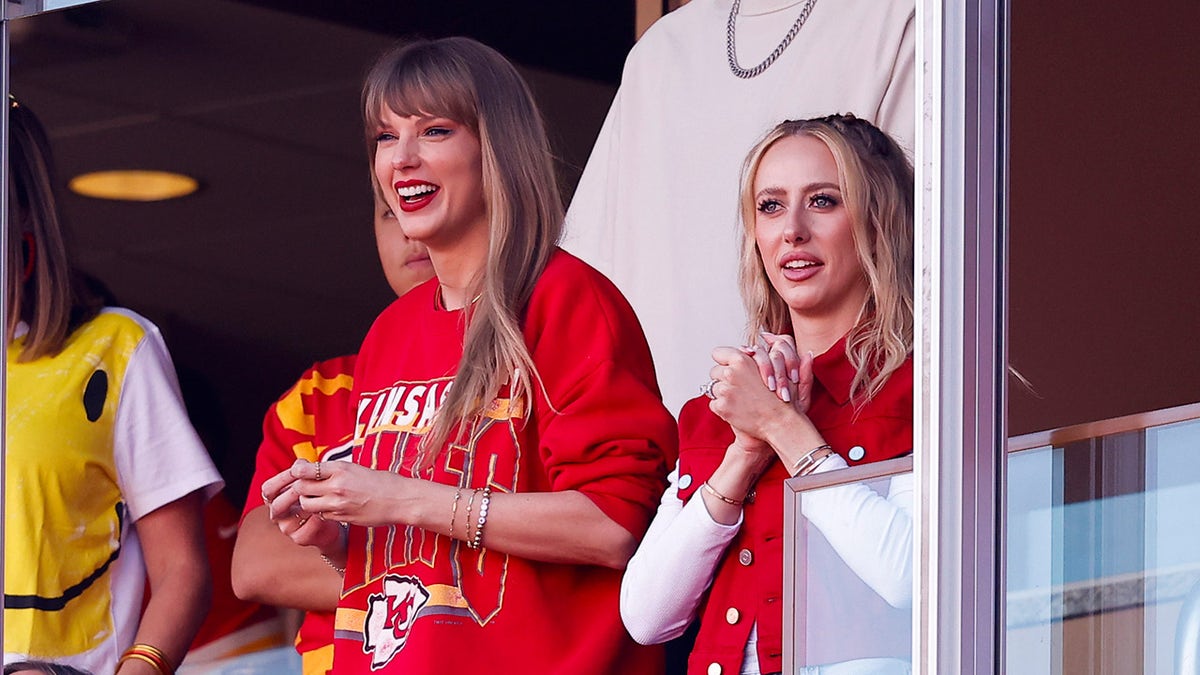 Taylor Swift and Brittany Mahomes have been the new queens of Kansas City. (David Eulitt)
"I see big sister, little sister."
Brittany's been a staple on the Kansas City scene as Patrick's permanent plus-one, long before he signed a 10-year, $503 million contract with the Chiefs in 2020.
The high school sweethearts made things more official at the Chiefs' Super Bowl ring ceremony in 2020 when Patrick dropped to one knee and proposed. They've since married and welcomed two children.
Brittany is also co-owner of the Kansas City Current in the National Women's Soccer League.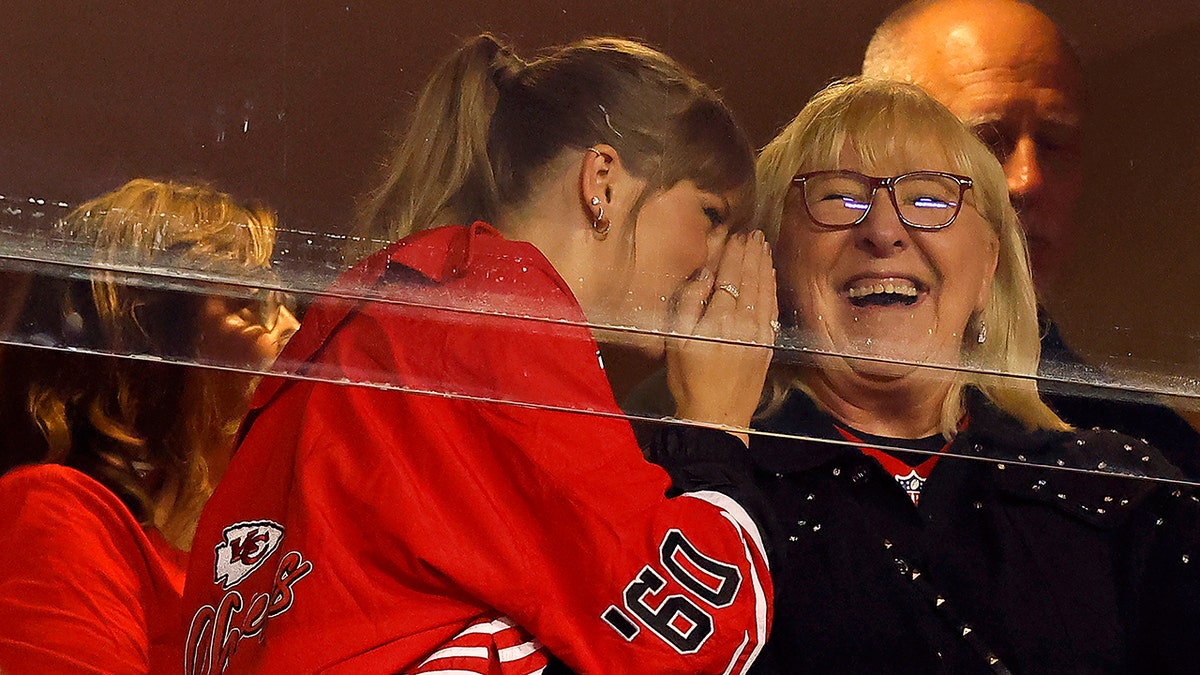 Taylor Swift and Donna Kelce laugh and share secrets at the game between the Kansas City Chiefs and the Denver Broncos. (David Eulitt)
Constantine said Taylor "is really fitting in nicely with the family" as seen in photos of Donna Kelce and Swift giggling together at games.
"They've built this special connection, this safe place between the two of them," she said. "They have a real connectedness, like this could potentially be my mother-in-law, and this could be my daughter-in-law. I see that kind of happening.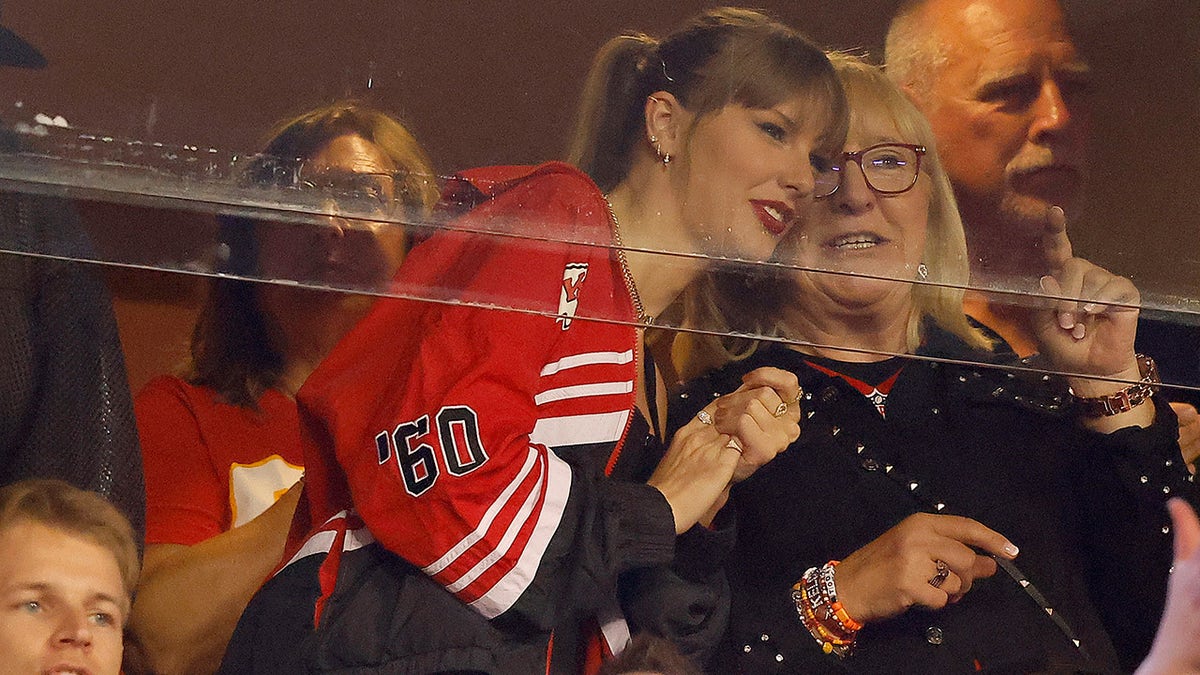 Donna Kelce wore friendship bracelets while chatting with Taylor Swift during a Kansas City game. (David Eulitt)
"The fact that she's holding her hand together, kind of clasping her own hand … This is hopeful. It's endearing and hopeful. She's looking for something good to happen. You look at their head levels which are the same. That's a sense of closeness.
"You don't allow people into that close place unless you have feelings, an intimate relationship with them. She has an intimate relationship with her mom, and it's warm."
Chariah Gordon, Mecole Hardman's girlfriend, shared the first photo on Instagram of Taylor kissing Travis.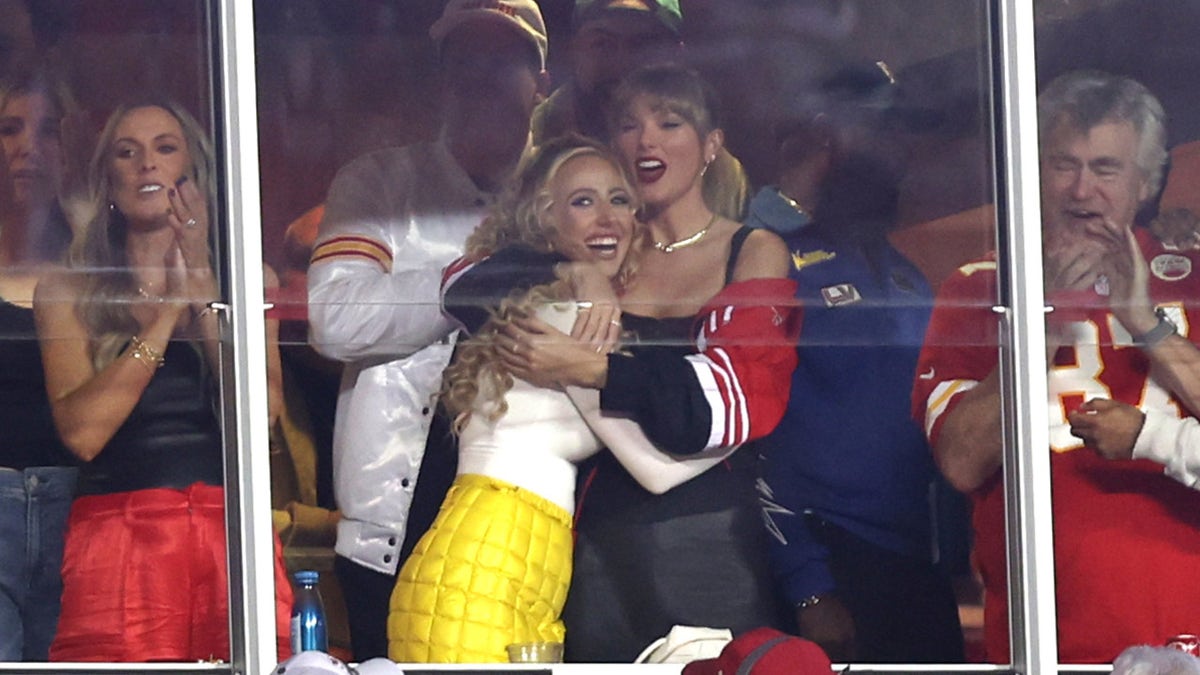 Taylor appears to be a "protector" of sorts to Brittany Mahomes, according to body language expert Susan Constantine. (Perry Knotts)
"She just absolutely adores him. Any time hands to chest, that's where her heartbeat is, and that's where her heart lies," Constantine said. "So, any time you put a hand on the heart, he's close to her heart. I love the face that he's actually kind of blushing, if you can see his facial expression.
"Then she's got her eyes closed. Anytime somebody has their eyes closed when they're kissing, it intensifies emotions."
When Taylor and Travis posed side by side with Chariah and Mecole, Constanine was impressed with how much Taylor was "connecting" with his friends.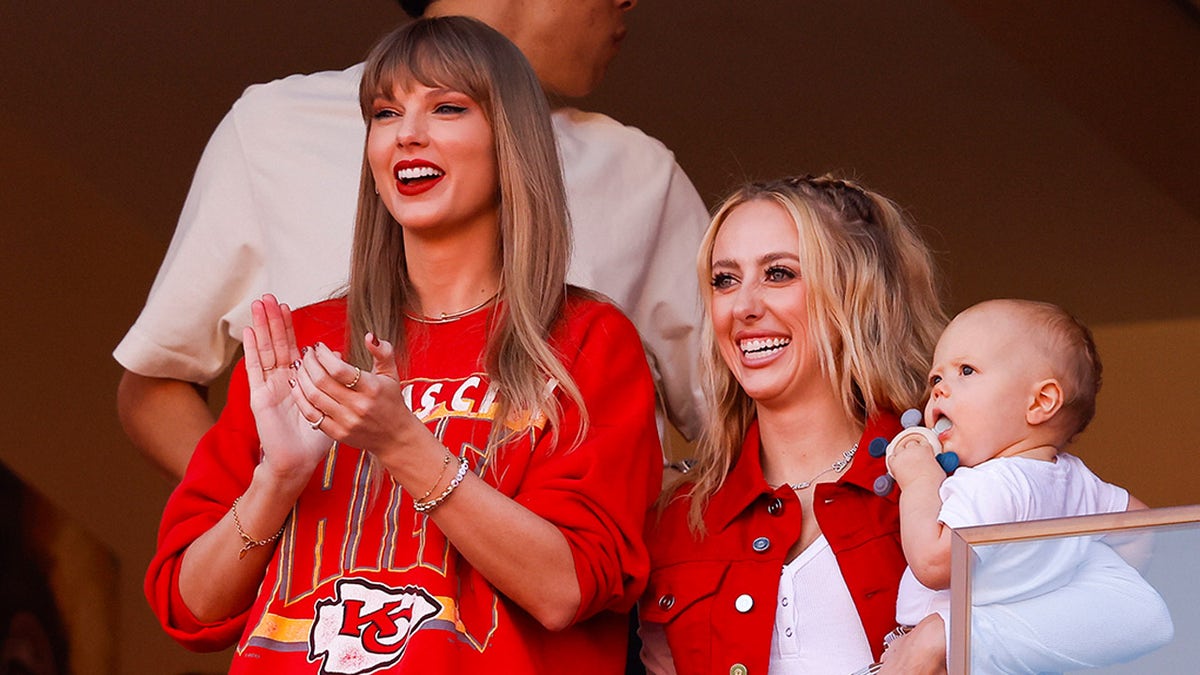 Swift wore a bunch of jewelry, including a gold bracelet with No. 87. (David Eulitt)
"She's becoming close to them because it's important that she knows that if she's going to have a relationship with him, that she also has to have a relationship with the people that are important to him," Constantine said. "Kelce is really enjoying that because his head is tilted toward hers."
Some fans were shocked to see Jackson Mahomes cheering alongside their favorite pop star during Sunday's Kansas City Chiefs game against the Los Angeles Chargers.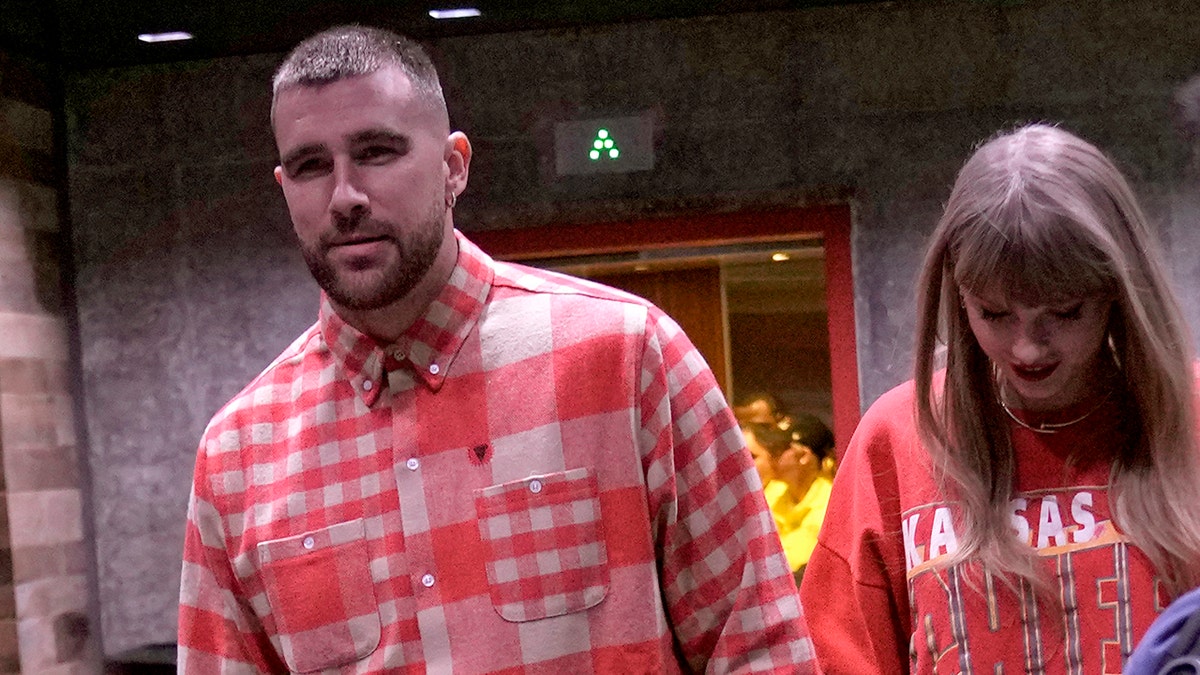 Kansas City Chiefs tight end Travis Kelce, left, and singer Taylor Swift leave Arrowhead Stadium Sunday. (Charlie Riedel)
Swifties flooded the internet with memes upon seeing the 23-year-old former influencer partying with the "Anti-Hero" singer.
Mahomes, the younger brother of Super Bowl-winning quarterback Patrick Mahomes, was arrested and charged with three counts of aggravated sexual battery and another count of battery from a February incident in Johnson County, Kansas.
"I'm going to need someone to get her out of that box immediately, Jackson Mahomes is there," one user wrote on X, formerly Twitter.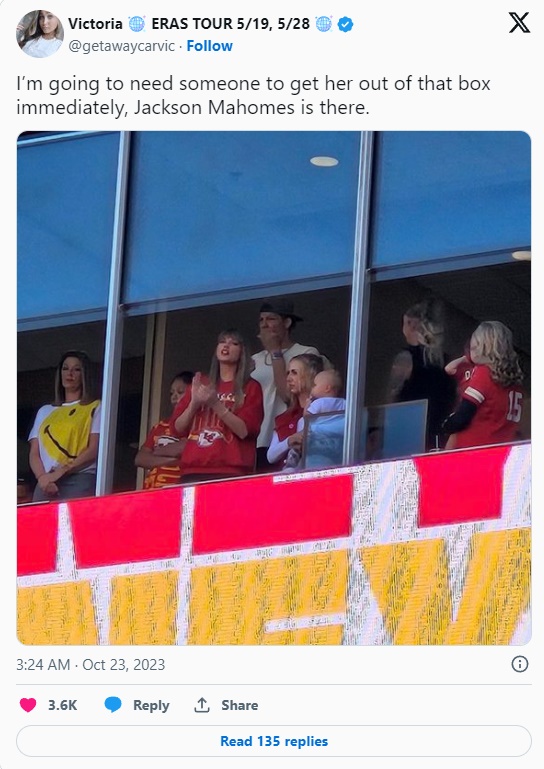 Former "The Bachelorette" star Nick Viall wrote, "Chiefs security should be ashamed for letting Jackson Mahomes in the same room as Taylor Swift."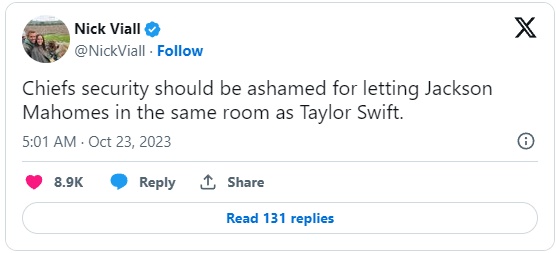 On Tuesday, a preliminary hearing for Jackson's case was scheduled for Jan. 3.
Taylor has become a fan favorite at Chiefs games and made her debut as one of Kelce's guests at Arrowhead Stadium in Kansas City Sept. 24.
She has been in the stands at a handful of Kelce's games and has proven to be somewhat of a lucky charm for the Chiefs as they pulled off their fourth win with the "Bad Blood" singer in the stands Sunday and sixth straight as a team.