Calvin Decker, who says he applied for the job largely to attend the Minneapolis concert without paying for tickets, was caught on video singing along to "Cruel Summer."
A Minneapolis security guard who worked at the Eras Tour says he was fired for asking fans to take photos of him standing in front of Taylor Swift.
Calvin Decker, who says he applied for the security job largely in order to attend a Swift concert without paying for tickets, went viral after a fan posted a video of him singing along to her 2019 song "Cruel Summer" during a June show at U.S. Bank Stadium.
Decker was stationed in front of the center stage, saying in a TikTok video a few days after the concert that he had to keep his eyes focused on the crowd and was not allowed to turn toward Swift.
"After night one, I was realizing how close Taylor Swift was getting to me, so I really wanted to get a photo to document it. So I handed down these little pieces of paper that said I wasn't allowed to have my phone out, but if Taylor Swift comes right behind me, please take a photo of me and text it to my number. And I handed this out to a couple of people in the front row for night two and they were really kind and really sweet about it."
Decker explained that he did not pass a note to the woman who posted the widely shared TikTok of him singing, but he was "so happy to see me going viral."
In an update video posted in August, Decker said the security company, Best Crowd Management, fired him due to a rule prohibiting staffers from taking photos with performers. Decker said the company took issue with his handing out notes to audience members asking to be sent photos that he "made my way into."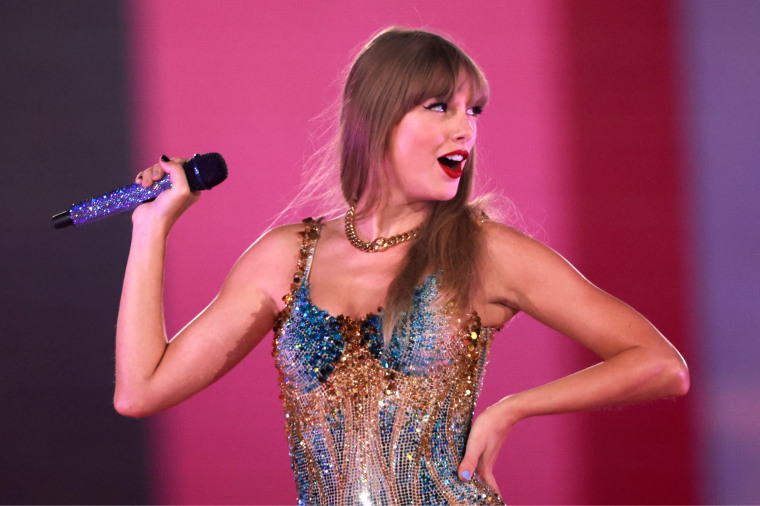 Taylor Swift performs at Sofi Stadium in Inglewood, Calif., on Aug. 7.Michael Tran / AFP – Getty Images
"Beyond that, the HR woman who called me wasn't able to articulate exactly what I did wrong, because I didn't do anything beyond asking for photos, which is what happens at any other concert, with the only exception being that I made sure I got any that I was included in," Decker said.
"Every photo of me from that night was from behind the barricade like any other photo from a fan would be," he continued. "I never took my own phone out. And above all else, I made sure that Taylor Swift was safe and all the fans had a good time. As long as I was at that concert, I was doing my job."
Decker was allegedly fired a couple of days after his first TikTok video, but when he offered to delete the post, the company's human resources representative said she would get back to him. He said he didn't hear back for more than a month and was then scheduled to work an Ed Sheeran concert at U.S. Bank Stadium.
"A couple of managers talked to me just to make sure that I wouldn't be making any videos, but a lot of them were really cool and willing to give me a second chance," Decker said.
After working a seven-hour shift, Decker said he was approached by HR and was then officially fired, despite the company assigning him additional shifts and not following up after the Swift debacle. Despite losing his job, Decker seems content, telling his followers not to send "hate" to Best and that he holds "no grudges against my employer."