Today (Aug. 4), Ciara and Chris Brown joined forces for the first time in over a decade. Their new summer single, "How We Roll," was accompanied by visuals of the two artists facing off to host the best dance party.
Dressed in an all-black ensemble paired with classic Nikes, Ciara set the tone with her verse before passing the baton to Brown. The latter can be seen wearing a scarlet and white varsity jacket reminiscent of his "Kiss Kiss" video.
"How We Roll" positions itself as the flagship single from Ciara's forthcoming eponymous EP, CiCi, set to release on Aug. 18. It arrived via her independent label, Beauty Marks Entertainment. The project follows 2019's Beauty Marks, which boasted guest appearances from prominent artists like Macklemore and Kelly Rowland.\
Sharing their excitement online, fans gathered on social media to react to the collaboration. One user commented, "Finally, some magic in music videos again! The whole theme of them literally on rolling parties is just perfection. I love music videos that feel like an escape!"
Someone else stated, "VIDEO OF THE YEAR!!! Y'ALL ATE! Give CiCi her Vanguard award. Who is making videos like this today? AND INDEPENDENTLY!" Another added, "It's the fact that Chris Brown and Ciara are keeping dancing alive. Everybody else [is] just twerking and learning TikTok dances."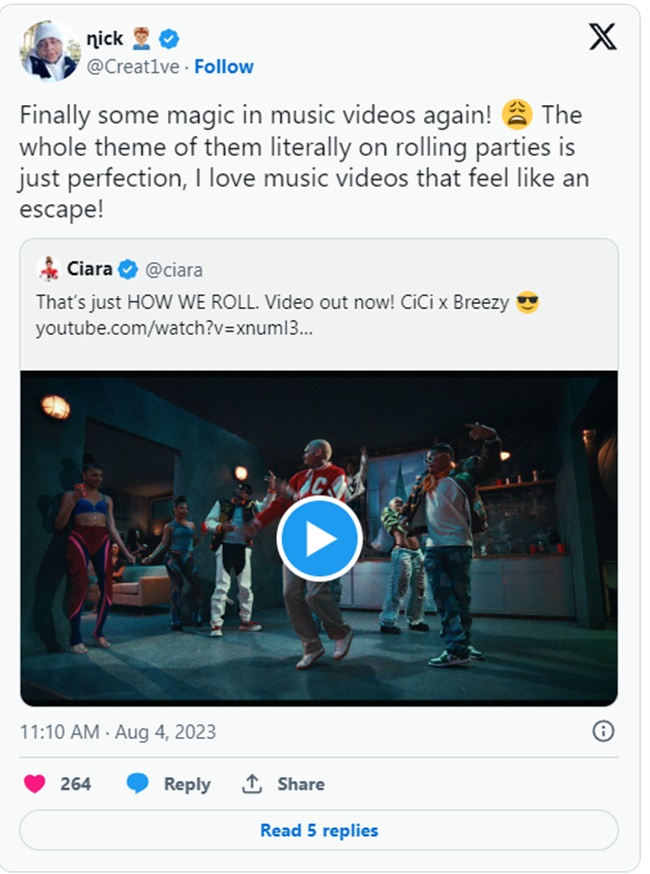 It's the fact that Chris Brown and Ciara are keeping dancing alive. Everybody else just twerking and learning tiktok dances.
However, the collaboration hasn't been without its share of criticism. Given his history of domestic violence allegations, some fans voiced disappointment in Ciara for working with Brown. Breezy responded to the backlash via his Instagram Stories. He stated, "WEIRDOS: 'Didn't we cancel Chris Brown?' Me: 'I'M STILL ALIVE.'"
The creative duo previously teamed up on 2009's "Turntables" and 2010's Ludacris' "How Low (Remix)." Despite the controversies, fans and R&B lovers alike mostly agreed that their latest joint effort is poised to be a smash hit.
Check out more reactions below.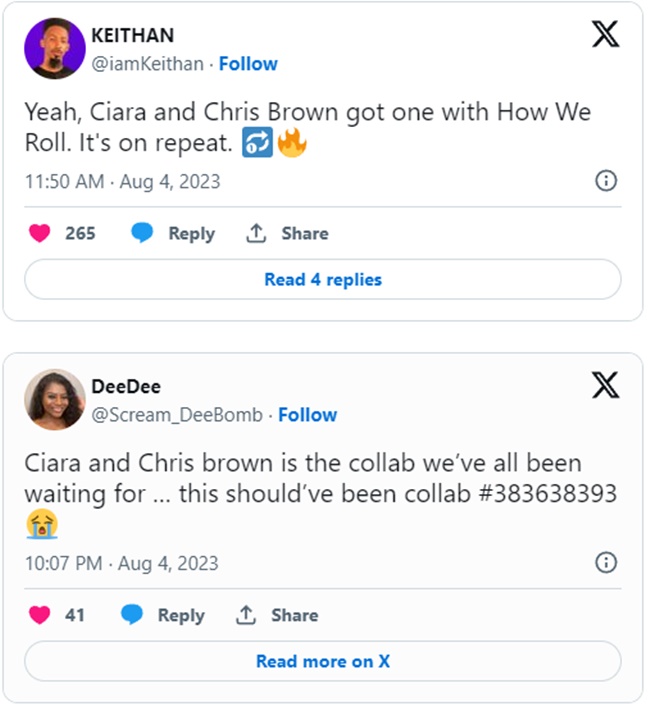 Chris Brown almost mid 30s doing backflips, front flips and karate moves. Meanwhile I'm a year younger and can barely walk up the stairs without needing a nap.