Jay-Z and Nas
Jay-Z and Nas had one of the most infamous beefs in music in the early 2000s. The beef between the two New York MCs started in 1997. On Nas' second album, It Was Written, he has a song titled, "The Message," in which he references the luxury car brand Lexus. Jay-Z dropped his debut album, Reasonable Doubt, in 1996, to which there were many references to the luxury car brand, too. This was taken as a shot at Jay-Z and the Brooklyn rapper responded on his song, "The City Is Mine," claiming the title of "King of New York."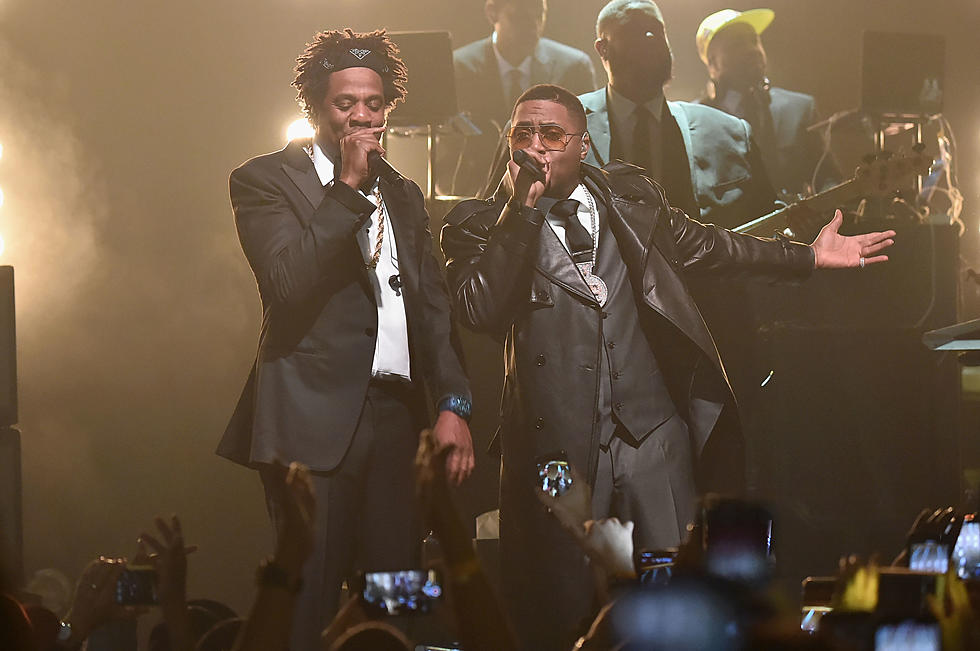 Theo Wargo/Getty Images for Roc Nation
This was just the beginning of their decades-long feud. The most disrespectful lines in their beef come from Nas in arguably the greatest rap diss, "Ether." The Queens artist dropped the diss record in 2001.
Nas raps, "You a fan, a phony, a fake, a p****y, a stan/I'll still whip your a*s, you 36 in a karate class?/You Tae-Bo ho, tryna work it out, you tryna get brolic?"
Good thing, their beef is no longer as the two collaborated on DJ Khaled's "Sorry Not Sorry" in 2021.
Chris Brown and Drake
Drake and Chris Brown had a beef that lasted nearly a decade. Their issues started as a result of them both dating Rihanna. In 2012 at Club W.i.P. in New York City, after rejecting Chris Brown's offering of champagne, Drake allegedly sent the bottles back to Brown with a note that read, "I'm f**ckin' the love of your life." A huge brawl at the club ensued with bottles being hurled from both sides.
Vivien Killilea/Getty Images for The h.wood Group
Years later and their feud is officially over as the two have since collaborated on songs such as "No Guidance" and "Not You Too."
50 Cent and The Game
50 Cent and The Game will have beef even after both are long gone. Their disdain for one another began in 2005, as both rappers' albums were set to drop. Originally, 50 Cent's sophomore album, The Massacre, was going to be released before The Game's debut album, The Documentary. But the label instead wanted to put The Game's album out first. Ever since then, the two have been at odds.
They both have made plenty of diss records towards each other, such as "Stop Crying," "100 Bars," "My B***h" and "I'm Not Rich and Still Lying." In 2005, The Game's "300 Bars and Runnin" had lines for a few rappers, but it was ultimately aimed at 50 and G-Unit.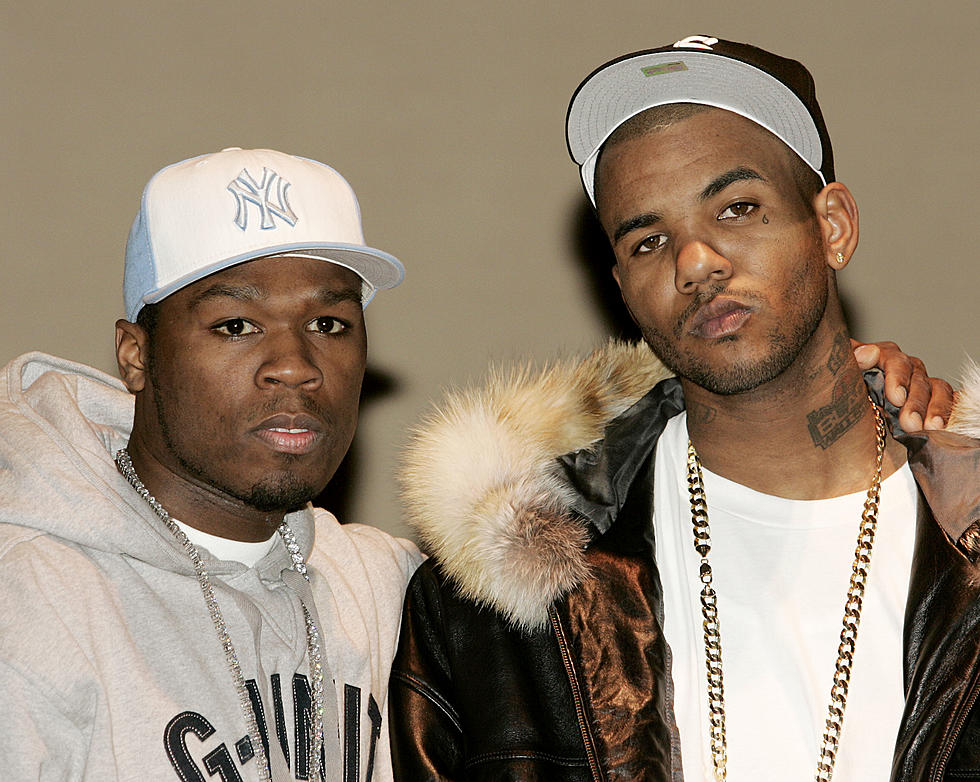 Peter Kramer/Getty Images
On the diss record, The Game raps, "How you gon' drop Olivia? You only drop dimes/I knew you changed when you started sleeping in that vest, dawg/I don't need 50 Cent, my n***as make collect calls/1-800-split a f****t n***a wig/He got G-Unit wings, throw 'em off the Queens bridge."
Their beef still exists today as The Game recently shamed 50 Cent for throwing a microphone at his concert in September, which ultimately left a fan injured.
Bone Thugs-N-Harmony and Twista
In the 1990s, Twista and Bone Thugs-N-Harmony went at it over both parties accusing the other of stealing their style. They released diss tracks aimed at each other. Twista called out the Cleveland-based group on record. In 1998, the Chicago rapper released the diss track "Crook County."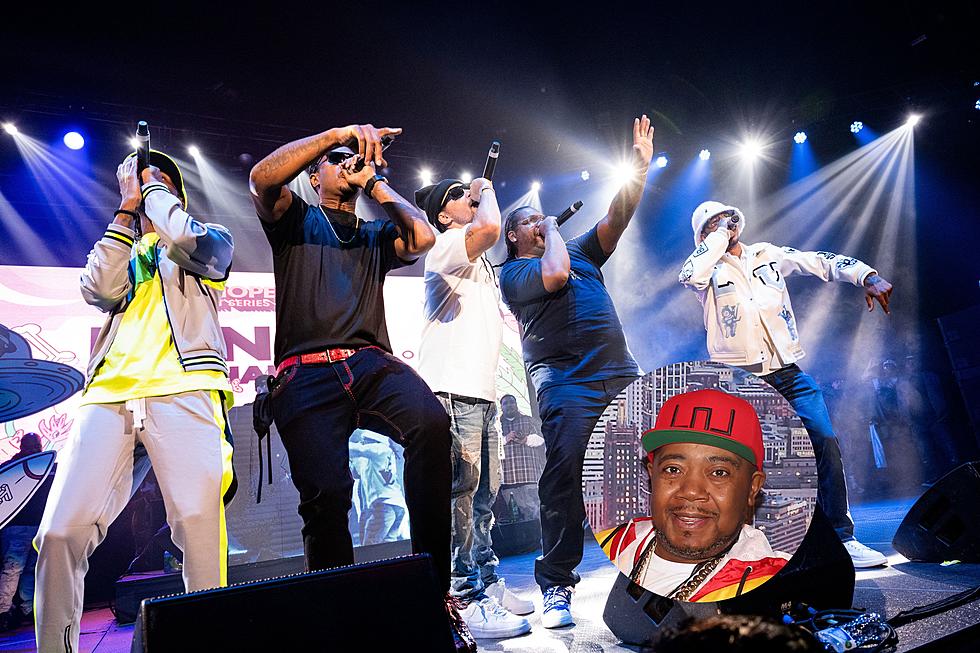 Scott Dudelson/Michael Reaves/Getty ImagesGetty Images (2)
Twista raps, "You can keep the apology, you done tried to dishonor me/Kill the Hoes of the Harmony/Just when you thought it was safe/The Bone n***as 'bout to get slaughtered and raped/I can slow down and audit the tape/Y'all bigger than all y'all who thought it was fake/Now watch four-fee's on the stage, bleed from the braids/Die on the first on the month, cause it's worse than the blunt/Why would you compete to be doomed, now you gon' see Eazy-E soon."
Twista and Bone Thugs-N-Harmony ended their feud in 2005, after collaborating on the song "Spit Your Game" for The Notorious B.I.G.'s second posthumous album, Duets: The Final Chapter.
Ice Cube and N.W.A
Although Eazy-E was the star, Ice Cube was the lyrical force for N.W.A. Unfortunately, Ice Cube left the group after he wasn't being fairly compensated for his work since he did write a majority of the lyrics. This began a beef between the group and Ice Cube. The latter unleashed the diss track "No Vaseline" on N.W.A in 1991.
He had many lines, but a few stood out. "Throw a house n***a in a ditch/Half pint b***h, f**king your homeboys, you little maggot/Eazy-E turned f****t/With your manager, fella/F**king MC Ren, Dr. Dre and Yella/But if they were smart as me/Eazy-E would be hanging from a tree/With no Vaseline/Just a match and a little bit of gasoline/Light 'em up, burn 'em up, flame on/'Til that Jheri curl is gone."
The beef didn't last too long as the two ended their feud in 1995.
50 Cent and Ja Rule
50 Cent and Ja Rule are still not on good terms. The two New York natives have beef that stems past music. Their issues started in the late 1990s, as Ja Rule was a part of notorious kingpin Supreme's crew. Supreme wanted 50 Cent dead and put a hit out on him. Since Ja Rule was a part of that crew, 50 will never mend this relationship.
50 has been known to be disrespectful, but his intro to "I Smell P***y" takes the cake. The Queens rapper dropped the diss record aimed at Ja Rule and Murder Inc. in 2003.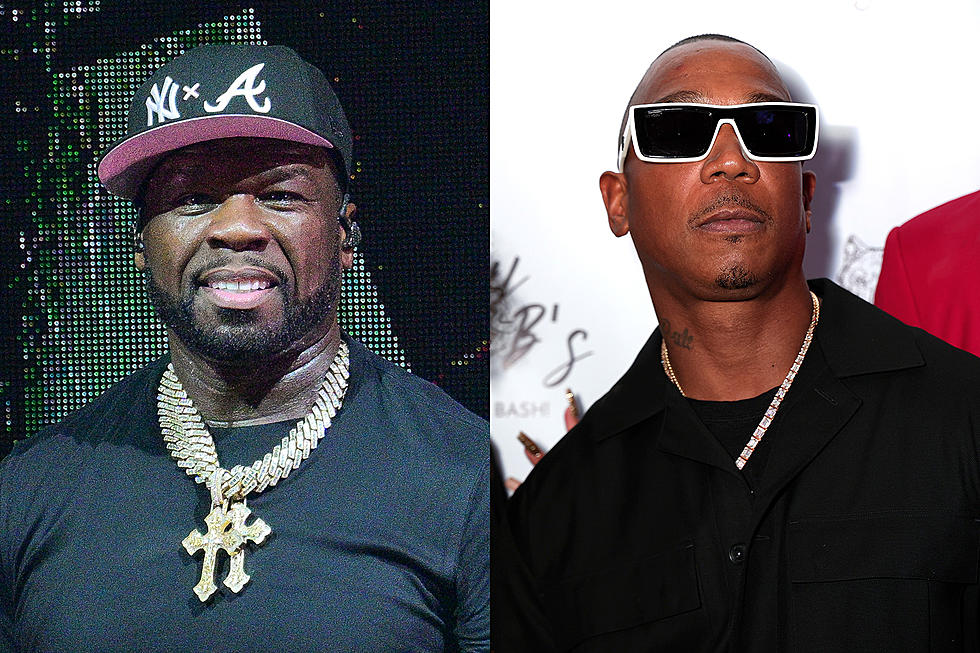 Prince Williams/WireImage/John Lamparski/Getty Images
50 says, "[*Sniff sniff*] Son, you smell that? What's that? I smell p***y! (Is that you, Irv?) I smell p***y! (Is that you, Ja?) I smell p***y! (Is that you, Black?) I smell p***y! (Is that you, Tah?)Y'all n****s is p***y! I'm balling out n***a now watch me (watch me)/Ain't nothing you can do to stop me (stop me)/Y'all n****s get so emotional (emotional) You remind me of."
Their beef still continues today. Recently, 50 Cent called Ja Rule a "d**khead" after Ja tied himself to a cross during a performance stunt in September. Ja Rule responded by posting 50 Cent's legal troubles after throwing a microphone at his concert which led to a fan being injured.
Pusha T and Drake
The Drake and Pusha T beef stems from a whole other feud. It started in 2006, between Lil Wayne and the Clipse. The two sides were feuding over who wore Bathing Ape clothing first. Since Drake signed to Lil Wayne, he was automatically placed in the fire. Now, it's the Drake and Pusha T beef, and it doesn't look like the two will make amends anytime soon.
You can't blame Drake after Pusha T's response to his "Duppy" freestyle in 2018. Pusha T spoke about Drake's son, Adonis, on "The Story of Adidon."
Pusha raps, "Sophie knows better as your baby mother/Cleaned her up for IG, but the stench is on her/A baby's involved, it's deeper than rap/We talkin' character, let me keep with the facts/You are hiding a child, let that boy come home/Deadbeat muthaf**ka playin' border patrol, ooh/Adonis is your son/And he deserves more than an Adidas press run; that's real/Love that baby, respect that girl/Forget she's a porn star, let her be your world, yuugh!"
Tupac Shakur and The Notorious B.I.G.
The East Coast-West Coast beef with Tupac Shakur and The Notorious B.I.G. may be the biggest example of rappers at odds in music. Though they started out as friends, the two MCs became enemies after Shakur was shot in New York. In 1994, Tupac was headed to a recording session at Quad Studios when he was ambushed, robbed and shot.
The Death Row rapper claimed that Bad Boy, mainly Biggie and Diddy, were behind the attack. This gave Tupac the fuel to go after the East Coast. He had plenty to say about Biggie on his 1996 diss track, "Hit 'Em Up."
He raps, "First off, f**k yo' b***h and the clique you claim/Westside when we ride, come equipped with game/You claim to be a player, but I f**ked your wife/We bust on Bad Boys, n***as f**ked for life."
Lil' Kim and Foxy Brown
Lil' Kim and Foxy Brown still don't acknowledge each other to this day. Once friends, the two ladies started to became enemies in the public eye. In 2000, Kim had a few shots for Foxy on the song "The Notorious K.I.M."

LAS VEGAS, NEVADA – MAY 06: Lil' Kim during the Lovers & Friends music festival at the Las Vegas Festival Grounds on May 06, 2023 in Las Vegas, Nevada. NEW YORK, NY – FEBRUARY 12: Rapper Foxy Brown is seen outside FENTY PUMA by Rihanna AW16 Collection fashion show during Fall 2016 New York Fashion Week on February 12, 2016 in New York City.
Kaitlyn Morris/Gilbert Carrasquillo/FilmMagic (2)
She raps, "Girls say they different but uh, see in all actuality, they wanna be me/This chick running around with this stink a*s gap/And them fake a*s raps having panic attacks/You ain't a star/And your record company know that/How you make all this money, get this far and blow it/I'm a businesswoman now so I'm not concerned/I'd bet on Lil' Cease before you and your Firm."
Gucci Mane and Jeezy
The Gucci Mane and Jeezy beef is one of the most infamous beefs in hip- hop history. It started in 2005, after they collaborated for the hit record "So Icy." Jeezy thought the song was going to be on his debut album, Let's Get It: Thug Motivation 101, but the track appeared on Gucci's album, Trap House, first.
To top it all off, Jeezy claims he was never paid for the record. One of Jeezy's associates, Pookie Loc, even attempted to kill Gucci, but Guwop shot and killed Pookie first. The attempted hit was allegedly prompted by Jeezy in 2005.
Paras Griffin/Getty Images/Michael Buckner/Variety via Getty Images
Jeezy started the beef by releasing "Stay Strapped," aimed at Gucci Mane months later. He raps, "I got a bounty on that s**t, n***a/10 stacks/So, if he come to your town, and you just happen to snatch that muthaf**ka off his neck, I'm gonna shoot you the 10-stack, man/So I can cremate that muthaf**ka."
Thankfully, in 2020, Gucci Mane and Jeezy competed in a Verzuz battle, which helped put to bed any ill feelings the two had. Although, things got heated during the song competition, the beef is officially over.
Mobb Deep and Tupac Shakur
Tupac Shakur had some words for Mobb Deep on the outro to his 1996 diss record, "Hit Em Up." This is him responding to the duo jumping in the East Coast-West Coast beef when Mobb Deep was featured on Capone-N-Noreaga's remix to "L.A. L.A."
Bryan Bedder/Ron Galella/Getty Images (2)
On "Hit Em Up," Tupac says, "Oh yeah, Mobb Deep (take money) you wanna f**k with us?/You little young-a*s muthaf**kas (take money)/Don't one of you n***as got sickle cell or something? (Take money)/You f**king with me/N***a, you f**k around and have a seizure or a heart attack (take money)/You better back the f**k up 'fore you get smacked the f**k up."
Jadakiss and Beanie Sigel
The beef between Roc-A-Fella Records and The L.O.X. started after Jay-Z threw shots at Jadakiss on the remix to "Fiesta." Both crews jumped in to the defend either side. Beanie Sigel lyrically manhandled Jadakiss and company on a Hot 97 freestyle in 2002.
Beanie Sigel raps, "Put his lips on his 9 and make him kiss the game goodbye/You 'bout to really make me hurt you, 'Kiss/Spittin candy bars this n***as' sweeter than a Hershey kiss/Got me heated, 'bout to work the fifth/Diesel on the purple s**t/The rev gotta get a church for 'Kiss/You broke talking 'bout you rock yourself out/When I see you, you gonna really wish you knock yourself out."
Jadakiss and Beanie Sigel no longer have beef after both sides squashed their issues.
Common and Ice Cube
The Common and Ice Cube beef came out of nowhere. Ice Cube felt Common was coming at the West Coast on his 1994 single, "I Used To Love H.E.R." A year later, Cube retaliated with the diss track "Westside Slaughterhouse" alongside Westside Connection. It took two years, but in 1997, Common came back with "The B***h in Yoo."
He throws plenty of haymakers including, "See the b***h in you when you don't speak your mind/The b***h in you, looking me in my eyes lying/I see the b***h in you, to be hard, you trying/The b***h in you it's coming out (B***h)."
With the help of Minister Louis Farrakan, the two MCs patched things up and even starred in the Barbershop movie series together.
Nicki Minaj and Remy Ma
Years go by and Nicki Minaj and Remy Ma still remain at odds. Their relationship got rocky after the Bronx rapper was released from prison. Remy took shots at Nicki Minaj on a few freestyles and believed the Young Money rapper intentionally tried to sabotage her career. In 2017, Remy dropped "Shether" in a Nas-like fashion.
Remy raps, "Guess who supports a child molester? Nicki Minaj/You paid for your brother's wedding? That's hella foul/How you spendin' money to support a pedophile?/He a walkin' dead man, sendin' threats to him/I guess that's why they call you Barbie, you was next to Ken/Talkin' about your money long and your foreign sick/Why you ain't help your bro hide his cum from forensics?"
The two New York rappers are still not on good terms. Last year, Remy was on the Drink Champs podcast and host N.O.R.E. asked if the two are in a good space, to which Remy replied, "Not that I know of."
B.o.B and Tyler, The Creator
In 2011, Tyler, The Creator burst onto the scene with his lauded track "Yonkers." He created a new enemy in B.o.B. after knocking his song, "Airplanes," on the track.
Tyler raps, "What you think of Hayley Williams?/F**k her, Wolf Haley robbin' them/I'll crash that f**kin' airplane that that f****t n***a B.o.B is in."
B.o.B. responded with "No Future," a diss toward Tyler and his Odd Future crew. This beef did not last too long. In 2012, in an interview with GQ magazine, B.o.B. dismissed the petty beef.
Jim Jones and Max B
Long before reconciling in 2019, Jim Jones and Max B were at odds for years. Once a part of the same collective, Byrdgang, Max removed himself from the group in 2008, claiming that he wasn't fairly compensated for his work. The Harlem rapper wrote many of Byrdgang's songs, including having a hand in Jim Jones' biggest hit record, "We Fly High (Ballin')," but he was not credited for it. Max B made countless diss tracks aimed at Jim Jones and Byrdgang, including "She Touched It in Miami."
On "She Touched It in Miami," Max talks about having relations with Jim Jones' wife, Chrissy. On the song, Max raps, "Even Chrissy loves Max/She touched it in Miami/She, she, she touched it in Miami/She, she, she touched it in Miami/Told me in Opium/She love it in her fanny."
It's reminiscent of "Hit 'Em Up" when Tupac claims he had relations with The Notorious B.I.G.'s wife, Faith Evans. Some may consider this the ultimate disrespect.
Lil Wayne and Jay-Z
In the 2000s, there was always this conversation of who is the G.O.A.T. and the king of hip-hop. Some believed it was Jay-Z while others voted for Lil Wayne. Of course, Birdman sided with Lil Wayne, and made it clear in a 2009 interview with Tropical TV in London. Jay-Z responded to Birdman on the 2011 song "H.A.M." with Kanye West. The Brooklyn rapper raps about how Baby has "baby" money compared to Hov and his wife, Beyoncé.
Lil Wayne stepped in for Birdman, sending shots to Jay-Z on "It's Good." The Young Money CEO raps, "Talkin bout Baby money?/I got your baby money/Kidnap your b***h get that how much you love your lady money/I know you fake, n***a/Pressure breaks, n***a/I'll take you out, that's a date n***a."
There's no bad blood between the two veterans now. Recently, Wayne revealed that Jay-Z is the reason why he stopped writing his lyrics and spits off the top of his head.
Cam'ron and Ma$e
After growing up in Harlem together and being in the same group, the friendship between Ma$e and Cam'ron didn't last. After an argument between Cam, Jim Jones and Ma$e on HoT 97 in 2004, the beef began. Cam'ron made diss records and claimed he would never speak to Ma$e again.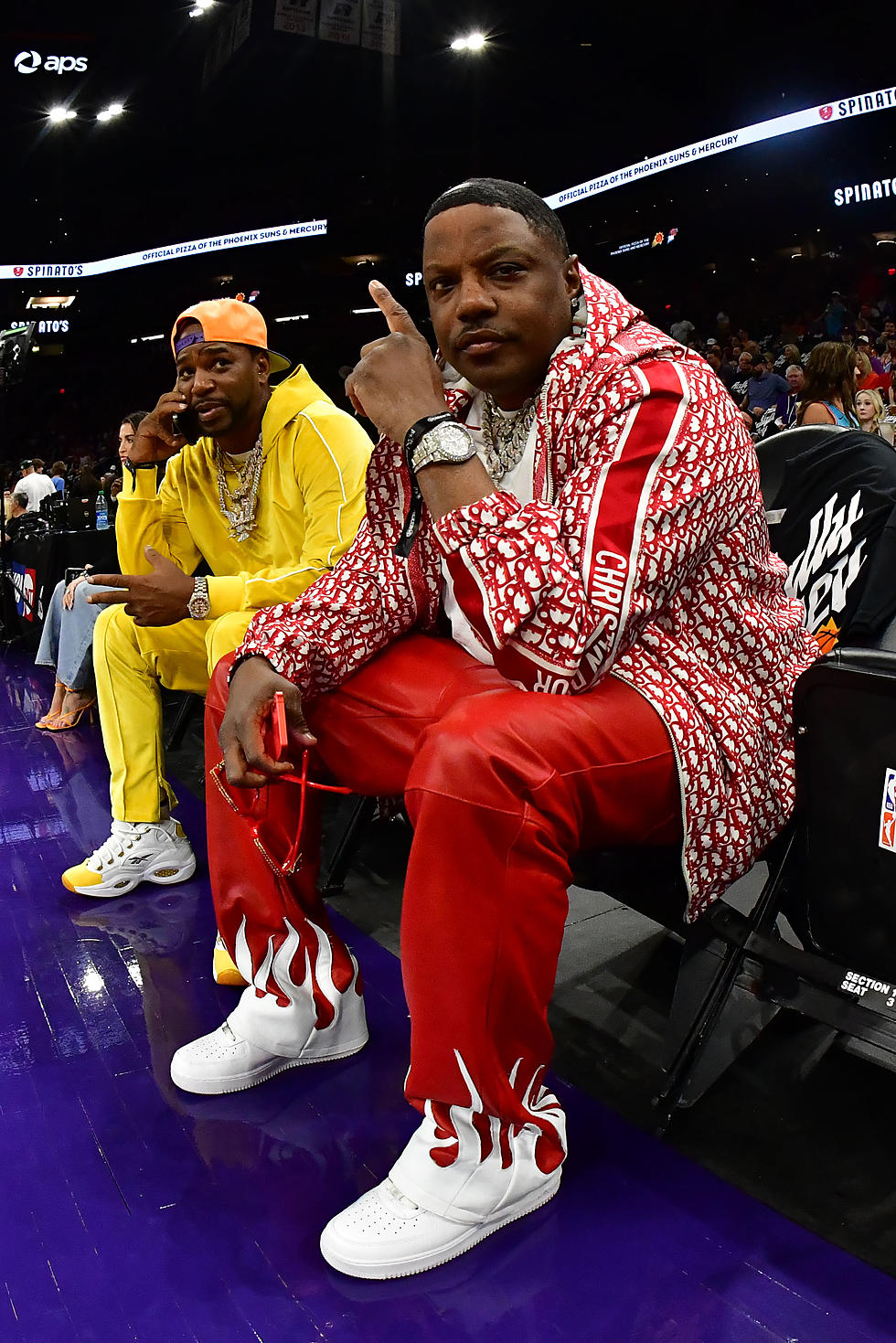 It took years, but in 2017, Ma$e finally responded with a diss track of his own titled "The Oracle." He addresses Cam'ron throughout the record, including using the phrase "Harlem World" for the Diplomats brand logo. Ma$e raps, "This Ma$e, n***a/I invented the curve/I'm the name on the ribbon on the bird/I'm done rapping with you/You'll always be my b***h/You got my f**king name tatted on you."
Harlem World is the title of Ma$e's debut album, therefore the former Bad Boy rapper takes credit for the phrase being used in the Diplomats brand logo. Nowadays, Cam'ron and Ma$e are on good terms as they host a sports show together, It Is What It Is.
Gucci Mane and Everybody
Approximately 10 years ago, Gucci Mane went on an infamous Twitter rant. He referenced many rappers such as Nicki Minaj, Yo Gotti and Waka Flocka Flame. He tweeted about Iggy Azalea, too. "Iggy wanna, suck my d**k." Drake also caught a stray from Gucci's Twitter fingers. "Tell drake he a true male groupie I don't need u u 2 much a sissy stop tryin b me. Chec dat b***h instagram. True groupie," Guwop wrote. He wasn't done either. "F**k jeezy. Tip. Gotti. Waka. Nicki minaj drake d a Whooh. Frenchy 2 chainz coachk kkaior eminem oj rock Quavo takeoff cardo dam g."
In an interview with Billboard in 2021, Gucci Mane and his wife Keyshia Kaior blamed the rapper's lean addiction as the reason why he did that epic Twitter rant.