A generation of fans will forever know Emilia Clarke as Daenerys Targaryen, the platinum blonde dragon-riding queen from Game of Thrones. But there was a time when Clarke wasn't sure if she would be able to continue in the role: around the time they were filming seasons seasons 2 and 3, Clarke suffered multiple brain aneurysms, which necessitated multiple surgeries and painful recoveries. She opened up about her experiences in 2019, ahead of the show airing its final season on HBO.
Years later, she obviously got through that period, getting multiple Emmy nominations for her work on Game of Thrones and headlining movies like Me Before You and Last Christmas. And now Bazaar UK has named Clarke their Woman of the Year, which comes with an interview and nifty photo spread.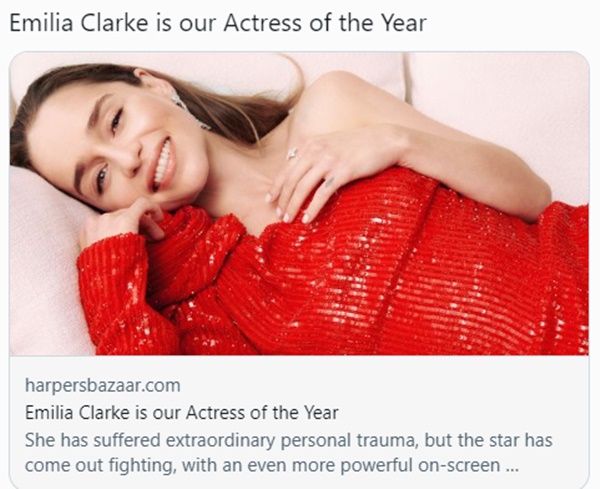 As part of the interview, Clarke talked once again about what it was like to have multiple brain hemorrhages not long after she'd gotten her big break as an actor, when she was a young woman in her 20s. At the time, she was determined to push through these difficulties and make the most of her opportunities. "I wasn't afraid of dying. I was afraid of being fired!" she said. "I decided: "This is not something that's going to define me.' I never gave into any feeling of 'Why me? This sucks.' I was just like – 'gotta get back on it.'"
If I'm being brutally honest, the whole thing made me feel very ashamed. Like I was broken. As though the producers must think I'm an unreliable person that they've hired.
Emilia Clarke looks back at her health struggles on the set of Game of Thrones
Obviously, Clarke made it out of that period and shot the rest of the show. Showrunner Dan Weiss was one of the only people who knew what she was going through at the time. "It was terrifying because this amazing, sweet, wonderful human being came this close to not being around anymore — this person we loved so much after just one year," he told author James Hibberd for his book Game of Thrones, Fire Cannot Kill a Dragon. "Obviously you need to make the show, but the important thing was making sure she was in a safe situation. You ask yourself: Is she as safe doing this show as if she was not doing it? If she was home sitting on her couch? She was so gung ho; the main thing for us was making sure she wouldn't put herself [in dangerous situations]. She would say, 'Yeah, I just had brain surgery, and if I need to gallop on a horse down a mountainside, I'll do it.' You would have to tell her no, because she would never say no."
These days, Clarke looks back on this period and sees the good side of things, which feels characteristic of her if you've ever watched her in an interview; she is almost supernaturally good-natured. "If I hadn't had a brain hemorrhage, I might have turned into a right old d*ckhead, thinking I was the bee's knees, living in Hollywood. I'm so much more aware of what's happening, in the moment that it's happening," she said. "I don't worry about failure – I thrive on failure! If something goes wrong, I always think you can fix it. It hurts, it's scary, but then you can do anything."
This year, Clarke has appeared in the movie The Pod Generation and in the Marvel series Secret Invasion.