A recent RIAA certification update led some fan pages to falsely claim that Drake is now the best-selling rapper, not Eminem. Let's look into why this statement is wrong.
The first and the loudest headline stated: Drake is now the officially highest-selling rapper of all time, surpassing Eminem.
That's the claim that makes you double-check if you read it correctly. And yes, you did. That's just the information that is not correct.
First of all, this page and some others omit words from the RIAA of the US from their celebratory headlines, giving the impression that Drake is not the best-selling rapper in the world. The actual text then referred to the RIAA certifications, narrowing the sphere of Drake's impact down to the USA. Still, the author's intention to present the event as more significant than it actually is is evident.
But what about the event in itself? What has happened that threw social media into a frenzy about the enormous selling numbers shown by Drake? Yes, he just released his new album, and yes, he just updated his certifications, but is the difference that huge?
The official RIAA web page still shows that Marshall's certifications reflect a significantly higher number of sales than Drake's.
Eminem is ranked 19th among the highest RIAA-certified artists, and he is also the first rapper to appear on the list. According to the RIAA, the total number of certified units Eminem sold in the US equals 61.5 million. Also, this number is built on the information label provided to the RIAA in March 2022, over a year ago.

You must scroll down to No.37 to find Drake's name on the RIAA list with 41.5 million certified units sold in the US. And yes, it includes his most recent updates of the October 25th.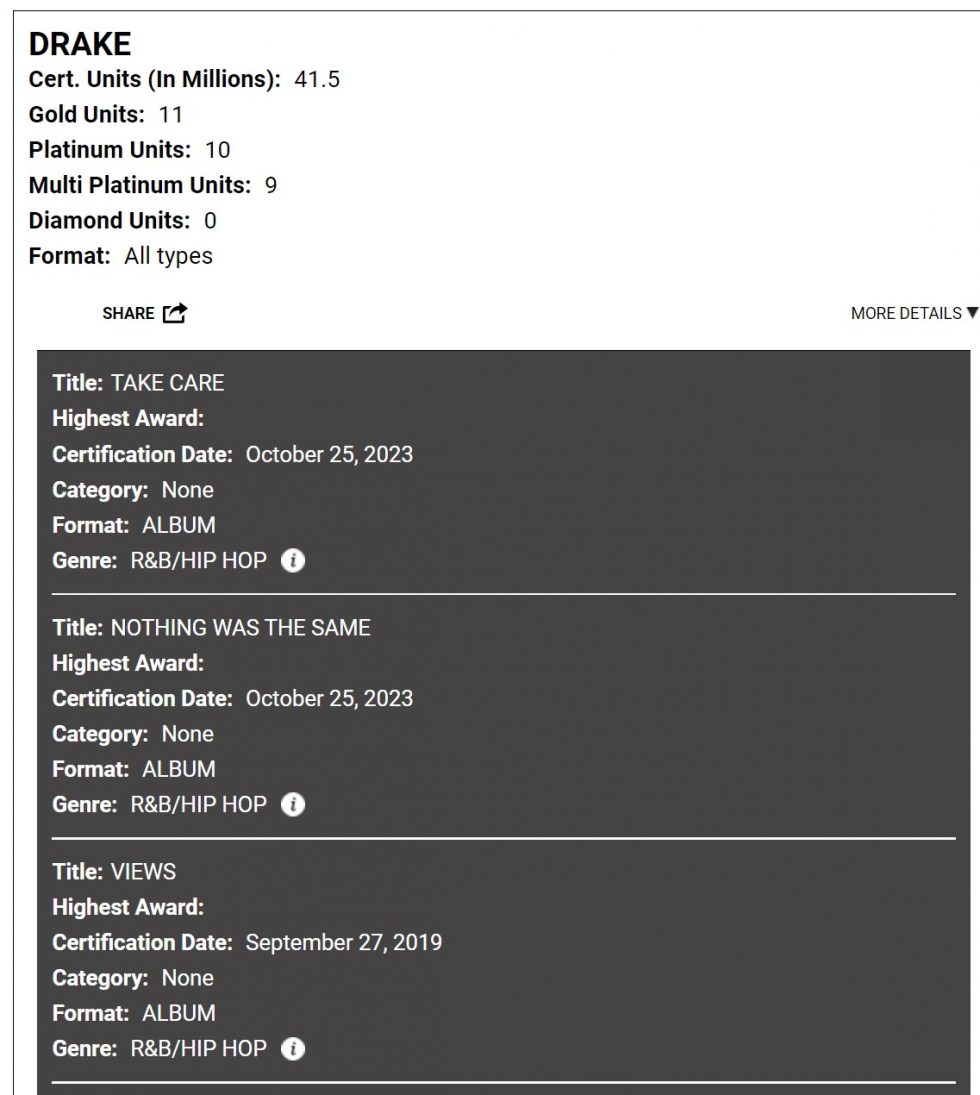 If anything is official, it is that according to the latest RIAA data, Eminem is outselling Drake by 20 million units.
Yet social media claim that Drake now has 265 certified units sold. How is it even possible? The Beatles remain the highest RIAA-certified music act of all time, with 183 million units sold, and Drake still has a long way to go to compete with them. So, where did his mythical number of units come from? From sleight of hand double counting. Eager fans counted singles' certifications as equal to albums' certifications, while officially, by the same RIAA standards, one single equals to 1/10 of an album. Also, all singles certifications are already included in the album certification, and there is no need to add them to the final count presented by the RIAA.
So, this is maths for you: Drake is officially the second most RIAA certified rapper in the US, lagging 20 million units behind Eminem.