Nicki celebrates her friendship with Drake.
Most, if not all hip-hop heads know how close Nicki Minaj and Drake are. It really all began back when both of them were brought on to the Young Money/Cash Money record labels. From countless classic songs together like "Moment 4 Life," "Only," and "Truffle Butter," the list goes on forever and ever. While it does not seem that she was at the recent Drake birthday bash, Nicki sent her love and well wishes from afar. Thejasminebrand's Instagram page caught some of Nicki's Instagram story posts and shared them with their followers. Let's just say they give all of the nostalgic feels.
You can check out all of the posts below. Nicki posted three separate photos of her and Drake a few minutes apart. The first one looks to be from the late 2000s or early 2010s. Nicki is rocking her blonde wig and bright pink lipstick, while Drizzy is wearing a tan blazer with a cheetah print button-down shirt. The caption tags the 37-year-old and references how far they have come with a classic Drake track. "From the bottom," Nicki writes."
Nicki Minaj Shows How Far Her And Drake Have Come
The following post seems to be from the mid-2010s, maybe right around the time Nicki put out The Pinkprint. She throws in a handful of different color heart emojis and captions it, "Happy Birthday @champagnepapi." Finally, the last one shows how much love Nicki has for her close friend. "Happy Birthday Drake Love You." She throws in the cake, present and confetti emojis as well.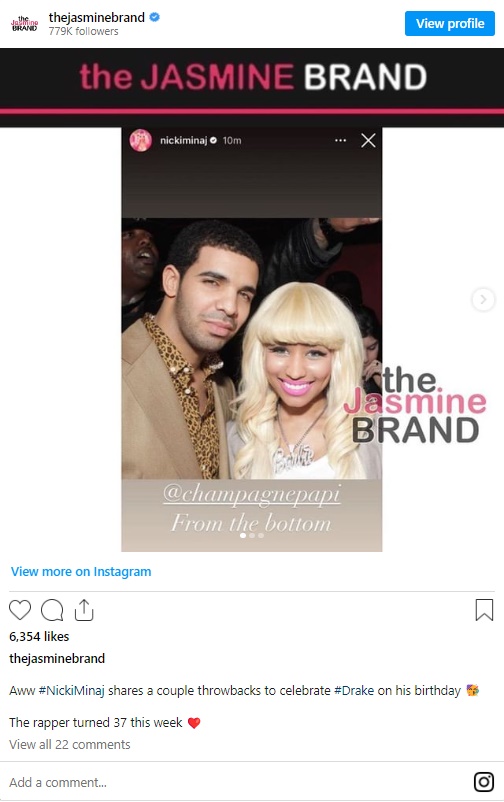 What are your initial thoughts on Nicki Minaj wishing Drake a happy 37th birthday? Is this the strongest friendship in the hip-hop community? Do you think Drake will appear on Nicki's upcoming album, Pink Friday 2? We would like to hear what you have to say about all of this. With that in mind, be sure to leave all of your thoughts and opinions in the comments section below. Additionally, always keep it locked in with HNHH for all of the latest breaking news around Nicki Minaj and Drake, as well as everything else going on around the music world.