A man broke up with his girlfriend and he says Chris Brown is to blame.
The TikTok user, who goes by Dash, bought his girlfriend front-row tickets to one of Breezy's European concerts on his "Under the Influence" tour. He shared a video of his girl getting a lap dance from the R&B star while performing his song "Take You Down."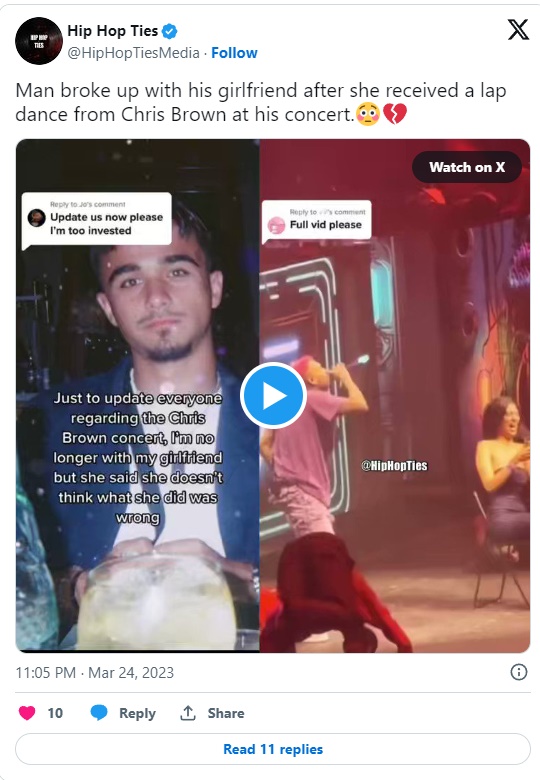 "How I watched my girlfriend up on stage with Chris Brown," Dash captioned the clip.
His girlfriend appeared to be enjoying herself, even putting her arms around Breezy at one point while he serenaded her.
In another TikTok video, soundtracked by Dua Lipa's "One Kiss," he revealed that he spent £500 ($611 US) on the tickets. "I want my £500 and my girlfriend back @chrisbrownofficial," he added.
But it appears that the lap dance was enough to cause a rift in their relationship. He shared another video where he revealed that he and his girlfriend have broken up since the video went viral.
"Just to update everyone regarding the Chris Brown concert, I'm no longer with my girlfriend," said Dash, who added, "She said she doesn't think what she did was wrong."
He later joked that Chris apologized and bought him "60 rolls of toilet paper for 19.99."
Chris Brown has become quite famous for his lap dances. During his "Under the Influence" tour stop in Berlin, he threw a fan's phone into the crowd after she insisted on filming him during the lap dance. But the device was returned to her after the show.