Breezy and Rueche were on and off from 2010 to 2015.
Hollywood may seem like a larger-than-life place to outsiders, but if we're keeping it real, the dating pool is relatively small. Virtually every celebrity can be connected through a mutual ex or past hookup within their friend groups, though fans rarely get to hear all the juicy tea about failed relationships and short-lived flings straight from the source. Thankfully, Jason Lee's podcast is here with a new episode to answer some questions about Omarion's love life – specifically his history with model Karrueche Tran.
As the blogger tells it, he was responsible for trying to set the B2K alum up with Tran. At the time, he brought a group of beautiful young women to the club with him for a night out with Omarion and Chris Brown, and Lee noticed one of his guests was vibing with the former singer. "I thought y'all were gonna be a thing," he recalls predicting. "Yeah, that's true," Jason's guest agreed before they noted that Rueche was photographed with Breezy not long after.
Omarion Blames Chris Brown for Preventing Karrueche Tran Relationship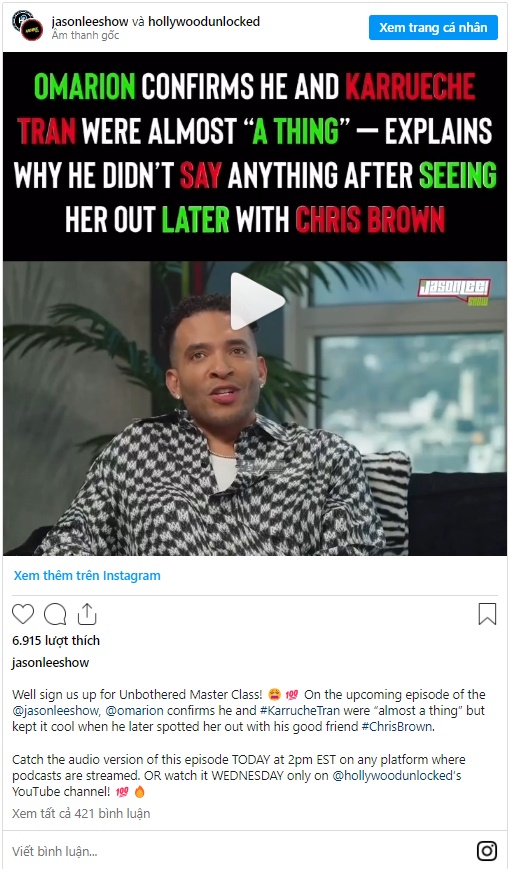 "And you never said anything!" the host called out Omarion. "If I were you I would've," he trailed off before the 38-year-old explained himself. "Come on now! You got to be unbothered," he yelled, making it clear he doesn't let the little things in life get him down. Seeing as Karrueche and Brown's union came to an end in 2015 after a few rocky years of on-again-off-again antics, we can't help but wonder if Omarion could be her "one that got away."
R&B Star's Full Interview with Jason Lee
Elsewhere in his conversation with Jason Lee, Omarion gets real about his co-parenting relationship with Apryl Jones, as well as the current status of B2K's relationship. Listen to it all on Spotify above, and let us know which of the Hollywood Unlocked CEO's most recent guests has been your favourite in the comments.