Canadian singer and songwriter Jessie Reyez has worked with multiple top-tier music stars, but her connection to Marshall is special.
Jessie has not one but three successful collaborations with Eminem: "Nice Guy" and "Good Guy",Eminem — "Kamikaze" Surpassed 3 Billion Streams on Spotify which appeared on Em's 2018 "Kamikaze" album and then the ballad "Coffin" on Reyez's 2020 debut album, "Before Love Came to Kill Us". It is clearly a fruitful and productive partnership built on mutual respect. Still, for Jessie, there is always part of it that calls for her childhood adoration.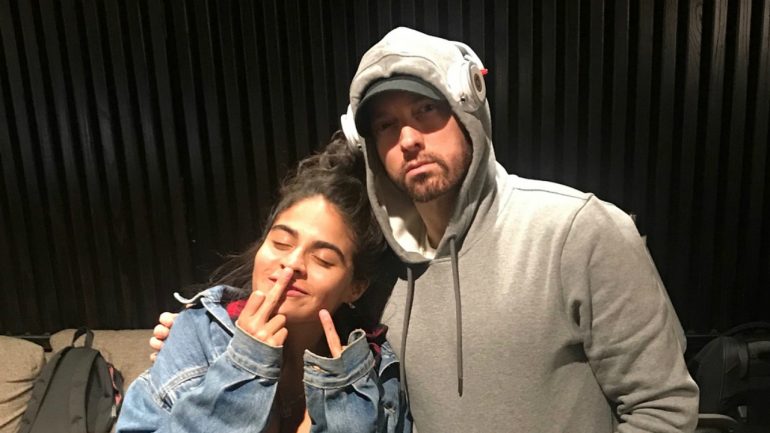 Remembering the first meeting with Eminem on the Ebro in the Morning radio show, Jessie replayed the moment:
I was fucking nervous as hell. There are only two people that I've ever met where I had to centre myself and not freak out. Em was one of them. And Beyonce. That was funny 'cause I didn't realise, but when we met, and I hugged him, one of my managers was like, "Yo, we can hear you". I audibly exhaled in a very fucking ridiculous way. But it was genuine; it was genuine! I was really excited.
And yes, Marshall heard her, confirms Jessie. Peter Rosenberg wonders why she feels so strongly about connecting with Marshall. Is it because he is a good rapper or because Jessie connects with some other part of him and what he talks about?
Everything! The rawness. Anyone who's raw with how they present themselves, whether or not they're an artist, even people that are able to have no filter when it comes to going from their heart to their mouth, I'm a fan of. Whether it's good or bad, whatever they say, as long as they're being honest, I feel like the truth resonates. It has always resonated with me that he's always been very fucking himself. And very honest. Whether right or wrong. Very honest. And at the very least, when someone can be that, there's a level of respect that I feel is due. Because a lot of people in this world fucking can't be that or are scared to be that. So, in that way, I resonated and then in childhood nostalgic ways. 'Cause I remember "8 Mile" and seeing this middle finger with the two fingers down and thinking, this shit is lit! Being in the theatre like, yo, I wanna fucking rap! I want to have a mic! So, I was like being in the room with a fucking legend.