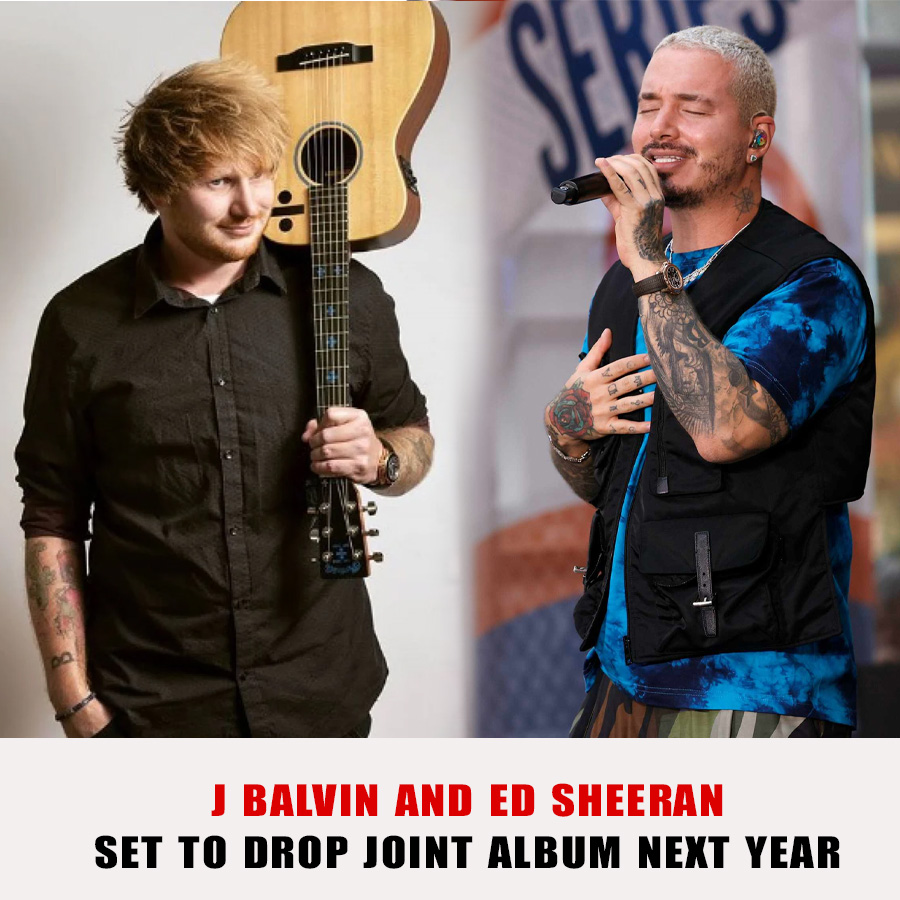 "It will offer a lot to talk about because it's like merging two worlds"
J Balvin has confirmed that he and Ed Sheeran will be releasing a joint album soon.
In a recent cover story with Nylon, Balvin spoke about a new EDM-inspired record as well as his collaborative album with Sheeran.
"It came about in an organic, natural way. We met; we had coffee, we'd run into each other at the same gym, at the hotel," he told the publication. "[The record]'s going to be another album that will offer a lot to talk about because it's like merging two worlds."
Sheeran and Balvin dropped two highly-acclaimed singles 'Sigue' and 'Forever My Love' last year. Ahead of the release, in a joint post, the former teased the collaboration by posting a video and photo of the two in the studio to his social media channels.
"We drink coffee, talk about life and have a chimba vibe, creat[ing a] genuine friendship [by] talking from the simplest things to how to be a parent hehe," he said. "In New York, we had to meet each other in the studio for one day and you'll see what we did later, but the first two songs we put together 'Follow' and 'Forever My Love' are coming out soon."
The BRIT and Grammy Award-winning singer-songwriter said that Balvin "wanted to bring [him] into his world, and [Sheeran] wanted to bring him into [his]" while making the singles. He continued: "It was a proper challenge learning Spanish for this and I had so much fun doing it."
The Colombian star also told Nylon about his sixth studio album later this year. The album follows up his 2021 album 'JOSE' and "is very advanced, but it's easy to digest," according to Balvin: "The flows, the deliveries — all of this is super updated."<
Explaining how his next album will display the person behind the music, he continued: "Balvin is a character created to make music. We all put our energy into our work, as much as if it were our personal life. Actually, sometimes more than our own lives, we take care of our work. And that's where the struggle of finding balance is… José [referring to himself] is untouchable. I know what I'm worth as a person and J Balvin can't define me."
Balvin released his second single from 'José', 'Dientes', which samples the 2004 Usher classic 'Yeah!' and features the Atlanta singer and DJ Khaled. Mura Masa, Fred Ball, DJ Luian, Mambo Kingz, Tainy, and Michael Brun also helped produce the track.
Next week, Sheeran will release his second album of the year 'Autumn Variations' . Earlier this week, he revealed that he recorded a live version of the upcoming album by surprising fans and performing in their houses.