After nearly 20 years in the spotlight, the Detroit-based artist continues to shock and divide music listeners the world over.
When Eminem released his surprise album Kamikaze back in August, he didn't bother with a press tour or the old-school media song and dance. Instead, he dropped a link to buy the album on Twitter, told fans he "Tried not 2 overthink this 1" and added a middle finger emoji.
Because just as he's done many times before, Eminem decided to let the music speak for itself. And to no one's surprise, the rapper's tenth studio album was chock-full of controversial lyrics—including anti-gay slurs (which he later regretted) and targeted attacks on fellow rappers and politicians.
Kamikaze had all the headline-making, think piece-generating themes we've come to expect from an Eminem album. And it was an instant commercial success, too, selling 434,000 album-equivalent units in its first week to secure the No. 1 spot on the Billboard 200 chart.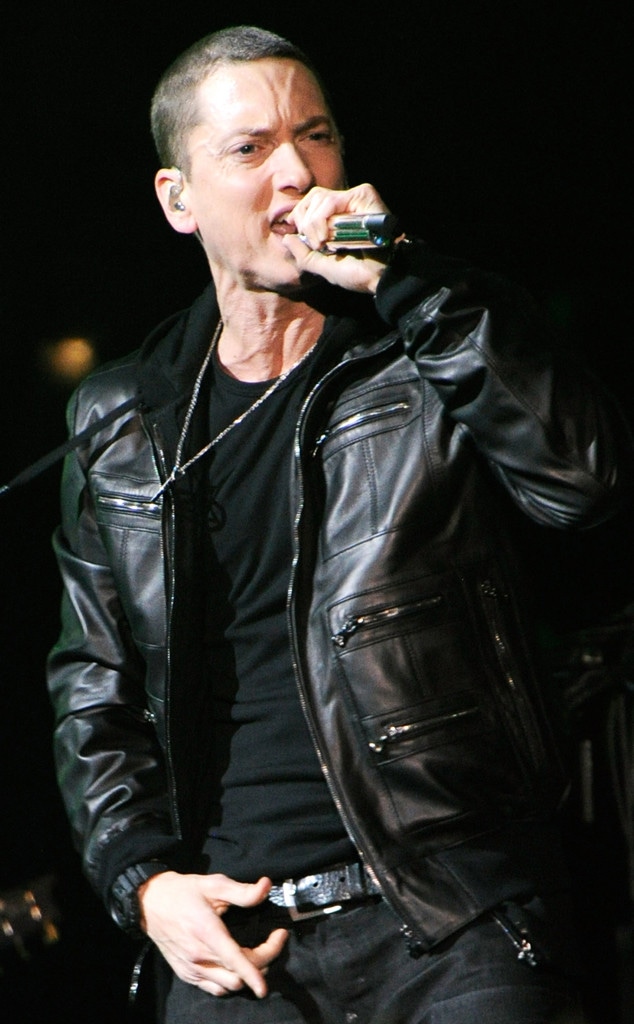 But when it came to the court of public opinion, Kamikaze—much like the rest of Eminem's life and career—received very mixed reviews. And it's been like this for the rapper, who's celebrating his 46th birthday today, ever since most of us were introduced to his Slim Shady alter ego nearly 20 years ago.
It was 1999, and Marshall Bruce Matters III (aka Eminem) was Dr. Dre's newest protégé. The Detroit-based MC stood out from the get-go—and not just because he was a white rapper in a predominantly black industry. He had a rhyming style and delivery unlike anything we'd heard before.
There was also the fact that his breakout single, "My Name Is," had explicit references to graphic sexual acts, violence against women and drug use. Even in its censored state, the song was controversial—and it came right at the time when mainstream music was dominated by wholesome boy bands and Britney Spears…
But there was no ignoring Eminem. Much to the dismay of parent groups, activists and concerned citizens, Slim Shady and his music were a huge success around the world. And all the outrage over the controversial content in his songs? It only added fuel to the fire.
Back in 2000, Canadian officials tried unsuccessfully to stop Eminem from entering the country. He had a show in Toronto, but Ontario's attorney general Jim Flaherty said the government was concerned about "the possibility that [he] would come here and advocate violence against women." Social activist Valerie Smith even filed a complaint with Toronto police's hate crimes unit alleging that Eminem's song "Kill You" promoted violence against women and violated Canada's hate crimes law.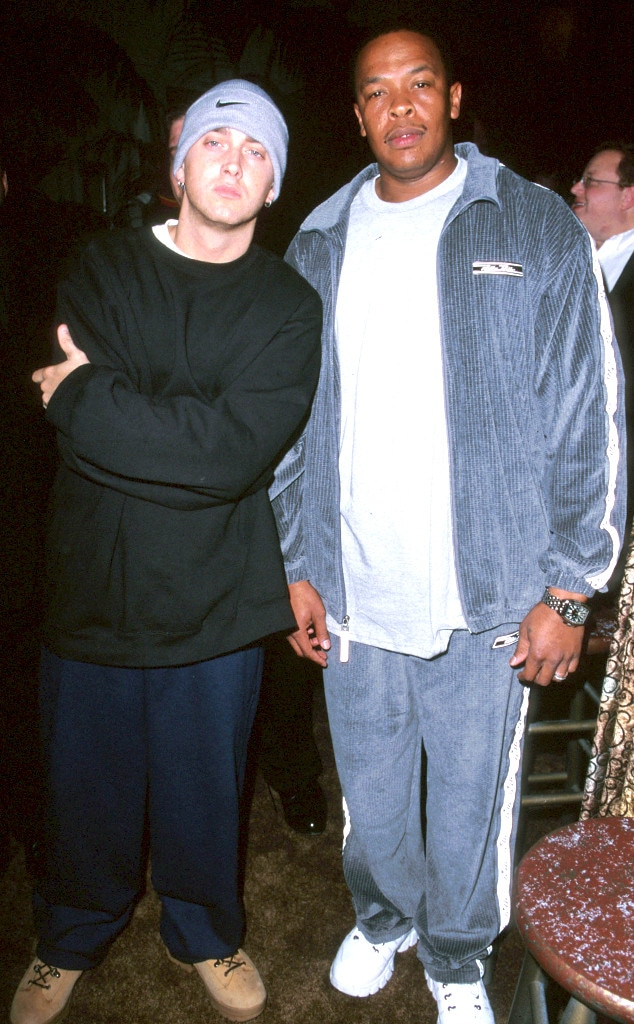 But Canada's hate-crime legislation didn't include any provisions covering violence against women, and legally, there wasn't anything officials could do to keep Eminem from crossing the border into the Great White North. So after all the free press that came from politicians voicing their concerns, Eminem performed for a sold-out crowd of 60,000 people at the Toronto SkyDome.
It all begged the question: Were Eminem's lyrics a genius, satirical take on pop culture and American values, or was he spewing offensive, hate-filled rhetoric to shock us all and sell more records? All these years later, the jury's still out. But regardless of where you stand when it comes to Eminem and the nature of his music, there's no denying that the man is talented.
He's earned 15 Grammys, 14 American Music Awards and seven People's Choice Awards. In 2003, he won the Academy Award for Best Original Song with "Lose Yourself." Eminem was the best-selling artist of the 2000s, and he's earned the praise of fellow hip-hop heavyweights like Kanye West, Lil Wayne, Drake, Kendrick Lamar and Jay-Z. In fact, when MTV named Jay No. 1 on its "Hottest MCs In The Game" back in 2009, Hova himself questioned why Eminem wasn't on the list. Em went on to earn that spot in 2010, and in 2011, Rolling Stone crowned Slim Shady the King of Hip-Hop.
He's music royalty for sure, but not everyone in the industry is singing his praises. In the early days, Christina Aguilera was one of his outspoken critics after a crude shout-out involving her, Carson Daly and Fred Durst in "The Real Slim Shady."
And years after a reported six-month dalliance with Mariah Carey back in 2001, Eminem feuded publicly with the singer and her then-hubby Nick Cannon. He's made vulgar insinuations about Miley Cyrus, Britney, Lana Del Rey, Iggy Azalea and countless other women in music, and he's taken aim at Ja Rule, Will Smith, Tyler The Creator, Joe Budden, Lil Xan and Machine Gun Kelly in his raps, too.
There's been speculation that a few of Em's feuds have been staged. Most recently, fans noted that that Eminem and Machine Gun Kelly are signed to the same label, and that they just so happened to be dropping albums right around the time their alleged beef was making headlines. Whether or not it was a publicity stunt, we may never know. We are, however, pretty darn confident that Eminem's real-life relationship drama has been authentic.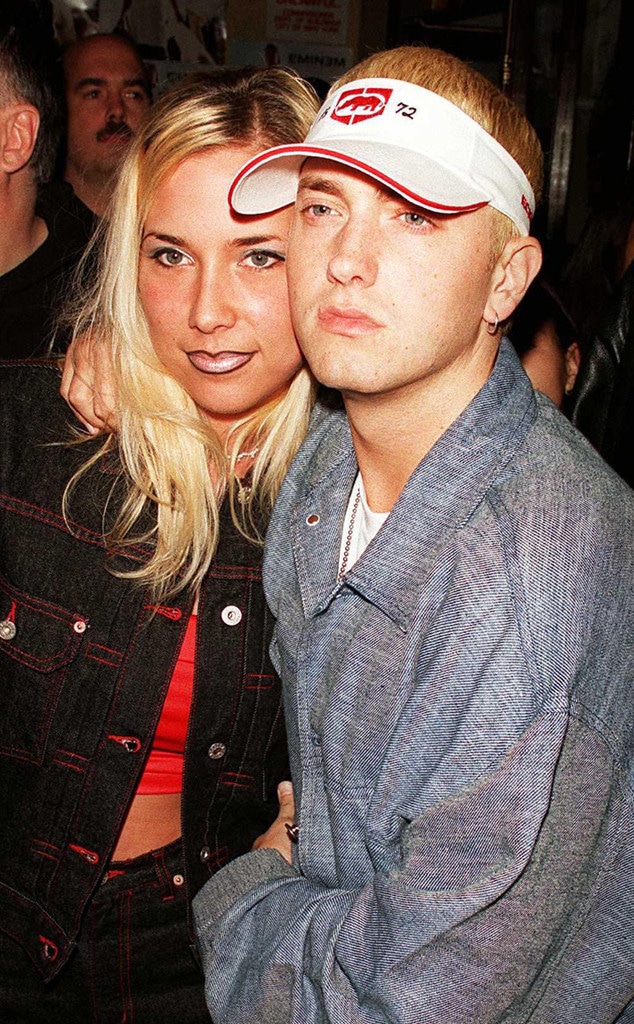 His contentious relationships with his mother and his ex-wife have come up frequently in his music throughout his career. With The Slim Shady LP, Eminem alleged that his mom Debbie Mathers was an abusive, drug-addicted parent. She subsequently sued for defamation (which was settled out of court), but the lawsuit didn't hinder Em from incorporating his mommy issues into many more tracks in the years that followed. He eventually apologized to her with the 2014 song "Headlights," but whether the mother and son made up beyond the heartfelt music video remains a private matter.
Much of the same can be said about Eminem's relationship with Kim Scott Mathers, his high school girlfriend and two-time ex-wife. The rapper figuratively killed her off on songs like "Kim" and "'97 Bonnie and Clyde"—even enlisting the vocals of their young daughter Hailie Jade for the latter track.
Eminem and Kim married in 1999, divorced in 2001 and then remarried briefly in 2006 (he filed for divorce less than three months after retying the knot). They continued to share custody of daughter Hailie, born in 1995, and Eminem eventually adopted Whitney, Kim's daughter from another relationship, as well as Aliana, the daughter of Kim's twin sister, Dawn.
There were reports of an Em and Kim romantic reconciliation in 2013, but the rapper's team denied they were true. Happily, though, Eminem's rep Dennis Dennehy told E! News the exes "continue to maintain a great friendship and share in the parenting of their family."
And that's a pretty big deal when you consider the once acrimonious nature of their relationship and how it played into so many Eminem songs. This is something the rapper later came to regret, and in several tracks on his 2017 album Revival, he apologized to Kim and their daughters for opening their lives up to scrutiny by incorporating them into his music.
In the song "In My Head," Eminem raps, "Hailie, baby, I didn't mean to make you eighty percent of what I rapped about." He then admits, "Maybe I shoulda did a better job at separating / Shady and entertaining from real life."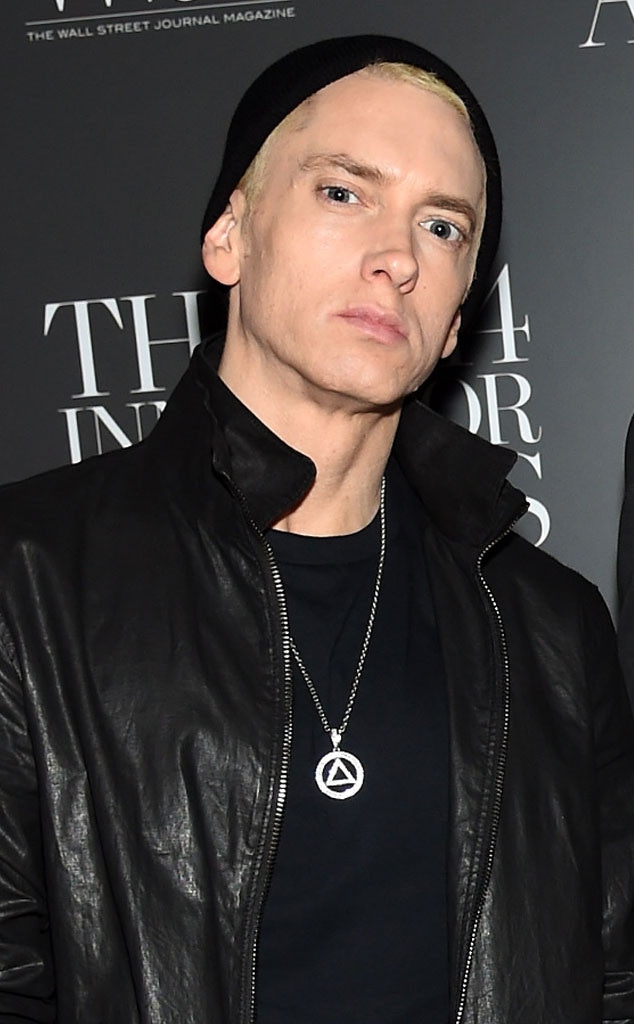 But, really, Eminem has done a pretty good job at maintaining privacy in his personal life. It's true there's a certain narrative we've come to know from his music. Most of it involves the ups and downs of his relationship with Kim and the love Eminem clearly has for their three daughters.
And in his music and in interviews, Em has also been frank and upfront about his struggle with alcoholism and prescription drug addiction. Back in 2011, he told Rolling Stone he was "taking so many pills that I wasn't even taking them to get high anymore," explaining, "I was taking them to feel normal."
But after a near-fatal overdose in 2007, Eminem committed himself to getting clean. Earlier this year, he posted a photo to Instagram of his 10-year Alcoholics Anonymous chip commemorating a decade of sobriety.
Beyond that, though, we really don't know a whole lot about Eminem outside of his music. Aside from Kim, Mariah, a rumored-but-never-spoken-of romance with Brittany Murphy and a playful public flirtation with Nicki Minaj, he's kept his dating life completely out of the spotlight. Last year, he told Vulture he'd tried his luck with the dating app Tinder. But while he's "had a few dates" post-divorce, Em said, "nothing's panned out in a way that I wanted to make it public."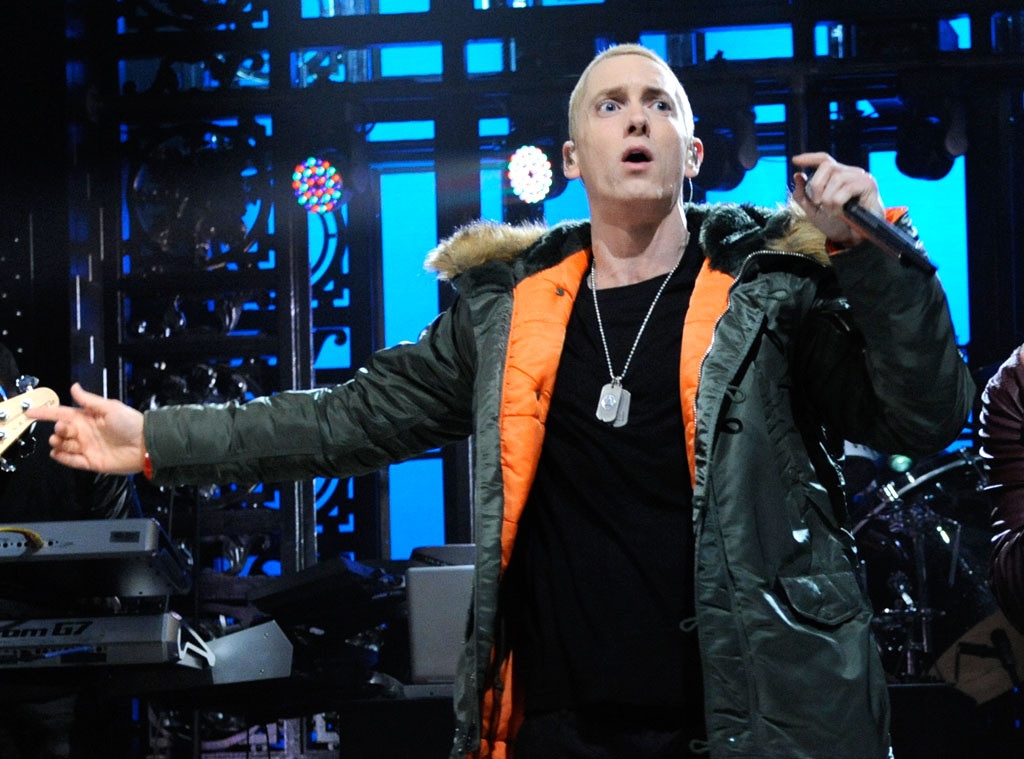 And you won't see Eminem out for dinner at the Soho House or popping up in photos at red carpet events. He likes going to the movies—but he rents the whole theater for himself—and he's a fan of binge-watching TV shows at home. Turns out, Eminem's actually kind of a quiet, low-key dude.
"It might sound weird, given that I'm always trying to get people's attention with my music, but I'm not an attention-seeker," he once told Rolling Stone. "When I'm not Eminem, and I'm just Marshall–it's hard."
And Marshall, the man behind the music that still does shock and offend, insists any lyrical jabs at entire groups of people are made in jest. As he told Rolling Stone, "I poke fun at other people, myself. But the real me sitting here right now talking to you has no issues with gay, straight, transgender, at all."
"I think people know my personal stance on things and the personas that I create in my music," he added. "And if someone doesn't understand that by now, I don't think there's anything I can do to change their mind about it."