If this Fast & Furious casting had gone through, it would have completely avoided a major feud between franchise staples Vin Diesel and The Rock.
Although the Fast & Furious franchise has an iconic and expansive cast, it isn't entirely free of problems, and one such issue likely could have been fixed if this one casting choice had been different. The Fast & Furious franchise first began in 2001 with the original film, The Fast and the Furious. Since then, nine more main movies have been made along with a spinoff film. Over so many years, it is inevitable that cast members would stop seeing eye to eye, and one stand-out feud between Vin Diesel and Dwayne 'The Rock' Johnson might have been avoided if the Fast & Furious movies had gone with their original casting choice.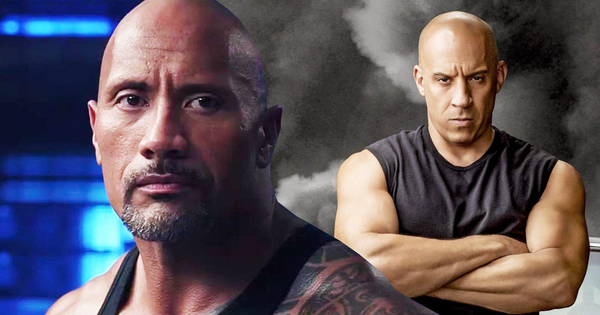 The Vin Diesel and Dwayne Johnson feud has been going strong since 2016. Johnson first joined Fast & Furious in 2011 during the franchise's fifth installment, Fast Five, and has portrayed the bounty hunter Luke Hobbs in various movies since. However, in 2016, Johnson made a now-deleted post on Instagram that dissed members of the Fast & Furious franchise, and many believed he was targeting Diesel specifically. In a later post, he thanked some of his Fast & Furious castmates by name, and pointedly left Vin Diesel out. Though the feud has seemingly lost steam with Johnson's return in Fast X, much of this drama may have been avoided with this casting change.
It may seem like something of a surprise, but the Dwayne Johnson's Fast & Furious role was originally written for Hollywood legend Tommy Lee Jones. Some of the best known Tommy Lee Jones movies include No Country For Old Men, Men In Black, and The Fugitive. Allegedly, when the character Luke Hobbs was first conceived for Fast Five, the role had been crafted specifically for the actor. However, Vin Diesel later revealed in a video that, after seeing a fan suggest that he should work with Dwayne 'The Rock' Johnson, they gave Hobbs to the former wrestler instead.
While many may find it hard to imagine Luke Hobbs being played by anyone other than Johnson, it actually makes a sort of sense. Hobbs is a bounty hunter and authority figure in some senses, and Tommy Lee Jones has often played soldiers, agents, and officers. Though Jones is older than Johnson, this was likely part of the original Hobbs character as well. Jones likely would have off-set the more youthful cast of criminals in Fast & Furious, and added a more serious and respectable air to the action series. Though Hobbs was written for Tommy Lee Jones, it is unclear whether the actor would have actually accepted the role.