Chris Brown was released on Tuesday after being arrested on suspicion of assault with a deadly weapon
Chris Brown's latest run-in with the law saw the singer in an hours-long standoff with police and a social media outpouring in the star's defense.
PHOTO: GETTY
The 27-year-old was released on bail Tuesday after being arrested on suspicion of assault with a deadly weapon.
Here's everything you need to know about Brown's latest legal drama.
He Was Involved in a Nearly 10-Hour Standoff with Police
At around 3 a.m. on Tuesday, police showed up at Brown's Los Angeles home in response to a 911 call from a woman claiming he had threatened her with a gun, the Los Angeles Times reported.
Brown remained inside the house as police surrounded the property, and posted now-deleted Instagram videos in which he declared his innocence.
"Every three months y'all come up with something," Brown said in one clip, adding, "At the same time when I call the police for stalker people that are endangering my life, they don't come until the next day."
Officers entered Brown's home along with his lawyer, Mark Geragos, just before 1 p.m. and the singer was taken into custody.
He was released after posting $250,000 bail later that night. He is expected to appear in court on Sept. 20, according to L.A. County jail records.
Brown Reportedly Thinks the District Attorney is Out to Get Him
Law enforcement officials reportedly told TMZ that Los Angeles County Deputy District Attorney Mary Murray was behind the decision to have Brown arrested in Tuesday's incident.
Murray prosecuted Brown in 2009 after he assaulted Rihanna.
Police did not initially intend make any arrests following Tuesday's incident, according to TMZ, but Murray reportedly pushed officers to take Brown into custody.
Murray's office has declined to comment on the report.
Brown has spoken out about Murray in the past. In a 2013 tweet, the siger wrote that he'd "done 6 months community service with police and the DA racist a—- crying to the judge that I didn't do it. F— the SYSTEM!" CBS reported.
However, it is unclear whether he was referring to District Attorney Jackie Lacey or Murray, who prosecuted the assault case, CBS reports.
Model Baylee Curran Claimed to Be the Victim
Police have not revealed the identity of the woman involved in the incident, but Curran spoke out amid Brown's arrest, telling Extra that he pointed a gun at her when she visited his home to "have a business conversation."
Curran said she was looking at some diamonds in Brown's home when a man yelled at her to get away from the jewelry.
"Chris came in, pulled out his gun and said, 'I'm getting so sick of you people,' pointed the gun at me, [and told me] to get the f— out of the house," she claimed.
She said she fled down Brown's driveway after being asked to sign a nondisclosure agreement by Brown and his confidants.
"I went to the left side of the street, went up a couple houses, was running," she said.
"That's when the neighbors heard the commotion and saw me out there and then called the police, and that is when I then called the police."
Police Reportedly Found No Weapons in Brown's Home
Geragos told the Times that Los Angeles police searched the musician's house and did not find any firearms or the jewelry Curran said she was admiring.
"It has become apparent that the allegations are not just false but fabricated," Geragos said.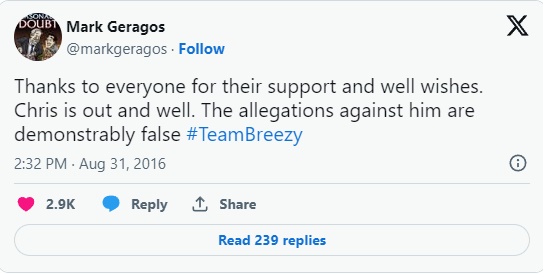 He added that the "Back to Sleep" singer has "cooperated fully with police."
A Los Angeles Police Department official tells PEOPLE they are not yet releasing details surrounding any search of Brown's home.
Reports Say Curran Vowed to Set Brown Up
Geragos tells TMZ that he has a text message purportedly from Curran that he is trying to authenticate. Sent to an individual known only as Safari, the message has Curran admitting that she purposely set Brown up after he kicked her out of his house for insulting his friend.
"Hey safari don't you know this freak Chris brown is kicking me out of his house because I called his friend jewelry fake can you come get me my Uber is messing up," she reportedly wrote. "If not I'm going to set him up and call the cops and say that he tried to shoot me and that will teach him a lesson I'm going to set his ass up. Lol come get me."
The friend reportedly replied: "Really that's f—ed up you ain't going to do that your [sic] wrong if you do."
According to the media website, the text was sent early Tuesday at 2:57 a.m.
To date, the message has yet to be authenticated.