Eminem's home intruder got into trouble after serving his sentence.
Getting a proper security team is of the utmost importance for A-List stars. Beyoncé and Jay-Z have dished out millions for it, while even the likes of Emma Watson dropped $100,000 in order to feel secure.On the other hand, we've seen the opposite hold true. During the Bling Ring documentary, Nick Prugo revealed that he was able to walk right into Paris Hilton's home on multiple occasions, given that the door was typically unlocked. Thankfully these days, security measures have improved for those in Hollywood and around the world.
As for Eminem, he had the proper measures which included an alarm system and security team. However, a man by the name of Matthew David Hughes still managed to break in. We'll take a look at how it all went down, and how Em's intruder found himself into more trouble following the arrest.
Matthew David Hughes Spent 524 Days In Jail After Breaking Into Eminem's House
It was a scary situation for Eminem, as at 3 AM, an intruder broke into his home back in 2020. The man was later identified as Matthew David Hughes. The intruder was also caught on camera look for a way to get inside the home.
According to TMZ, Eminem had a security team in front of the house. However, the intruder ended up breaking in by the back.
TMZ reported, "Two of our sources contacted us after posting the story to say when they said security was "sleeping" they meant figuratively. We're told his security team was on the front of the property, and the intruder snuck through the back."
The report indicated that Hughes forced his way into the home by using a paving stone, and shooting it threw the kitchen window. The alarm sounded off upon his entry.
Eminem would actually come face-to-face with Hughes and thankfully, there was no serious harm that took place. Em's security team quickly entered the home when the alarm sounded, defusing the situation before it got worse.
Eminem's Intruder Got Into More Trouble After His Release, Missing A Probation Appointment And Assaulting A Mall Officer
Things wouldn't get any easier for Hughes following his 524 days in jail for breaking into Eminem's home in Clinton Township. Hughes faced another offense. According to the Detroit Free Press, Hughes was being questioned for missing a probation sentence, while getting into more trouble with the law, due to another incident with a mall officer.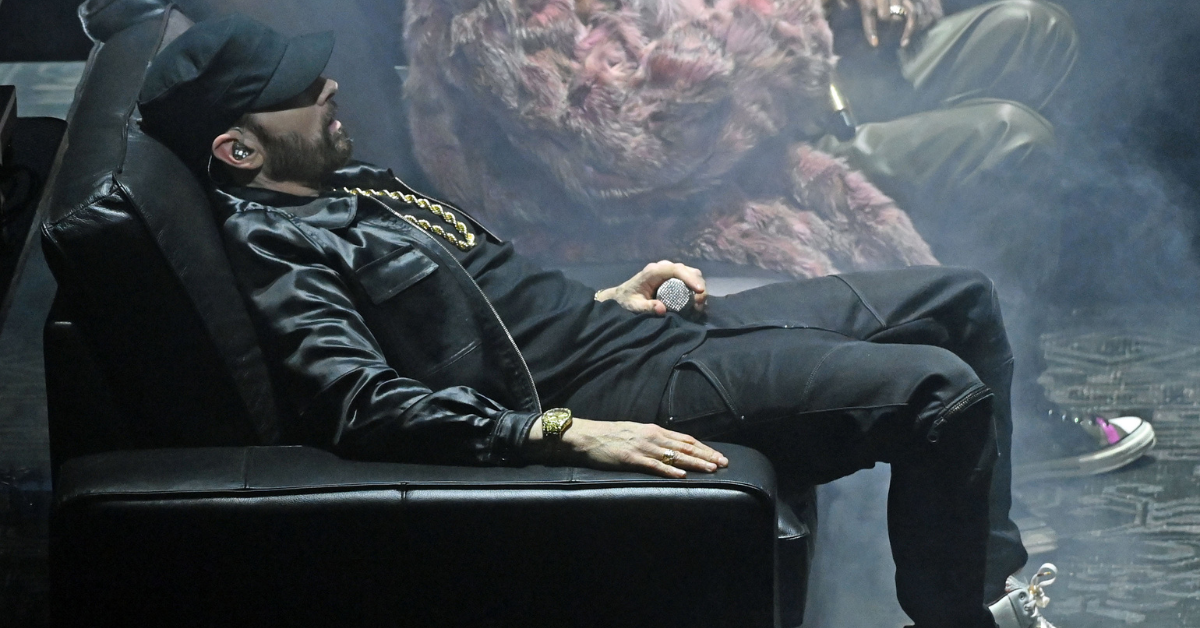 "A man twice convicted of breaking into homes owned by rapper Eminem is in legal trouble again after he violated his probation by failing to show up for a probation appointment and allegedly assaulting a mall security officer in Taylor," Detroit Free Press writes.
At the very least for Hughes, he saw his assault charges get dropped.
"Matthew Hughes pleaded guilty to Macomb County Circuit Court for failing to show up for a September probation appointment but pleaded not guilty to the assault charge."
The rapper might feel a little uneasy knowing that Hughes was released, especially due to what had taken place between the two.
Matthew David Hughes Refused To Steal Anything When Breaking Into Eminem's Home, And It Was His Second Entry Into The Rapper's Home
Matthew David Hughes wasn't breaking into Eminem's home for the purpose of stealing something. According to an officer at the court hearing, things could have gone very badly for Eminem and his safety.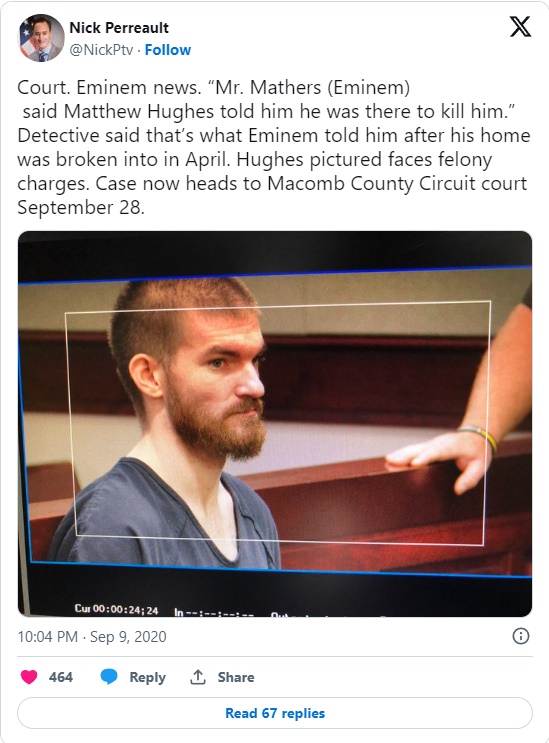 "When Mr. Mathers asked him why he was there, he was told by Mr. Hughes that he was there to kill him," Officer Adam Hackstock told Judge Jacob Femminineo Jr.
It was also revealed that it wasn't the first time Hughes tried breaking into one of Eminem's home. The same thing took place in Rochester Hills, as Hughes was once again looking for the rapper.
"Ten months before that incident, he entered another property in Rochester Hills in search of Eminem, whose real name is Marshall Mathers. He was sentenced to 90 days in jail after pleading pleaded guilty to a misdemeanor charge of making an illegal entry," the Detroit Free Press writes.