Eminem has had a lot to say about awards shows over the years, and he flat-out refuses to attend the Grammys.
Eminem is at a stage in his career where nobody needs to think about who he is and what he represents. The talented "Rap God" is a behemoth in the industry and has received more awards and trophies than anyone.
Eminem even received an Academy Award for his song "Lose Yourself." Nevertheless, he only performed the song at the Academy Awards in 2020 because Eminem declined to attend the Oscars when he was the winner.
Likewise, he is staying true to what he rapped in one of his debut songs: "You think I give a d*** about a Grammy? Half of you critics can't even stomach me, let alone stand me." Yes, despite winning big at the Grammys in 2015, Eminem hates the awards and has felt "stiffed" by the process on more than one occasion.
Eminem Swore To Stay Away From The Grammys After He "Got Stiffed"
Eminem let loose on how he feels about the Grammys while speaking with Sway Calloway in 2018. He explained how frustrating it is for him to be nominated every year, only to reap disappointment when another artist ultimately wins.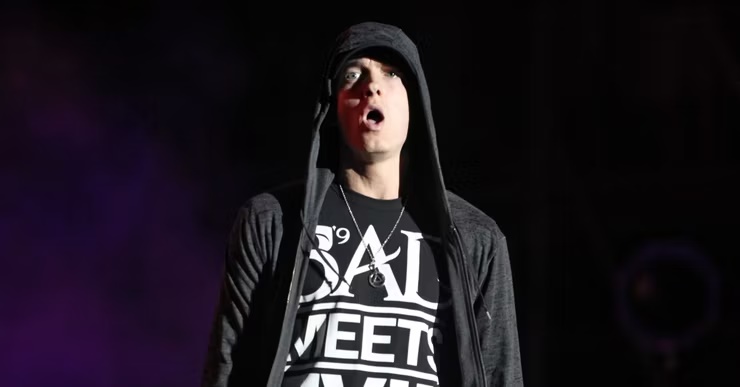 "Every f******* year," he said.
"I'm tired of seeing it. For whatever reason, they're always pitching this hint that you might win album of the year, which used to be a big deal. I don't think it's a big deal now," Eminem continued.
"I sat at home for the Grammys this year and watched Jay and Kendrick not get it, and I felt like one of them should have got it. I felt Joyner Lucas should have won a Grammy for 'I'm Not Racist.' Every year we went, I was up for album of the year, and then 'the winner is Norah Jones!'," he concluded, clearly annoyed.
Eminem also explained that this wasn't a case of sour grapes.
"If I lose to f***** Kanye or someone that I'm like, okay, I respect that. I know who that is, and Kanye has a huge following, and he's made a massive impact on music," Eminem stated, showing that he's not expecting to win them all when his rivals are talented.
However, he did not appreciate being dangled in front of the audience as a possible winner only to attend the Grammys and ensure viewers would watch the show.
"Don't f****** get us all here, to use as your selling point for your f****** show, and stiff everybody every single f****** time. After that point in time, I said don't ever ask me to come here again. My answer is no for a hundred million years," he passionately concluded his speech.
Other Artists Also Snub The Grammys Because They Find The Awards Corrupt
Although Eminem has won 15 Grammy Awards, he hasn't managed to get the Album of the Year award and given his contempt for the award, he isn't likely to be in attendance if and when he wins it.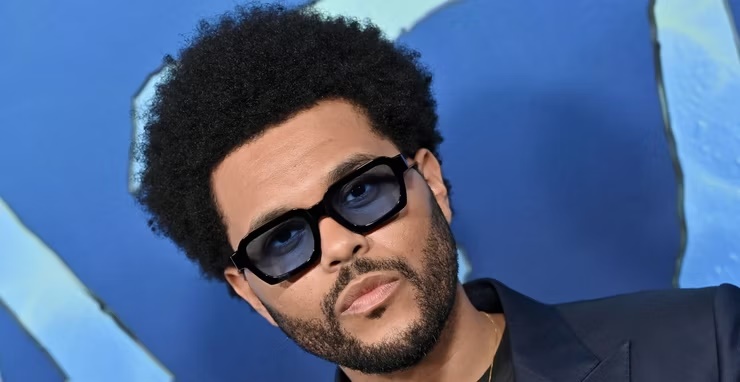 Eminem isn't alone in how he feels about the Grammys. Increasingly, other artists either decline to attend or downplay their nominations because they think the process is rigged, and they do not stand a chance of winning.
Canadian artist The Weeknd has also called the Grammys corrupt on his X account after not being acknowledged for his work on After Hours.
"The Grammys remain corrupt. You owe me, my fans and the industry transparency…" he wrote in November 2020.
He was joined by other artists who felt they were unfairly passed over or not given attention by the process. Zayn Malik, Kanye West, and Lil Wayne were among the voices also calling the Grammys corrupt.
"F*** the Grammys and everyone associated. Unless you shake hands and send gifts, there's no nomination consideration," Zayn Malik wrote on his X account in 2021.
However, not everyone is fed up with the nomination process. Even some of Eminem's friends and associates still find that the Grammys hold some value.
What's more, they shout him out at the Grammys, which Eminem must find really ironic, given how he feels about the awards.
Still, Long-Term Eminem Friend Dr. Dre Shouted Out Eminem At The 2023 Grammy Awards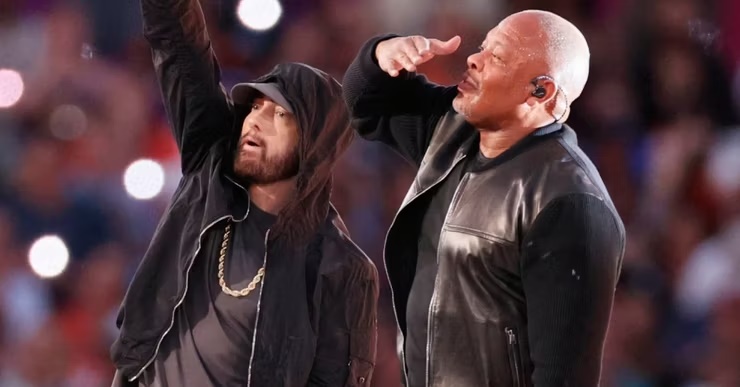 Dr. Dre is not only Eminem's one-time mentor but also one of his closest friends who has stayed by his side consistently throughout his career. Dre and Eminem headlined the Super Bowl together, and Dr. Dre came down on Eminem's side when his friend was feuding with Snoop Dogg.
Eminem, Dre, and 50 Cent have been the best hip-hop trio in history, and their collaborations, like their friendships, have been the stuff of legends. So, it comes as no surprise that Dre shouted out Eminem at the Grammys.
Dre had this to say about Eminem's role in bringing hip-hop to mainstream audiences.
"Eminem brought hip-hop to middle America and offered kids who looked like him the way to connect to it."
While Dr. Dre clearly meant the praise he lavished on his friend, fans won't know if he realized that Eminem may not appreciate where he did it.
However, Eminem's dislike of the Grammys is unlikely to change any time soon, so it may be that his only mention there is through his rapper friends.