Eminem Lyrics Add Pressure to Diddy and 2Pac Killing, Fans Convinced: "The Lyrics Are Real"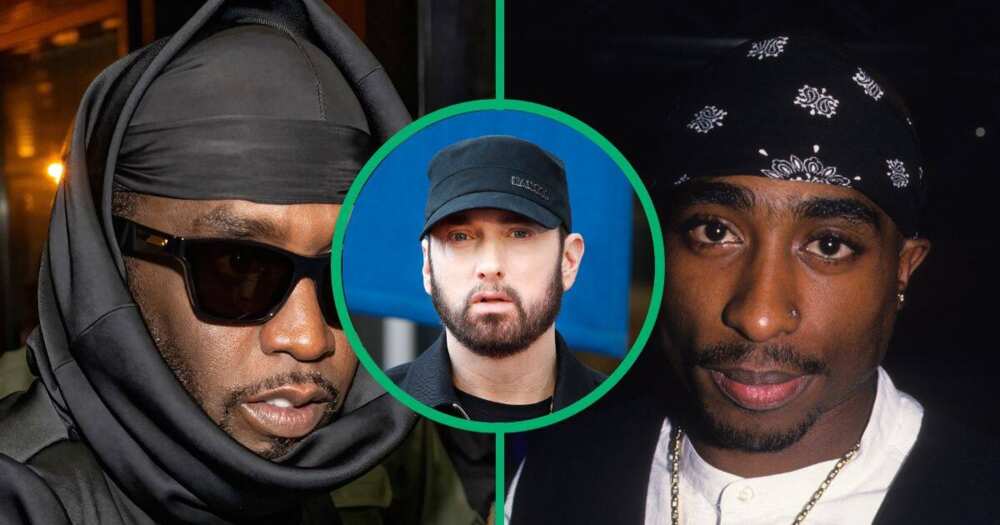 Fans are convinced that Eminem's 'Killshot' lyrics revealed Diddy's role in 2Pac's murder. Images: Gilbert Carrasquillo, Kurt Krieger-Corbis, Steve Eichner
Source: UGC
Sean "Diddy" Combs is currently at the centre of 2Pac's killing after new details behind the rapper's 1996 killing pointed at him. While many online users are still trying to wrap their heads around the saga, it appears that even Eminem had his suspicions about the Bad Boy Records founder.
In a lyric from the rapper's song Killshot, Slim Shady dissed Machine Gun Kelly while also mentioning Diddy's supposed involvement in 2Pac's murder.
Eminem lyric stirs Diddy-2Pac saga
In a Twitter (X) post by RaidaaPunch, the user shared a snippet from Eminem's 2018 diss track, Killshot. The song was directed at fellow rapper, Machine Gun Kelly who had previously sent shots at Em.
At the time, MGK was signed to Bad Boy Records and was seemingly allowed to release a diss song and accompanying video directed at Eminem, with whom Diddy had a close friendship.
In the song, Eminem poked fun at Kelly's career while also mentioning 2Pac's killing and Diddy's alleged involvement:
"But Kells, the day you put out a hit is the day Diddy admits that he put the hit out that got Pac killed."
As the song ends, Em retracts his statement:
"Oh, you know I'm just playing, Diddy. You know I love you."
Social media share thoughts on Eminem's lyrics
Online users weighed in on Eminem's song, and most were shocked that they missed the lyrics:
LEV3LTTV said:
"Dawg at this point it's too many signs pointing to diddy now."
mmasmartguy responded:
"I freaked out when he dropped that bar, I was in shock. Eminem really went there. Hell, he might've been right."
iamshykim asked:
"Does that make him a snitch?"
Jacquel00542723 said:
"N yeah thought he was just talking. Them lyrics be real!"
porque_guate responded"
"Nah I knew he knew, Em has always spit facts."
sunflowerklo commented:
"It's rare when it's just bars with him."
Fingers point to Diddy's involvement in 2Pac's killing
In a recent report, Legit.ng shared details behind 50 Cent pointing a finger at Diddy for allegedly having 2Pac killed in 1996.
The highly-publicised murder had been the centre of many hip hop conspiracy theories but appears to have been solved as Diddy is named as the mastermind.
Keefy D, the alleged murderer of 2Pac Shakur, made claims that Diddy had hired him to murder the rap superstar for a handsome payout.