Eminem is often heralded as one of the greatest MCs to ever grace a microphone, but it's not abnormal for him to show some love to his contemporaries. In the past, he's praised the lyrical skills of his Bad Meets Evil collaborator Royce Da 5'9, Joyner Lucas and KXNG Crooked, to name a few.
On Tuesday (December 1), Slim Shady added Treach to the list, just a day before the Naughty By Nature vet's 50th birthday. At the same time, he plugged Naughty By Nature's single "Craziest" from 1995's Poverty's Paradise.
"Happy b day 2 @triggertreach," he tweeted. "1 of the greatest rappers of all time!!..I'm still tryin 2 catch up 2 the greatness of the last vs on 'Craziest.'"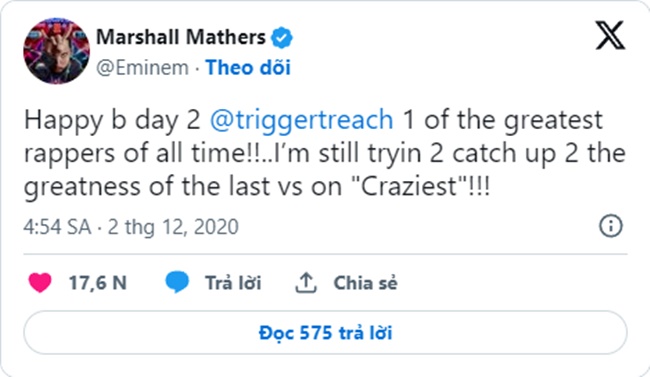 For those who haven't heard the last verse of "Craziest," Treach spits in part, "I got barbarians to bogard me in/At a club that barred me when/A broad got thrown like barbarnigan born again, thrown aboard/A brim is broke to the back I brawl and band from brains ta balls/Da boots word ta-burr-bam-boo break the loot/Blowing up brain cells BOOM like Beirut.
"Assume the same suit, fuck that fly shit wit the flavor ca shi/Gives last name ain't Suzuki but still my sidekick/Whip that hide quick if ya slide quick, blood clot ya Blood clique/You ain't rolling if our tape ain't what ya ride wit/Niggas snipe shit so I'm on a knife tip/Like the Youngsters 'bout ta take you on some hip-hop ride shit/If you ain't jumpin then don't pump it."
This isn't the first time Eminem has celebrated Treach's rhyming talent. During an interview for Crooked's podcast, Eminem claimed he wanted to quit rapping after hearing Treach "rhyme his ass off" on the track "Yoke The Joker" from Naughty By Nature's 1991 self-titled album.
"He was getting on every fucking song and smoking everybody," he told Crooked. "When I heard 'Yoke the Joker' my heart sank. My heart sank, 'cause I was like, I'll never be the same as good. I might as well quit. I didn't write a rhyme for the entire summer."
Check out "Craziest" and "Yoke The Joker" and send Treach some birthday wishes.