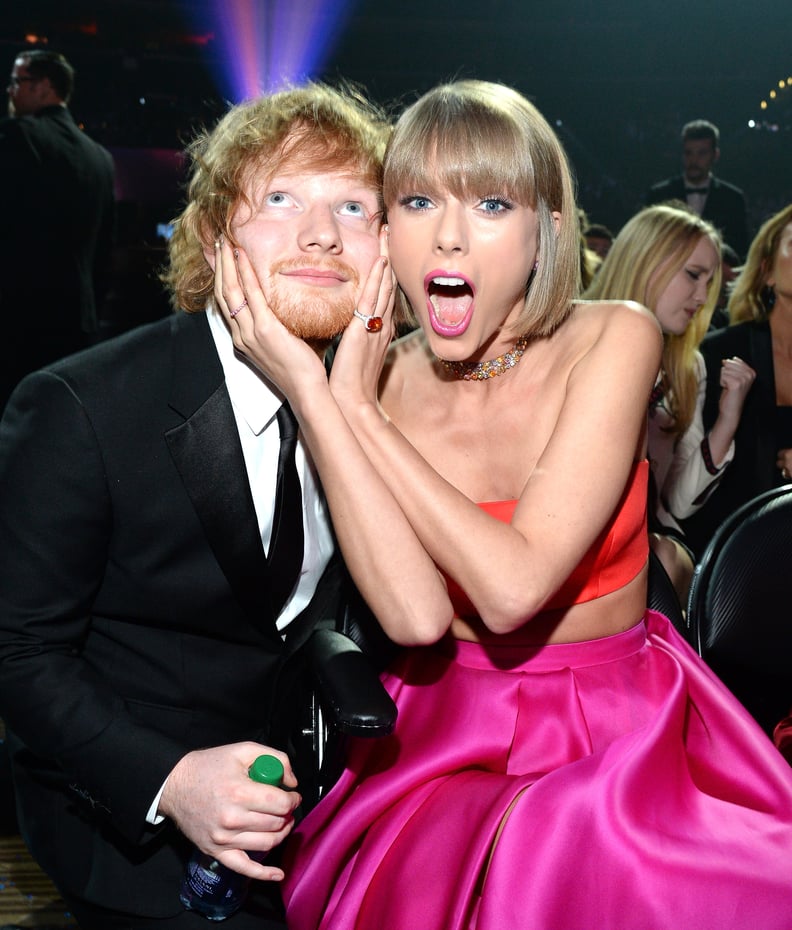 Getty
Taylor Swift and Ed Sheeran are two of the most famous, successful, and decorated musicians of their generation. Between them, they have 16 Grammy Awards and have played live to millions of fans; they also have a combined Instagram following of about 300 million. But to one another, they're just best friends who tease each other, support each other, and write music together.
Their friendship goes back a decade to when Sheeran found out Swift was a fan. They wrote some music together, and the rest, as they say, is history. In fact, Swift even had a hand in helping Sheeran get together with his now-wife, Cherry Seaborn, after years of missed connections. Talk about a best friend who truly has your back!
Over the years, Sheeran and Swift have taken dozens of cute photos and videos together, and they're always quick to share a kind word or two one another. Whether it's thanking the other during an award-show speech or shouting them out on social media, the praise never stops. And when it comes to the music they make together — well, it's simply stunning. You can't go wrong with such talented artists in the room.
As of 2023, their friendship is clearly still going strong, with Sheeran telling Zane Lowe that his conversations with Swift feel like "therapy," per People. "She's one of the only people that actually truly understands where I'm at," the star added.
For more details on this sweet friendship, keep reading.
2012: Taylor Swift and Ed Sheeran First Meet and Collaborate
Swift and Sheeran first became friends in 2012 when after Sheeran found out that Swift was a fan, according to People. He made a call, and the two ended up making "Everything Has Changed" together — their very first collab. It appears on Swift's "Red" album.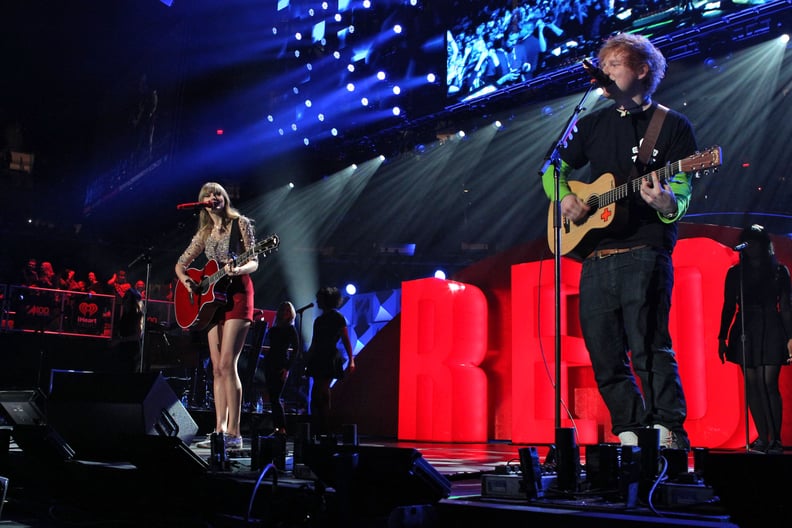 Getty | Kevin Kane
December 2012: Taylor Swift and Ed Sheeran Perform at Z100 Jingle Ball Together
For their first live performance together, the two hit the stage in New York City at Z100's Jingle Ball, held at Madison Square Garden.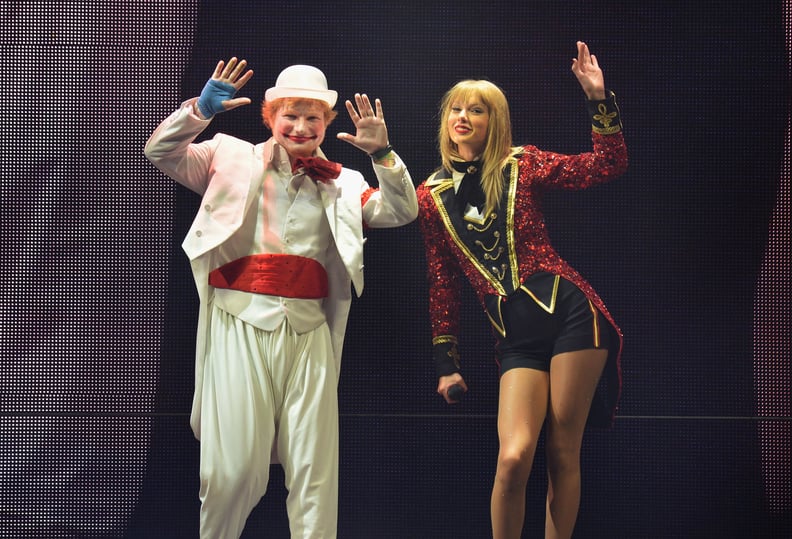 Getty | Larry Busacca/TAS
September 2013: Ed Sheeran Goes on Tour With Taylor Swift
After realizing how well they work together and how much they enjoy each other's company, Swift to invite Sheeran out on her "Red" tour. He joined her on stage from time to time, including when he dressed up as a clown at the closing show in Nashville.
November 2013: Taylor Swift Joins Ed Sheeran on Stage at Madison Square Garden
In late 2013, Swift joined Sheeran on stage at Madison Square Garden to play "Everything Has Changed." She even donned an "I Heart Ed" shirt to match his "I Heart NY" shirt.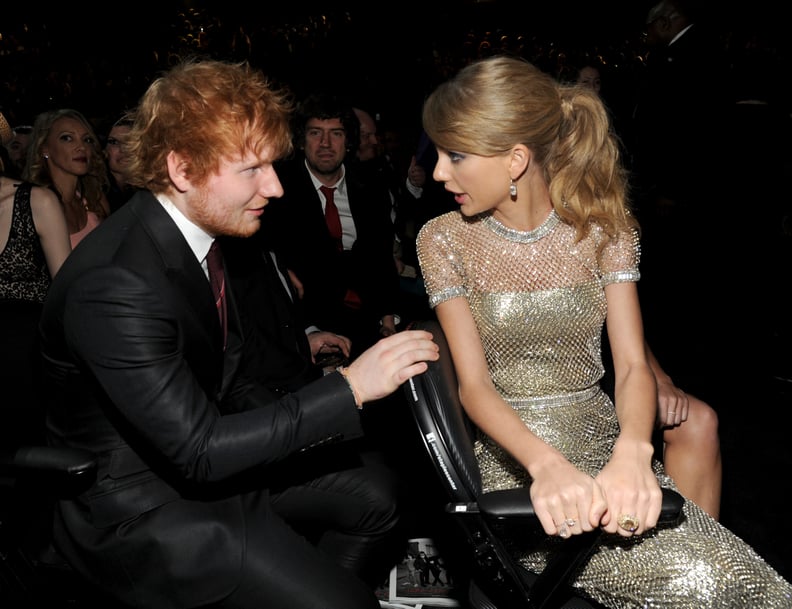 Getty | Kevin Mazur
January 2014: Taylor Swift and Ed Sheeran Buddy Up at the Grammys
With their friendship in full swing, Swift and Sheeran hung out at industry events and often championed each other's work. They posed for photos at the 2014 Grammys, among other events.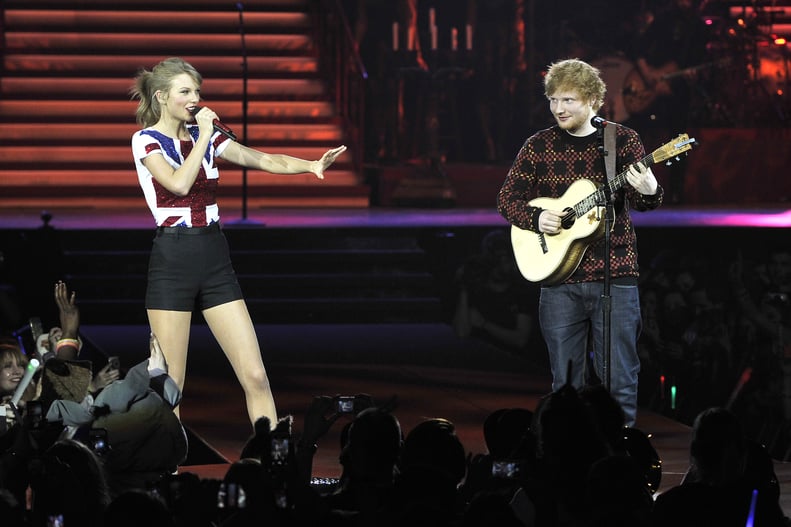 Getty | Gareth Cattermole/TAS
February 2014: Ed Sheeran Pops Up at Taylor Swift's London Concert
When Swift took her "Red" tour overseas, she picked up a different opening act — but that didn't stop best buddy Sheeran from popping into the London show to duet with his pal.
Getty | Karwai Tang
December 2014: Taylor Swift and Ed Sheeran Both Perform at the Victoria's Secret Fashion Show
At the end of 2014, both Swift and Sheeran were tapped to perform at the Victoria's Secret Fashion Show, which was held in London that year.
February 2015: Taylor Swift Gives Ed Sheeran a Shoutout in Her Brits Speech
Swift won her first Brit award in 2015 for best international female artist. In her acceptance speech, she gave Sheeran a shoutout as one of her favorite British people. "Honestly, I know I wouldn't be up here if it wasn't for one of my best friends, who took me to pubs and taught me how to make a good cup of tea and taught me everything I know about the UK. I just want to say I love you, Ed Sheeran," she said.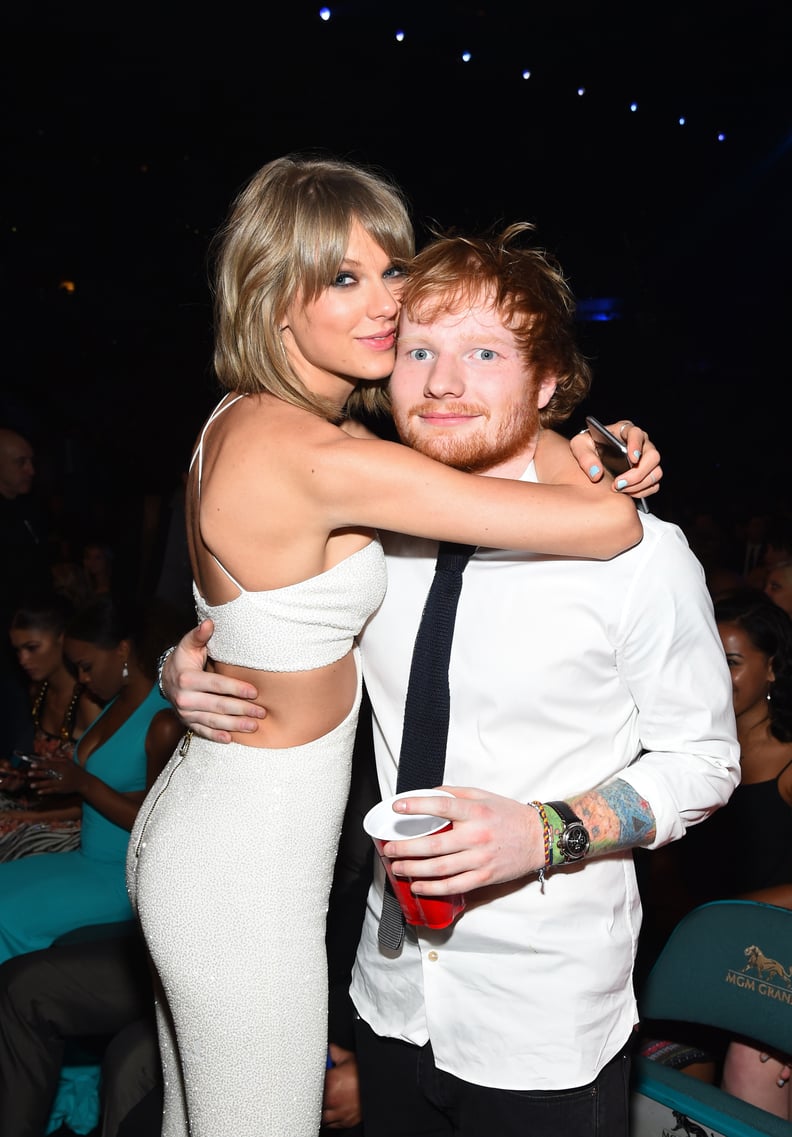 Getty | Larry Busacca/BMA2015
July 2015: Ed Sheeran Makes an Appearance at Taylor Swift's Fourth of July Party
Swift may have wiped her Instagram clean of the epic photos from her famous 2015 Fourth of July party, but they still live elsewhere on the internet. Sheeran showed up at her party, and at the time, Swift shared this photo with the caption "When Ed shows up in a red coat for the 4th of July because he just can't let it go," according to People.
Getty | Kevin Mazur
February 2016: Ed Sheeran and Taylor Swift Support Each Other at the Grammys
The two made a cute pair at the 2016 Grammy Awards, where both took home a couple of new trophies.
2017: Ed Sheeran Features on Taylor Swift's Song "End Game"
Swift and Sheeran teamed up again for "End Game," which appears on Swift's "Reputation" album. He cowrote the song with her and also starred in the video.
February 2018: Taylor Swift Jokes About Ed Sheeran's Height
As with any great friendship, these two definitely tease each other. Swift posted a cute video about how Sheeran always tries to physically "elevate" himself when he's around her. She said he was peacocking; he said he was trying to appear taller. But the best part of the video is her showing off her sneakers, which she wore so she wouldn't be quite so tall next to him.
September 2018: Taylor Swift and Ed Sheeran Go on a Hike
In this slightly chaotic video, Swift picks on Sheeran while they're hiking before they both joke about going up against Drake for favorite pop/rock album at that year's American Music Awards. Spoiler alert: Swift won the award.
November 2021: Taylor Swift Rereleases "Everything Has Changed" With Ed Sheeran
As part of her project to rerecord and rerelease all of her old music after losing her masters, Swift brought Sheeran back into the studio to redo "Everything Has Changed" off of her "Red" album. The song appears on "Red (Taylor's Version)."
November 2021: Taylor Swift Releases "Run" With Ed Sheeran
Also part of her rereleasing project, Swift dropped "Run," a song from the vault that she'd previously written with Sheeran. He shared on Instagram, "'Run' is the first song me and @taylorswift ever wrote together, and 'Everything Has Changed' was the second. We re-recorded both of them for 'Red (Taylor's Version)' which is out today and they are just great. So fun getting to revisit these again."
February 2022: Ed Sheeran Releases "The Joker & the Queen" Featuring Taylor Swift
Sheeran and Swift collaborated on the song "The Joker & the Queen," and upon its release, Sheeran shared on Instagram how grateful he was to work with Swift again, calling her the "best singer/songwriter in the world" and a close friend. Even sweeter are the stars of the video — the same pair who starred in Sheeran and Swift's "Everything Has Changed" video 10 years ago.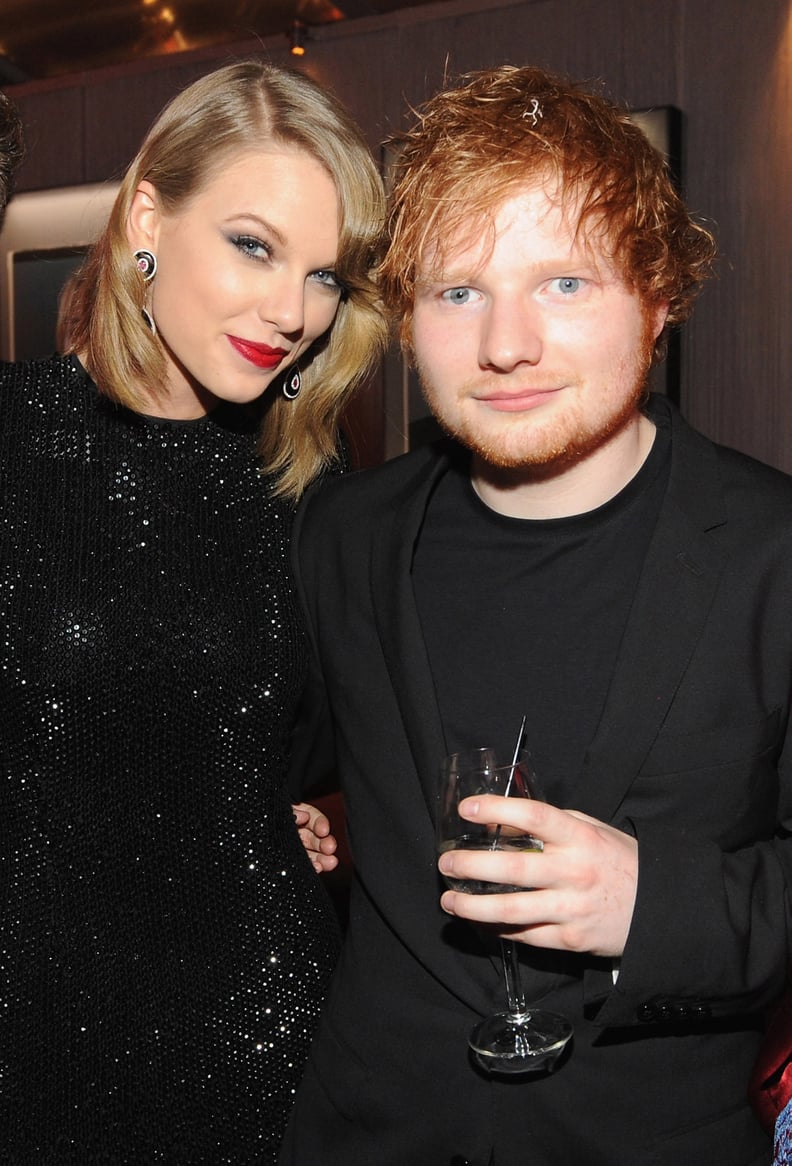 Getty | Kevin Mazur/VF14
May 2023: Ed Sheeran Opens Up About His Bond With Taylor Swift
In a clip from Sheeran's interview with Zane Lowe shared by People on May 4, Sheeran opened up about how supportive his relationship with Swift is to this day. "I have long, long, long conversations with Taylor about stuff just because I feel like she's one of the only people that actually truly understands where I'm at," he said. "I had an hour-20 conversation with her yesterday and we were just — everything that was on our minds we talked about. I mean that in itself is kind of therapy as well, because you're actually talking to someone that genuinely gets it. That has all the things that you feel and have insecurities about and how other people treat you or how your family treat you, how your friends treat you. She's basically in the same sphere."
He also shared that Swift had encouraged him to work with her "Folklore" collaborator Aaron Dessner. "I'm always — not guarded, but I kind of would keep my distance if there would be a collaborator that she'd be working with closely just because that's her thing. And I don't want to be like, 'Well going to do that too,'" he said. "But she was like, 'I think it'd be really important for you as an artist to do what I did and work with Aaron because this is what it did for me. And I think you and Aaron should work together.'"