Ed Sheeran could barely wipe the grin off his face as he produced a small blue pouch from his pocket while making a surprise appearance on Ipswich Town's in-house TV channel.
The four-time Grammy award winner is no stranger to picking up awards for his music, but it was clear the League One promotion medal nestling in the palm of his hand was extra special. Sheeran has been Town's front-of-shirt sponsor since the 2021-22 season and was named in the club's official squad as their No 17, hence him being able to get hold of his own piece of history after Kieran McKenna's side pulled off a record-breaking season in England's third tier in 2022-23.
His recent affiliation with the club has come hand in hand with their success since the arrival of U.S. investment group Gamechanger 20 in 2021, with promotion last season the start of a much bigger project with Premier League ambitions. Things are already looking good as Ipswich find themselves second in the Championship table behind Leicester City. Sheeran was at Portman Road for the 3-0 win against Hull City in October, one of their 11 already this season.
The 32-year-old's affiliation goes back to his childhood growing up in Framlingham, Suffolk, which is around 20 miles from Ipswich. They are by far the biggest club in the area with a rich history, winning the First Division (now Premier League) in 1962 under Sir Alf Ramsey, the man who would lead England to World Cup glory in 1966. Ipswich later won the FA Cup and UEFA Cup (now Europa League) under the revered Sir Bobby Robson in 1978 and 1981 respectively. They were last a top-flight club in 2002 but have had a rocky recent history until the takeover in 2021, which brought Sheeran's love for the club to the fore.
"Ipswich Town embodies the pride of Anglia but pride of Suffolk (too)," Sheeran said on his recent Town TV appearance. "Everyone I grew up with loves it. For me, it wasn't about it being 'here's my tour, let's put it on the shirt'. It feels like home and the coming together of my career and something that I love so much felt right. I was an Ipswich fan as a kid but then I lost interest when I was playing music every day. I moved back here when I was 21, I got a place here and I hadn't got a sense of community because all my mates had moved away, so I gravitated back towards it then. But there were five years where I wasn't anything, I didn't follow anything."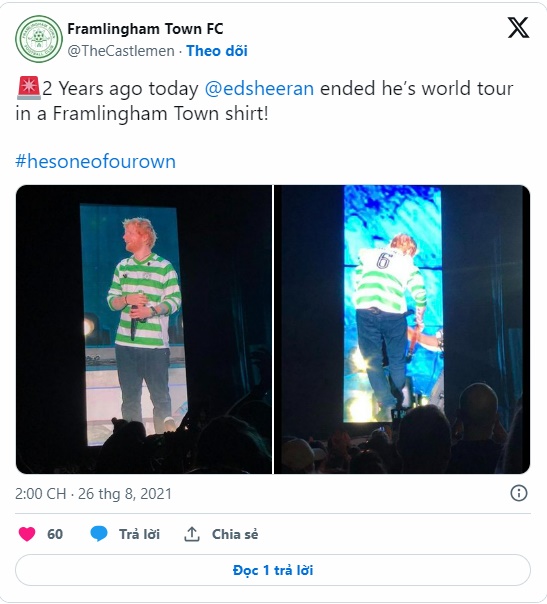 The partnership has been a good one for the club, with record shirt sales coming hand-in-hand with Sheeran's sponsorship and the team's on-field success. Last season's third kit, an all-black strip designed in collaboration with the singer by incorporating artwork from his Equals album, sold out on the first day of general sale and became the bestselling shirt in the club's history, with more than 11,000 bought in the six weeks after its launch.
In 2021-22, the first season of the partnership, the club sold the most home shirts in its history, which was beaten within four months of sales in 2022-23.
Sheeran has history when it comes to shirt sponsorship, although with a more modest beginning, when he stepped in to support his local girls' youth team in Framlingham. As a former Framlingham Town player in his youth, he responded to calls for a new kit sponsor for the team's under-11s.
He has long been a champion of his hometown and county and has regularly played concerts there, with his homecoming gigs at the end of his Divide world tour held in Ipswich's Chantry Park in 2019. It was the first time Ipswich Town sold shirts with his logo on as he closed the final night of the tour while wearing a Framlingham Town shirt.
Sheeran has since sold Town shirts as part of his tour merchandise and has worn the No 17 shirt with his name on it while performing. The musician chose the number to match his birthday, February 17, and was given the official squad number by CEO Mark Ashton in 2021, with his name appearing on the back of matchday programmes alongside the rest of the squad.
While more cynical fans might see the partnership with Sheeran as a PR stunt, the sponsorship was a welcome departure from the club's previous front-of-shirt sponsor, betting company Magical Vegas. Shirt sales have benefitted the club and he has not abused his power as their most famous supporter, with his trip to the dressing room in October after his appearance on Town TV the first time he had spoken to players. He also made a surprise appearance pulling pints in a concourse bar.
"I got the call up (to play for Australia), we won the game (against Hull) and obviously Ed popped in afterwards, so that was a very good day," said midfielder Massimo Luongo. "I'm a big fan as well, so it was really cool. He doesn't want too much attention, he just supports the club and that was the first time he's been down (to the changing rooms). I'm not even sure he wanted to come down but he just wanted to nip in and nip out, but it was about time it was done."
Players serenaded Sheeran with one of his songs during his visit and he revealed he often travels to away matches and watches games while on tour around the world.
"It was a great moment," Ipswich manager Kieran McKenna said in an interview with Sky Sports after being named Championship manager of the month for September. "Ed is a really important person to the football club, he's our most high-profile supporter and he's supported the club through sponsorship now for quite a few years.
"Everyone in Ipswich and Suffolk is so proud that this is his roots, he's close to his roots and he still lives in Suffolk as well. We've had some great moments this season having Ed in the dressing room. After one of the games was one of those, but we know we have to keep our feet on the floor and keep working really hard."