The booking of tickets for Ed Sheeran's show in Mumbai have gone live on BookMyShow.
Popular singer Ed Sheeran returns to India for the third time with his record-breaking '+ – = ÷ x Tour' as part of his Asia and Europe Tour in 2024. The 32-year-old singer will be performing in Mumbai on March 16, 2024, as a part of his Mathematics Asia Tour.
The show will be held at the Mahalakshmi Race Course in Mumbai. Online ticket booking platform BookMyShow, brings Ed Sheeran's tour to India as a co-partner.
Sheeran's fans who have been desperately waiting for the English singer-songwriter's return to the country can now book tickets through BookMyShow Live, the live entertainment division of BookMyShow. The booking of tickets went live on October 27.
Tickets prices start from ₹7,500 and go up as high as ₹28,000. While the concert will open at 3 pm, the opening act will be held at 6 pm and the performance will begin at 7:15 pm.
Tickets can be booked in three categories for the Ed Sheeran show. The North Premium Deck tickets have been priced at ₹28,000 while the tickets for Stage will cost ₹7,500. Seats at East Deck and South Deck will cost ₹14,000, as per BookMyShow. The tickets can be booked on the BookMyShow website and app.
Given that there would be high demand for tickets, fans can expect to be put on a wait list. However, it is suggested that you don't drop off the queue, or else you could end up losing your chance to buy a ticket.
This tour will mark the 'Shape Of You' singer's third visit to India, having graced the stage back in 2015 and 2017. Considering his dedicated fanbase in the country, the upcoming concert has already created a wave of anticipation and excitement among fans. As the tickets for the Mathematics Asia Tour were finally out, many took to the social media to share their excitement, ahead of the concert.
One user wrote, "The ticket prices for Ed Sheeran are crazy high! Mumbaikars, are u ready?!! How many are going to this LIVE concert?: Mahalaxmi Race Course, Mumbai."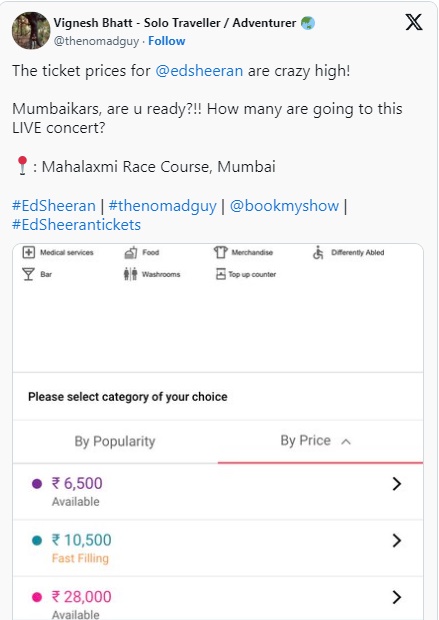 Another user, after bagging a ticket for the concert shared a screenshot and wrote, "COPPED TICKETS TO THE ED SHEERAN CONCERT I AM SO HAPPY YAYYYYY."
An avid fan while sharing his happiness over the concert wrote, "Being a die-hard Ed Sheeran fan, I was ecstatic when he announced the Mathematics Tour, Mumbai being one of the cities… The tickets went live yesterday… And the prices. Ed Sheeran, you're my favourite musician, given the opportunity, I will attend your show…"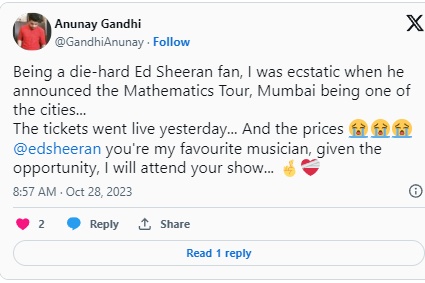 Speaking about the upcoming Mathematics Asia Tour, Ed Sheeran will be delighting fans all over the world as he gears up to take the voyage across Southeast Asia and the Indian Subcontinent from January 27, 2024, to March 16, 2024.