Drake's birthday party had become a viral moment for social media back in October thanks to the stars of Breaking Bad serving as bartenders — and now, the origins of that event have been revealed.
In an interview with E! News which started making the social media rounds on Sunday (November 12), Bryan Cranston — who played Walter White on the show — explained how he and his co-star Aaron Paul got roped into the moment. As it turned out, Cranston revealed, a man with very deep pockets was behind the whole hookup.
"There's a great restaurant in Miami run by David Grutman," the actor said. "So he called us and said, 'Drake's birthday is tomorrow night. Would you guys like to come?' And we thought, we're down there in Miami, yes! So we have to do it. So we did."
He continued: "And it was a surprise to Drake. He didn't know. And he turned the corner, and he saw us, and I said, 'Sir, can I mix you a drink?' It was fun. He's a cool guy. He's a really fun guy."
The restaurant where the party was held is Casadonna, which is part of a larger portfolio of several restaurants and nightclubs that Grutman has an interest in. That includes the famous hotspot Club LIV, Gekko (which he owns in partnership with Bad Bunny), The Key Club, and Papi Steak.
On October 23, footage captured by the producer BNYX — who has several credits on Drake's new album For All the Dogs — showed both Cranston and Paul serving as bartenders for patrons at the swanky party.
In another video shared on social media, Drake jumps on the mic and says a few words while surrounded by friends and fellow partygoers. He could also be seen being presented with a giant birthday cake adorned with sparklers.
One of the rapper's friends then grabs the mic and jokes: "Thanks for making everybody a rich baby daddy!" before Drake's song of the same name begins to play.
Also as part of his birthday shenanigans, Drake announced a special giveaway with Dave's Hot Chicken. Restaurant locations across the world handed out a free crispy chicken slider or tender to those who downloaded the fast food chain's app on their phones on October 24.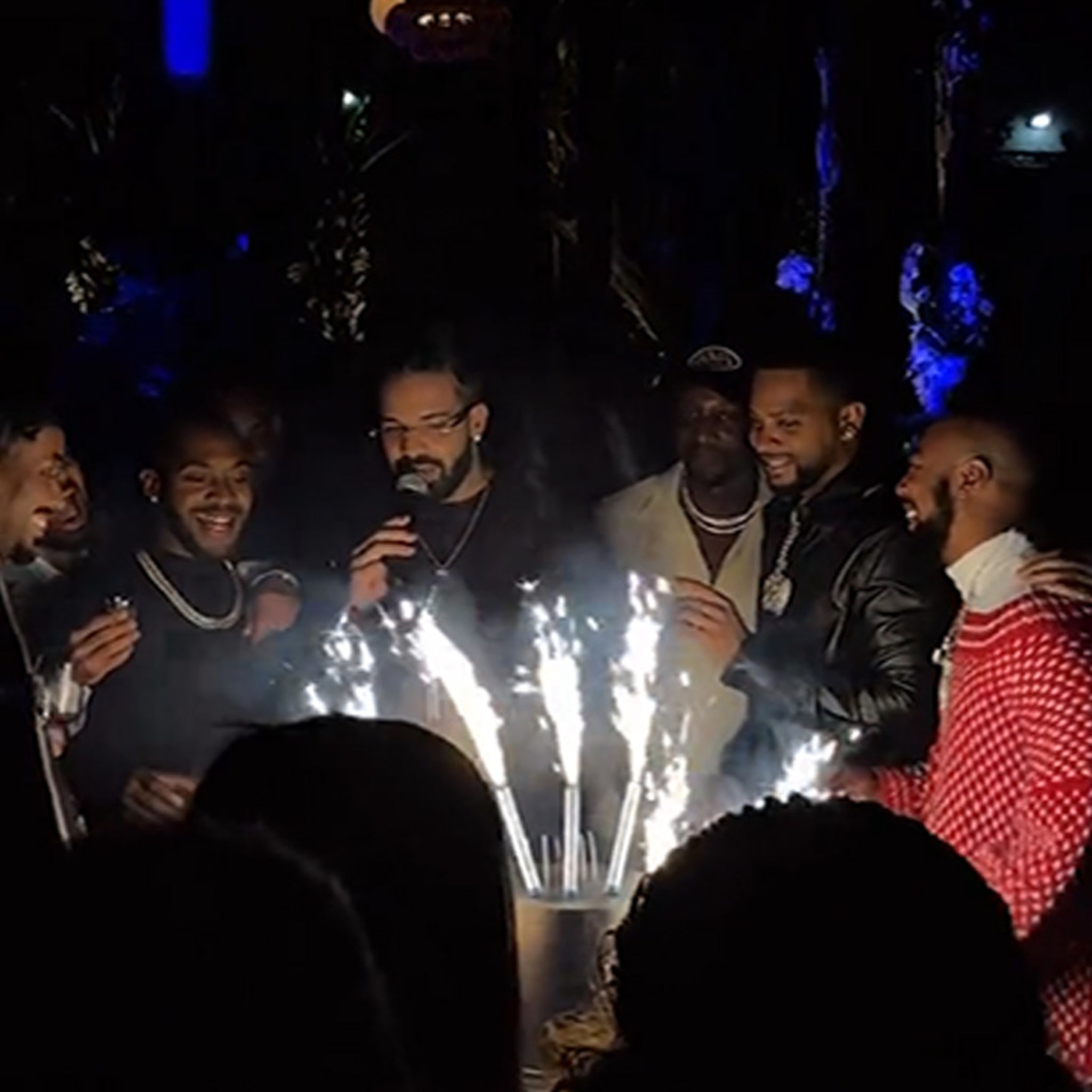 "The October 24 celebration is going on locally, and at every Dave's Hot Chicken from Coast-to-Coast (and abroad) from 11am -9pm local time," the official notice read. "To get in on the action, guests simply need to hit Dave's Hot Chicken and scan their Dave's Hot Chicken app at the register.
"No coupon or code needed. In return, they'll get a spiced-to-order slider or tender of their heat level preference. This celebration is only available when visiting the restaurant, and not online or through third-party delivery services."
In 2021, Dave's Hot Chicken co-founder told Eater Los Angeles that Drake had bought into the business. "He has a large stake," Arman Oganesyan said without revealing too much. "As far as investors go, he has a very good stake."