Tupac Shakur wore the ring to the 1996 MTV Music Awards in his final public appearance before his death
Drake purchased Tupac Shakur's self-designed diamond, ruby and gold crown ring at Sotheby's Hip-Hop auction for a staggering $1.01 million.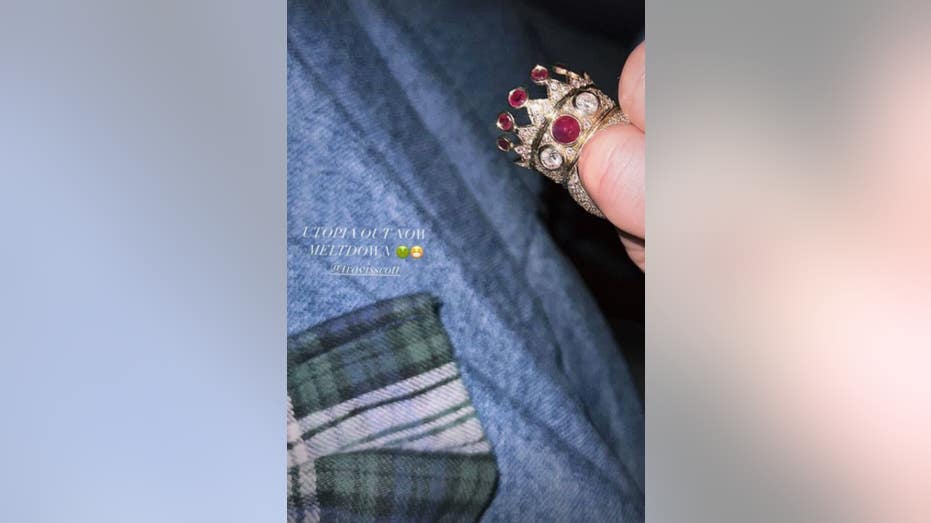 The rapper showed off his new accessory in a post to his Instagram Story. (Drake Instagram / Fox News)
The 36-year-old five-time Grammy Award winner revealed that he bought the ring previously owned by the late rap icon in an Instagram Story that he shared on Friday.
Drake uploaded a photo in which he was seen showing off the sparkler as he promoted fellow rapper Travis Scott's new album "Utopia."
"UTOPIA out now meltdown," the "Hotline Bling" hitmaker wrote in the caption.
Sotheby's confirmed the sale in a press release, noting that the winning bid for the ring was triple its high estimate of $300,000. According to the auction house, the ring was the "most valuable Hip Hop artifact ever sold at auction" and "the only Hip Hop artifact to surpass $1 million."
WHAT'S DRAKE'S NET WORTH?
Shakur sported the accessory at the MTV Video Music Awards on Sept. 4, 1996, which would become his final public appearance before he was killed in a drive-by shooting nine days later.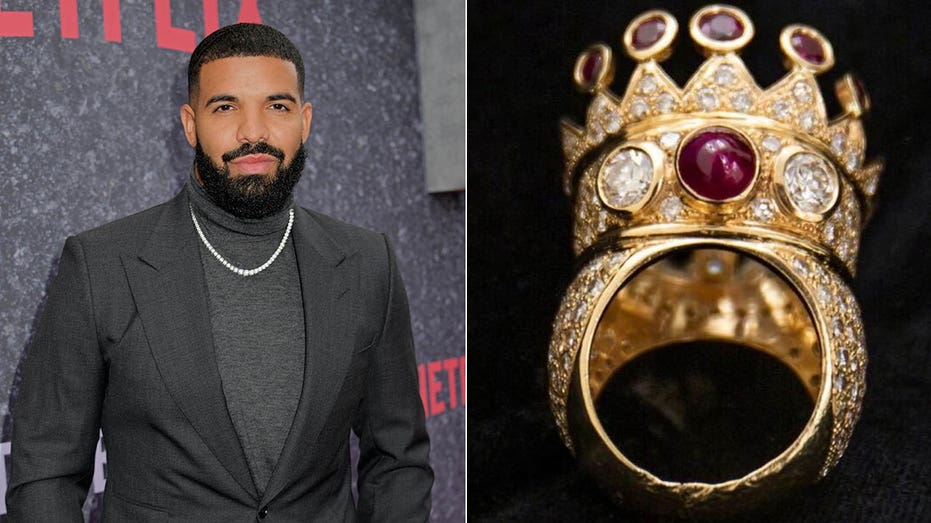 Drake bought Tupac Shakur's diamond, gold and ruby crown ring for a record-breaking $1.01 million at auction. (Getty/Sothebys / Fox News)
The ring was provided to Sotheby's by Shakur's godmother and advisor Yaasmyn Fula, who acted as a liaison between the recording artist and New York jewelers while he was designing the piece.
"This one-of-a-kind, custom ring was meticulously designed by Tupac and is among the final products of his boundless creative energy–a unique artifact from a period of time that is a testament to his enduring influence on both Hip Hop and global contemporary culture," Sotheby's Global Head of Science & Popular Culture Cassandra Hatton said in a statement to Fox News Digital.
"We're thrilled that this exceptional piece has entered a new chapter in the hands of another legendary artist."
Featuring a diamond-encrusted gold band, the custom ring is set with a central cabochon ruby and two pavé-cut diamonds on a gold circlet symbolizing the "crown."
The ring is inscribed on the palm-facing side with the words "Pac & Dada 1996," in honor of his fiancee Kidada Jones, to whom he became engaged a few months before his death.
The "All Eyez on Me" rapper wore the ring on his left-hand finger as a sign of his commitment to Jones.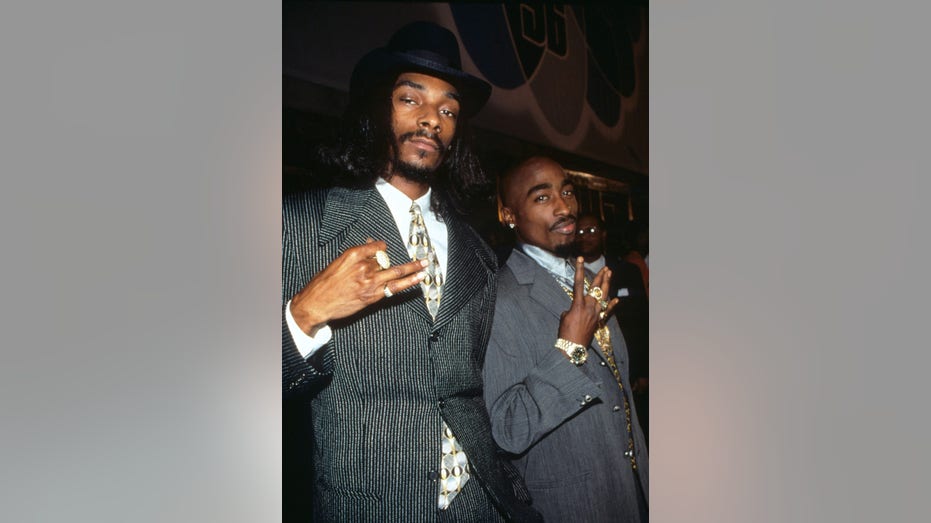 Shakur wore the ring at the 1996 MTV Video Music Awards, which would become his final public appearance before his death. ( Kevin Mazur Archive/WireImage / Getty Images)
According to the press release, Shakur created the ring to mark the beginning of a new chapter of his life following his release from prison in 1995 on a sexual assault conviction and after inking his deal with Death Row Records.
The crown design was inspired by medieval European kings and Niccolò Machiavelli's politic treatise "The Prince," which Shakur had read during his incarceration. The press release noted that the design was intended as "an act of self-coronation" and he specifically chose the ruby as the central jewel as it is historically associated with royalty.
According to Fula, the ring was also "a celebration of survival through a tumultuous year in an oft tumultuous life." She noted that Shakur was named after Peruvian indigenous revolutionary leader Túpac Amaru II and recalled the New York native's mother Afeni Shakur teaching him the mantra "You are our black prince. You are my miracle, and you will make black people proud."