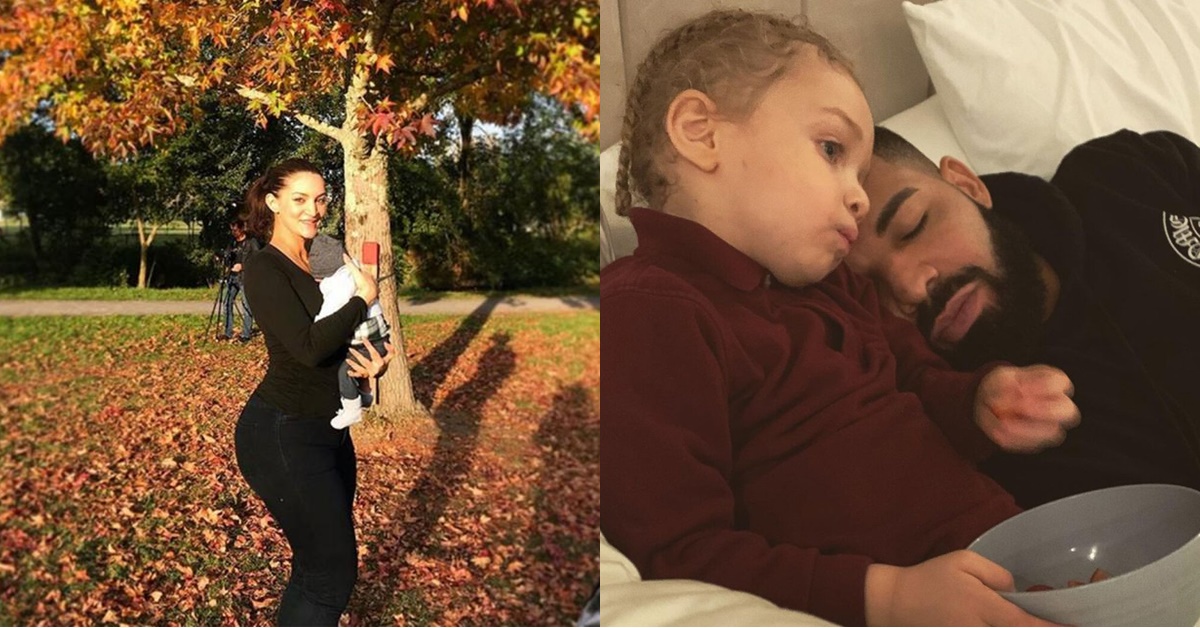 Drake is opening up about his 1-year-old child Adonis and the relationship he has with the boy's mother, Sophie Brussaux
Drake dropped a major bombshell on his album Scorpion in June, confirming the rumored news that he fathered a son named Adonis with French artist and former adult-film star Sophie Brussaux. And now, the Canadian rapper is opening up about his 1-year-old child and the relationship he and Brussaux have today.
On Friday's episode of LeBron James' new unscripted HBO series The Shop, Drake, 31, raved about his son — even showing James and the athlete's business partner Maverick Carter photos of the "beautiful" boy on his phone.
"[He has] crazy blue eyes — baby blue eyes," Drake said, adding, "He's already in the pool shooting the basketball."
"I'm just excited," Drake said of fatherhood, explaining he's been drawing on "all of the things I've learned from and through my father and the incredible things I've learned through my mother about patience, about unconditional love."
Sophie Brussaux and Adonis. SOPHIE BRUSSAUX/INSTAGRAM
Want all the latest pregnancy and birth announcements, plus celebrity mom blogs? Click here to get those and more in the PEOPLE Parents newsletter.
The two were not together when she gave birth to Adonis on Oct. 11 of last year. Back in May 2017, Brussaux — who was spotted with the rapper that January following his split from Jennifer Lopez — claimed she was three-and-a-half months pregnant with Drake's child and hired two major New York City attorneys to begin the proceedings to prove paternity and seek child support, TMZ reported. Drake learned the results of the DNA test back in March.
On Scorpion, Drake rapped that he celebrated when he heard the news, and even rushed out to buy his son a crib. According to the track, Drake had only met Adonis once at Christmas time but hoped to for another visit soon as well as an improvement in his relationship with Brussaux, considering the two were "always cuttin' each other down."
DAVID X PRUTTING/BFA/REX/SHUTTERSTOCK
"I am a single father learning to communicate with a woman who, we've had our moments," Drake told James and Carter on The Shop. "I do want to be able to explain to my son what happened. But I don't have any desire for him to not love his mother. I don't ever want the world to be angry at his mother. We have found ourselves in a situation and we are both equally responsible. Now, I'm just really excited to be a great father."
"No matter what happens, I have unconditional love for the mother of my child because I want him to love his mother and I have to project that energy," Drake added.

NOEL VASQUEZ/GC IMAGES
The Degrassi: The Next Generation alum's own parents divorced when he was 5 (Drake was raised by his mother in Toronto).
"I didn't come from that [peace]," Drake said. "I came from my mother being like, 'Your dad is this.' My dad would never speak ill of my mother — ever, ever, ever. My mother is the nicest, kindest, sweetest woman, but she's a woman scorned and a woman who is exhausted."
"I was really hard on my parents for giving me sort of a childhood that I had to wrap my mind around as I grew," he said on the show. "Multiple times I sort of suggested that they could have done a better job at co-parenting, sticking together, not being so divided."