The two rappers met up backstage after Drake stopped by Brooklyn, New York, during his It's All a Blur tour on Tuesday
Drake is getting close to Sexyy Red!
The Canadian superstar was pictured cozying up to breakout rapper and viral sensation Red backstage during his It's All a Blur tour at Barclays Center in Brooklyn, New York, on Tuesday.
In a photo posted to his Instagram Story, Drake, 36, sat with the "Pound Town" rapper — who attended his show Tuesday night — as he had his arm around her and kissed her cheek.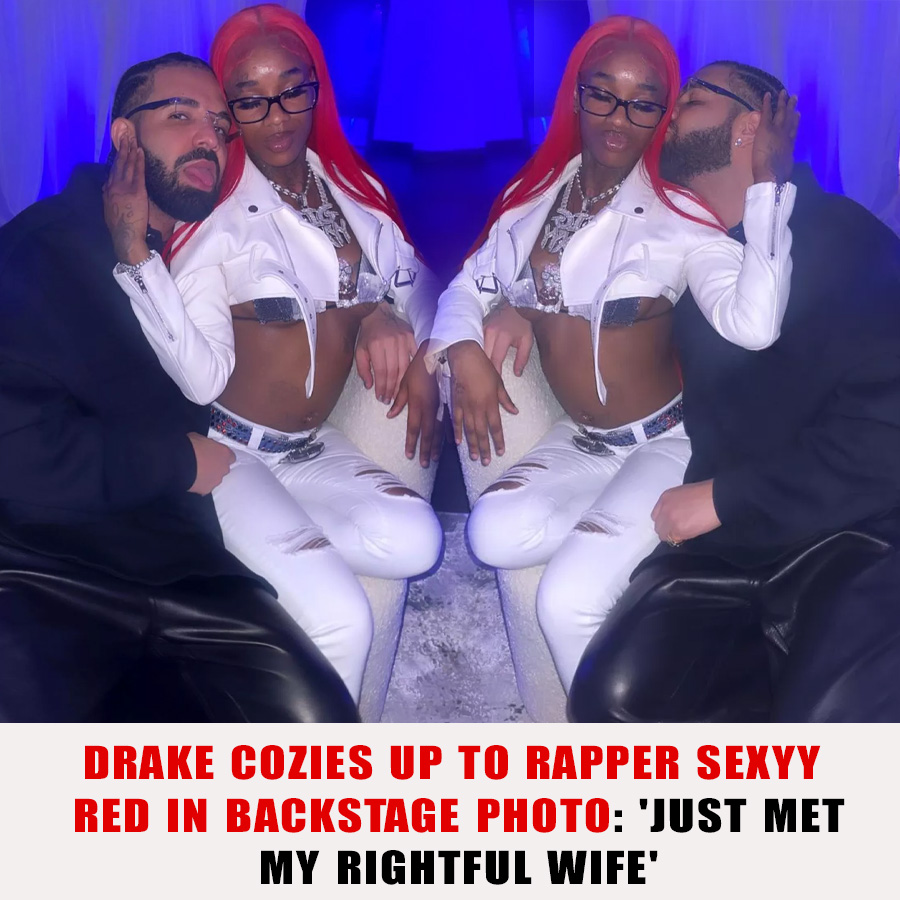 Drake and Sexyy Red.
SEXXY REDD INSTAGRAM
Meanwhile, Red, 25, was seen with her hand on the side of Drake's head as she had her eyes closed and pulled a pouty expression.
"Just met might my rightful wife @sexyyred," Drake wrote atop the snap.
The St. Louis-born rapper shared the same photo on her Instagram, along with a second snap of herself and Drake showing them seated backstage again with their heads pressed together as Drake stuck his tongue out.
Drake and Sexyy Red. PHOTO: 
SEXXY REDD INSTAGRAM
"I'm yo favorite rapper favorite rapper 🤝🏾," Red wrote.
A fan account for Red also shared a video on TikTok recorded during Drake's show on Tuesday, showing him walking off stage in the middle of his concert to give her a hug from her seat.
"Look, they got my baby mama here tonight," he said to the cheering crowd in the clip as he kissed Red on the head.
Drake also shared a photo of the smooch moment to his Instagram Story.
\
Drake performs in Atlanta on Dec. 9, 2022.
PRINCE WILLIAMS/WIREIMAGE
Drake and Red's backstage meetup comes after Drake gave a strange request onstage during the Montreal tour stop of his concert over the weekend.
The Search & Rescue rapper joked that he wasn't pleased to see none of his crowd members in the Canadian city throwing bras at him, after he received many at recent shows since kicking off his tour on July 5 in Chicago.
"I would just like to say before I go onto this next song, this is the first stage where I don't have no bras, and I'm deeply disappointed," said Drake, according to a fan-filmed video. "But don't start throwing shoes and phones and s—."
He continued, "If you got a bra, though, just let me know that I still got it, 'cause I feel like I might be having a bad show or something. I didn't see no bras tonight."