Drake brings the casino into his Jacob&Co watch!
Drake's new watch, the Jacob & Co Astronomia Casino, is a remarkable timepiece that goes beyond its primary function of telling time – it features a fully functional roulette wheel. Priced at an astonishing $620,000, this luxury watch has garnered significant attention. Drake himself shared pictures of the watch from the watchmakers' headquarters on his Instagram feed, sparking curiosity among his followers.
The Astronomia Casino watch boasts a four-arm setup, each serving a specific purpose. The first arm is designed to accommodate a ceramic ball, which likely operates the roulette wheel function. The second arm houses a double-axis tourbillon, a sophisticated mechanism that enhances timekeeping accuracy, making this watch not only a piece of art but also a technical marvel.
The third arm is dedicated to displaying the time using Roman numeral indicators, ensuring practicality alongside its extravagant features. As if this were not enough, the fourth arm sits atop the watch and showcases a dazzling 1-carat 288-facet Jacob-cut diamond. The brand claims that this diamond rotates on itself every 30 seconds, adding an extra touch of luxury and elegance.
When in motion, each arm rotates around the watch's face in a captivating and intricate movement, taking a total of 10 minutes to complete the entire cycle. This mesmerizing display exemplifies the craftsmanship and complexity that Jacob & Co. is known for in their watches.
While the Astronomia Casino is undeniably an extravagant timepiece even by Drake's standards, it fits well within Jacob & Co's portfolio of equally complex and unique watches. The Manhattan-based wristwatch retailer has a history of creating extraordinary timepieces inspired by various themes, including excavator trucks, oil pumps, and even one that plays the entire theme tune of The Godfather.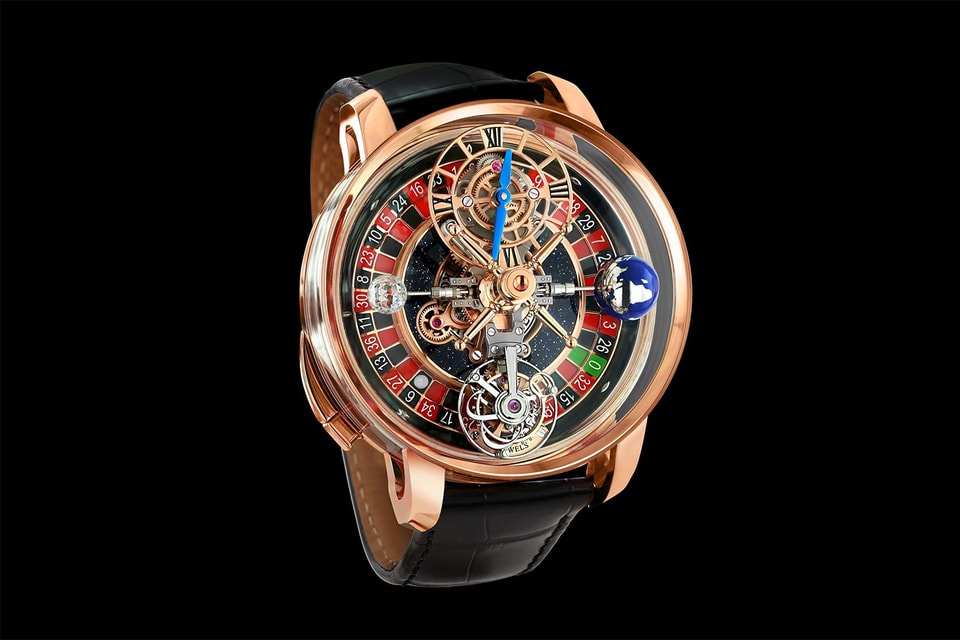 Drake's choice of the Astronomia Casino watch is a reflection of his appreciation for luxury and high-end products. As a public figure with a penchant for opulence, this exclusive timepiece is undoubtedly a standout addition to his collection of lavish accessories.