Chris Brown recently shared a cryptic and angry message with followers.
During a recent interview with Jason Lee, Omarion recalled a time when the Hollywood Unlocked founder tried to set him up with a friend. According to Jason Lee, he once brought a group of women along with him for a night out with Omarion and Chris Brown. He thought one of the women he invited, Karrueche Tran, had been hitting it off with Omarion. "I thought y'all were gonna be a thing," Lee said.
"Yeah, that's true," the former B2K member confirmed. "And you never said anything!" Lee added. "If I were you I would've." Omarion made it clear that he hasn't held on to the missed opportunity. "Come on now! You got to be unbothered," he said. Though things between Tran and Omarion never panned out, the model did go on to have a relationship with Brown.
Chris Brown Shares Cryptic Message On Instagram
The two of them were in an on-and-off-again relationship from 2010 to 2015. In 2020, Tran filed for a restraining order against the singer, alleging that he threatened to kill her. He's previously faced allegations that he was abusive towards Tran throughout their relationship. It doesn't seem as though Brown was a fan of Omarion and Jason Lee's revelation, based on one of his recent Instagram Stories.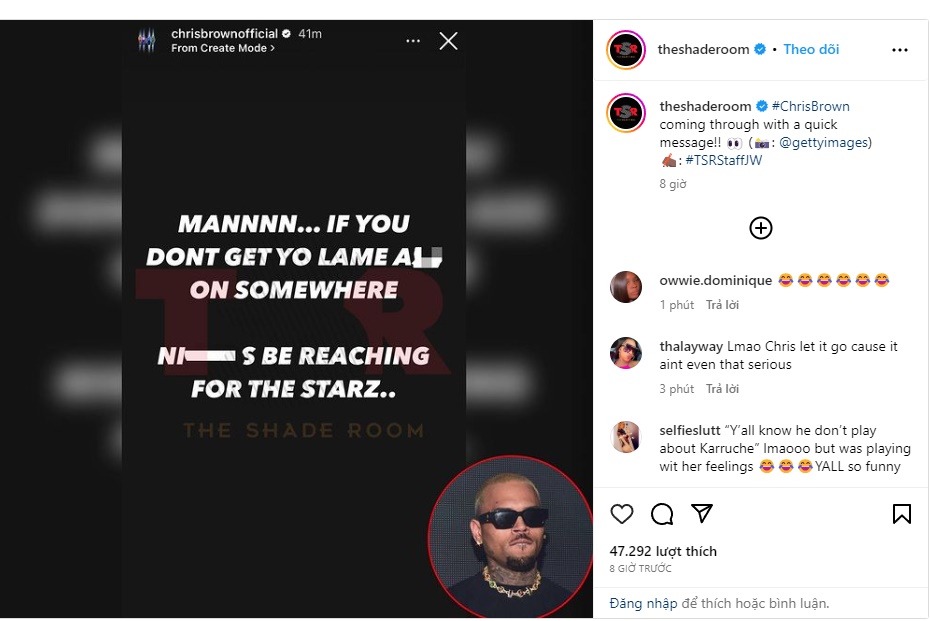 "MANNNN," his message reads. "IF YOU DON'T GET YO L*ME A** ON SOMEWHERE. N***AS BE REACHING FOR THE STARZ." While it's unclear whether or not his post is referring to Omarion letting the cat out of the bag, he's obviously not pleased with something, leading fans to speculate. Many commenters suspect that he's not all the way over his tumultuous relationship with Tran, and that it's still be a sore spot for him. Others argue that there's no evidence his post was referring to the revelation. What do you think of Chris Brown's apparent response to Omarion reflecting on his run-in with Karrueche Tran? Share your thoughts in the comments section down below, and keep an eye on HNHH for more updates.