The two recorded the song "Player" early on in the Kentucky-born singer's career.
Chris Brown is responding to Tinashe's reflection on the 2015 collaboration "Player" she did with the singer and how she regrets it now.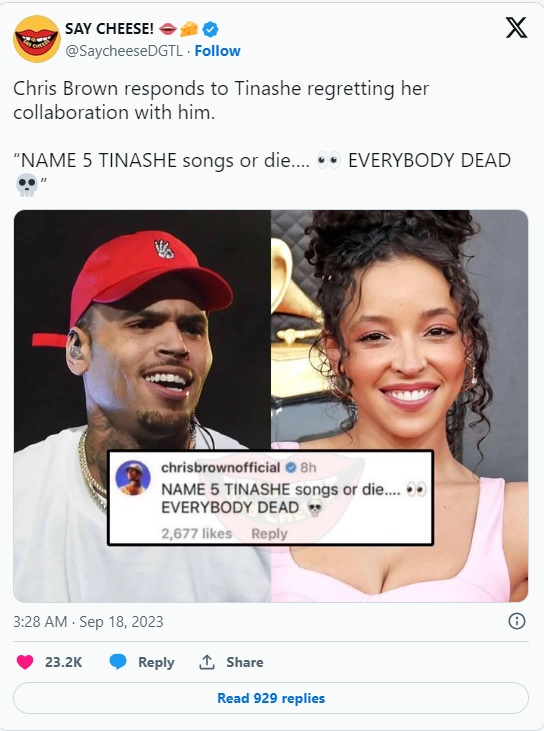 In The Shade Room's Instagram comment section on Saturday, the controversial R&B singer joked that most people wouldn't know a handful of Tinashe's songs if pressed about them.
"NAME 5 TINASHE SONGS OR DIE…[eyes emoji]," he wrote. "EVERYBODY DEAD [skull emoji]."
Additionally, Brown claimed the "All Hands On Deck" singer needed the help of industry veterans to "save her career."
The comments made by CB come just a few days after Tinashe expressed regret over past collaborations she did with both Brown and R. Kelly – both of whom have been accused of abusing women.
During an interview with the Zach Sang Show on Wednesday (September 12), she described working with the pair of singers. Both "Player" and the Kelly-assisted "Let's Be Real Now" were orchestrated by her then-label RCA Records.
"You think I wanted to [do those songs]?" she began. "I literally block out that R. Kelly song from my mind. I forget that it even exists. That is so embarrassing. That is so unreal that I even have a song with R. Kelly. That's so embarrassing. Yes that was labely! And I was so young too. I feel like I did that song when I just signed to that label. I was probably like 20. That was crazy."
Tinashe continued: "You [lack a lot of control in that situation.] And especially when it comes to singles like the song with Chris – that was a song that we all wanted to be this big moment, this big single.
"So I feel like in [the label's] mind, they were like, 'You need the support.' And he was like their biggest artist that they had on rhythmic radio at the time. And to me, I was like, 'Well this is a pop song. So I really don't feel like we should put Chris on it. That doesn't compute to me.' But I don't know!"