Chris Brown is in legal hot water again. This time, the singer is reportedly facing a $2.1 million lawsuit over an unpaid loan for the purchase of two Popeyes restaurants.
"As of February 17, 2023, Borrower and Guarantors owe $2,140,901.74 in unpaid principal and interest," according to documents obtained by The Blast. Georgia-based institution City National Bank is suing Brown and has moved the case to Los Angeles, where the musician currently resides.
The lawsuit designated Breezy as a personal guarantor, which directly implicated him in the outstanding debt. However, it remains uncertain whether The-Dream, whose also involved in the loan agreement, is under similar scrutiny.
Notably, this isn't the first attempt to reclaim the tab. City National has allegedly been pursuing the money owed since 2018. Already winning a default judgment against the artist in Georgia, the bank claimed he now owes $1,314,367.40 as part of a collection suit in LA.
Over the weekend, social media users chimed in on the incident. One person shared, "This Chris Brown Popeyes story is the ghettoest thing I've heard in a minute. I'm hunched over screaming."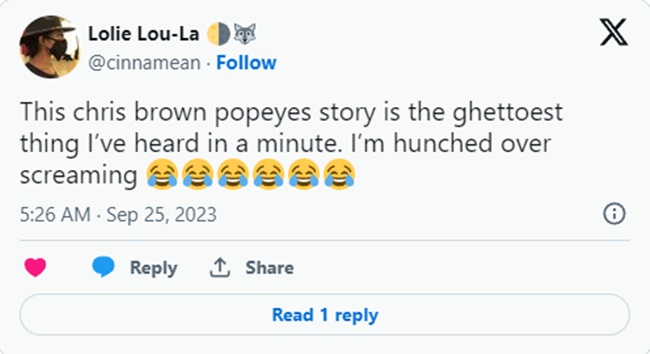 Another tweeted, "Why is Chris Brown always in some type of random drama? Like, how do you owe Popeyes Chicken $2 million?!"
why is chris brown always in some type of random drama? like? how do you owe popeyes chicken $2million?!
In a separate issue, Brown was involved in a $71 million dog attack claim from his former housekeeper. Originally set for September 2023, the suit was delayed until December. The artist's legal team argued the postponement would not harm the plaintiff, who is still receiving medical treatment for her injuries.
Adding to his woes, Tinashe recently expressed regret for a prior collaboration with Brown. The "Go Crazy" singer responded by challenging fans on Instagram to "Name [five] Tinashe songs or die."
During a conversation with TMZ last Thursday (Sept. 21), Tinashe said she was open to reconciling with the musician despite their past quarrels. The "2 On" hitmaker shared, "I think he didn't actually watch the full video, but it is what it is. It's fine, it's all good. [We're] focused on the future. I would talk to him if he wants to reach out. It's all lov