Chris Brown has opened up about how he still suffers from imposter syndrome nearly two decades into his decorated career.
Even with 21 Grammy nominations and millions of record sales to his name, C. Breezy — who is currently putting the finishing touches on his 11th studio album, 11/11 — still struggles with accepting the level of success he has.
On Tuesday (October 24), Brown took to his Instagram Story to promote his upcoming new album, which is slated to arrive on November 11, and explained how he can't believe he is where he is — and thanked his fans.
"11th album," he wrote. "I still pinch myself and have frequent Spatz of imposter syndrome. I'm extremely thankful and appreciative of how far I've come and the people who got me here. I continue to strive higher. MUSIC IS A CHOICE AND I THANK YOU FOR CHOOSING ME."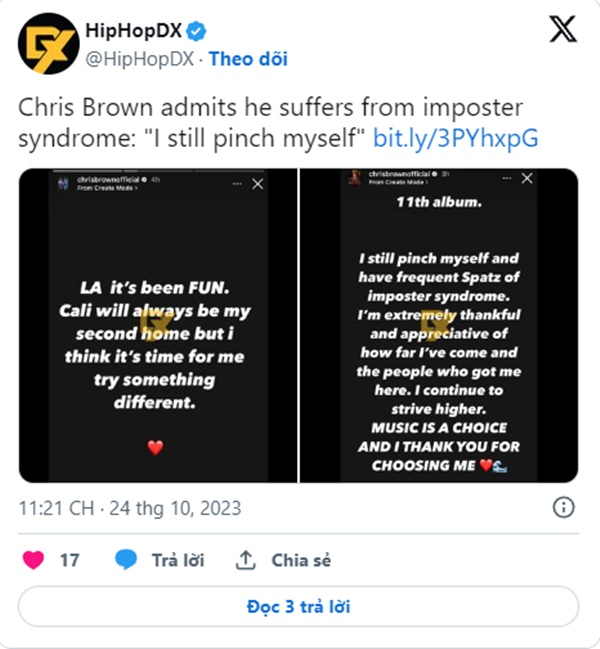 For those who might not be familiar, according to the National Institutes of Health, imposter syndrome is a "behavioral health phenomenon described as self-doubt of intellect, skills, or accomplishments among high-achieving individuals."
Chris Brown could also be looking for a change of scenery to spark some new creative energy in his life as he looks for an escape from the City of Angels.
"LA it's been fun," he wrote of moving out of Los Angeles. "Cali will always be my second home but I think it's time for me [to] try something different."
It's unclear where the father of three is considering relocating to at this time. However, on the music side, he returned on Friday (October 20) with his uplifting Davido and Lojay-assisted single "Sensational."
Despite what Chris Brown might think of himself, 50 Cent recently doubled down on his claims that he thinks Breezy is the greatest artist to come out since Michael Jackson.
Taking to Instagram in September, Fif shared a painting of MJ bestowing a crown on Chris, calling the latter the "best shit we got" in his caption.
"I like this, I want a painting like this in black and white," 50 Cent wrote. "@chrisbrownofficial is really the best shit we got out here, but nobody will say it so I gotta say it."