This latest conspiracy theory has gone viral, and there is a whole bunch of evidence to back it up!
And it involves none other than Eminem.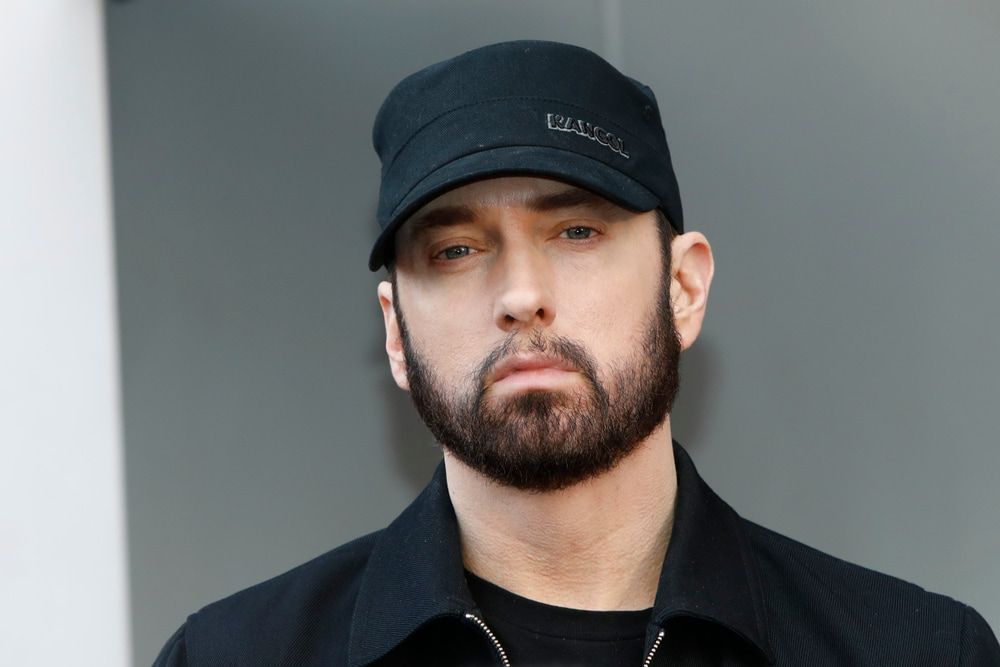 via Shutterstock
Now, Eminem is an icon for many.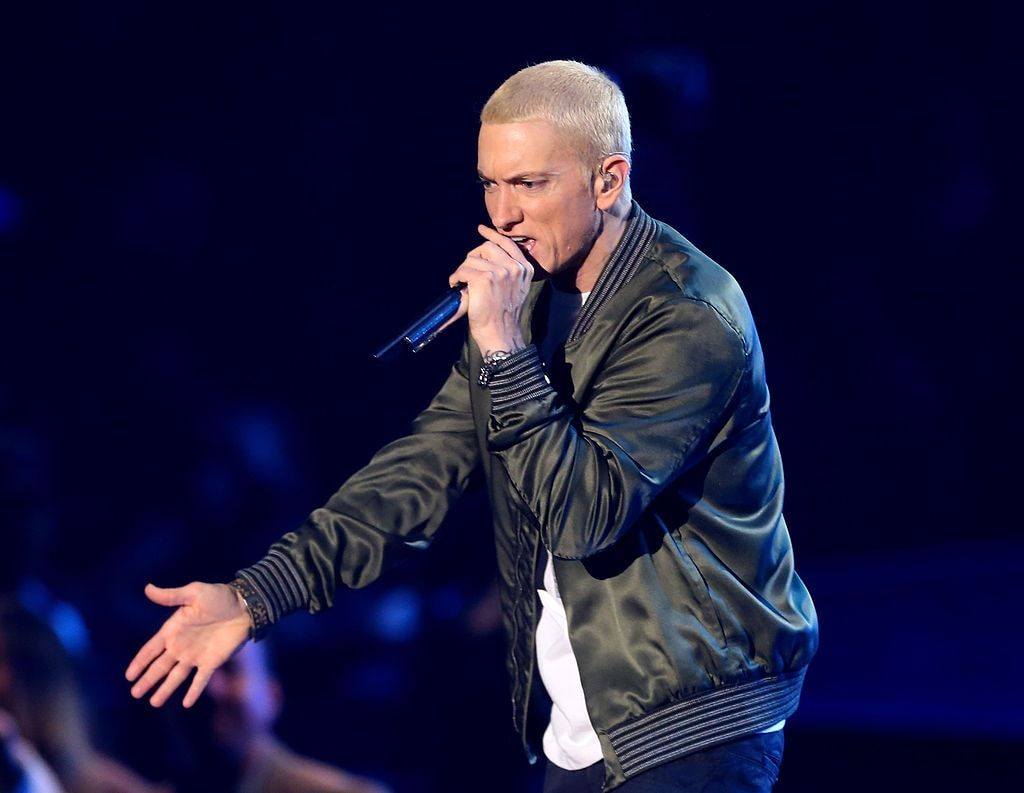 Eminem, whose real name is Marshal Mathers, first came onto the hip-hop scene in his hometown of Detroit, Michigan, in 1997.
But it hasn't always been easy for the star…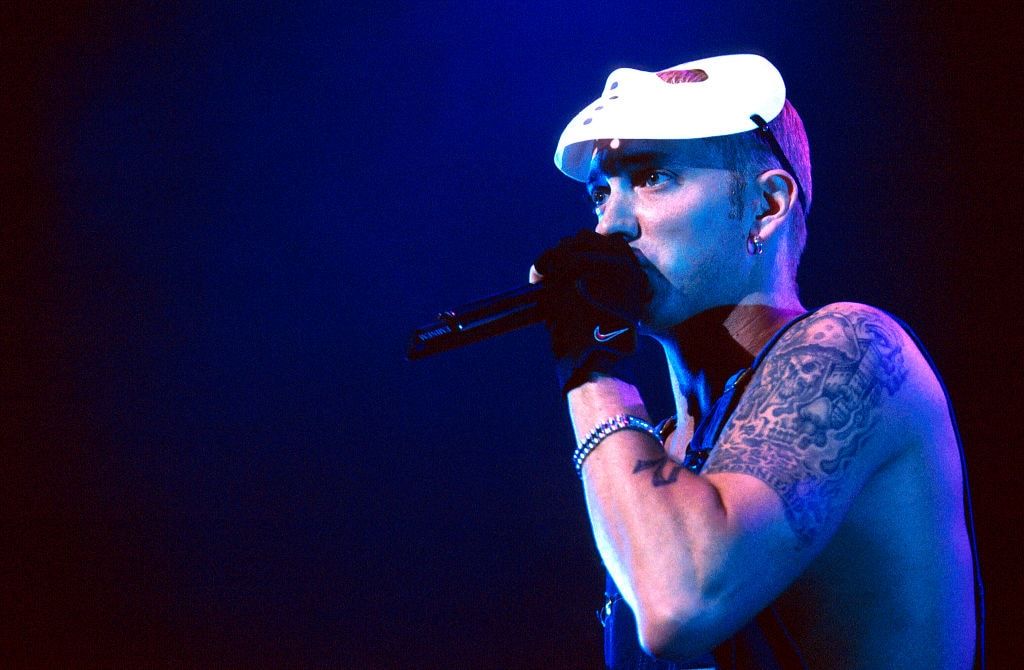 via Getty Images
Throughout the early nineties, he worked tirelessly on making a name for himself in the underground world of hip hop — something which proved to be quite the challenge for a white man.
He started out way back in In 1988, with the stage name MC Double M, later evolving into M&M, before he finally became Eminem…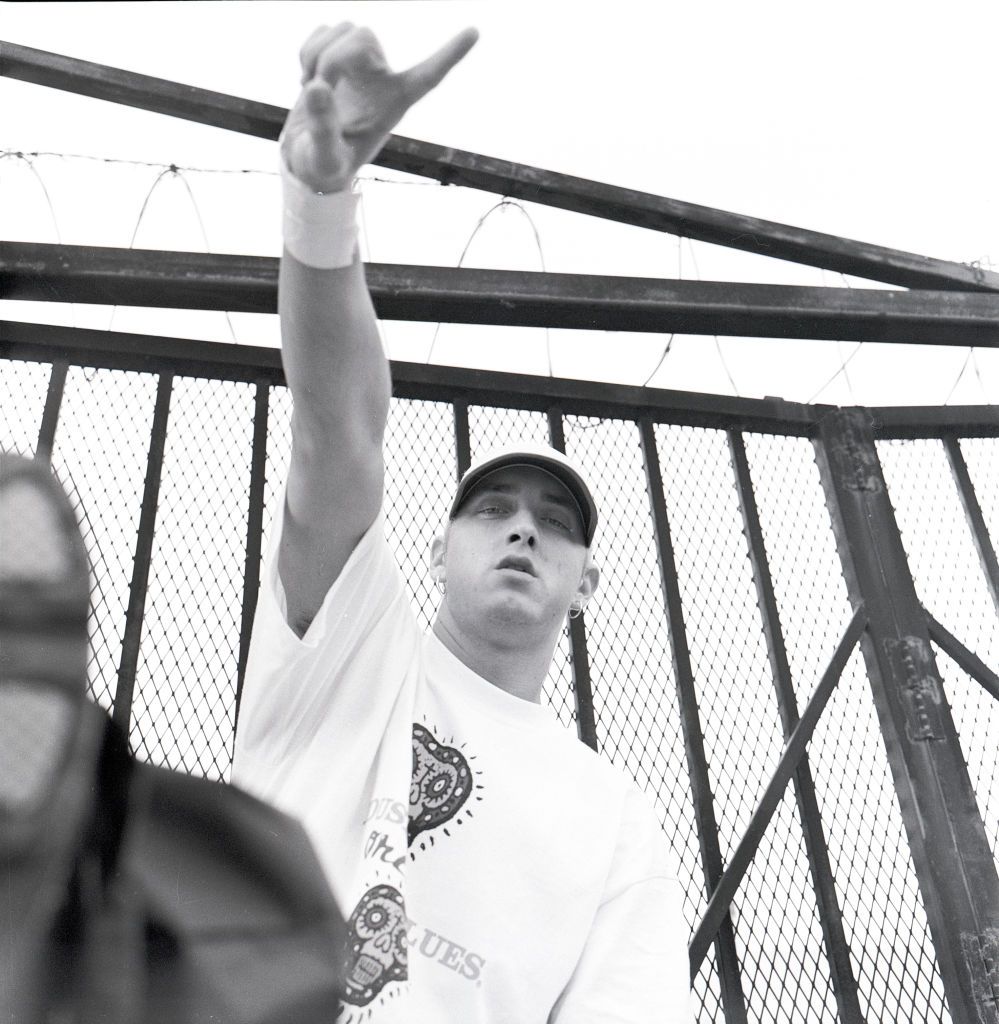 via Getty Images
It took him quite some time to establish himself in the industry, with Detroit's veteran MCs and DJs laughing the "skinny white boy" off from the stage.
This continued for a few years until finally he was signed to Jeff and Mark Bass's F.B.T. Productions and recorded his debut album…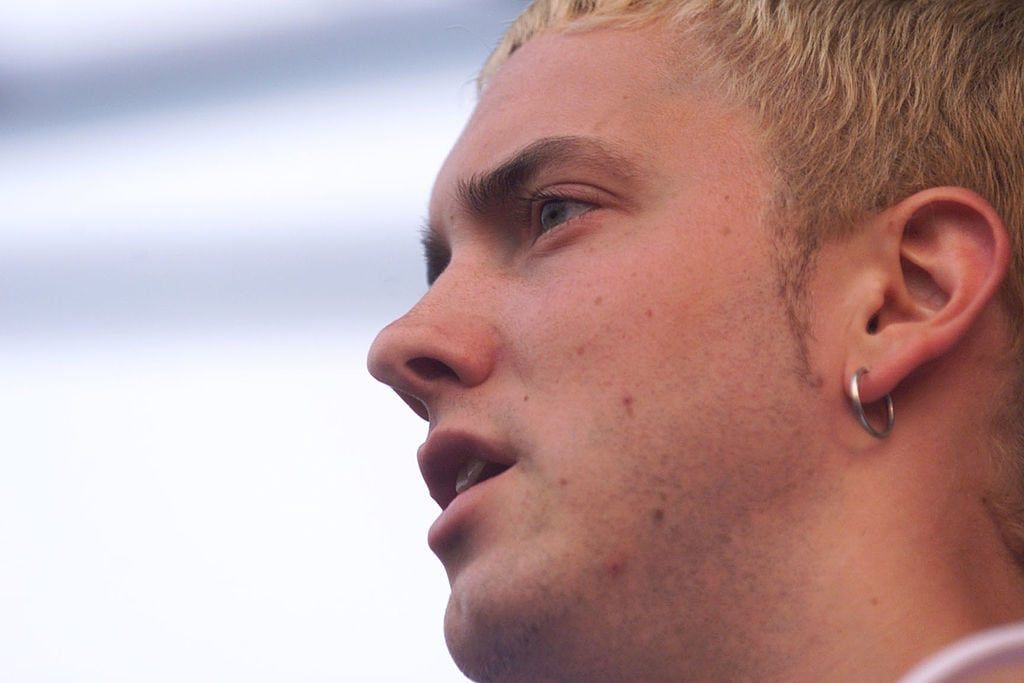 via Getty Images
Sadly, the 1996 Infinite albumsold poorly.
But he didn't give up…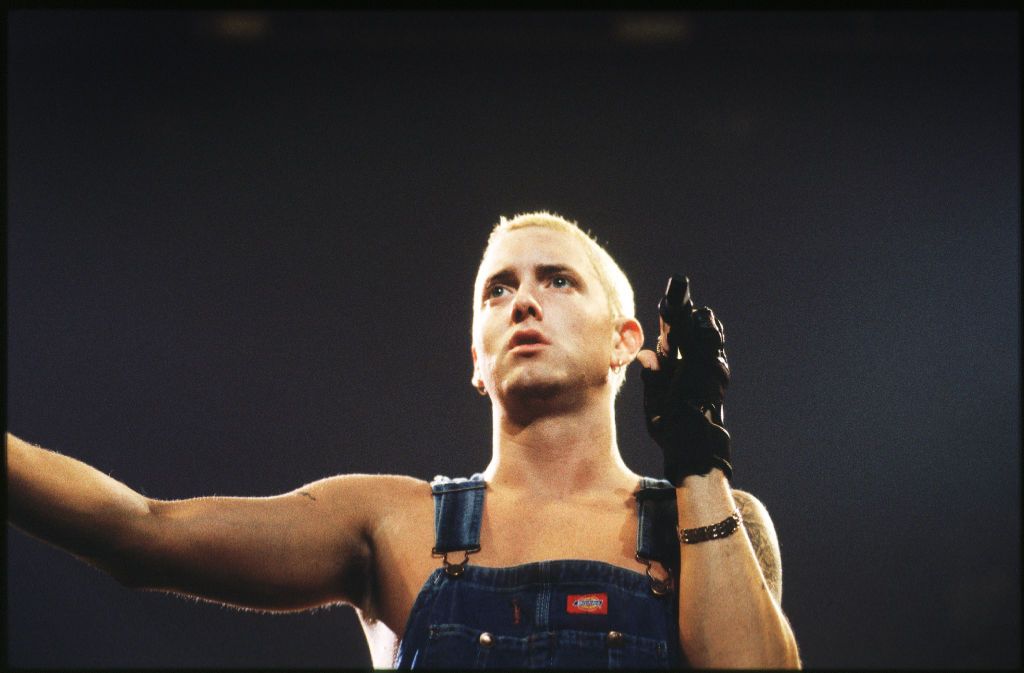 via Getty Images
Eminem's freestyle skills and unique persona, Slim Shady, caught the attention of rapper and record producer, Dr. Dre, at an LA rap battle.
And the rest is history…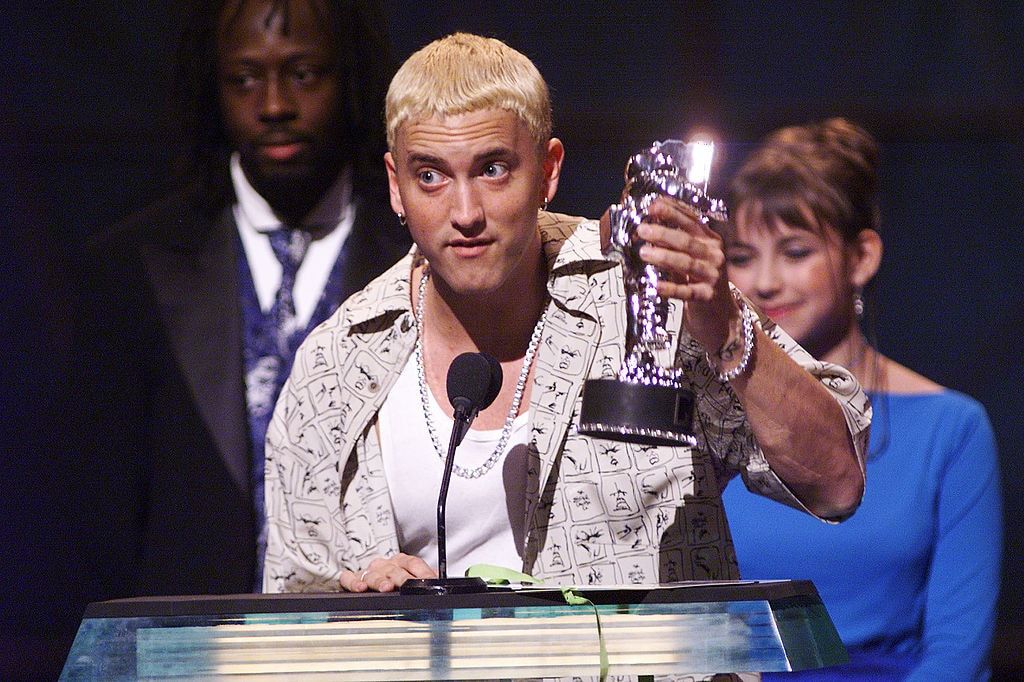 via Getty Images
With the producer as his mentor, Eminem released the iconic The Slim Shady LP in 1999, which went on to sell millions of copies and win him 2 Grammy Awards and 4 MTV Video Music Awards.
This catapulted him into the spotlight.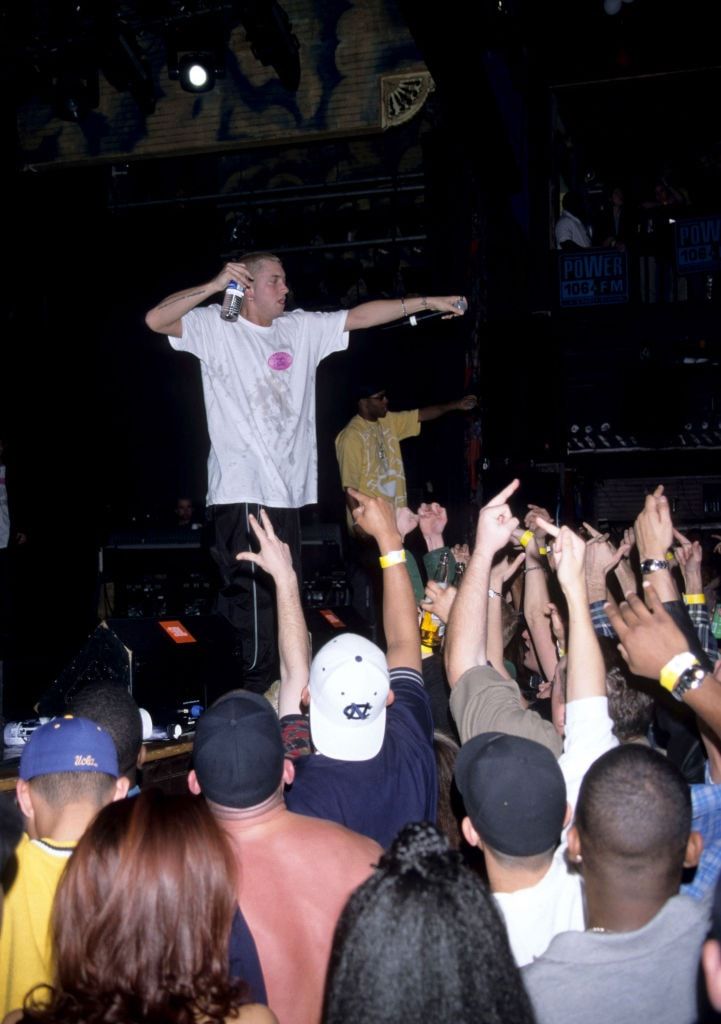 via Getty Images
In 2000, he went on to release The Marshall Mathers LP, which included some of his most popular tracks such as 'Stan' and 'The Real Slim Shady'.
His fourth album, The Eminem Show in 2002 was just as successful…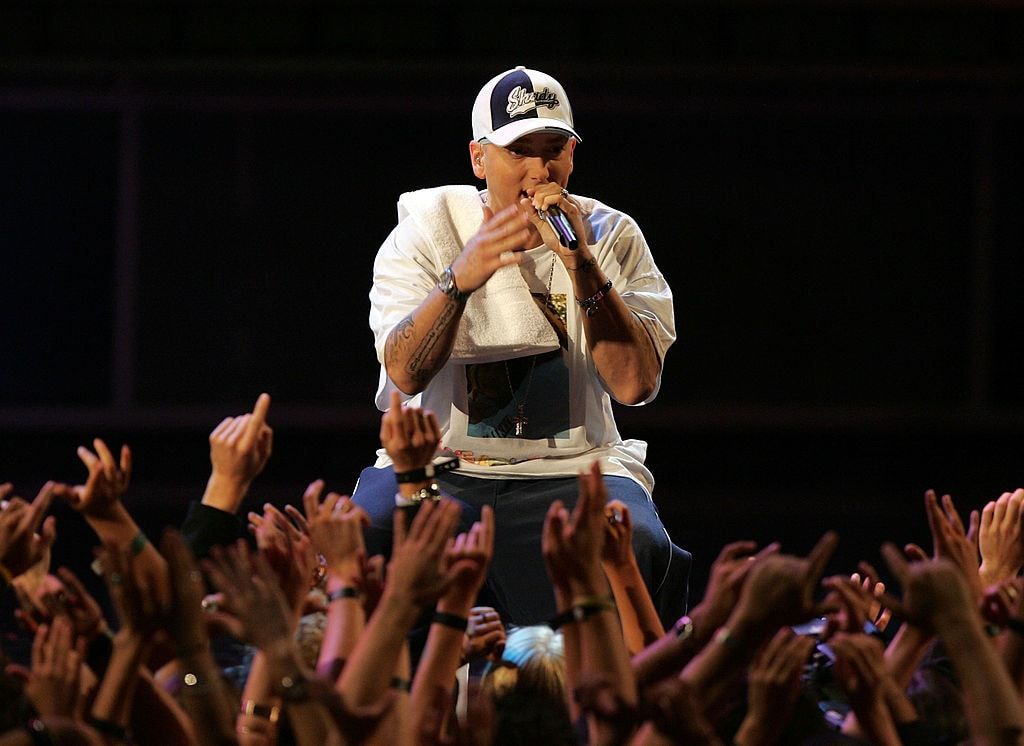 via Getty Images
And in that same year, the musician made his acting debut in the movie, 8 Mile, which was based loosely around his own life and growth and success in the world of hip hop.
It's safe to say he's been through a lot in his life.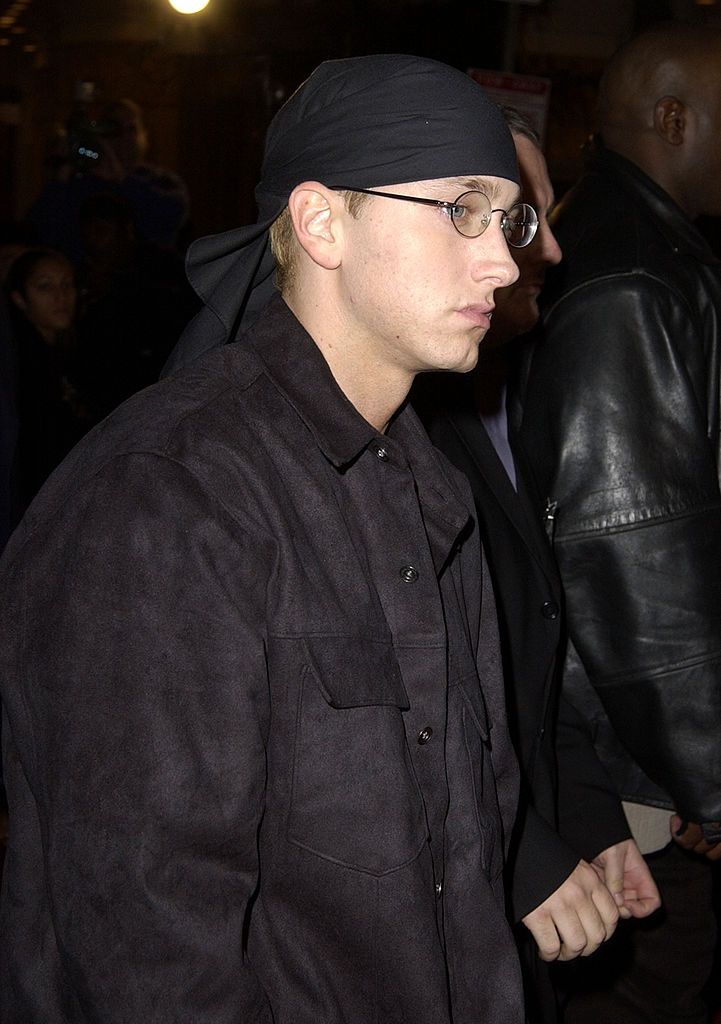 via Getty Images
And Eminem certainly hasn't been shy of controversy.
He frequently uses his music to re-tell troubling events that have happened in his life…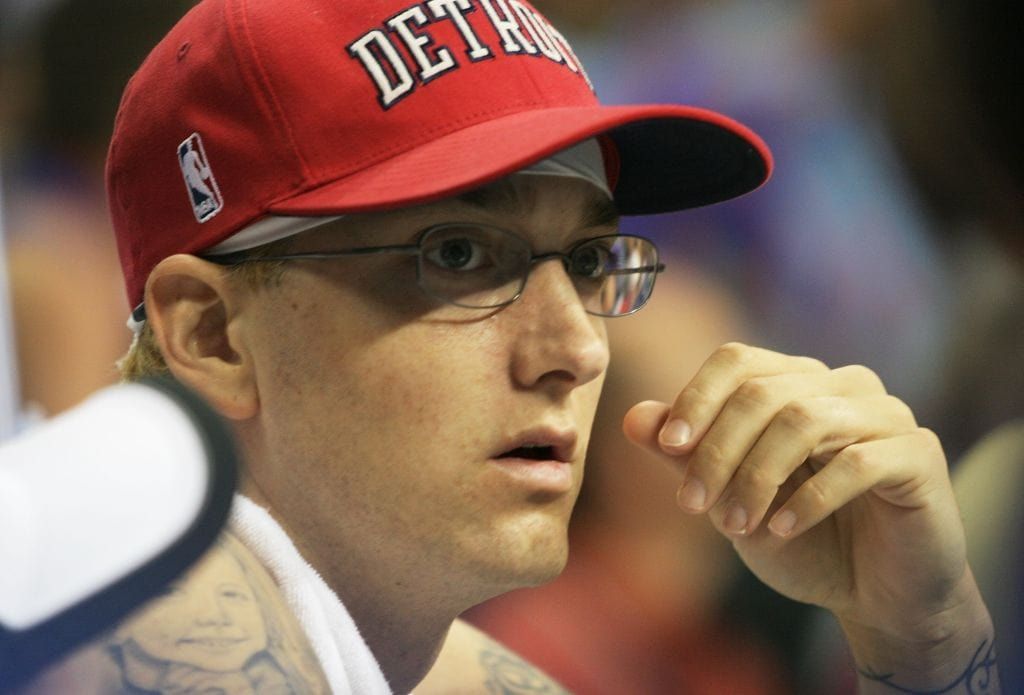 via Getty Images
Rumors of Eminem's abusive childhood have circulated for years, and the rapper famously had a difficult relationship with his mom, Debbie Nelson-Mathers.
Regardless, he has built his image around an angsty, rebellious young man who simply doesn't give a f***.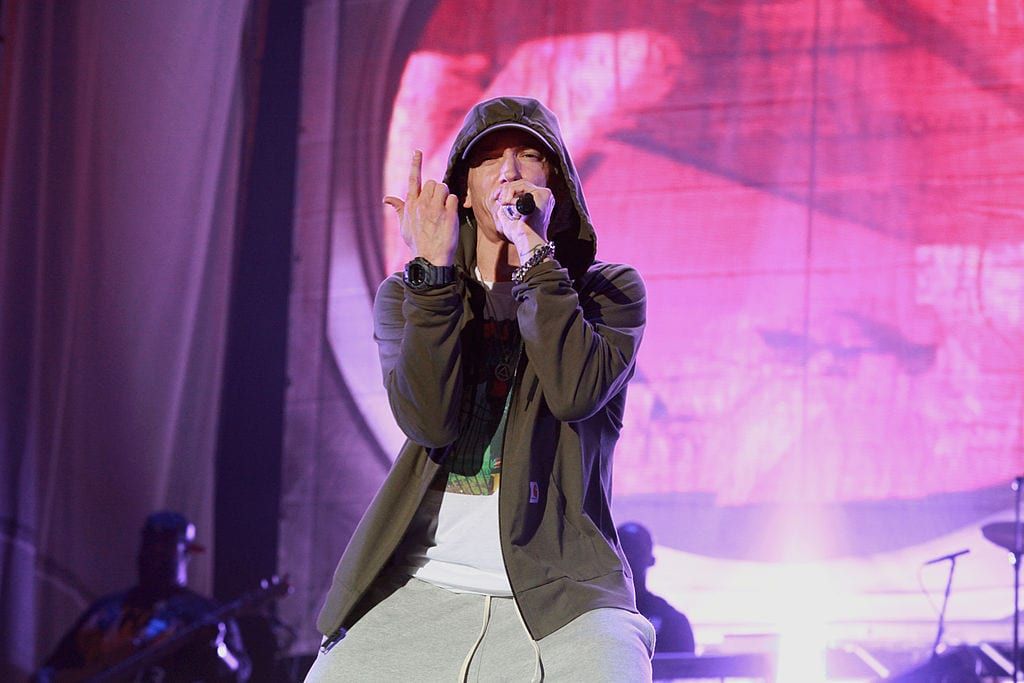 via Getty Images
And it seems as though he uses his music as an outlet for all of his… problematic frustration. He has publicly blasted many famous faces in his songs, including Limp Bizkit's Fred Durst, Christina Aguilera, and Will Smith.
The rapper has frequently come under fire for also coming up with "problematic" lyrics.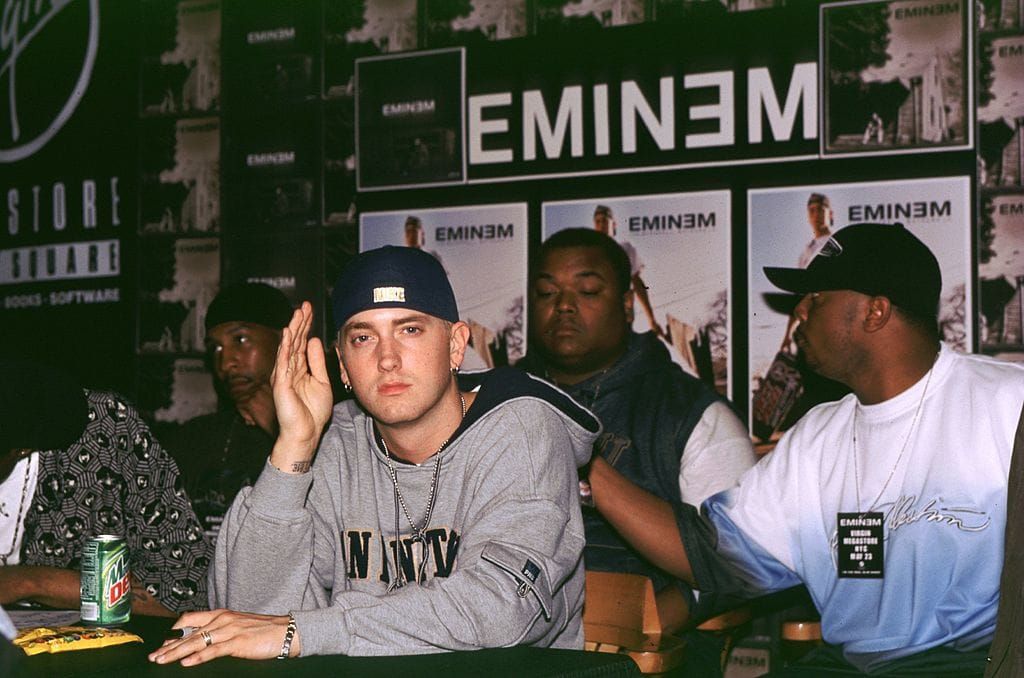 via Getty Images
Many have slammed the rapper as being "s*xist" and "homophobic," as well as violent.
He often rapped about hurting women and killing his wife, Kim.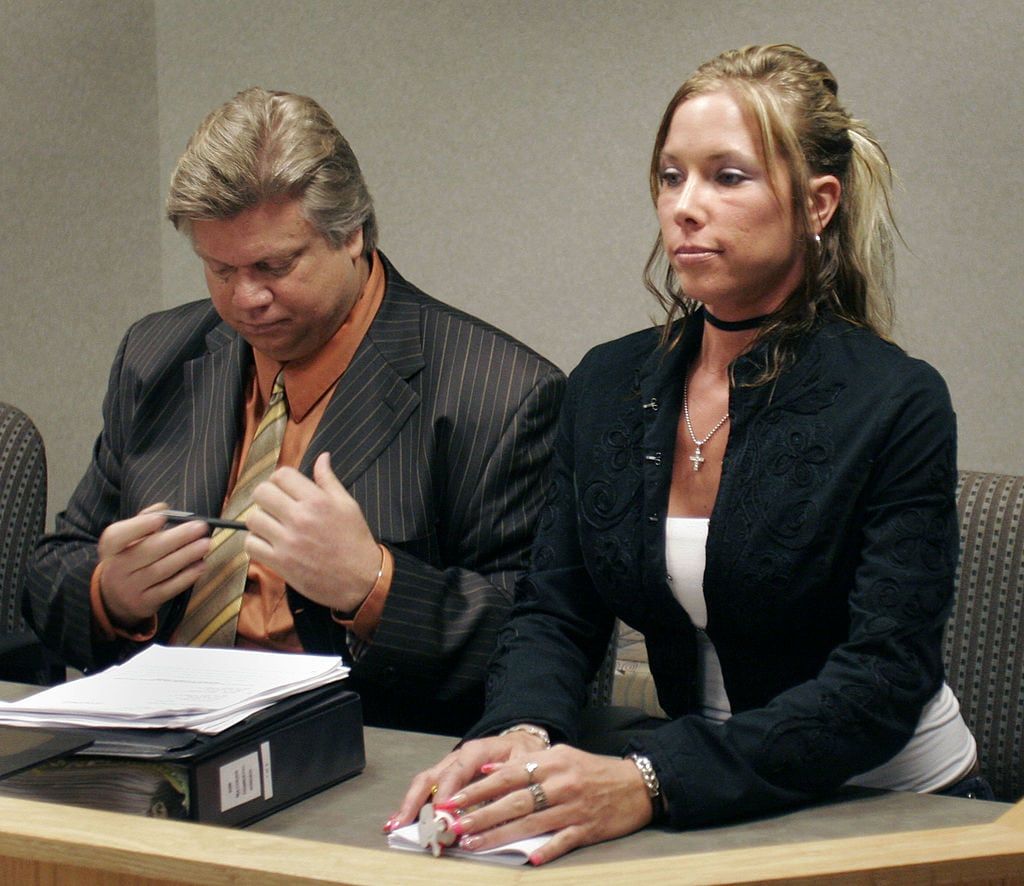 via Getty Images
And in his earlier years, he was arrested and charged with assault in 2000 when he allegedly pistol-whipped a man he saw kissing her, so I guess some people are just concerned that his lyrics might actually play out in real life.
But that still hasn't stopped his behavior.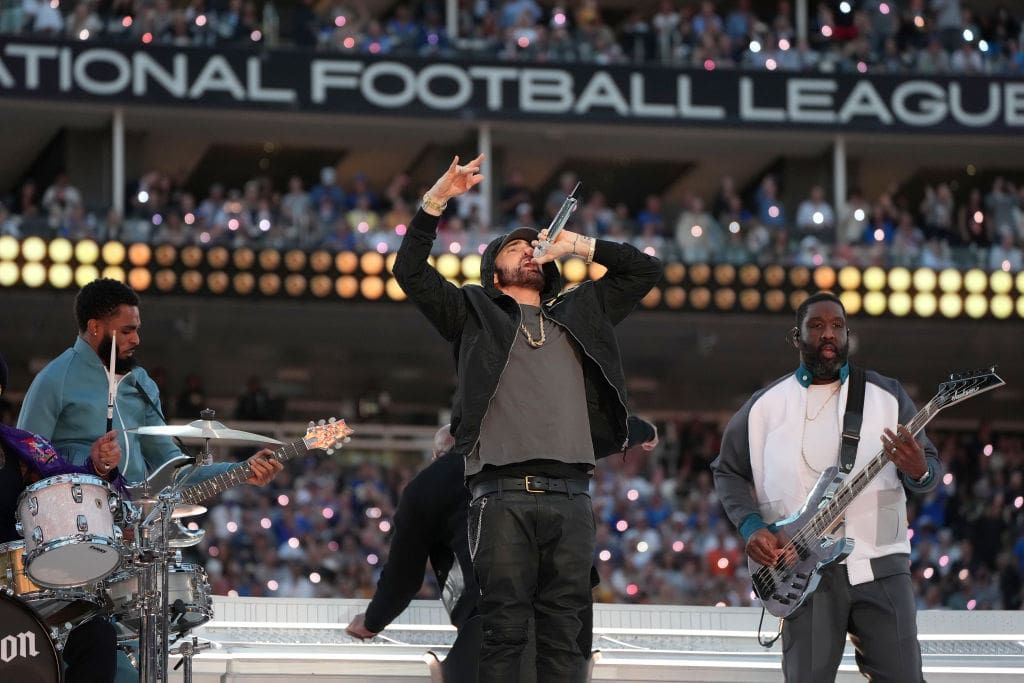 via Getty Images
Recently people on social media have taken matters into their own hands, trying to cancel him for one song in particular.
People are bashing the rapper for cultural appropriation, with many expressing outrage over an old music video.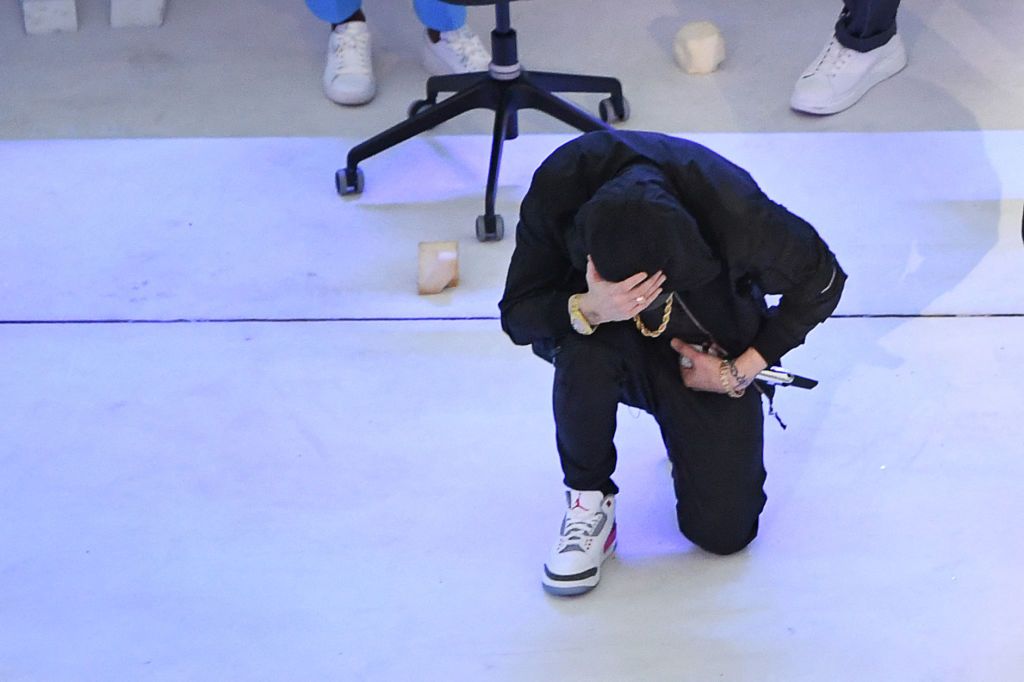 via Getty Images
The song in question is 'My Band', which featured D12 and was released way back in 2004.
In the video, Eminem could be seen dressed as a matador, while D12 was dressed like a Mariachi band.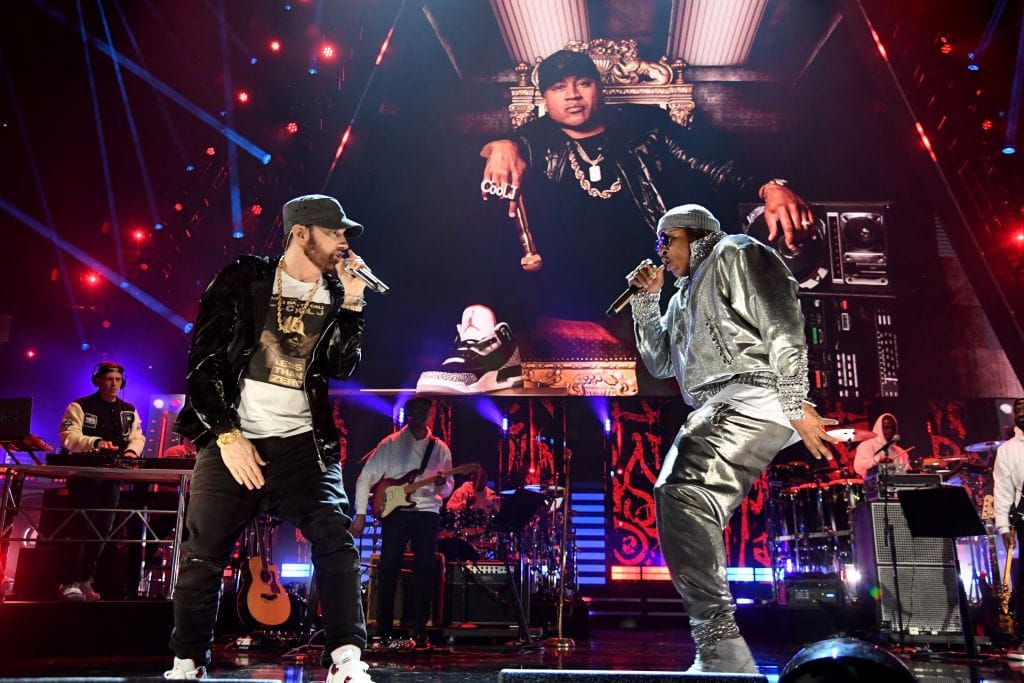 via Getty Images
This hasn't sat well with some social media users, and his lyrics are being pulled apart too.
In one part of the song he says "salsa makes all the pretty girls want to dance and get in their underpants."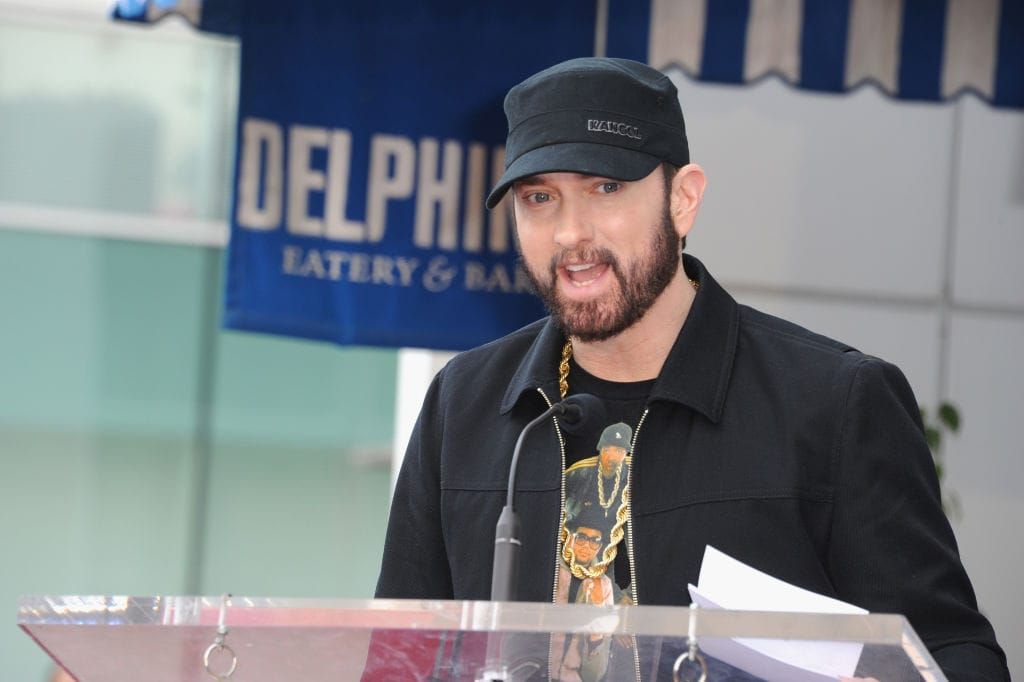 via Getty Images
But why are people only bringing it up now?
Well, it seems to have come from the recent backlash rapper, Tyga got after he released a music video for his song 'Ay Caramba'.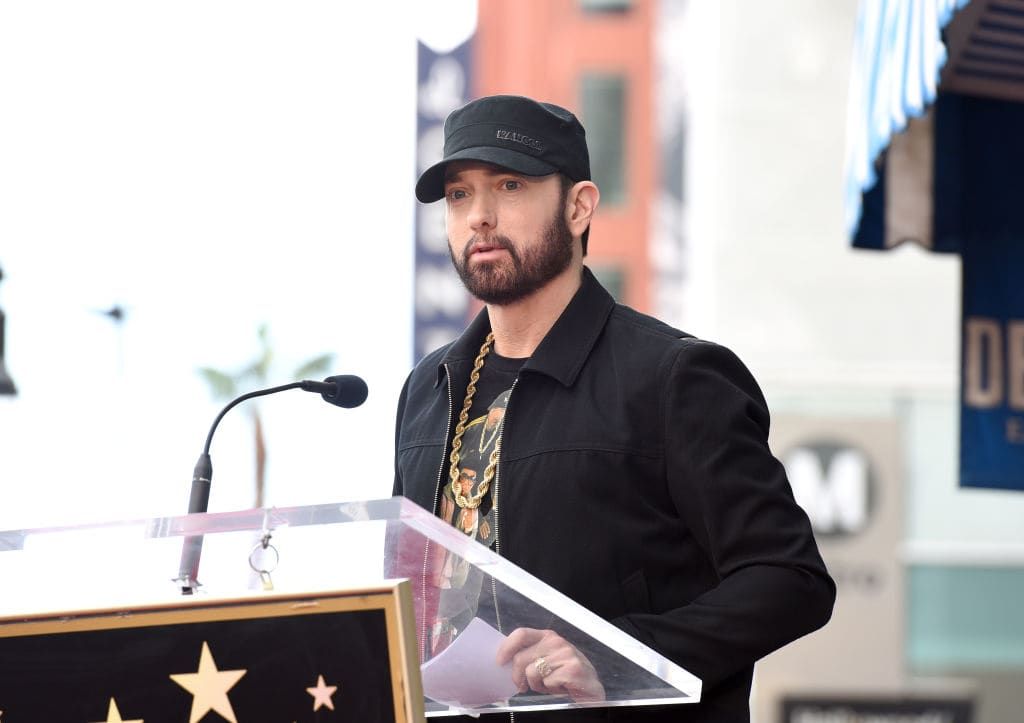 via Getty Images
He could be seen dressed as, what many have called, a stereotypical Mexican man. He later apologized for the video on the L.A. Leakers and American Cholo podcast, saying: "I want to apologize to the Mexican community and my fans that are Mexican.
"I have a lot of Latin fans that are Puerto Rican or Dominican that probably weren't offended by this video. But, my Mexican fans in L.A., there definitely was some that were offended."
Fans quickly took to Twitter to share that Eminem hadn't received the same backlash for his music video way back in the day.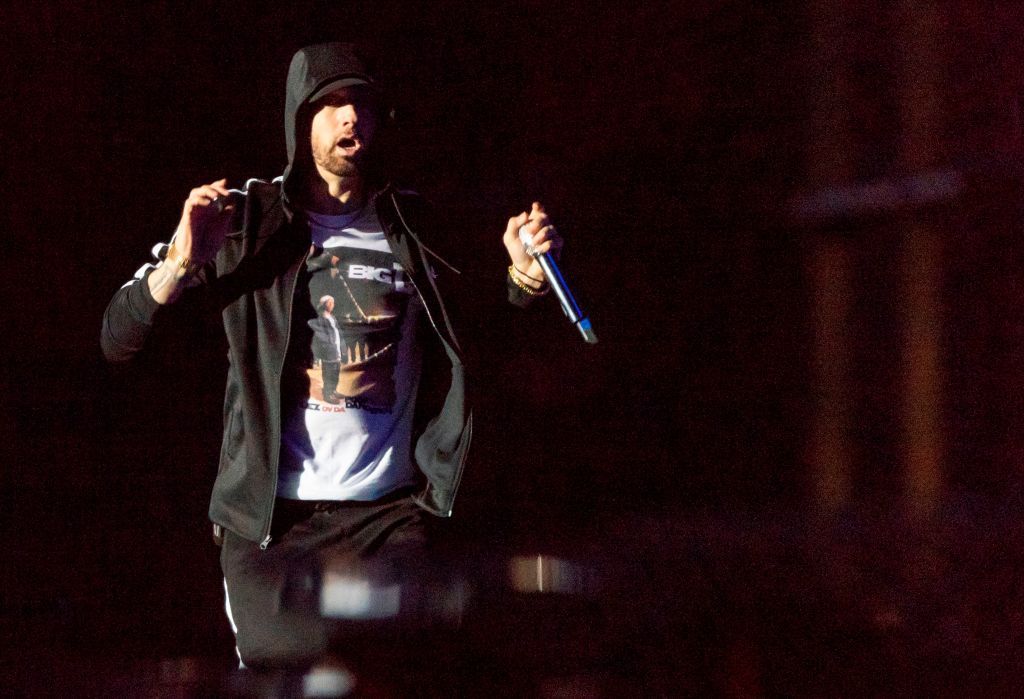 via Getty Images
One Twitter user wrote: "How come there's no outrage in the Latino community for Eminem doing this huh?"
Another added: "I wonder why these folks aren't demanding an apology from Eminem."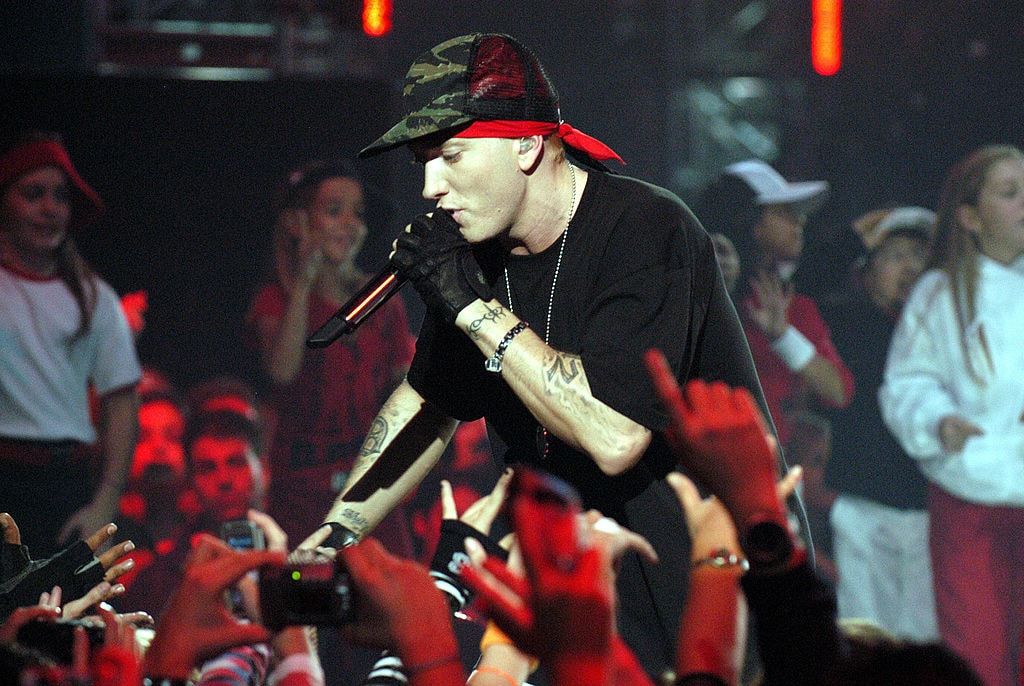 via Getty Images
A third said: "Invent a time machine and travel back and/or forth to whichever era and this s**t will STILL not be funny."
It seems as though Eminem has made a lot of new haters, and artist The Game might be one of his biggest.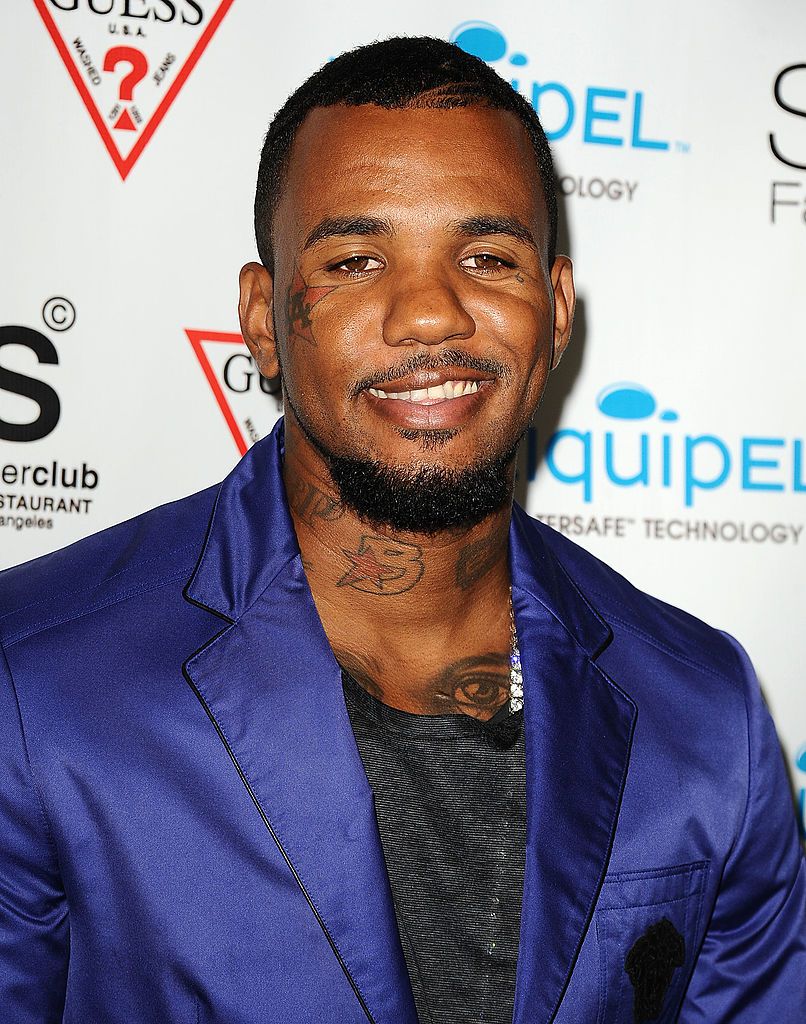 via Getty Images
The rapper recently dropped his new album Drillmatic, which features the diss track 'The Black Slim Shady'.
In the song, which lasts over 10 minutes, The Game not only hits out at Eminem's apparent lack of talent but also gives a dig at his daughter Hailie.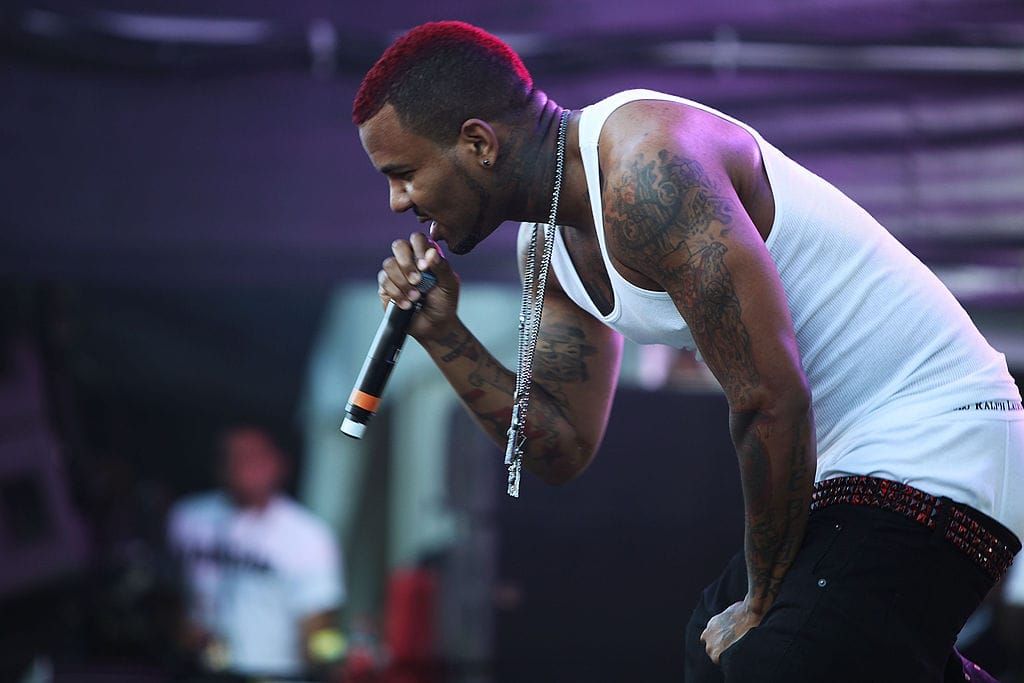 via Getty Images
And it seems Hailie has now spoken out about the song.
Defending her father, she reportedly  tweeted: "If you have to make a song 10mins long about someone you 'dislike,' it's giving obsessed."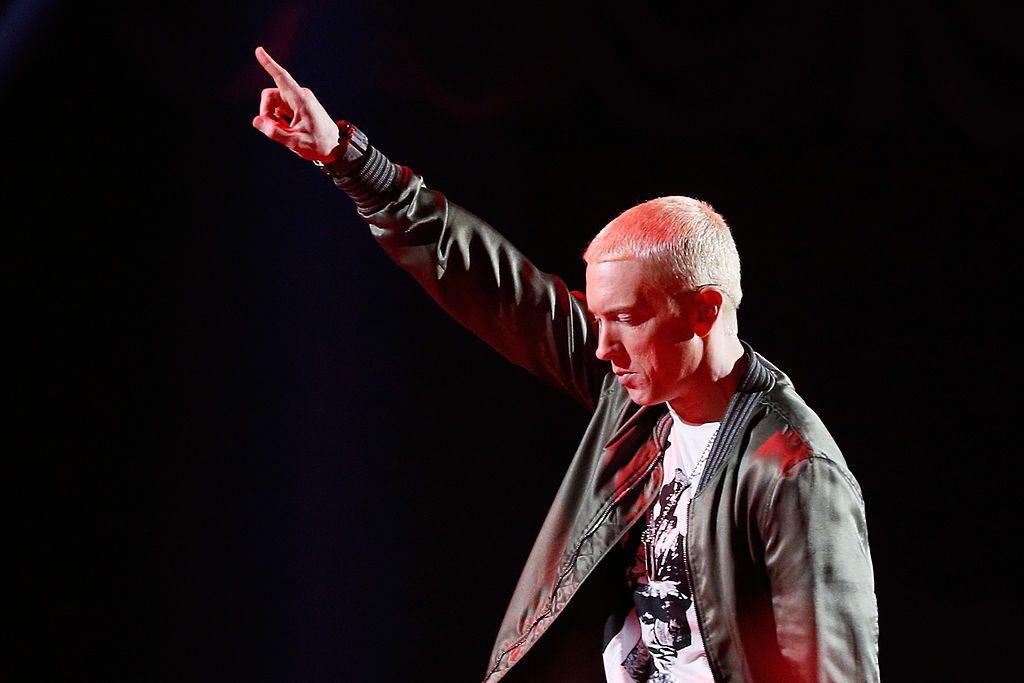 via Getty Images
"My dad is so legendary that people have to diss him in their songs just to attract an audience because they know they would flunk without the attention," Hailie continued.
She also uploaded a video lip-syncing to 50 Cent, seemingly in response to the track.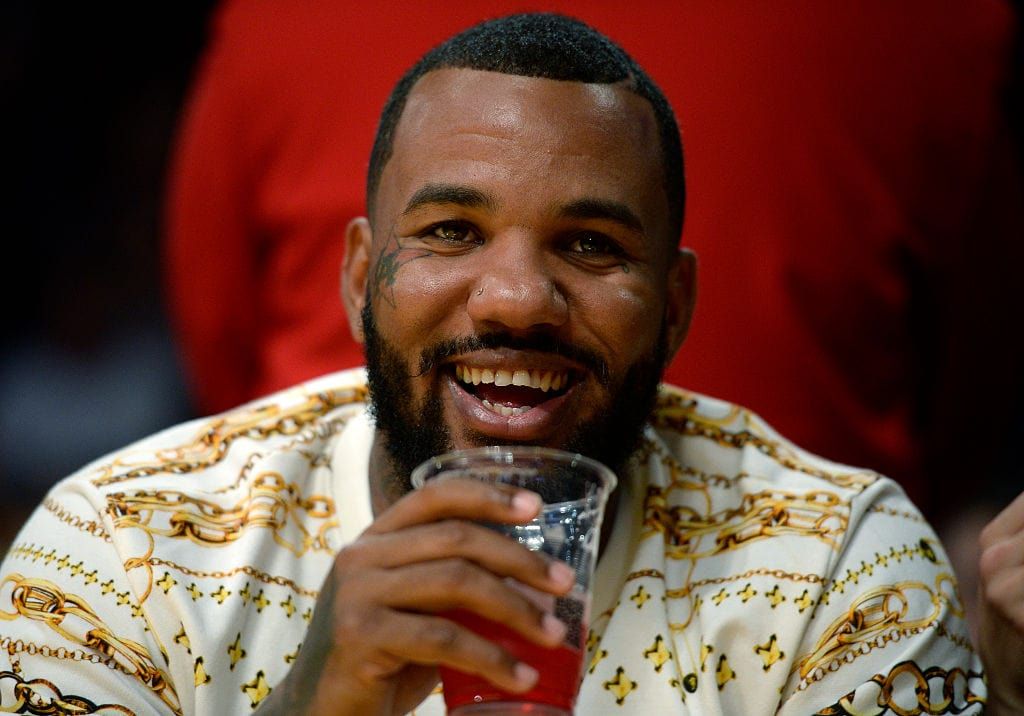 via Getty Images
You can see her post here.
Speaking of diss tracks, one thing that left many fans scratching their heads was why Eminem dissed Will Smith in his hit song 'The Real Slim Shady'.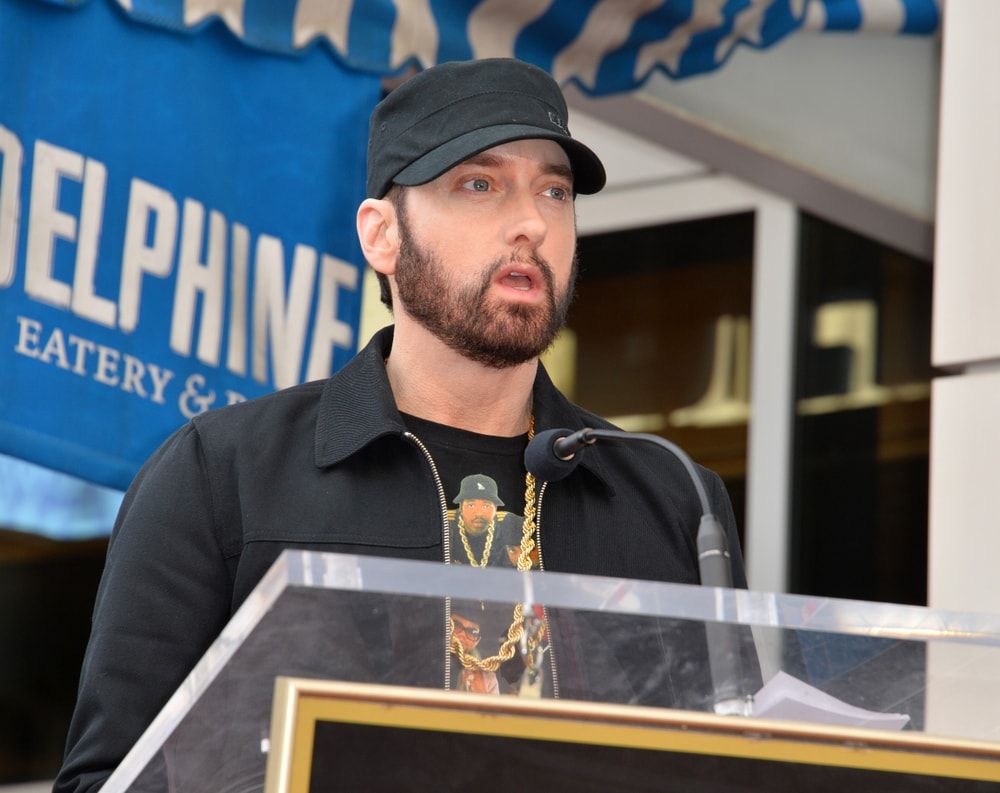 via Shutterstock
The lyrics say: "Will Smith don't gotta cuss in his raps to sell records / Well I do, so f**k him and f**k you too / You think I give a damn about a Grammy / Half of you critics can't even stomach me / Let alone stand me."
As per one of Will's friends, DJ Jazzy Jeff, the feud between the 2 started earlier on in Eminem's career back in Detroit.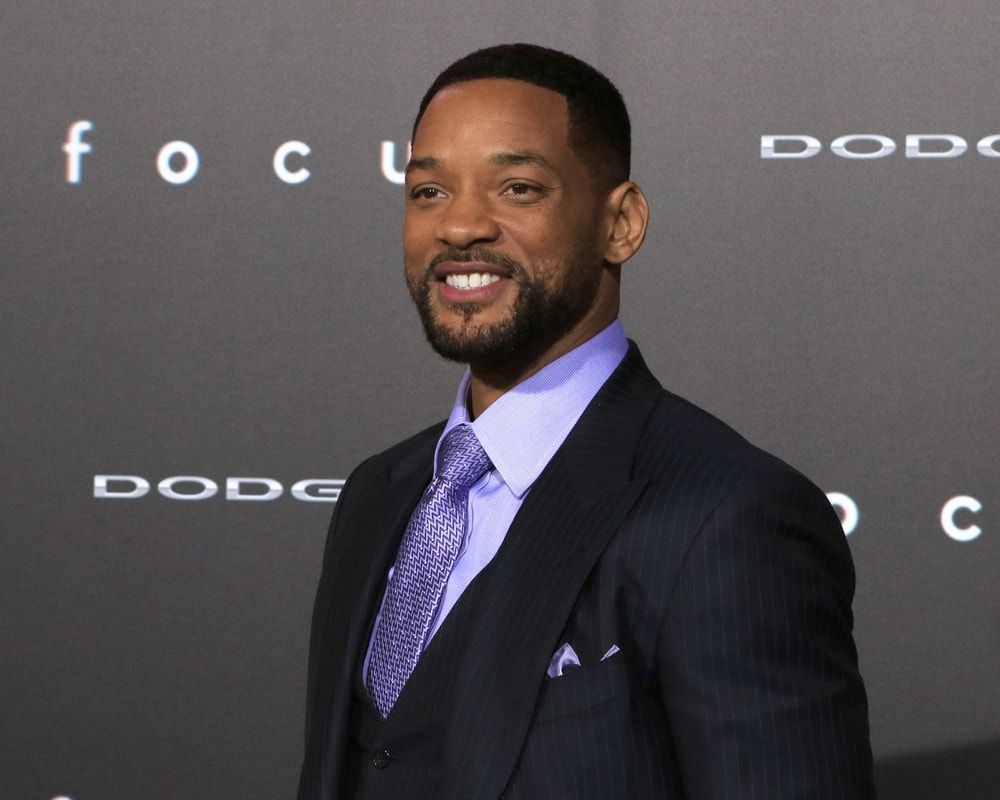 via Shutterstock
According to Jazzy Jeff, Will insulted Eminem, saying he's "either gonna be the biggest flop in hip hop, or you are gonna be the biggest thing that we have ever seen in hip hop."
Since then, those words never left Eminem's head, according to Jazzy Jeff.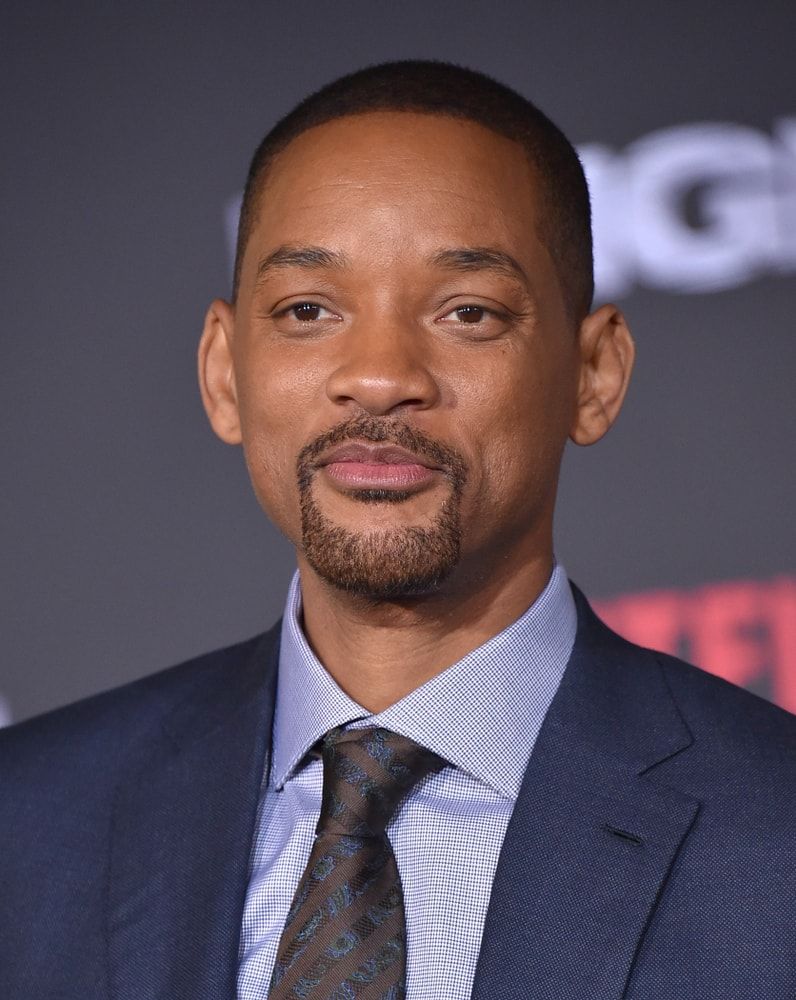 via Shutterstock
But the tension between the 2 started to rise even higher after Will gave a speech at the 1999 Video Music Awards.
Smith's song 'Miami' beat out Eminem's 'My Name Is' for the Best Male Video award that year.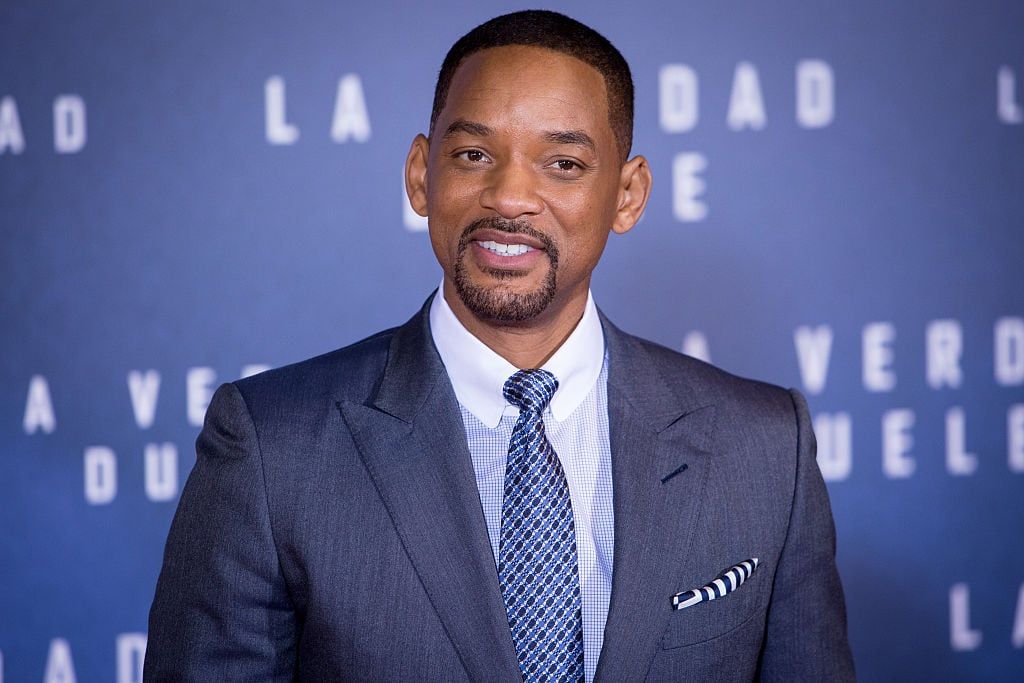 via Getty Images
Giving his acceptance speech, Will rubbed Eminem up the wrong way by saying: "To all my fans out there, I never killed nobody in none of my records. I never used no profanity and none of my records, and still, I managed to get up here. Peace."
When Eminem was questioned in an interview about his lyrics, he said: "First of all, I used to respect Will Smith. Now, he's dissed the whole genre of rap. He dissed gangsta rap music."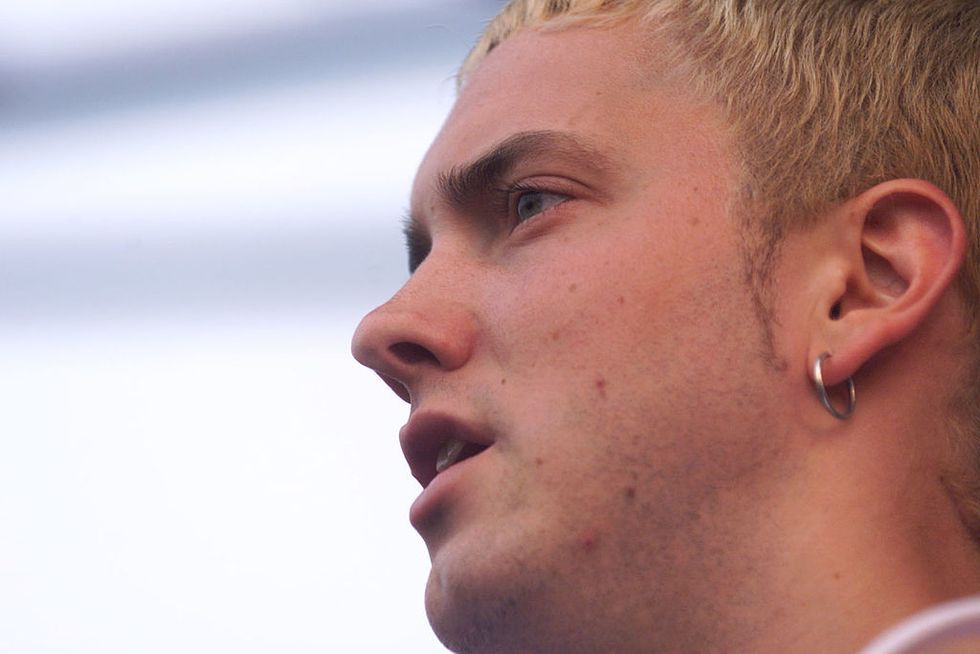 via Getty Images
"And that is one of the most influential musics out there. I respect him for saying his opinion, but not everybody is as happy as Will Smith," he continued.
"Not everybody sees life as happy and as positive as he sees it.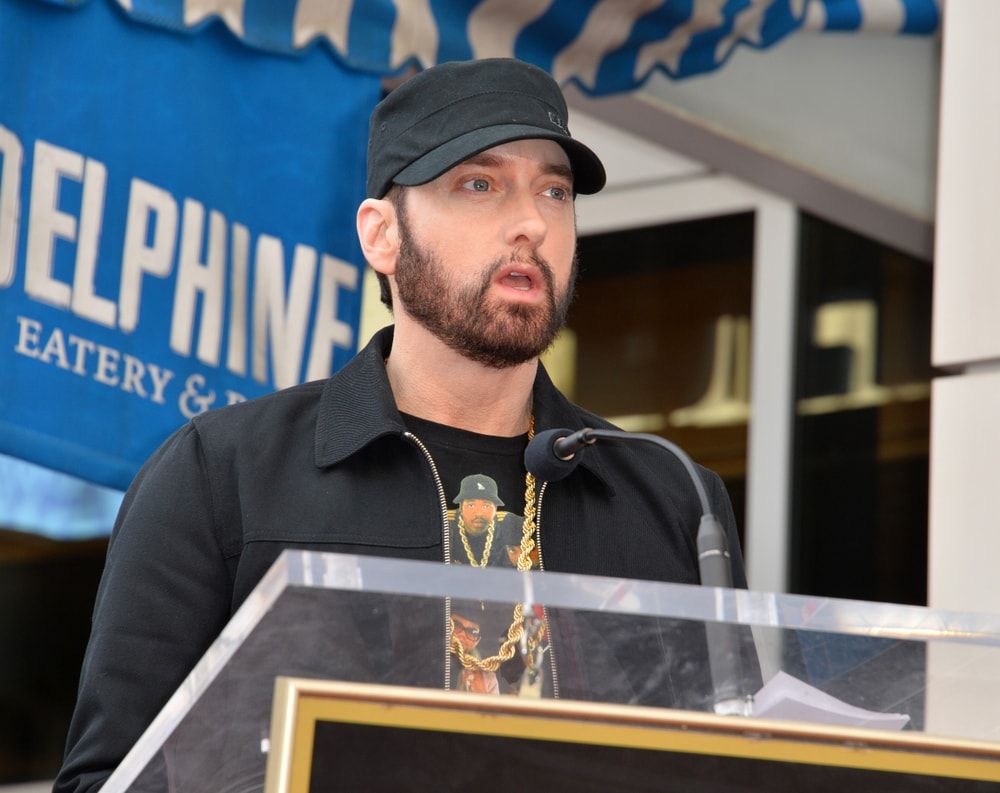 via Shutterstock
"So if he wants to rap about birds and bees and flowers, then let him rap about birds and bees and flowers, but don't dis nobody else," Eminem finished.
And now, the rapper has made headlines again.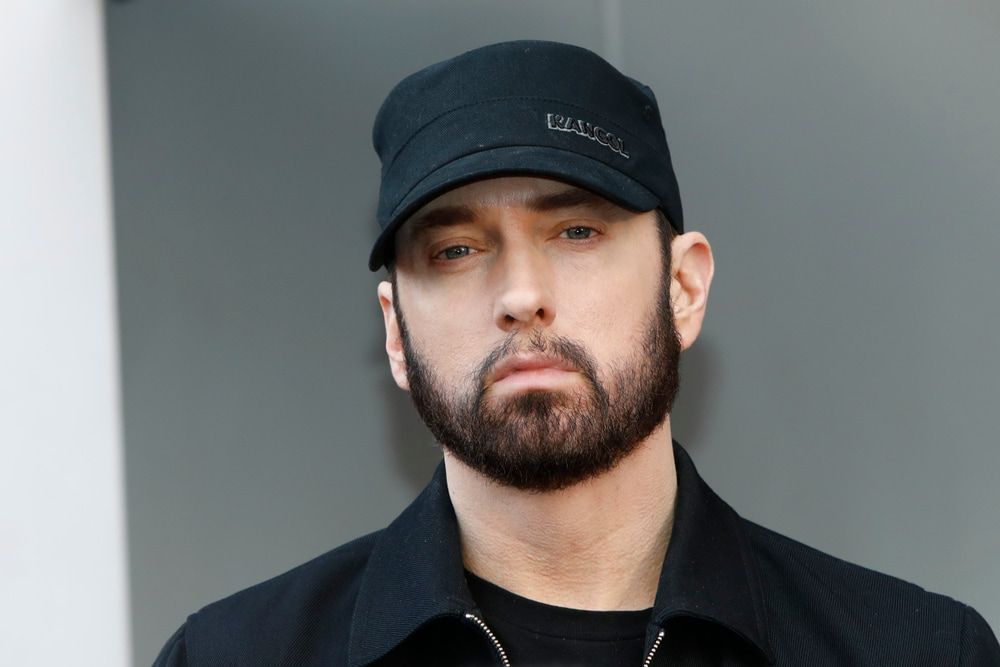 via Shutterstock
And this time, it's all because of a bizarre conspiracy theory.
The theory states that the musician died way back in 2006.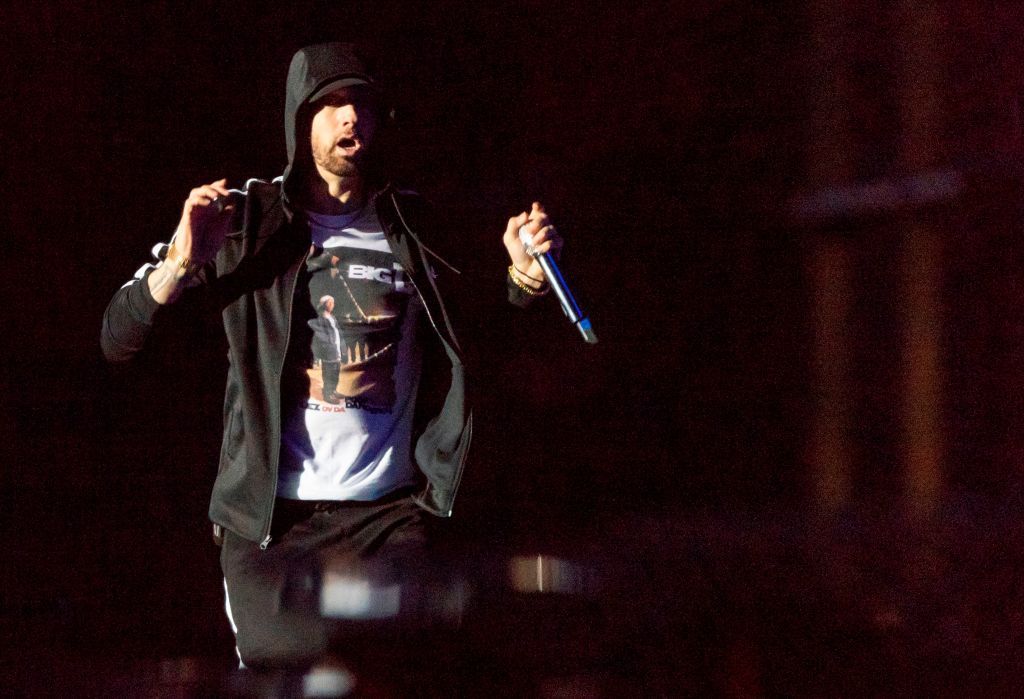 via Getty Images
And the current Eminem we see today is a clone!
People point to his ageless features as evidence for the theory.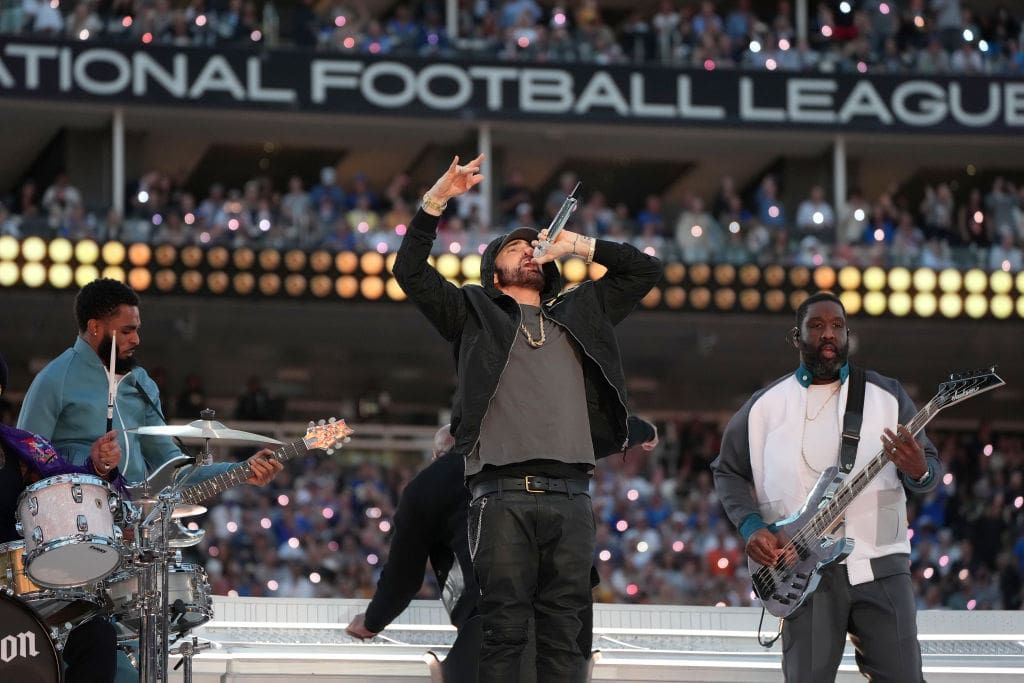 via Getty Images
Plus, some claim to have noticed him glitching when performing.
But the real evidence comes from a weird song called 'Cloned Rappers'.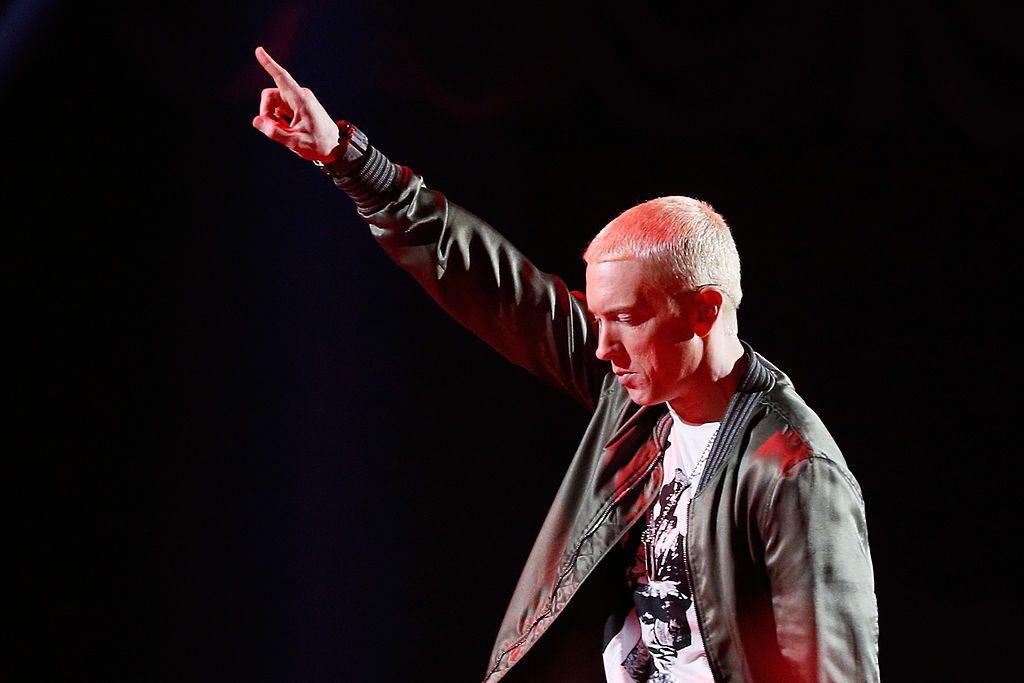 via Getty Images
The Tom Macdonald song is filled with references to the conspiracy theory.
"They cloned Gucci, cloned Kodiak, cloned Eminem, he ain't rapped since Encore, know that," the lyrics say.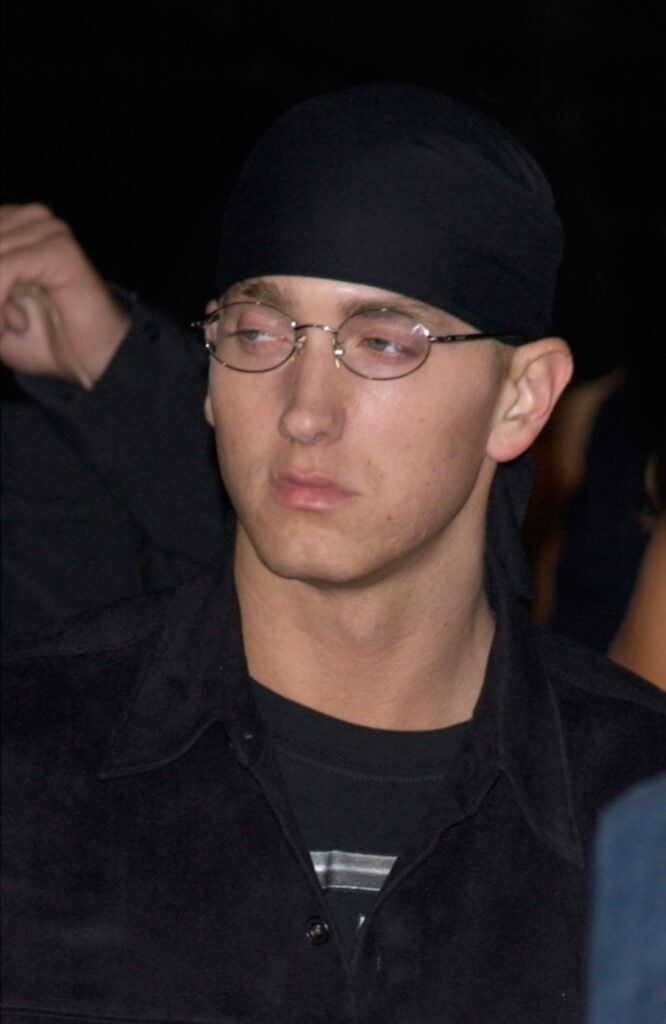 via Shutterstock
While the video shows the cloning process in a lab!
What do you think?