Is it a bird? Is it a plane? No, it's a British comedian posing as a gay Austrian fashionista landing on Eminem's face.
The American rapper stormed out of the MTV Movie Awards in Los Angeles on Sunday night after the stunt, which saw Sacha Baron Cohen descending from the rafters in a harness to present the award for Best Male Performance.
The comedian, who is best known for his characters Ali G and Borat, appeared above the heads of the audience dressed as an angel in a silver thong, in keeping with the guise of another of his creations, Bruno, a homosexual Austrian television presenter.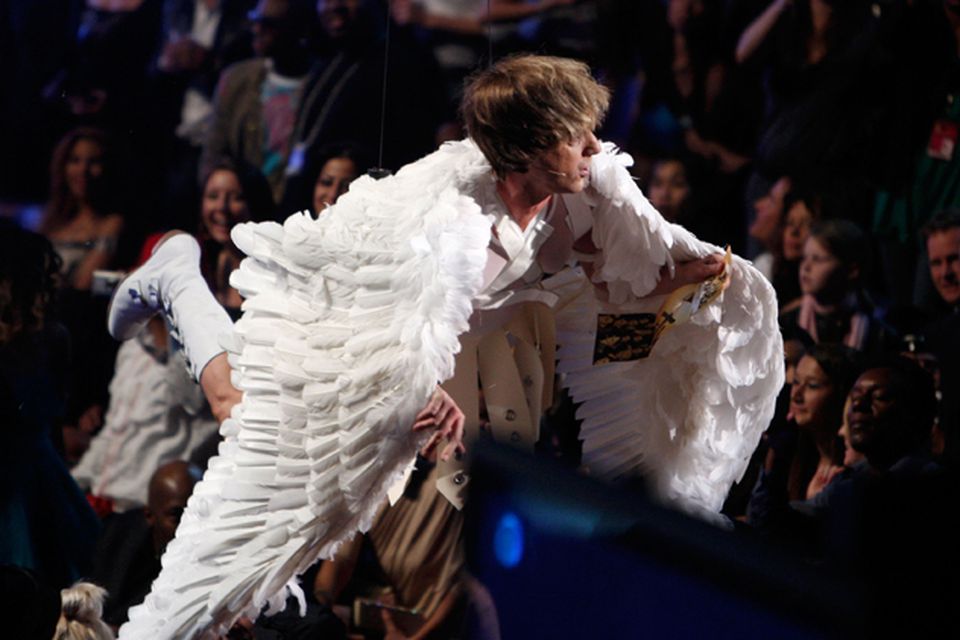 To roars of laughter from those seated below, the comedian, 37, appeared to get into difficulties as he was lowered from the ceiling, shouting: "Argh, scheisse! My kugelsack! One of the wires is trapped around my kugelsack!"
The video clip of the incident, which has already racked up thousands of hits on YouTube, shows Eminem gazing confusedly upwards at the descending comedian, who then lands directly in his lap.
Apparently unhappy at being made the (literal) butt of Baron Cohen's joke, the rapper is heard shouting: "Are you serious? Are you fucking serious? Get this motherfucker off me," as his minders struggle to extricate his head from between the comedian's thighs.
When he is finally freed, he is seen getting out of his seat and pushing his way angrily out of the auditorium. As he does so, Baron Cohen provokes more laughter by mockingly quoting a line from one of his early songs: "Is the real Slim Shady about to stand up?"
It is unclear whether Eminem, who performed two of his songs on stage earlier in the night, was genuinely angry or merely playing a part in the stunt, which was broadcast live on television. The rapper, 36, is currently keen to publicise his new album, Relapse. Baron Cohen's new movie Bruno – a "mockumentary" revolving around his flamboyant Austrian character in the same vein as his 2006 film Borat – is due to be released next month.
While still hanging upside down, the comedian announced the category winner as High School Musical actor Zac Efron. When he eventually reached the stage, the bemused 21-year-old said: "That was really weird. It's the coolest way I have ever been invited up to accept one of these."