The story of Taylor Swift and Kanye West's feud will go down in pop culture history as perhaps one of the most discussed musical feuds of all time. Ever since West interrupted Swift onstage at the MTV VMAs in 2009, the pair's relationship has been full of bad blood and plenty of drama, and things only grew more dramatic when West's then-wife Kim Kardashian got involved.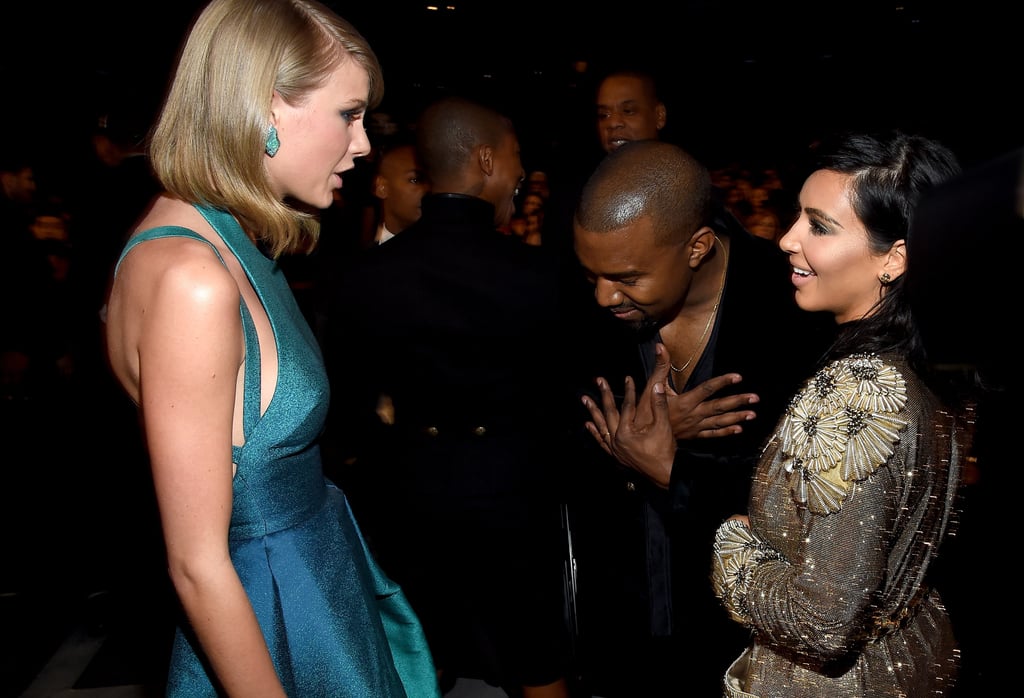 As of 2023, it's been years since new developments have occurred, and West and Kardashian have also since divorced, embarking on a bitter feud of their own in the process. West has since sparked controversy due to antisemitic comments and a variety of other reasons, and has moved on with Bianca Censori. Meanwhile, Swift has embarked on her Eras Tour and continues to rerecord her albums. But for a while, Swift and West were embroiled in a back-and-forth conflict involving everything from entire albums to back-and-forth comments in interviews and leaked phone calls that left the internet in hysterics.
So, what the hell actually happened between Swift and West? You'll likely remember the VMAs debacle that started it all, but there has been plenty of fuel for the fire in between. Let's take it back to the very beginning.
13 Sept., 2009: The Moment That Started It All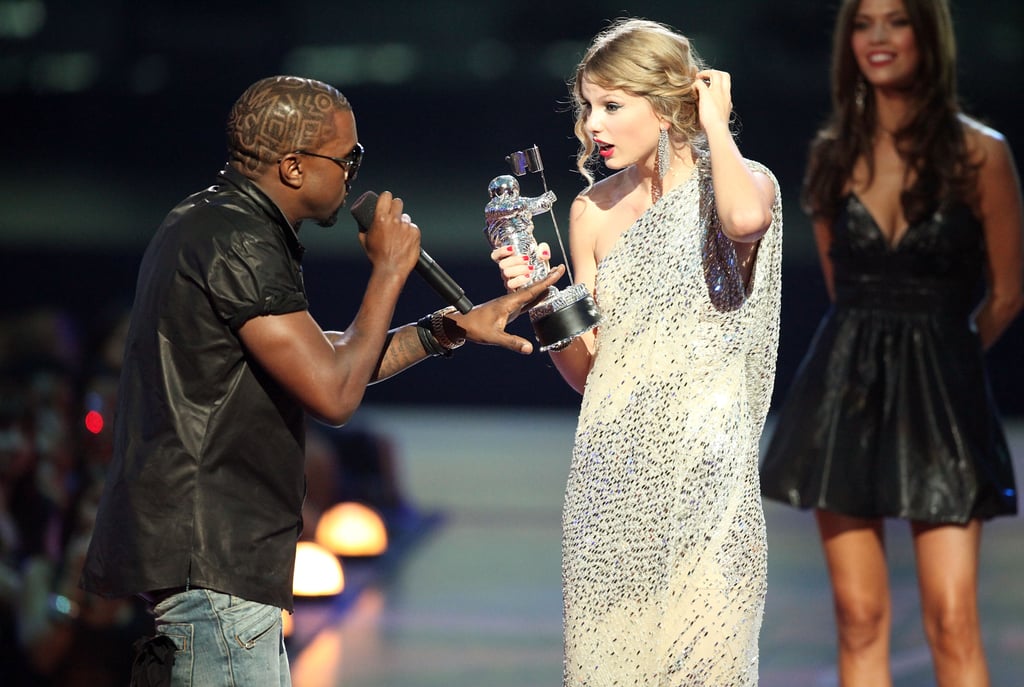 At the 2009 MTV Video Music Awards, Swift's "You Belong With Me" snagged the award for best female video. During the singer's acceptance speech, though, West took the microphone from her hand, told her he would let her finish, and insisted that Beyoncé's "Single Ladies" video was one of the best videos of all time. Beyoncé, video, for the record, took home best video of the year.
14 Sept., 2009: West's First Apology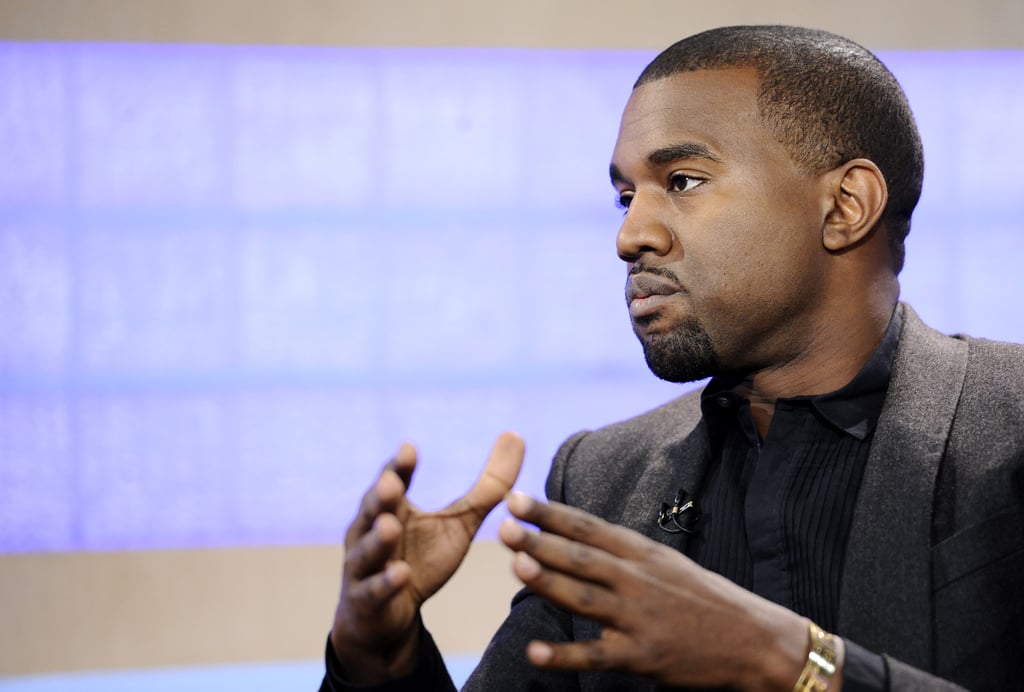 West immediately did some damage control after the incident. He appeared on "The Tonight Show Starring Jay Leno" and said, "I immediately knew in the situation that it was wrong . . . I would like to apologise to her in person." He also broke down in tears when Leno asked how his late mother would have felt about the situation.
15 Sept., 2009: Swift Breaks It Down on Her Side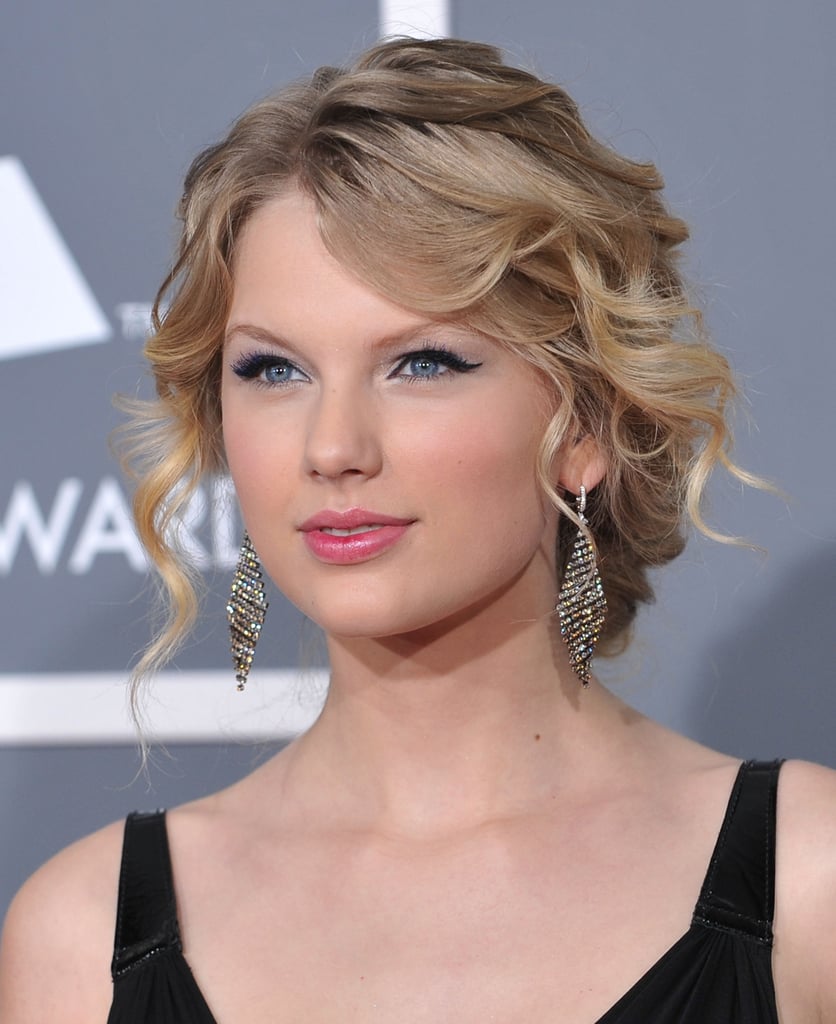 The next day, Swift shared her inner monologue on "The View." "Ouch," Swift said when asked what she was thinking as he made his outburst. "And then, 'I guess I'm not going to get to thank the fans.'" The hosts of the show then brought up the aforementioned Jay Leno interview and asked if she'd be willing to meet with West. "Sure," she answered. "I mean, he has not personally reached out or anything. But, if he wanted to say hi."
15 Sept., 2009: West Takes Swift's Cue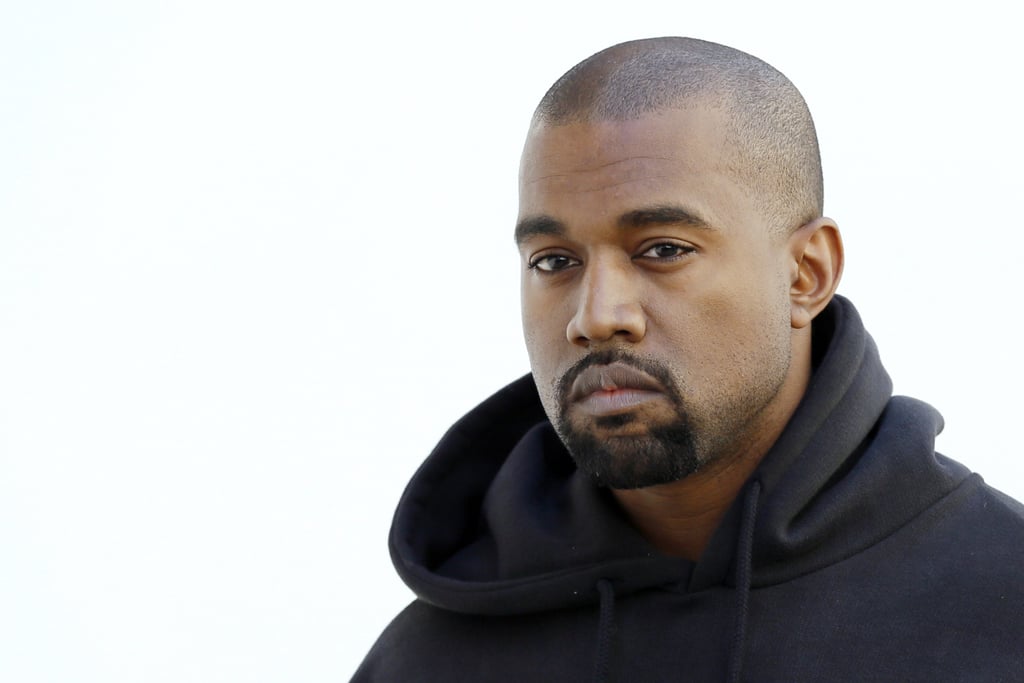 Shortly after Swift's chat on "The View," West reached out to make an official apology. "Kanye did call me, and he was very sincere in his apology, and I accepted that apology," Swift said in an interview with ABC News Radio. And that was that.
7 Sept., 2010: A West Twitter Rant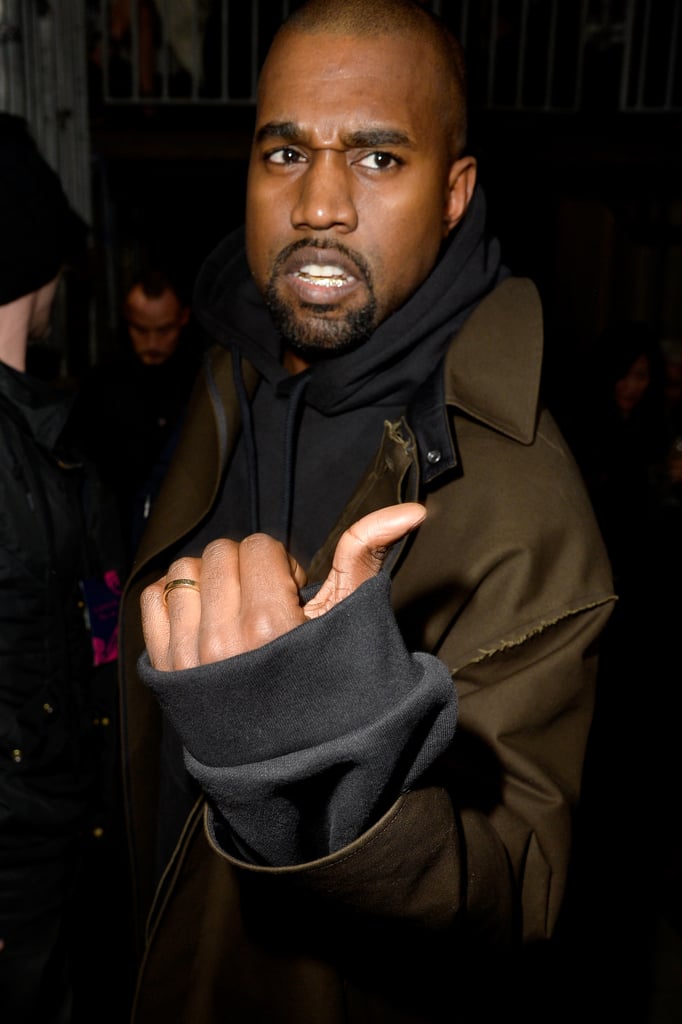 Just under a year after the fateful night in question, West fired off more than 30 tweets in a Twitter rant. The rapper, of course, went through a score of tangents but directly mentioned Swift at one point. During yet another apology for his actions, he also revealed that he'd written a song about Swift.
12 Sept., 2010: Swift Returns to the VMAs Stage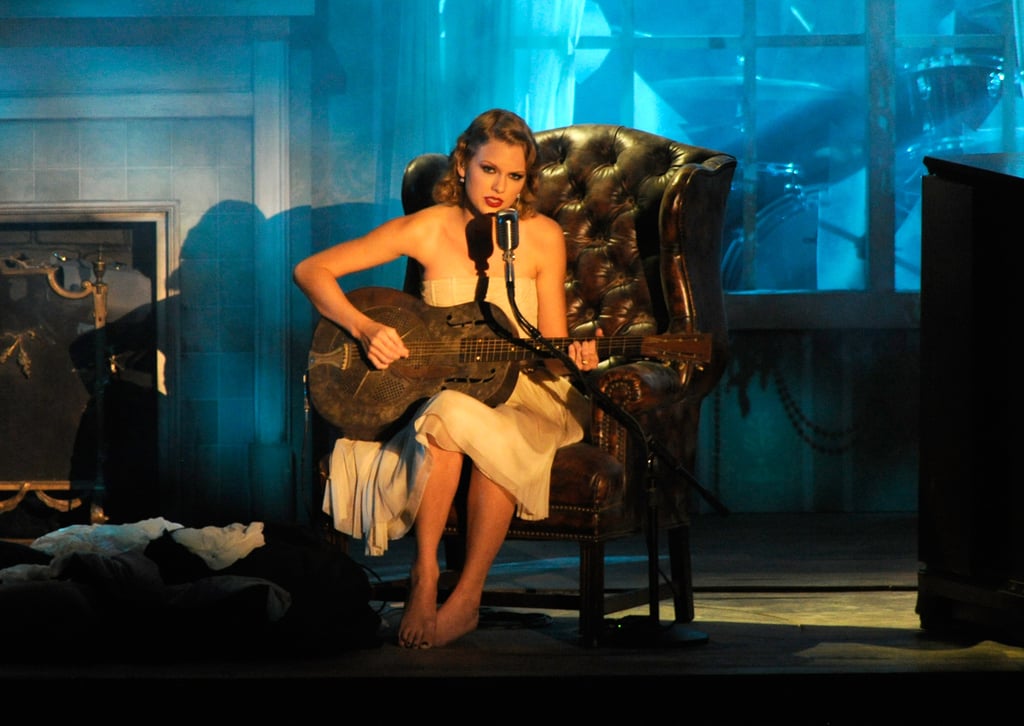 The following year, at the 2010 MTV VMAs, Swift sang a new song from her soon-to-be-dropped "Speak Now" album. The song was called "Innocent," and it was widely speculated that Swift meant to address the whole mess with West. The performance seemed to confirm the rumours, as Swift projected clips of the 2009 incident on a large screen before she started singing.
12 Sept., 2010: West Comes Forward With a Song of His Own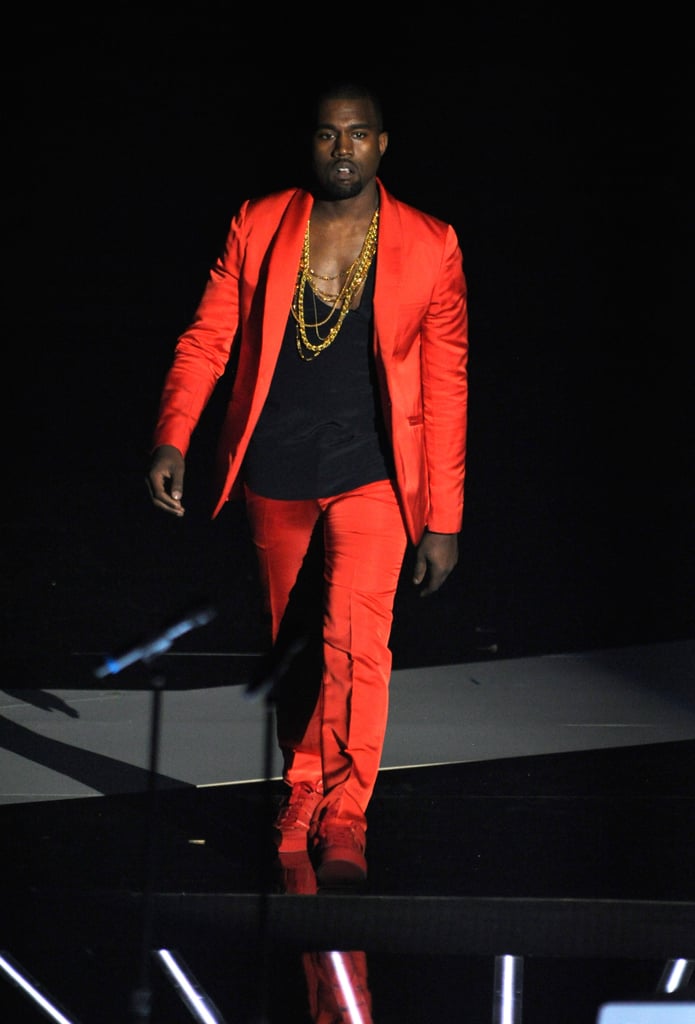 Swift wasn't the only one who seemed to have the fated interruption on her mind a whole year later. On a bit of a subtler note, West performed "Runaway," a new song that one might call an unconventional apology. He does wax poetic about his poor treatment of women within the lyrics, but he also calls for a "toast to the douchebags" and assh*les. Seeing as his Twitter storm cited a new song about Swift, it was widely agreed that this was it.
19 Oct., 2010: West Opens Up About the Incident — Again
More than a year after the incident occurred, West still seemed to be rueful about his actions, but he'd gotten to a place where he was trying to justify his motives. "I feel like, in some ways, like I'm a soldier of culture," he said on "The Ellen DeGeneres Show." "And I realise that no one wants that to be my job, and I'll never go on stage again, and I'll never sit in an award show again. But, will I feel convicted about things that really meant stuff to culture, that constantly get denied for years and years and years and years? I'm sorry. I will."
11 June, 2013: A Long Q&A With The New York Times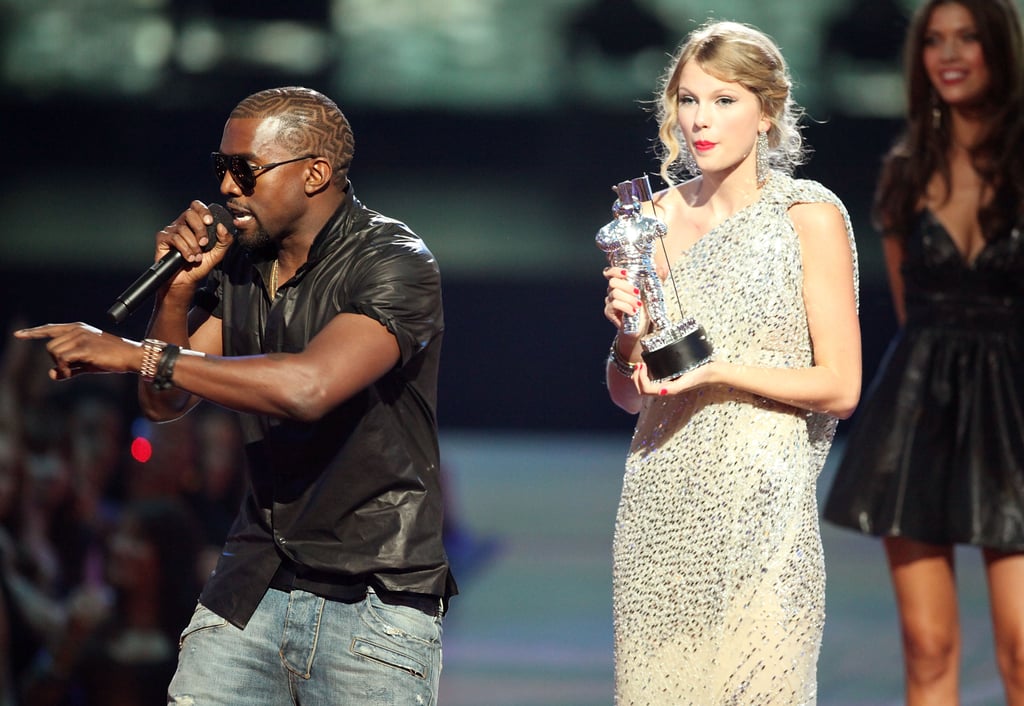 By the time 2013 rolled around, West seemed to be over the whole situation. The rapper told The New York Times, "[My instinct] has only led me to complete awesomeness at all times. It's only led me to awesome truth and awesomeness. Beauty, truth, awesomeness. That's all it is." He also stated, though, "I don't have one regret," and that, "If anyone's reading this waiting for some type of full-on, flat apology for anything, they should just stop reading right now."
8 Feb., 2015: Water Under the Bridge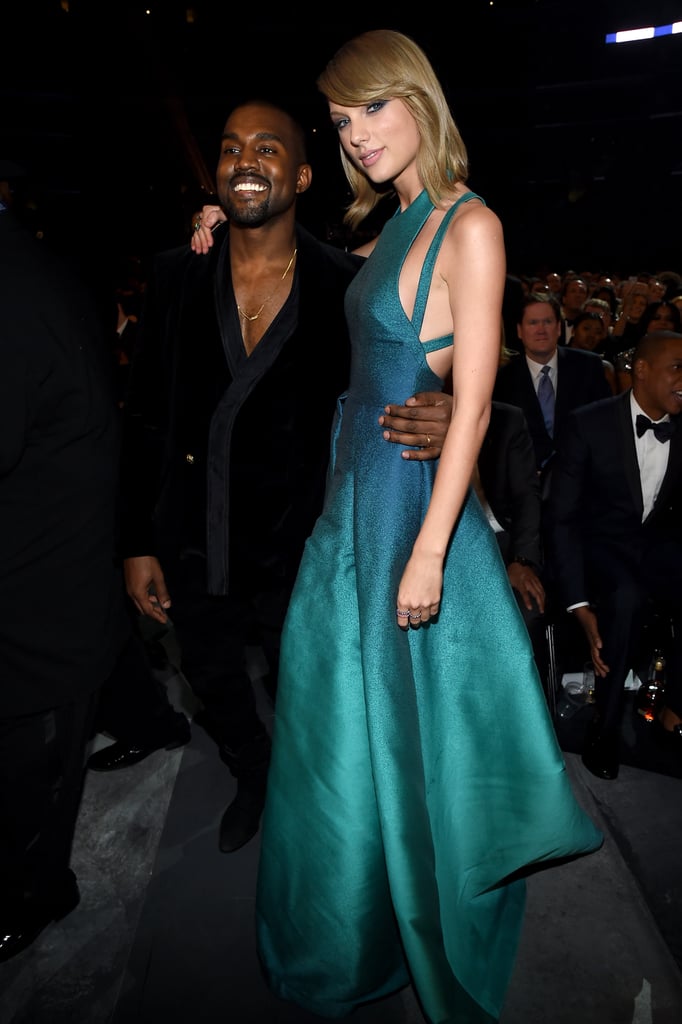 More than five years after the 2009 MTV VMAs, Swift and West finally seemed to have buried the hatchet. At the 2015 Grammy Awards, the two happily posed for photographs and seemed to engage in lively conversation.
September 2015: Swift Reflects Back on the Drama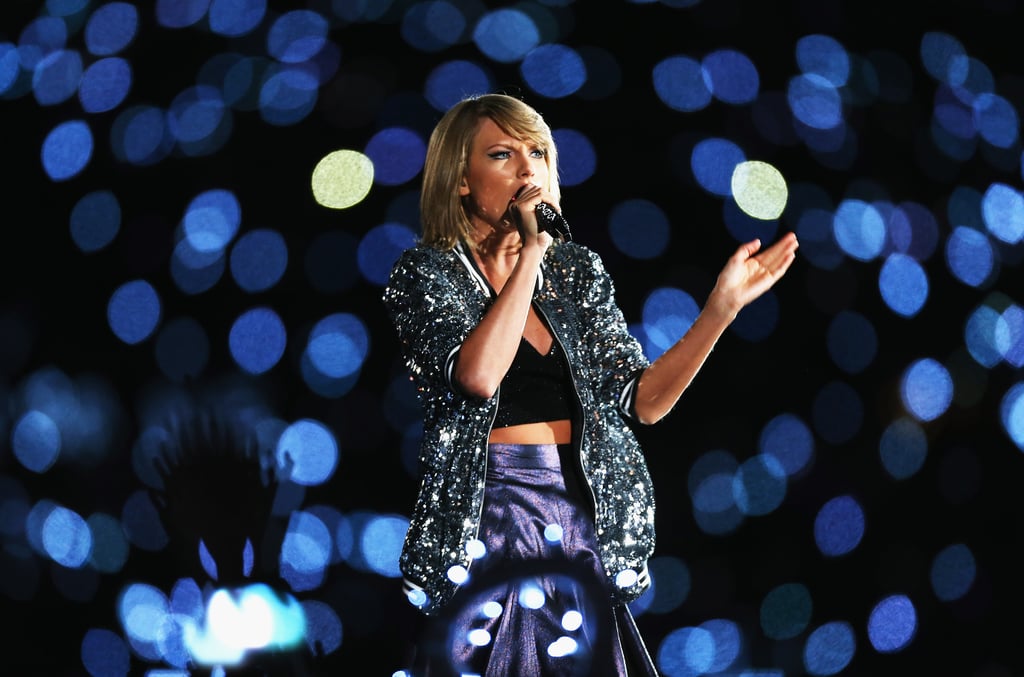 In her cover feature in the September 2015 issue of Vanity Fair, Swift explained how she and West finally landed on friendly terms:
"I feel like I wasn't ready to be friends with him until I felt like he had some sort of respect for me, and he wasn't ready to be friends with me until he had some sort of respect for me — so it was the same issue, and we both reached the same place at the same time. I became friends with JAY-Z, and I think it was important, for JAY-Z, for Kanye and I to get along. It started with both of us really liking Jay and wanting him to be happy. And then Kanye and I both reached a place where he would say really nice things about my music and what I've accomplished, and I could ask him how his kid's doing."
30 Aug., 2015: Right Back Where They Started From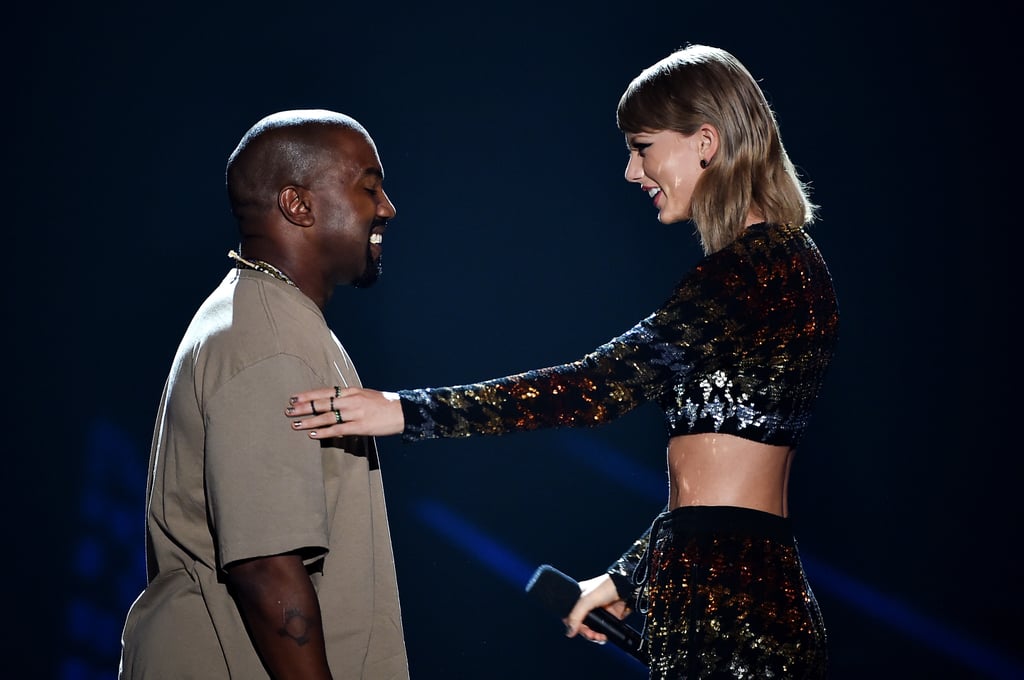 At the 2015 MTV VMAs, Swift presented West with an esteemed honour: the Video Vanguard Award. During her speech, Swift referenced the "infamous encounter" and even poked fun at the moment. "I'm really happy for you, and I'mma let you finish," she said, "but Kanye West has had one of the greatest careers of all time!"
11 Feb., 2016: The Infamous "Famous" Lyrics That Reignited the Feud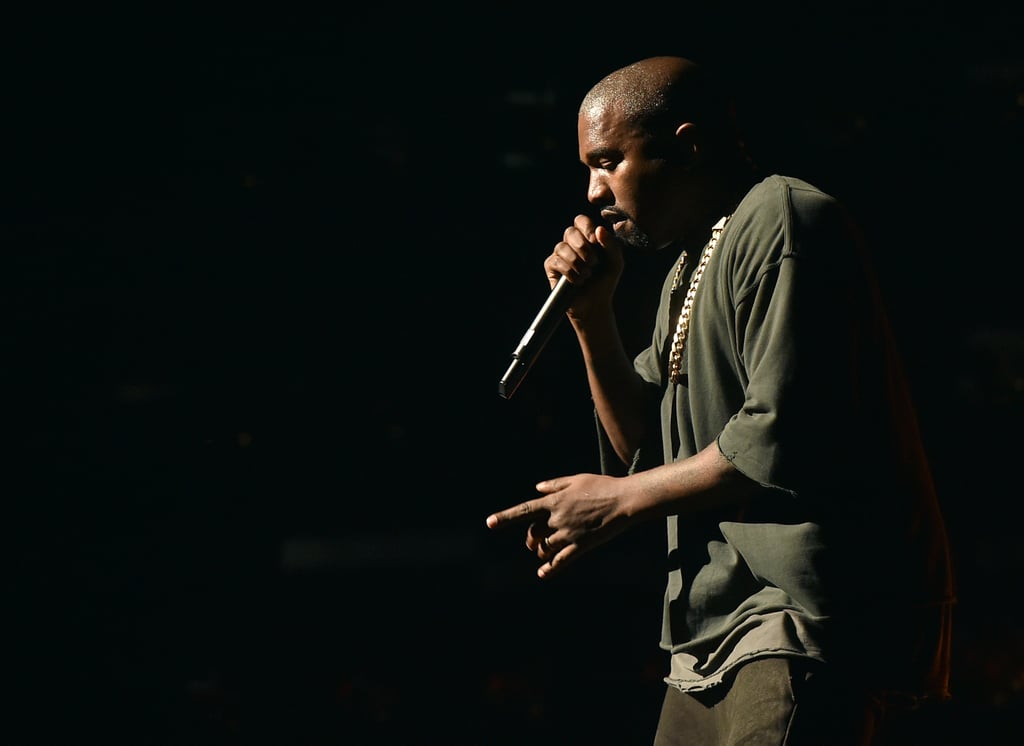 As West debuted Yeezy Season 3 in NYC, he also played his new album, "The Life of Pablo." One lyric in particular piqued the interest of audience members and the internet universe alike. In "Famous," West raps, "I feel like me and Taylor might still have sex / I made that b*tch famous."
12 Feb., 2016: A Horrified Response From Swift's Rep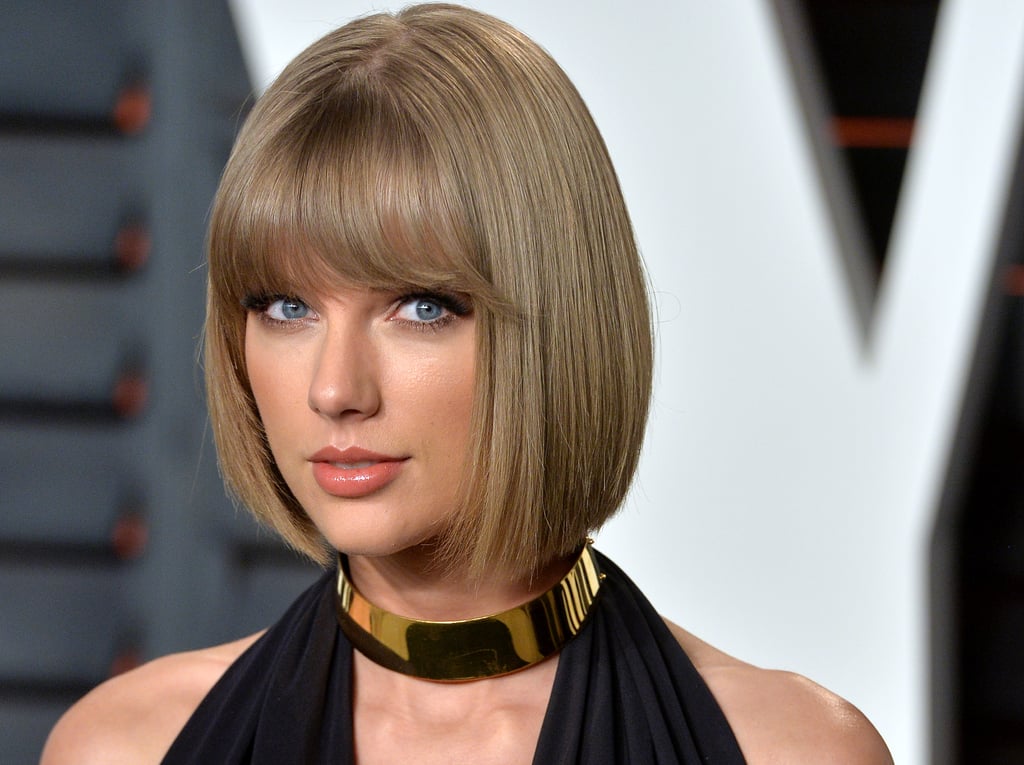 Swift was quick to release a statement about the song and lyrics in question. According to her spokesperson, "Kanye did not call for approval, but to ask Taylor to release his single 'Famous' on her Twitter account. She declined and cautioned him about releasing a song with such a strong misogynistic message. Taylor was never made aware of the actual lyric, 'I made that b*tch famous.'"
15 Feb., 2016: Swift Doubles Down on Her West Backlash
At the 2016 Grammy Awards, Swift nabbed the album of the year for her sensational pop album "1989." When she took the stage to accept the award, she seized the opportunity to implicitly address West's recent actions. "I want to say to all the young women out there," Swift said, wrapping up, "there are going to be people along the way who will try to undercut your success, or take credit for your accomplishments, or your fame. But if you just focus on the work, and you don't let those people sidetrack you, someday, when you get where you're going, you'll look around and you'll know that it was you, and the people who love you, who put you there."
June 2016: Kim Kardashian Inserts Herself Into the Situation
After landing her first GQ cover, Kardashian seized the opportunity to set the record straight . . . and call out Swift. In the accompanying interview, Kardashian insisted Swift knew about "Famous" from the start.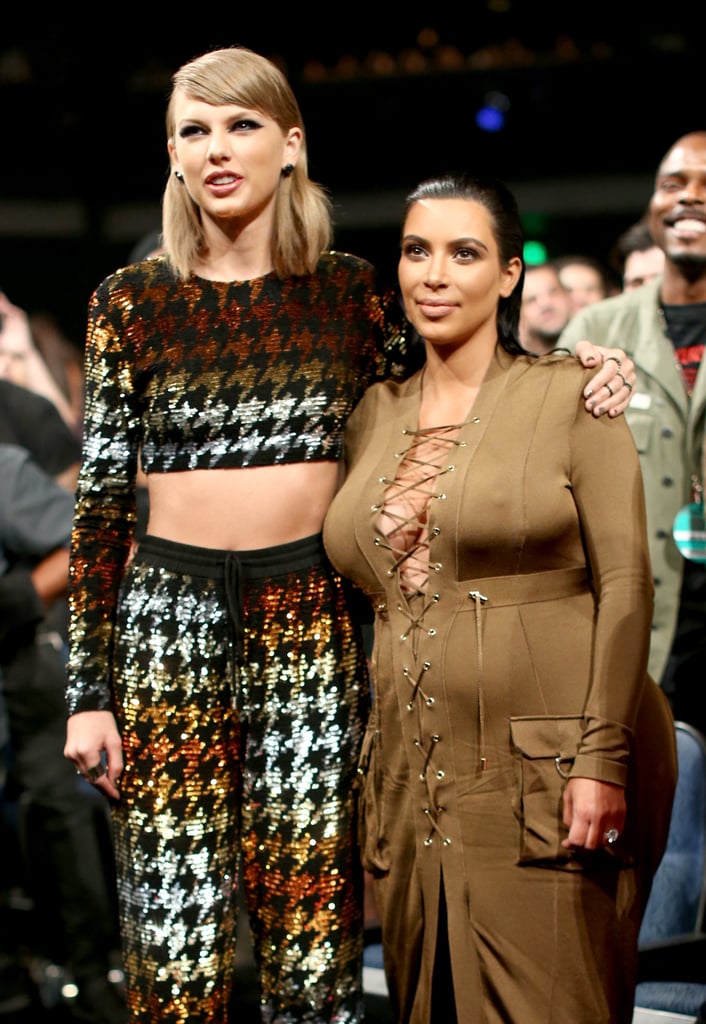 "She totally knew that that was coming out. She wanted to all of a sudden act like she didn't. [She] totally approved that [line in the song about Swift]. I swear, my husband gets so much sh*t for things [when] he really was doing proper protocol and even called to get it approved. What rapper would call a girl that he was rapping a line about to get approval? [She] totally gave the okay. Rick Rubin was there. So many respected people in the music business heard that [conversation] and knew. I mean, he's called me a b*tch in songs. That's just, like, what they say. I never once think, [gasping] 'What a derogatory word! How dare he?' Not in a million years. I don't know why she just, you know, flipped all of a sudden. It was funny because [on the call with West, Swift] said, 'When I get on the Grammy red carpet, all the media is going to think that I'm so against this, and I'll just laugh and say, "The joke's on you, guys. I was in on it the whole time."' And I'm like, wait, but [in] your Grammy speech, you completely dissed my husband just to play the victim again."
25 June, 2016: West Adds Insult to Injury
In June, West released a highly controversial music video for the song. The ending shot of the music video features an arresting tableau of naked celebrities. They're all lying in a very large bed with Kardashian and West. Directly on the rapper's right is a nude and exposed Swift.
14 July, 2016: "Keeping Up With the Kardashians" Catches Up to Reality
In an episode of "Keeping Up With the Kardashians," Kardashian discusses the controversy. She says Swift's Grammy Awards speech was "just another way to play the victim" and "it definitely got her a lot of attention the first time." Later, she reveals to the camera that she's tired of "people blatantly treating my husband a certain way and trying to make him look a certain way."
17 July, 2016: Kardashian Produces All the Receipts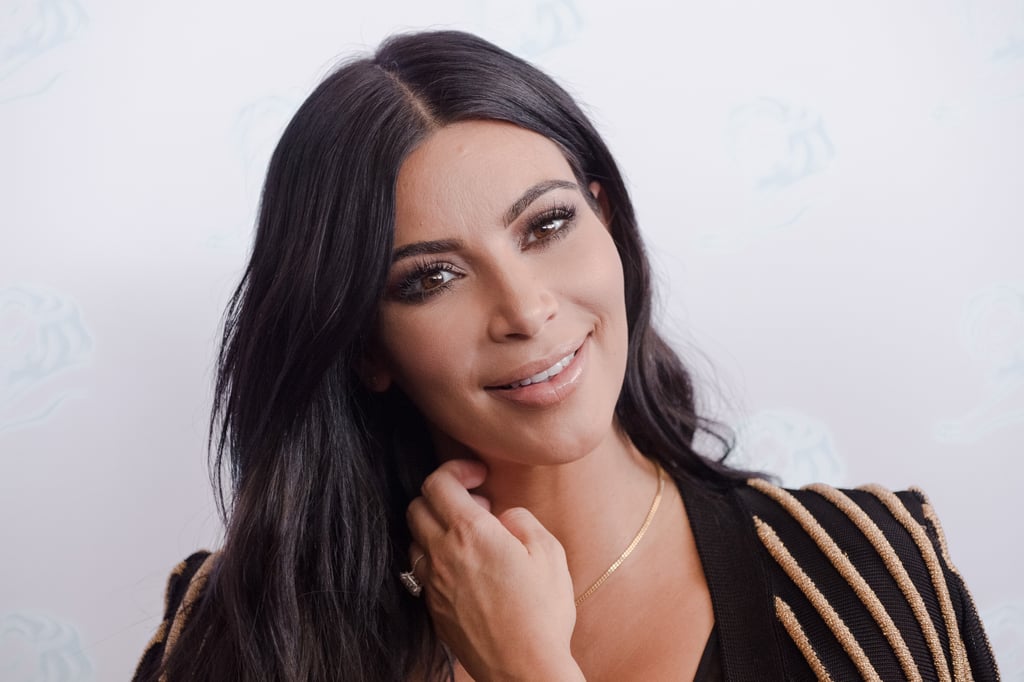 As the episode in question aired, Kardashian made it quite clear she wasn't done with Swift. On her Snapchat, the star posted the entire conversation between West and Swift. In the clip, West asks for Swift's input on the lyrics, and she responds, "Go with whatever line you think is better. It's obviously very tongue in cheek either way. And I really appreciate you telling me about it, that's really nice!"
17 July, 2016: Swift Drops a Quick Response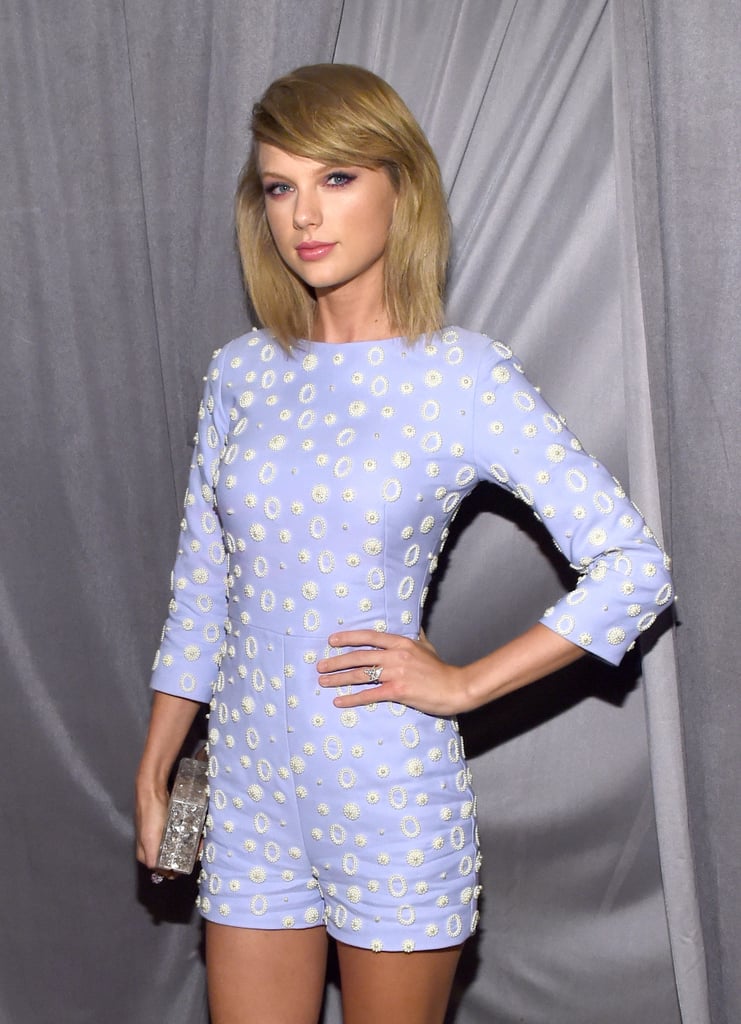 On the same evening as the "Keeping Up With the Kardashians" episode and Kim's Snapchat exposure, Swift posted a statement on her Instagram, insisting she was never made aware of the specific line in which West calls her a "b*tch." "I would very much like to be excluded from this narrative, one that I have never asked to be a part of, since 2009," she added.
24 Aug., 2017: Swift Releases a Song That's Presumably About West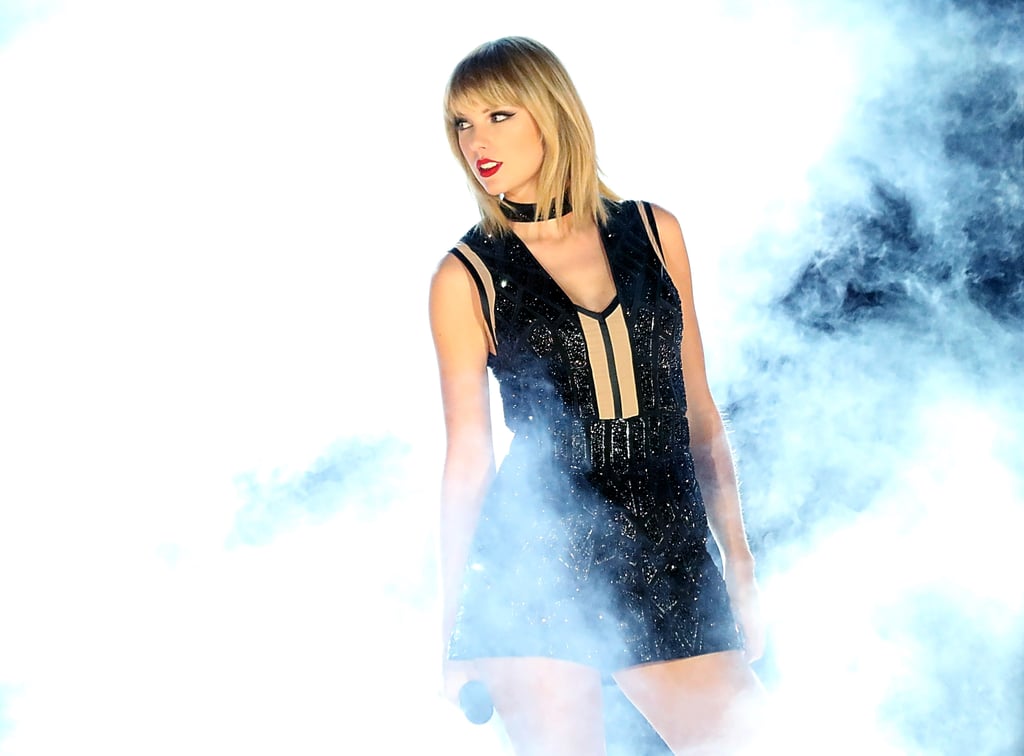 After a year of staying almost completely out of the spotlight, Swift returned with a bang. She released her new single, "Look What You Made Me Do," shortly after announcing her new album, "Reputation." The song, along with the video, is full of references to West and their feud. And just like West did when he premiered his music video for "Fade" at the MTV VMAs in 2016, Swift released the song's official video at the 2017 show.
28 Aug., 2017: Kardashian and West Aren't Impressed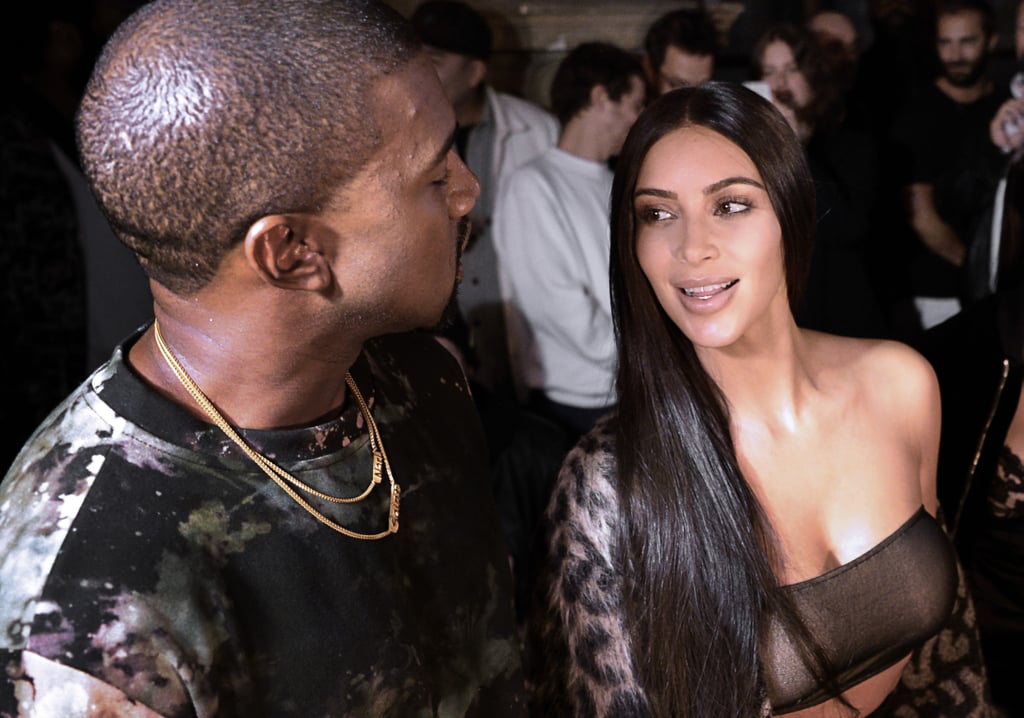 Despite the multiple Kardashian and West references in Swift's "Look What You Made Me Do," it looks like the couple isn't phased by any of it."Kim and Kanye don't care about Taylor's new music," a source told People. "They find it pathetic that she still tries to keep an old feud going. They are not going to give her or her new music any attention. They have more important things to focus on, like their family."
10 Nov., 2017: "Reputation" Dominates the Conversation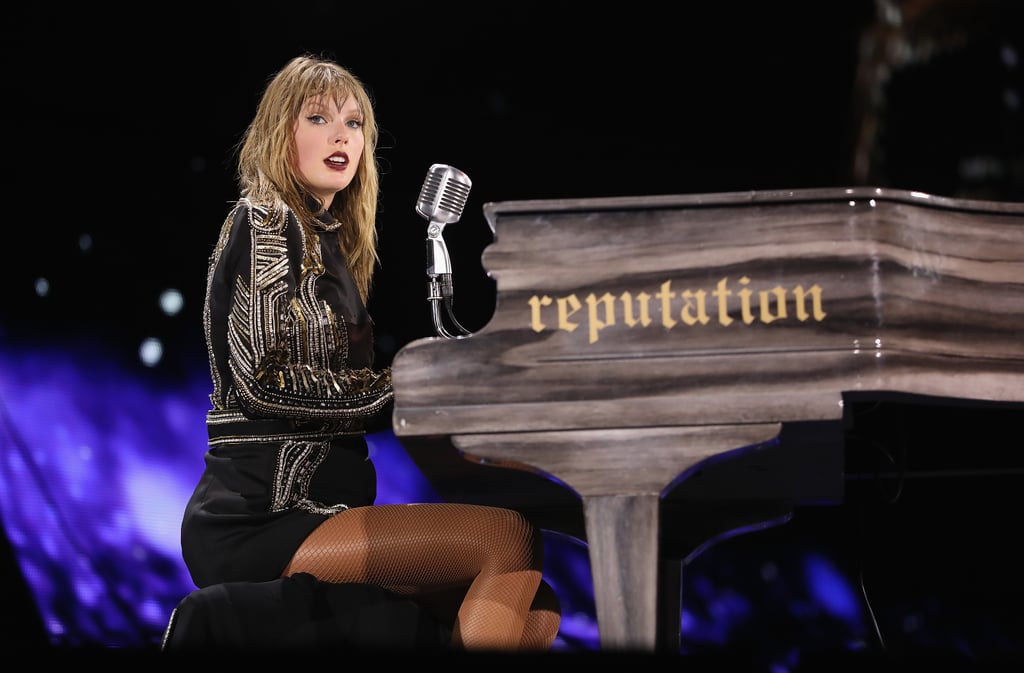 With the release of her new album, "Reputation," Swift once again came out guns blazing. The most direct West and Kardashian message comes from "This Is Why We Can't Have Nice Things," the 13th track. The most telling lyrics come in the second verse, when Swift sings, "It was so nice being friends again / There I was, giving you a second chance / But then you stabbed my back while shaking my hand / And therein lies the issue / Friends don't try to trick you / Get you on the phone and mind-twist you."
Aside from the obvious reference to the infamous phone call, there's also a point where Swift toasts to her "real friends," which is the title of a West song.
8 May, 2018: Here We Go Again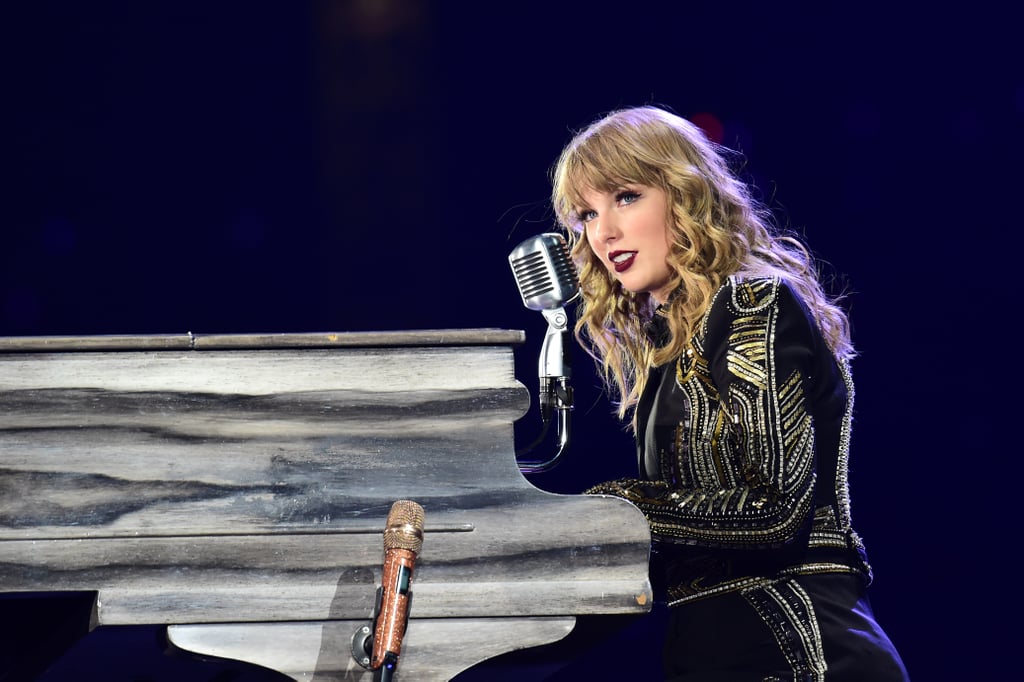 During the opening night of her "Reputation" tour in Glendale, AZ, the singer briefly opened up about her drama with Kardashian and West and used it as a way to empower her fans. "A couple of years ago, someone called me a snake on social media, and it caught on," she said, alluding to Kardashian. "I went through some times when I didn't know if I was going to get to do this anymore. I wanted to send a message to you guys that if someone uses name-calling to bully you on social media, and even if a lot of people jump on board with it, that doesn't have to defeat you. It can strengthen you instead."
14 Jan., 2018: Is the Feud Finally Over?
During an appearance on "Watch What Happens Live," Kardashian told Andy Cohen that her beef with Swift was over. "I feel like we've all moved on," she said. Shortly after, Kardashian indicated that she was "making peace" with Swift by sharing a video of her listening to the singer's song "Delicate" on her Snapchat.
18 Sept., 2019: Swift Tells Her Side of the Story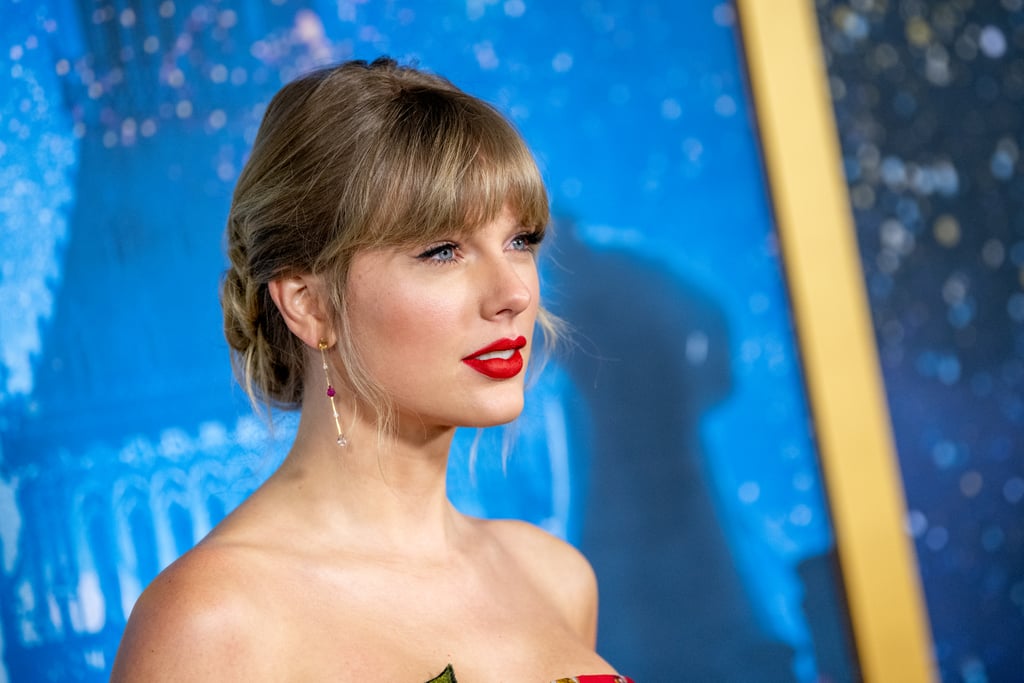 In an interview with Rolling Stone, the singer recalled how her reignited feud with West actually went down. "Some events took place to cause me to be pissed off when he called me a b*tch. That was not just a singular event. Basically, I got really sick of the dynamic between he and I. And that wasn't just based on what happened on that phone call and with that song — it was kind of a chain reaction of things," she explained. "I realised he is so two-faced. That he wants to be nice to me behind the scenes, but then he wants to look cool, get up in front of everyone and talk sh*t. And I was so upset."
20 March, 2020: Someone Leaks the Full Phone Call From 2016
The drama resurfaced when a YouTube account leaked a supposedly unedited version of the call between the artists from 2016. In the video, West runs certain lyrics by Swift over the phone but notably does not ask for her approval of the now-infamous line, "I made that b*tch famous." West also asks Swift to share the track on Twitter as promotion, and she responds hesitantly. "I guess it would just be, people would be like, 'Why is this happening?' And I had something to do with it, probably," she says.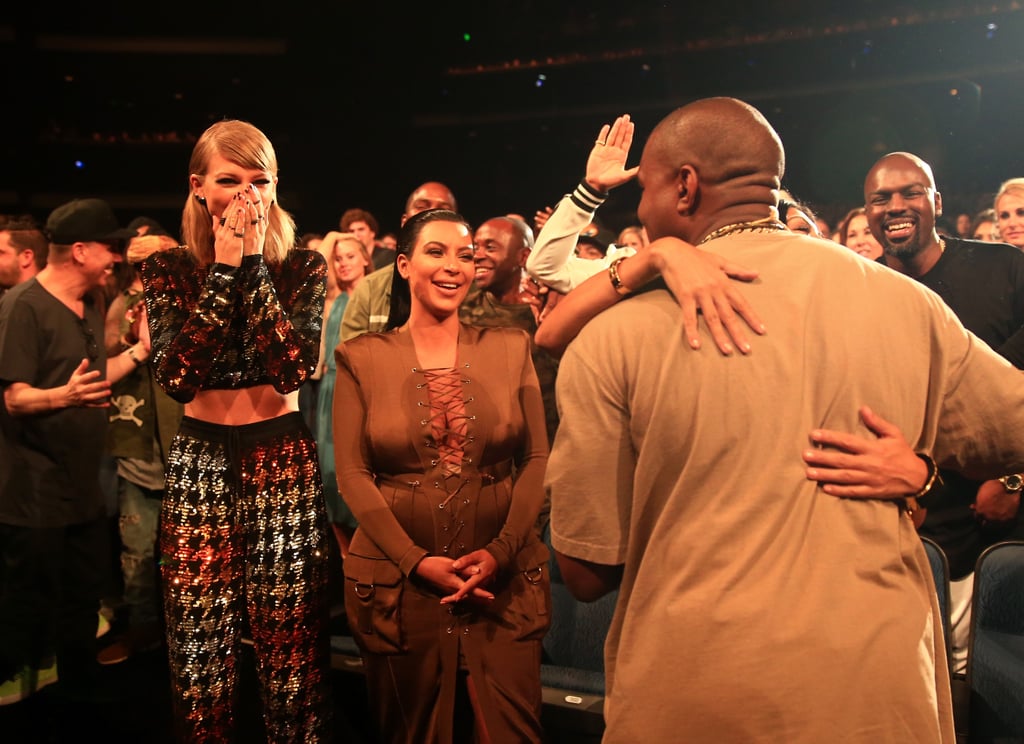 Later in the call, West runs another lyric idea by Swift. "What if I said I made you famous?" he asks. She doesn't sound comfortable with this line. "Did you say that? Oh God, well, what am I going to do about it at this point?" she says. "It's just kind of, like, whatever at this point, but I mean, you gotta tell the story the way it happened to you and the way that you experienced it." She continues: "You honestly didn't know who I was before that. It doesn't matter if I sold 7 million of that album before you did that, which is what happened. You didn't know who I was before that and that's fine. Yeah, I can't wait to hear it."
23 March, 2020: Swift Breaks Her Silence on the Leaked Phone Call
Following the leak, Swift briefly addressed the phone call on her Instagram Story before encouraging fans to focus on other issues instead. She then linked to The World Health Organisation and Feeding America and asked fans to join her in donating to COVID relief.
23 March, 2020: Kardashian Comments on the Feud For "the Last Time"
Shortly after Swift shared her Instagram Story, Kardashian took to Twitter to address the feud and phone call once more. ". @taylorswift13 has chosen to reignite an old exchange — that at this point in time feels very self-serving given the suffering millions of real victims are facing right now," she began. She made it clear that the only issue she "ever had around the situation was that Swift lied through her publicist who stated that 'Kanye never called to ask for permission . . ."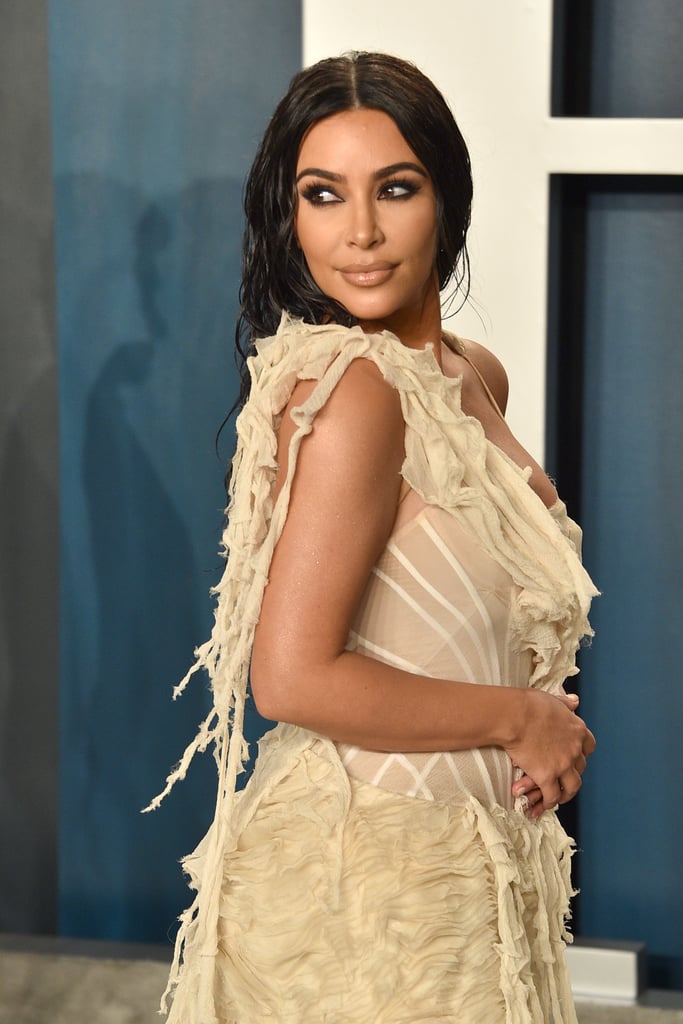 Swift's publicist Tree Paine later tweeted the full statement she originally released, which in its entirety read: "Kanye did not call for approval, but to ask Taylor to release his single 'Famous' on her Twitter account. She declined and cautioned him about releasing a song with such a strong misogynistic message. Taylor was never made aware of the actual lyric 'I made that b*tch famous.'"
Kardashian continued that she "never edited the footage" of the phone call and that "Kanye as an artist has every right to document his musical journey and process, just like [Swift] recently did through her documentary ['Miss Americana']."
She signed off by tweeting, "This will be the last time I speak on this because honestly, nobody cares. Sorry to bore you all with this. I know you are all dealing with more serious and important matters."