50 Cent has some thoughts about Diddy's recent lawsuit settlement with Cassie, and he wasted no time in roasting the Bad Boy head honcho.
The G-Unit label head-turned-television producer took to Instagram on Friday (November 17) to snark at the quickness of the settlement. In a now-deleted post, he seemed to imply that Diddy's problems were just beginning.
"LOL He paid that money real quick, should have done that before the sharks saw the blood in the water and here they come in 5,4,3,2,1 every woman he put his hand on," he wrote in the caption.
Check out a screenshot of the post below.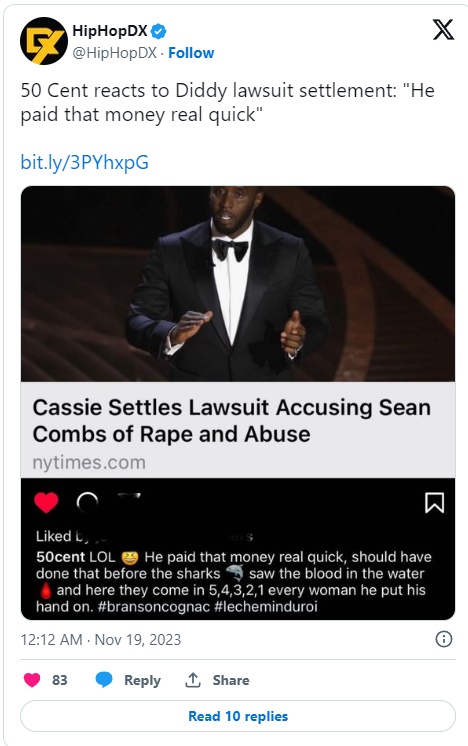 Prior to this, 50 Cent — who has a long history of taking jabs at Diddy — took to Twitter on Thursday (November 16) to seemingly take another swipe at the Bad Boy mogul.
"Damn brother love, brother love, brother love, you out here looking [eyes emoji] CRAZY AS A MF. LMAO," he wrote, captioning a photo of himself peering into the camera.
According to the New York Post, the decision to settle Cassie's suit against Diddy was agreed upon on Friday (November 17) — just a day after the "Me and You" singer's lawsuit was filed in Manhattan federal court.
"I have decided to resolve this matter amicably on terms that I have some level of control," Cassie (real name Casandra Ventura) said in a statement (via the Post). "I want to thank my family, fans, and lawyers for their unwavering support."
Diddy (real name Sean Combs) shared his own statement.
"We have decided to resolve this matter amicably," he said. "I wish Cassie and her family all the best."
In documents obtained by HipHopDX on Thursday (November 16), the singer (real name Casandra Ventura) accused the Bad Boy mogul of a number of crimes, including rape, sex trafficking and physical abuse.
The filing claimed that he "forced Ms. Ventura to engage in sex acts with male sex workers while masturbating and filming the encounters," as well as forcing her to carry a handgun even though she felt uncomfortable with doing so. Finally, she claimed that Diddy plied her with drugs and alcohol, triggering a substance abuse problem.
Cassie sought unspecified damages, plus related attorney's fees and costs.